Co-authored by Simran Taneja and Aarathi Ganesan 
 In-Depth 
For many developing countries, economic growth is facilitated by a booming manufacturing sector. Yet, in light of increasing environmental degradation at the expense of local communities, aggressive land-based development is becoming increasingly difficult for countries across the world.
Some policy analysts have turned to the seven seas to overcome these issues. According to them, developing a country's marine assets, or 'blue economy', can help aid sustainable development and economic growth. Developing ports to increase trade volumes, nurturing ocean fisheries, and marine tourism are being proposed as potential catalysts for sustainable development. India's plans of development on this front are being primarily realized through the Sagarmala Project. It falls under the wing of the Niti Aayog plan, which hopes to make India a $10 trillion economy by 2032.
"Our port-led development programme Sagarmala will create business opportunities for investors and employment for the youth" 
— Nitin Gadkari, Minister for Shipping and Resources
A flagship project of the current government, it aims to revitalize India's maritime trade, through the development of ports across the country's 7517 km long coastline. Another larger goal is to link these ports with India's interiors through inland waterways, highways, and railways, facilitating better logistics and connectivity across the country.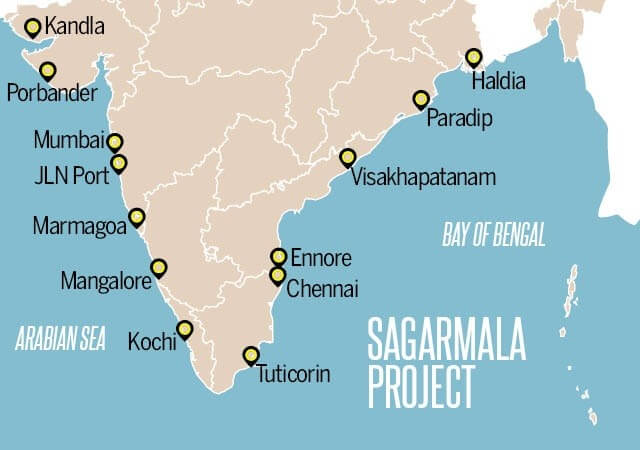 Yet, Sagarmala has also been criticized for the potential environmental degradation it will cause by setting up these industries, bringing into question the sustainable and responsible development of India's 'blue economy'. Unless measures are taken to protect land resources and peoples in the present, the future 'sustainable' credentials of a strong blue economy could ironically stand void.
The Underbelly of Infrastructural Expansion
Early indicators bode well for the project; it is believed to have boosted cargo traffic across India's burgeoning mega ports by 5% in FY 2017-18. The Adani group is also developing multiple mega ports across the country. The group's massive trans-shipment port in Kerala's Vizhinjam has secured key waivers in India's infamously restrictive shipping and customs legislation. Along with lowered port charges, this makes India's south-western coast an attractive shipping destination for international cargo. The economic prospects of the project seem bright.
Beyond the positive trends, however, infrastructural development under Sagarmala as of now is struggling to contain environmental degradation, somewhat tarnishing its promising future.
Tamil Nadu is a focal part of Sagarmala, with Gadkari allocating Rs. 2.5 lakh crore rupees to projects in the state. The rapid and unsustainable development could destabilize local fishing communities, pollute groundwater supplies, and negatively affect coastal ecosystems. This, combined with the Cauvery water crisis and externalities of the Sterlite copper plant, could have disastrous effects on the state's future prospects.
According to Aravindhan Nagarajan, a PhD scholar at TISS Mumbai's Centre for Climate Change and Sustainability Studies, the villain in this scenario isn't necessarily the project, or 'development', by itself. The larger issue is poorly undertaken (and often overridden) coastal environmental protections, assessments, and compliances. Without proper assessments in place, Nagarajan's concerns stem from "the developmental process often being undemocratic in nature".
For example, Tamil Nadu's Coastal Zone Management Plan (CZMP) has been heavily criticized by coastal residents and environmental activists alike. Maps released for public consultation in February under the plan fail to demarcate 'hazard areas', or coastal regions vulnerable to high tides and rises in sea levels. Such areas along Chennai's East Coast Road were previously labelled under the 'CRZ III' category, protecting them from development. Now, they have simply been relabelled under the 'CRZ II', freeing them up for development, while simultaneously ensuring their compliance with environmental protections. Similar violations have been witnessed across the state, while additional documents that are critical to the CZMP are absent from its portfolio.
Although deemed incomplete by the public, the state's Coastal Zone Management Authority (CZMA) has approved the plan; rather ironically, it is now conducting public hearings to consider the views of stakeholders across districts. This, despite a National Green Tribunal ruling in 2015 that rendered public hearings under similarly deviant circumstances invalid.
'Clearing' the Way for Sagarmala
"There are no jobs left in the fishing sector", says R.L. Srinivasan. He attributes this lack of jobs to the excessive discharge of waste from cargo ships in the region. These discharges riddle the waters with obstacles for the smaller fishing boats which run into large, dangerous accidents at sea for them. The industrial waste affects the fisherpeople on land as well.
Despite the seemingly systematic description of mitigation measures stated in the environment clearance report for the Sagarmala Project, the management plans seem vague. They are ambitious, but in light of locals' testimonials, the feasibility and actual implementation of these plans come into question.
Fisheries are "vital" and account for 0.5% of the national GDP according to a report published by the Ministry of Shipping, Ports Association. Thus, it proposes an 8 point action plan to aid the fisherfolk, including a trust fund managed by the Sagarmala Development Company to fund infrastructure for fisheries. It cites similar plans laid out by the governments of Bolivia and the United Kingdom.
For Dr R.G. Nambiar, Professor of Developmental Economics at FLAME University and formerly employed in Manmohan Singh's Finance Ministry, projects like Sagarmala would ideally 'require balance'. While Sagarmala is pegged as a long-term project, for Dr Nambiar, it is an insufficient solution to current economic concerns, as the project ensures 'higher productivity, but limited immediate job growth'. He asserts that "the primary objective for every government must be to provide jobs for its youth. Between now [the development process] and then [the completion of Sagarmala], where will they go?"
According to Dr Anup Tripathi, Assistant Professor of Sociology at FLAME University, in the long term, mechanisation occurs and generates employment. What must be respected, though, is the people's choices during rehabilitation and transition to newer technologies.
'Water' We Going to Do About This?
As much as these measures may comply with the Coastal Regulation Zone (CRZ) notification of 2011 and the Environmental Impact Assessment (EIA) notification of 2006, both notifications fail to recognise the diversity in ecosystems along the Indian coastline and the issue of waterways respectively. Ecosystems vary greatly across water bodies across the country, resulting in insufficient consideration of the environmental impacts due to the non-region specific nature of impact assessment in the country.
Rivers, estuaries, creeks and deltas are among some of the most important ecosystems and hotspots of biodiversity. They support rich aquatic and terrestrial flora and fauna and sustain livelihoods of large populations. According to experts, waterways of this nature encroach upon sensitive ecosystems supported in individual rivers. In January, the government approved a budget of Rs. 5,369 crore for National Waterway 1, to be completed by 2023. This project intends to enhance navigation on the Haldia Varanasi stretch. 
While waterways are considered to be more fuel efficient, they come at a significant cost. Only when certain environmental management, preservation and mitigation measures are met will a project like National Waterway 1 be entirely advantageous. In connecting Uttar Pradesh, Jharkhand, Bihar and West Bengal, National Waterway 1 is guaranteed to impact the harmony in the eco-sensitive and protected areas of the Gangetic Dolphin habitat, Kashi Turtle Sanctuary and Vikramshila Dolphin Sanctuary.
True, infrastructural development in India cannot be stunted, but it is imperative to account for the social and environmental considerations. Legally, the project is 'in line' with the relevant notifications. However, this brings into question the relevance and efficacy of the CRZ and EIA in light of the Sagarmala Project plan, seeing how human communities and their environments have been disadvantaged in the process of building India's coastal economic zone.
Dr Tripathi echoes the concerns expressed by Nagarajan, in saying that "most large-scale projects in India tend to be anti-democratic in nature". This view stems from the observation that the locals are not informed of the specifics and disadvantages (to them) of the project before large announcements to the wider public. In response, many may claim that constant consultation and publication of project details might stagger the project's timely progress. At this juncture, it appears as though Indian authorities must take two steps back before taking any more steps 'forward'.
Featured image courtesy Wikimedia | CC-BY-SA  2.0