How ready is the Indian population to dive into the labour market after having attained a formal education of 15+ years? In order to meet the nuanced requirements of both the labour market and students, public education must become more customised as the students progress through each stage of the life cycle of education.
The building blocks of learning, like reading and counting, need to be delivered uniformly so as to ensure an equitable start to a student's educational journey. Workforce-ready education, however, needs to be customised to allow a student to acquire contextually relevant labour market skills.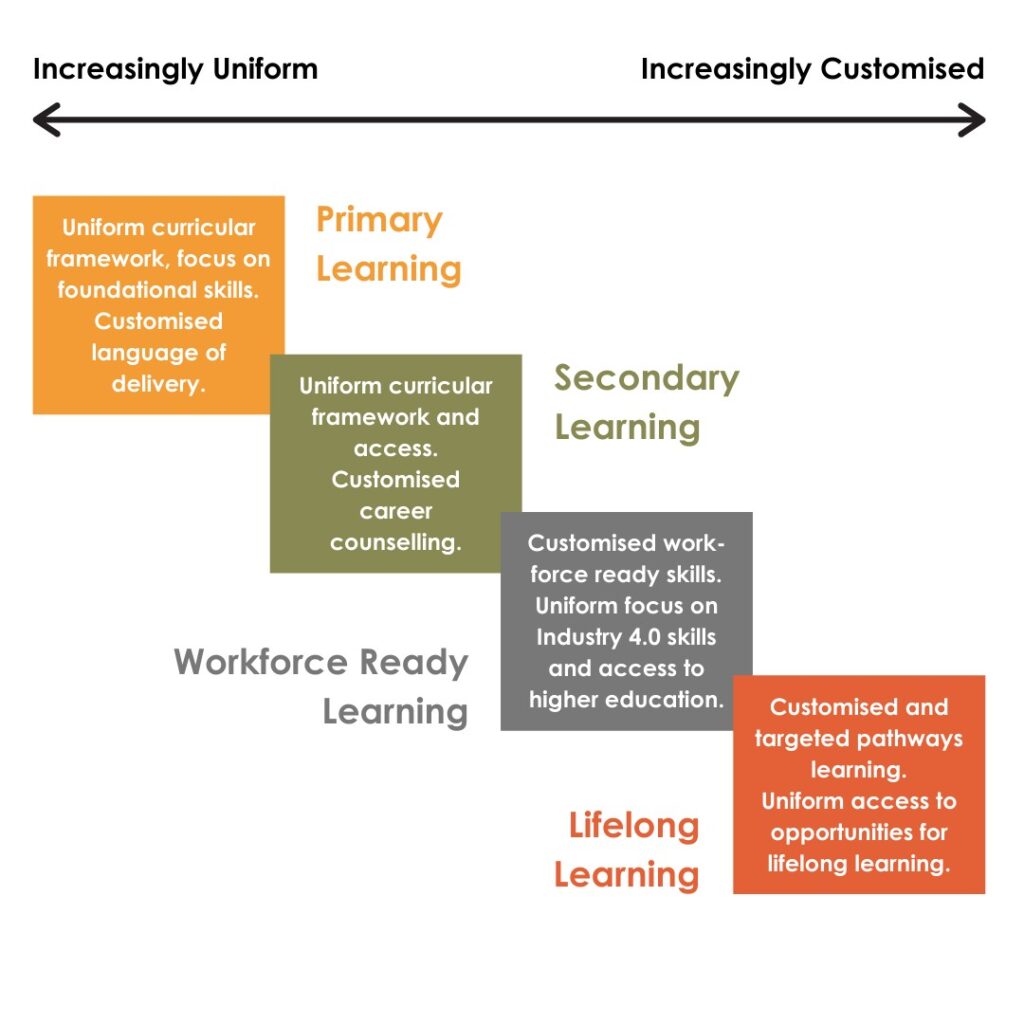 Given the need for increasing customisation through the different stages of learning,  constrained resources might render the state unable to equitably deliver all the necessary components at the required level of quality.
Higher education or workforce-ready education in India is not churning out students with the skills to compete in the labour market. At the heart of this issue is a resource allocation problem that needs to be resolved to ensure that young Indians are employable. While the State is best placed to provide uniform and equitable primary education; workforce-ready education might benefit from public-private partnerships that would allow companies to customise the delivery of education such that it dynamically adapts to changing labour market needs.  The Eisenhower Matrix can be utilised as a tool to think through optimal resource allocation for workforce-ready education. As explained in Part 1 of Breaking the Cycle, workforce-ready education falls under the category of high urgency and low importance for state delivery. This means that it would be in the interest of the government to delegate the task.
The Magic of Public-Private Partnerships For Workforce-Ready Education
As per a recent UNICEF Report on learning outcomes projections for South Asian countries, more than half of the Indian students who graduated 12th grade will lack the skills to find jobs by 2030. This means that the current model of workforce-ready education does not meet the changing requirements of the industry. In FY 2022-23, the school education and literacy budget allocated approximately 4,230 Cr per year of learning whereas the higher education budget allocated approximately 8,165 Cr per year of learning. While we spend more than double on higher education compared to all the other categories of education; the outcomes from this expenditure are woefully deficient. To maximise the outcomes from public education provision for both the labour market and students, workforce-ready education should be as targeted towards meeting labour market needs as possible.
For example, to meet labour market demands in Bangalore, workforce-ready education would need to provide software development training, whereas, in Mumbai, training on the financial markets may be more relevant. Similarly, there may be requirements for tourism studies in rural Uttarakhand and small/medium scale farming in rural Maharashtra. However, the cost constraints to provide dynamically altering, customised workforce training could be prohibitively high from a state-delivery perspective; especially given that the demand for specific skill sets will dynamically vary over time, depending on real-time skill gaps in the labour market.
In order to optimise resource allocation, the state could enter into public-private partnerships to deliver customised workforce-ready education, while maintaining regulatory control to ensure equitable access to the last-mile student. Given the right incentives (such as tax breaks) for private sector organisations to make the effort, suitable partners for education delivery can be found. For example, if one needs to facilitate tourism studies in Uttarakhand, MakeMyTrip or Airbnb would already be well-equipped to provide a localised workforce-ready training, as positive outcomes from this would enhance their business performance. If the State were to encourage such an approach, livelihood outcomes for the last mile citizen could be transformational. For the case of small-scale farming production, an apex body such as NABARD could partner with an NGO (such as Digital Green) to deliver the appropriate education.
However, to ensure equitable access to workforce-ready education, regulations which monitor and incentivise equitable access should continue to remain within the State's control. Ensuring accessibility of workforce-ready education in terms of pricing is crucial to ensure that low-income households don't miss out on the immediate return on investment. Unlike primary education, low-income learners may be more inclined to invest in workforce-ready education, given the immediate benefits. There are already civil society and private sector organisations that have been working to provide accessible workforce-ready education. NavGurukul, for example, is a non-profit organisation that provides residential, workforce-ready education to students from underserved communities. "We started by asking ourselves, can we improve the quality of higher education and make it accessible? We wanted to ensure that higher education could guarantee our students a good job- the idea was to create education linked to employability," says Abhishek Gupta, NavGurukul's Founder. Workforce ready education, by nature, needs to be able to equip students with skills required for the job market.
We have a capacity of 700 students, and we especially focus on providing workforce ready education to women, and students from rural and tribal areas. While COVID took a hit on our residential model, we've managed to facilitate the securing of 300 jobs, with a majority of jobs being secured by women. We're hoping to see at least 600 students get a job in 2022.
— Abhishek Gupta, Founder, Navgurukul
Education delivery as a function of equitable access to credit (or an alternative monetisation model like an income-share agreement) makes it a viable model for private-sector delivery. Furthermore, given that the private sector will seek to mitigate its credit liability, credit is likely to only be available for education offerings which will yield immediate income opportunities; jointly hedging risk for the learners also.
If unburdened by the requirement of delivery, the State could expend resources on designing policy solutions which ensure that first-generation (formal) learners are incentivized to obtain an education. This could take the form of credit access in the form of student loans or conditional cash transfers for education obtained in high demand sectors; alongside offering tax credits to organisations who roll out training programmes in the same sectors. In this context, the state system could (and should) put regulatory curbs on Non-Banking Finance Companies (NBFCs) to ensure that the credit offerings can be equitably accessed, for example, by removing the collateral requirements for credit access or mandating a cap on the interest rate payable. Upskilling the labour force in areas of labour market demand is likely to result in trickle-down benefits through the economy, especially if delivered in an equitable manner. Therefore, allocating state resources to regulate rather than deliver may prove more effective and efficient in the long term.
Today, 80% of our engineers and more than 50% of our graduates are labelled unemployable. This means that after obtaining undergraduate and postgraduate or technical qualifications (after almost 20 years spent in formal, full-time learning), learners find themselves inadequately prepared for the labour market.
The offshoots of such targeted education delivery models have already sprung up in India, catering to the skill gaps in the labour market. Pesto.tech and Blutetick.ai are for-profit companies which upskill engineers to compete for competitive jobs. Pesto.tech boasts that 50% of its learners get a 300% salary hike within one year of program completion- clearly indicating that they are able to deliver what the market needs. Bluetick.ai is a proof-of-skills based upskilling and hiring platform that enables early-stage professionals and students across varied educational backgrounds to secure top jobs in the field of Data Analytics. Mohit Jhurani, Bluetick.ai's Founder says "Early-stage professionals pan-India are willing to go the extra mile to access top opportunities and the evolving startup ecosystem is responding to the extra learning effort they're making by hiring from platforms like ours. We realised that the level of employer trust in employee readiness is critical and we enable that through AI-driven analytics showcasing learner skills. Job seekers on our platform landed opportunities with organisations across SaaS, D2C, e-Commerce and ed-tech sectors with a salary hike."
All three organisations operate through a different monetisation model- NavGurukul follows a pay-it-forward model, Pesto.tech has an income-sharing-agreement model, while Bluetick.ai charges learners a fee for the education provided and organisations a fee for the placements.  The placement data from each of the aforementioned organisations shows that high demand already exists for such an educational offering and that it can be lucrative to deliver, even for the private sector. If the State were to enter into public-private partnerships with the private sector or civil society organisations to deliver customised workforce-ready education, then the respective public sector resources could be reallocated elsewhere.
How Utilising the Eisenhower Matrix Could Solve India's Labour Crisis
From a policy planning perspective, the Eisenhower Matrix can be used to plan resource allocation for public education delivery, by asking the questions below regarding any proposed public projects.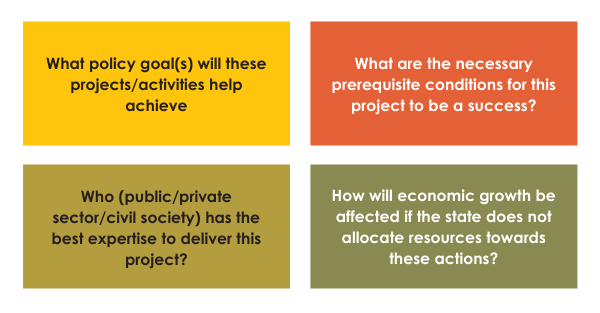 By answering these questions, a bureaucrat can identify the projects which require the most immediate action and focus state resources on delivering those. Projects which can be delivered by non-state actors should be delegated and projects showing lower immediate impact can be earmarked for delivery at a later time frame.
If we take the stance that limited resource availability renders the state unable to equitably deliver quality education for the entirety of the lifecycle of education, then from the perspective of public education delivery, primary education arguably deserves immediate and urgent priority. Vulnerable children need to be the focus of quality primary education, as without strong learning outcomes, investing in secondary education would be futile in the short run. 
Also, given the potent incidence of unemployability in India, urgent efforts are required to effectively service dynamically changing labour market needs by providing customised workforce-ready education. Given that such an education is likely to yield an immediate return on investment, parents and students will be able to perceive monetary value in paying upfront; making provision viable for the private sector. Overall, the state should attempt to allocate its limited resources in such a way that the public education system effectively serves the needs of its students and the labour market alike, in as equitable a manner as possible.
---
Featured image of TATA Industries entering into an MoU with the National Institute of Technology with the goal of creating an industry-ready workforce through education and research programs. Courtesy Autocar Professional