Co-authored by Aarathi Ganesan & Siddhant Sachdeva 
In the wake of worsening climate change, environmental degradation, and poorly regulated industrialization, a safe, healthy, and prolonged life can no longer be just guaranteed by light exercise and patrolling policemen. Over 2 million deaths are annually attributed to pollution, while the periodic destruction of ecosystems for 'development' has threatened to destroy the lives of communities that depend on them. This, in addition to increasingly erratic weather patterns and an abundance of natural disasters, threatens the material existence of states and their citizens.
Proactive legislation that promotes a well-balanced, 'healthy' environment has been deliberated upon over the past few decades. However, the efficacy of such protocols or commitments to the environment is debatable, given the sustained negative externalities that environments and their inhabitants continue to face. Reorienting this debate through the lens of human rights could help shift the discourse around environmental preservation, by localizing discussion around threats to a healthy life that actual global citizens face.
Environmental Activists and States
The UN special rapporteur on human rights and the environment, John Knox, has taken up this cause. Knox's drafted resolution proposes that member states recognize citizen's right to a healthy environment. His resolution comes off the back of increased civil protests surrounding state usurpation of environments and habitats for development projects.
Global figures bode ill for environmental activists, with fatalities increasing exponentially over the years. In 2016 alone, 200 activists were killed trying to protect their lands and livelihoods, while in the first five months of 2017, 98 such activists had been killed. The reasons behind this sudden spurt are intimately linked with environmental exploitation by globalist industries, with Knox identifying mining, agribusiness, logging, and dam construction as primary examples. This is evident in the 2,000 ongoing environmental conflicts being waged globally over land, pollution, water sources, illegal evictions, and mining.
These exploitative industries often prey upon developing states with poor legal protections and human rights institutions, resulting in the destruction of habitats, homes, and livelihoods. Negligible state action is compounded by internal bureaucratic corruption, and the more sinister aspects of capitalist expansion exacerbating violence against public activists and their causes. Although many states do profess strong institutions and normative ideals, such systemic deficiencies are prevalent, preventing these concerns from taking centre stage. This is especially evident in India, which in 2016, was ranked the fourth deadliest country for environmental activists, in spite of plentiful legislation and institutions serving the environment. Data released by the NGO Global Witness, highlighted the deaths of 16 environmental activists the same year, a quantum leap from six the previous year. With the Centre's development agenda challenged by 'anti-development' agitators, repeated harassment of activists remains a key strategy in silencing public voices.

Killings by Country – 2016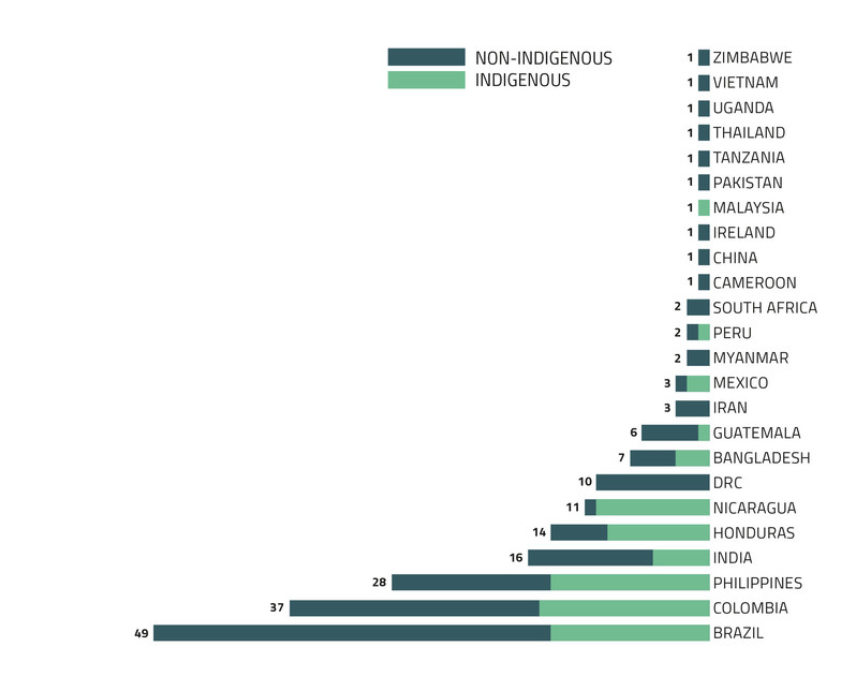 Source: Defenders of the Earth
The death of a Dondria Kondh tribal youth, Manda Kadraka, in a 'police encounter' in 2016 is a case in point. Those who filed police complaints surrounding his death were labelled 'Maoists', closing enquiries into the case, and silencing his protests against bauxite mining in Orissa's Niyamgiri Hills by industrial giants. Domestic political conditions and institutions, therefore, can often be wilfully incognizant of human rights abuses and environmental degradation.
A Giant Leap for Humankind?
Knox's appeal employs a holistic approach to making a healthy environment a basic right, focusing on the interdependence between human rights, state responsibility, and increasingly vulnerable ecological systems. For example, proactive protection of the environment by state machinery assists vulnerable communities and ecosystems, simultaneously strengthening human rights institutions themselves. As a result, confident advocacy is incubated, with easier access to legal redress, information, and participation in state proceedings.
However, it is important to acknowledge the very real possibility that the framework might not work everywhere; India is a prime example of this problem.
That being said, the resolution, if formally passed, will set a global precedent for states regarding the environment, development, and their citizens. Like many other UN human rights resolutions have done previously, stressing the importance of healthy living environments on a global platform shifts discourse in favour of individual liberties. While this rhetorical shift may be slight initially, it could have future widespread impacts on the current ease with which lives and habitats are destroyed. Although the future surrounding Knox's resolution is hazy, it could mark the beginning of a giant leap for the protection of humankind.
Aside from her work as Editor at The Bastion, Aarathi explores the cultural intersections between gender, technology, and development in South Asia in her free time.