Co-authored by Aarathi Ganesan and Avantika Bunga 
Coral reefs and marine environments across the world are facing increased pressure from fast-developing blue economies and lacklustre environmental protections. Beyond affecting marine ecosystems within themselves, failing to protect coral reefs impacts the lives of over 500 million people worldwide who depend on their resources.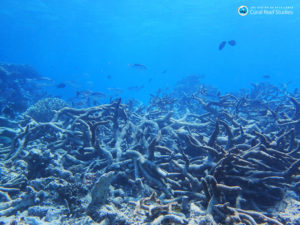 This is especially true in India, where reefs hug the country's coastline. The Andaman and Nicobar (A&N) Islands are home to some of the country's most beautiful coral reefs and host 89% of India's coral diversity.
Forming India's Eastern maritime flank, A&N, especially areas in South Andaman, have come under the scanner of the Centre's Sagarmala project, with proposed ports littered across the islands. The islands have also witnessed an influx of tourists over the years, resulting in increased development across the board. Local reef systems, anyway the subject of little research or conservation, are suffering as a result. While beneficial to national economies, this kind of a push for development (often undertaken without conforming to environmental compliances) sounds the death knell for ignored marine environments and biodiversity.
Troubled Waters (for Coral Reefs)
As is seen in the case of the GBR, corals don't respond well to rising ocean temperatures, expelling zooxanthellae, an algae crucial to their healthy functioning as a defence mechanism. Without it, corals often starve, and lose their characteristic colourful exoskeleton, leaving behind a white coral. Known as 'bleaching', this process can be kickstarted by a one-degree celsius rise in oceanic temperatures.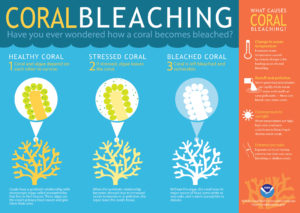 The increasing acidification of the ocean as a result of rising carbon dioxide levels also affects corals, reducing their skeletal density and making them vulnerable to breaking under minor pressures. In an email exchange with The Bastion Dr. Vardhan Patankar, a marine biologist researching marine life in A&N, notes that the increasingly rapid rate of these climatic changes "are potentially beyond the capacity of reefs to adapt and recover."
The effects of these phenomena in A&N's reefs are already visible with a series of bleaching events taking place between 1998 and 2016, triggered by natural catastrophes such as cyclones, tsunamis, and warm underwater currents. Populations of fish dependent on the reefs have declined, triggering the shutdown of local food chains, and impacting coexisting habitats. As the health of coral reefs in A&N continues to be poorly documented post-1998, it is difficult to assess how bad the damage has been over time, and how the environs can be best preserved. "Long-term monitoring of reef resilience (..)  is severely lacking in the A & N Islands", says Patankar.
Conservation in the Face of Development
The vital scientific monitoring of coral reefs undertaken by the Ministry of Environment, Forests and Climate Change, facilitates their conservation, yet leaves much to be desired. The Ministry is charged with the responsibility of reef conservation, through collaborative research programs with relevant NGOs and research centres. Yet, according to Patankar, state-level representatives of the Ministry lack basic knowledge on coral ecosystems, affecting reef management, conservation, and interactions with varied stakeholders.
Although government assisted research abounds on the different species inhabiting the reefs, academic perspectives of reef conservation routed through climatic changes or local perspectives are lacking. Even when organizations are eager to conduct long-term reef research in Andaman, Patankar notes that "procuring timely permits from the Andaman and Nicobar Forest Department [can be] a herculean task." While there is a figurative commitment to coral reef preservation, the realities of conducting research and general development practices in A&N seem to suggest otherwise.
As A&N's forests are cleared to make more room for people from mainland India (who mainly settle in South Andaman), deforestation and soil erosion cause siltation off of the island's coasts, damaging local reefs. The run-off from chemical-heavy pesticides and fertilizers, and sewage systems, all empty into the surrounding sea, worsening oceanic pollution. With marine development gathering steam in Port Blair (amongst other areas), dredging has increased across the islands, causing sedimentation in nearby reefs and spurring deadly infections in their waters. Even reefs falling under Marine Protected Areas (MPAs) like the Mahatma Gandhi Marine National Park are showing signs of sedimentation from nearby development.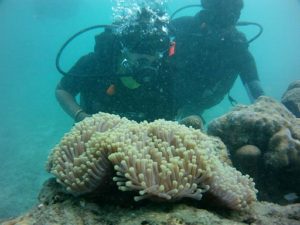 That such activities are continuing unchecked is especially surprising, given the existence of special environmental protections for corals in A&N. Coral reefs in India fall under the protections of the Coastal Regulation Zone (CRZ) as of 1991, with a special category of protections devised for reefs in A&N and Lakshadweep, preventing development activities. "As per the CRZ norms, use of corals and sand from beaches and coastal waters (..) dredging, blast fishing, [and] underwater blasting in and around coral formations is prohibited," notes Patankar. That these specific development practices continue to occur in A&N without reprimand points towards a significant shortcoming of such protective norms: a lack of clarity "on exactly how and in what circumstances [these practices] constitute an offence punishable by law".
Amendments to the widely criticized CRZ draft notification this year continue to privilege coastal development, reducing the protected CRZ zone from 200m away from the shoreline, to just 50m. The same notification also does away with public hearings between the government and local residents before development projects commence.
Severing a Symbiotic Relationship
Local fishing communities who live near coral reefs depend on them for food and economic security. When reefs are subjected to continued developmental stresses, these communities and their age-old lifestyles, are heavily compromised. The CRZ notification, and longstanding Central apathy towards monitoring (and protecting) the healthy functioning of the reefs, severs this symbiotic relationship.
Beyond coral reefs, these amendments quietly open the doors for discernible shifts in India's marine environments, triggering knock-on ecological shifts of unknown consequences. For example, marine ecosystems are twice as effective at storing carbon dioxide within their own biomass than forested ecosystems, making them especially helpful in combating oceanic climate change. Continued destruction of reefs ironically destroys the natural mechanisms in place that help counter climate change.
Reimagining Reef Conservation in A&N
For Patankar and other researchers, plagiarized research on species inhabiting the reefs conducted by the Zoological Survey of India over the past two decades has raised "questions regarding the credibility of existing coral research in India, along with obscurities in the baselines on which future studies will be based." Re-establishing the basic biodiversity of A&N, and Central support of long-term reef research by governmental and non-governmental agencies in A&N is necessary to sustain these ecosystems and decide holistic conservation policy. The Maharashtra state government is using satellite imagery to map changes in coral reefs off the state's coast; similar practices in A&N would widen the limited information available on the reefs.
Given A&N's popularity as a tourist destination, developing practices that raise awareness of the fragility and uniqueness of the reefs could be a way forward. Dakshin, an environmental NGO based out of Bengaluru, has initiated a citizen-based data collection project called REEF LOG, where tourists diving into A&N's reefs can help identify the different corals and species they see and return their findings to their tour guides. Such methods help contribute to the available data on life-systems in the reefs while encouraging responsible tourism.
Above all though, in spite of the recent CRZ notifications, conserving A&N's reefs starts with the implementation of integrated conservation and reef management practices. As the reefs are shared resources, mitigating the effects of development on the islands, their inhabitants, and coral reefs requires integrated cooperation between locals, the tourist industry, state administrative officers, and the Centre. Only when all these perspectives are outlined can realistic conservation solutions be produced. In the meantime, training local administrators in basic marine conservation, integrating knowledgeable locals into protecting coral reefs, and ensuring that violations of environmental protections are punished could go a long way in kick-starting the conservation process.
In recent times, Indian leaders have received widespread international recognition for their commitments to conserving the environment and employing sustainable development practices. While such awards are welcome, to catalyze the conservation of India's diverse environs, this concerted ethos has to be visible in India's less glamorous yet highly contested marine environment as well. The locals of A&N are not the only ones who stand to lose from poor reef and oceanic conservation, for as Patankar astutely states, most of the country is "dependent on marine habitats directly or indirectly," for economic or food security. If not for the sake of the oceans, then for the sake of the recipients of development projects, conserving and protecting coral reefs amongst other marine ecosystems should be recognized as an immediate concern.
Click here to read The Bastion's interview with Dr. Vardhan Patankar
Featured image courtesy Vardhan Patankar|CC BY-SA 4.0