Written by Tanay Gokhale 
Alongside a seventh of the world's population and a fast-growing economy, India is also home to a huge waste problem. Every year, India's urban population alone produces a whopping 62 million tonnes of waste. Half of this is disposed of in landfills, wherein 5.6 million tonnes of the most harmful effluents come from plastics. Not only do these take generations to decompose, but they also pose a menace to sanitation projects in already overpopulated cities.
One solution is to recycle plastics wherever possible and make them available for reuse. India has a thriving recycling industry, serviced by the numerous kabaadiwalas, raddiwaalas and other waste aggregators. These networks have produced recycling rates as high as 90% for some plastics.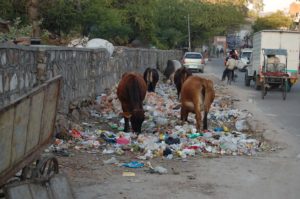 There are two inherent issues that lead to India's dismal collection, recycling and disposal of plastics.  The first is the fact that most Indian citizens do not follow the best practices in waste segregation and disposal in spite of legal precedents. The National Green Tribunal and the courts have taken steps to reduce the waste menace, calling state and city governments to action multiple times. With the legal machinery in place, it is up to citizens and local governments to follow through with the responsible collection and segregation of waste.
Secondly, the recycling industry is largely informal, with a series of waste collectors and aggregators working without any assistance from the government. These workers are responsible for 70% of all plastic recycling in India. Given the lack of formal organization, these waste warriors are all the more vulnerable to economic shocks like demonetization and changing tax norms like the GST because they have little to no bargaining power. This phenomenon greatly undermines their efforts and often leaves them without a fallback in times of economic hardship.
If these two issues are tackled (ideally, simultaneously), city governments could see a drastic improvement in waste-collection as well as recycling rates.
The Citizen's Carrot
Penalties and fines can be strong deterrents for crimes. However, wielding the stick comes with its own share of operational hurdles. Monitoring the behaviour of citizens, redressing their grievances and assigning accountability fairly, are some of the major issues. Not to mention the general displeasure that arises at the imposition of yet another restriction upon the public.
On the other hand, the carrot of monetary benefits could prove to be a strong motivator for waste segregation and participation in recycling initiatives.
A recent illustration is the recycling machines installed in Thiruvananthapuram; citizens can dispose of their recyclable PET bottles and receive benefits which can be redeemed on other public services like transport.
Inserting a plastic bottle into the recycling machine I have installed at @TVC138 TruvandrumCentral railway station. Held up the coupon recyclers get which can be applied against bus fares & other discounts. Let's get rid of plastic the cost-effective way! pic.twitter.com/KRni15Vpdz

— Shashi Tharoor (@ShashiTharoor) August 4, 2018
While Thiruvananthapuram is India's first tryst with such a policy, EU member nations have been tinkering with similar instruments since the last decade. In 2008, the EU issued a directive to institute 'extended producer responsibility' and the 'polluter pays' principles in all its member states. The Interreg Balkan-Mediterranean, a daughter organization of the European Regional Development Fund, has designed a similar policy, which gives conscientious citizens monetary incentives if they participate in recycling activities.
Another example from Europe comes from Greece. Much like in Thiruvananthapuram, the Greek Ministry of Environment, Energy and Climate Change has installed recycling centres where citizens can hand over recyclable waste, in return for a monetary reward. In the UK, while the policy isn't implemented, the Local Government Agency, an organization representative of all local governments in the UK has recognized the efficacy of this solution. It has recommended the National government to divert some of its revenue from the landfill tax it levies on the citizens and use it to reward citizens who contribute to recycling.
The Bangalore city government considered incentivizing citizens to properly segregate and dispose of waste by offering to buy compost from them; citizens were expected to use a government-provided decomposer to convert their biodegradable waste into compost which could be sold to the government, literally creating wealth from waste.
Apart from city governments, private firms like IBM's The Plastic Bank and RecycleToCoin have also set up successful systems, in which blockchain technology has been used to offer monetary benefits to citizens in the form of crypto-tokens. City governments could look to firms like these to streamline such a policy.
Formalizing the Waste Collection Machine at the Municipal Level
The second problem concerns the kabaadiwaalas, pheriwalas and other aggregators of recyclable waste who function outside of the formal economy and are responsible for most of the plastic recycling in the country. Dealing with hazardous waste, these workers are often exposed to pathogens through medicinal waste, broken glass and even excreta. Moreover, the lack of government recognition means they don't have any insurance, income stability or medical help. In such a bleak work environment, these crusaders of kachra (waste) are often at the mercy of trends in the larger economy, to which their sector is greatly responsive.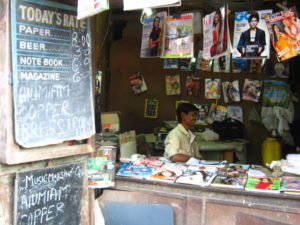 With such a situation at hand, absorbing the recycling sector into the city government could be a solution worth considering. This move would be a win-win situation for both parties.
On the one hand, the government would be able to harness this industry's vast network and streamlined nature of operations. On the other, the workers belonging to this industry would have access to government resources, a fixed pension, and a better work environment. Such an initiative has been seen in Pune district, where waste collectors came together and formed a co-operative called SWaCH. This formally recognized body was then contracted by the Pimpri Chinchwad Municipal Corporation (PCMC) to provide waste collection, disposal and processing services to the citizens.
The contract proved that SWaCH had succeeded in its objective of securing a better standard of living for a section of society whose rights are often overlooked. Moreover, the additional bargaining power which came from proper organization also empowered this organization to fight for better wages and to take action on certain malpractices within the PCMC.
Such a strategy — one that attacks the problem of segregation and strengthens the recycling industry together — is a fairly new policy instrument. Needless to say, taking it beyond the conceptualization stage will involve a lot of trial and error and possibly, institutional changes in local governments. But with India's population and its economy growing in the near future, municipal governance all across the country must adapt, even at the cost of breaking convention and adopting a radical approach.
Featured image courtesy Cory Doctorow|CC BY-SA 2.0