Written by Armaan RM 
Municipal Solid Waste Management (MSWM) in India became a public and administrative grievance after the economic development and rapid urbanization that followed India's liberalization in 1991. The sudden surge in waste production ended up going unchecked and is set to continue impeding the development of most metros.
Urban India now produces 62 million tonnes of waste every year, which poses an issue to India's health, environmental and administrative concerns. Records from the National Green Tribunal, India's apex environmental authority point out that 92% of Urban local bodies practice open dumping of waste. This prompted India's apex environmental court to ban Open Waste Burning in 2016, in favour of scientifically managed landfills.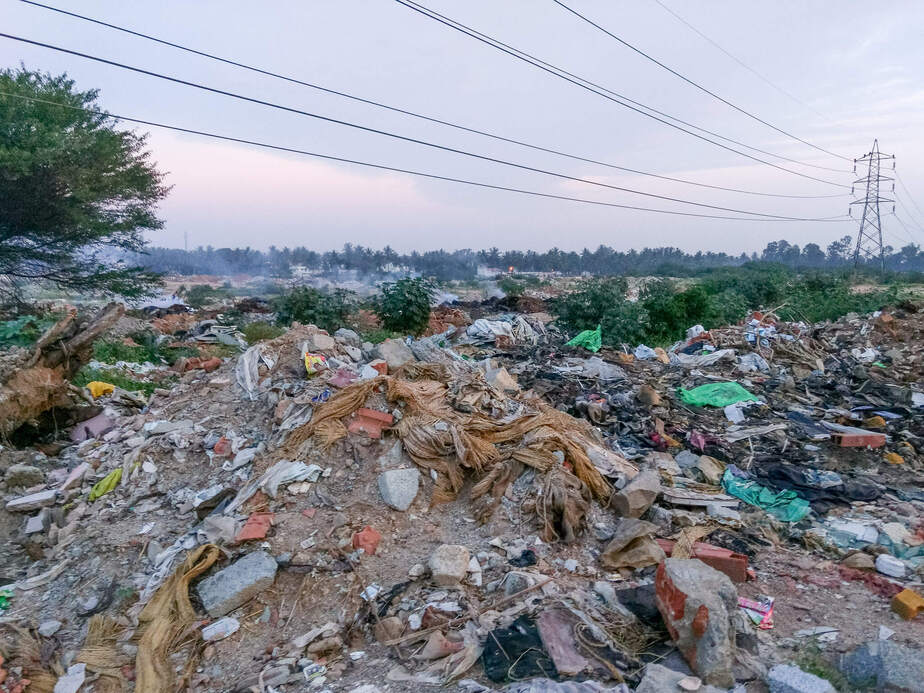 The solution lies in Sustainable Waste Management. On World Environment Day, social media and grassroots-level campaigns on World Environment Day rightly focused on the benefits of individual participation and Sustainable Waste Management at the source. Individual participation coordinated by Urban Local Bodies (ULBs) is integral to MSWM. Sustainable Waste Management has the potential to provide employment to India's informal sector as well as preserve natural resources through the use of appropriate technologies for waste segregation and recycling.
People Power
India's waste management movement started when environmental crusader Almitra Patel filed a PIL before the Supreme Court in 1996. Through Article 32's provision addressing the violation of citizen's fundamental rights, Patel sought to improve India's MSWM practices. She held that no town had facilities to properly collect, segregate and dispose of waste through scientific methods. This was later taken up by the National Green Tribunal due to lack of administrative compliance.
Patel's PIL prompted the Indian Ministry of Forests to create the Municipal Solid Wastes (Management and Handling) Rules, 2000 under the Environmental Protection Act 1986. All municipal authorities were responsible for the MSWM process under these rules. But even as late as 2014, the effective functioning of ULBs (as per the 2000 rules) could not be proven by state governments before the NGT. In fact, the effective functioning of ULBs is yet to be proven.
The SC and the NGT have repeatedly asked responsible authorities to take action for waste management, but local bodies face funding shortages, land acquisition woes, administrative incapacities, weak political will and poor waste handling at the source.
While hearing the same 1994 Patel Case in 2016, the NGT notified municipal authorities and Pollution Control Boards (PCBs) to create solid waste management action plans. It forced the government to enforce the new SWMR 2016 which further increased the ambit of responsibility for SWM to individual users of waste, including all resident organizations and commercial institutions. These legislations have empowered agencies to clean and manage waste through adequate technology and means. But, as of 2017, 18 out of 36 States/Union Territories in India are yet to put out definite action plans. Financial penalties and disciplinary measures levied by the NGT have yielded no response.  
Most of the NGT's orders are difficult to supervise due to the size and federal structure of India. For example, the NGT and Supreme Court have banned the open burning of waste multiple times, just like the bans on plastic-use in many states. What armchair activists miss out is that the NGT only has the power to set a precedent. It is actually up to urban local bodies (take the Bangalore Municipal Corporation, for example) to make final decisions and implement on the ground.
But this decentralization is now one of the most important elements of waste management. Responsible Waste Management authorities like Mysore Municipal Corporation have reached out to its citizens to promote waste segregation at the source. This has led to the recycling of plastics and the use of biodegradable waste as compost. In the process of empowering local citizens with grassroots-level SWM units of their own, Mysore now segregates 80% of its waste using 7 zero-waste management plants located throughout the city.
The 2016 rules hold municipal corporations, PCBs and the Ministry of Forests and Climate Change (MOEFCC) responsible for reaching out to the people for SWM. However, individual creators of waste could also be prosecuted in court for unlawful dumping of waste. This shift in responsibilities to individuals reduces the stress on overburdened and under-equipped municipal authorities.
The Waste Management Process
SMW in India involves 4 main steps: street cleansing, collection, transportation and disposal. Transportation and Public Health Departments of ULBs are responsible for the sanitary disposal of waste. However, more than three-quarters of the Municipal budget is spent on collection and transportation. SMW is conducted at the municipal ward level, where local municipal authorities are responsible for waste in their area only.  Municipal waste segregated at the source is important, as it makes the subsequent processes more efficient and sustainable. This is often done through the informal recycling and wastes segregation sector present in India.
The informal sector refers to the kacharawalas, kabbadiwaalas, and pheriwaalas who recycle and segregate waste. This sector often goes unnoticed,  but plays the most crucial part in India's limited waste segregation and management. This informal sector belongs to the Urban Poor, a section that is forced to live alongside the waste that is taken away from the seething eyes of the urban voter. This is the case in Chennai, wherein the Pallikaranai dump yard is situated near slums like Ambedkar Nagar which house the urban poor.
The Smelliest of Them All? Waste Sensitization!
Municipal Authorities also face an important issue of waste sensitization, as public sensibilities also play the most important role in Waste Management. The adoption of a use-and-throw concept of products by the Indian public adds to the problem of Waste Management. This is a very interesting phenomenon, as Indians have a tradition of saving and reusing waste at homes such as plastic bottles, jars and plastic bags.
India has tried to sensitize the public on waste management and sanitation through the Swachh Bharat campaign. The campaign has been facilitating grassroots level waste management systems, with a focus on individual participation and source based waste segregation. The conversion of waste to compost and power (which was sloganeered for by the campaign) is still slow due to lack of funding and infrastructure. However, the inclusion of students in the process could help simplify the process of waste management.
There is a fragrant side to this waste segregation humdrum. Municipal authorities like Indore, Trivandrum and Mysore have taken a positive approach. Delhi Municipal authorities have recently taken charge and drafted municipal by-laws that incentivise and empower waste management. Delhi's infrastructure may yet be lacking, but it has the potential to reduce the load on its landfills. Similar movements can be seen in Maharashtra which is enforcing the plastic ban. Data suggests that tier-two cities are leading the way in Sustainable Waste Management.
The hard-pressing truth is that the NGT has done its bit; it is up to individual citizens and their municipal authorities to segregate and manage waste at source-level, which is one of the main aims of the SWMR 2016 and the Swachh Bharat Abhiyan. Holding local municipal authorities responsible for their due diligence will reduce the finger-pointing towards India's overburdened environmental authorities; more importantly, it carries forward the ethos of Sustainable Waste Management. The onus of managing waste begins in the homes of Indian citizens.