Written by Vaishnavi Rathore 
The 2020 budget is out. And, with an aim to create a 5 trillion $ economy to push India out of the current economic crisis, it is ambitious. But consider this: a report by McKinsey and Co. suggested that unchecked climate change would cause a reduction of 2.5-4.5% of India's GDP. Despite this being a scary revelation, the Hon'ble Finance Minister's 2.5-hour long budget speech saw a miserly three minutes dedicated to Environment and Climate Change. When she did get around to it, she announced an allocation of Rs. 4,400 crores in 2020-21 to combat air pollution in cities across India.
So, when it comes to climate change finances, how exactly does India fight the big, bad phenomenon? A few encouraging developments have taken place in this context recently. In October of 2019, India joined the International Platform on Sustainable Finance, moving towards transitioning current economic investments into a green, low carbon, and climate resilient economy. A significant development has also been the launching of the Coalition for Disaster Resilient Infrastructure in September 2019. This will promote the resilience of new and existing infrastructure systems to climate and disaster risks. It is a welcome step at a time when India has been ranked as the fifth-most vulnerable country in terms of extreme weather events, according to an environmental think tank Germanwatch.
Hon'ble PM @NarendraModi announced the Coalition for Disaster Resilient Infrastructure at #ClimateActionSummit,calling for a comprehensive approach to #ClimateChange. #CDRI will catalyse development of #ResilientInfra across the world. We invite member states to join the movement pic.twitter.com/hxNM6Ub3MM

— Coalition for Disaster Resilient Infrastructure (@ResilientInfra) September 23, 2019
In terms of direct projects, the Economic Survey 2019-20 boasts of approving 30 adaptation projects across vulnerable sectors like  water, agriculture, forestry ecosystems, and biodiversity. In all, this cost the country about Rs. 1819 crores. But, where does this money come from? And more importantly, how well does this feature in the budget?
The Big, Fat, Green Climate Fund
Climate change financing is messy. Currently, this financing is a result of multiple processes fed by domestic (like the developments mentioned above) and foreign funds. An important foreign fund is the Green Climate Fund, the world's largest fund created under the  United Nations Framework Convention on Climate Change.
The motive behind creating the Green Climate Fund is simple—since the onus of climate change is on developed countries, they should "pay". One of the ways to do this is to provide funds to middle-income and low-income nations for adaptation to and mitigation of climate change. Financing the UN's Sustainable Development Goals worldwide, is estimated to come at an enormous cost of US$ 5 to US$7 trillion per year, as suggested in India's previous Economic Survey.
Now, in terms of the money flowing from developed countries, 2016 data reflects something surprising: of the $75 billion raised in climate funds, India received about $2.5 billion, making it the highest recipient over any other country. Then why aren't as many mitigation and adaptation projects on the cards?
As it turns out, reports stating these estimates have been heavily criticised by many experts. In 2015, a discussion paper by Climate Change Finance Unit, a body created under the Economic Affairs Department, questioned one such report on its methodological credibility. One of the problems, it stated, was that pledges to climate funds have been a significant USD 32 billion, but actual funds deposited from those pledges to countries is almost half, at USD 17 billion.  
The strong critique of inadequate funds flowing from developing countries extends in this Economic Survey too–it states that where new funds have started flowing for the years 2020-2023, only 28 countries pledged resources worth USD 9.7 billion to replenish the fund. This, it states, is quantitatively lower than 2014, but by how much, it doesn't say. 
So, if the foreign flow of money into India or any other developing country for that matter is debatable, then what does our domestic fund raising for climate change look like?
A glance into the 2020 Budget
Currently, climate financing in India is a result of multiple processes and institutions, which include, ministries and departments within the government (for instance, the Prime Minister's Council of Climate Change), Local and sub-national entities (state governments), development finance institutions (NABARD), public sector banks (SBI and Canara Bank), private sector banks (ICICI, HDFC), and civil society organisations or NGOs (TERI, CSE, although not through direct financing).  Sounds complex? That's because it is.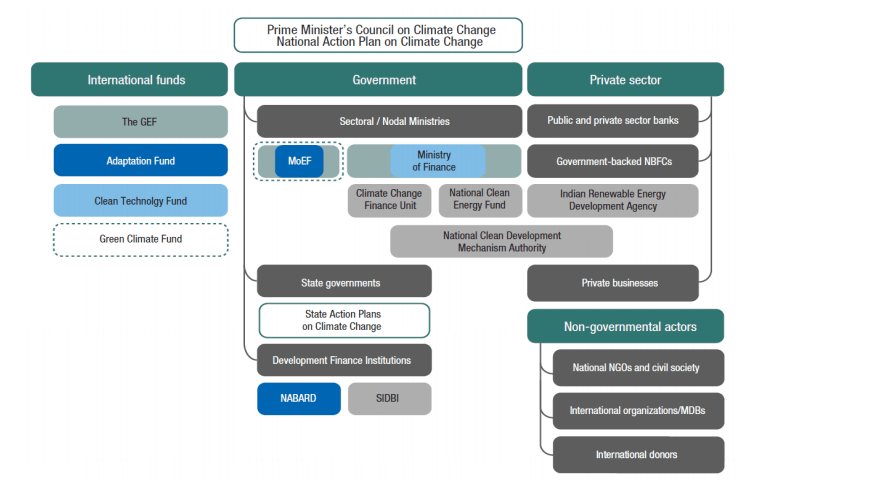 Apart from these bodies, climate change fund-raising can be seen in fragmented ways through some schemes across departments. Let's have a look at how they fare in this year's budget.
In 2015, India created a National Adaptation Fund on Climate Change to support concrete adaptation activities for states and UTs that are particularly vulnerable to adverse effects of climate change, and are not covered in the ongoing schemes. This was to end in 2020, but has been revised for 2020-21. Not only does this form a very small 3% of the total funds allocated to MoEFCC, this budget also reveals something discouraging: Not only was 60% of the budget allocated not utilised, the budget allocation for this year has fallen by 20 crores. 

Some more schemes and budgets have been bought under the umbrella of fighting climate change. These were termed as the National Action Plan on Climate Change (NAPCC), and was launched in 2008, enveloping 8 schemes within it. States and Union Territories were to follow suit and create state action plans on climate change in line with its mandate. 
Of these 8 schemes, only two feature in the 2020 budget document, which could either mean that these schemes have been subsumed by other schemes, or that they have not been allocated any budget. Amongst the two that are present–National Water Mission and Green India Mission–the picture looks a bit like this:

While all of the budget sanctioned for the National Water Mission was utilised, for the National Mission for a Green India, 3% of the budget was still unutilised. 
As you must have guessed by now, too many actors are involved in the Climate Change finance infrastructure. This, of course, means that a coordinating mechanism is needed. The saviour of climate change finance then came in the form of Climate Change Finance Unit (CCFU).   
CCFU and the way forward
Formed under the Department of Economic Affairs of the Ministry of Finance, the CCFU was to be the nodal agency to integrate climate change into development frameworks and financial systems while supporting sustainable development and mitigation plans. But over the decade, its role has been limited to only representing India in international conferences. A press release by the Ministry of Finance in 2018 makes this clear when it states, "As the nodal point for Climate Change Finance matters in the Ministry of Finance, CCFU has been representing the government of India in various international fora…"  This means that we are staring at a climate change crisis without any strong institutional, coordinating mechanism in place. 
The budget over the years has been disappointing in terms of financing mitigation and adaptation strategies, and this year has not been different. There are possibly more schemes and policies that we can attribute to indirectly fighting climate change, than what I have looked at here. This fragmented approach is the real challenge; climate change has been at margins through fragmented policies, and is far from being mainstreamed. 
It has been suggested that a 'Statement on Climate Change' be released within the Union Budget, which could state all the climate-relevant budgetary allocations of multifarious departments. Denmark introduced something similar last year.
Big news on climate change in the EU, with France, Belgium, Denmark, Luxemburg, Netherlands, Portugal, Spain, and Sweden drafting a proposal to spend 25% of EU budget on climate change, and net-zero greenhouse gases for the EU by 2050https://t.co/M8F0lNb2It

— Dominic Andersen-Strudwick (@AndersenDominic) May 8, 2019
If financing the fight against climate change through mitigation and adaptation is not taken seriously, the push to a USD 5 trillion economy is going to come at a grave environmental cost. Maybe I need to put this is a way that would sound exciting to the shloka-chanting Hon'ble Minister of Finance: 
"क्लाइमेट चेंजम इस रियल्म: एलोकेट मोर बजेटम:" 
Vaishnavi works as an Environment Associate with The Bastion, and is interested in covering stories on forest and land rights, ecological restoration, governance of commons, and environmental justice. 
---
Featured image courtesy Markus Spiske on Unsplash