Co-authored by Gopika Kumaran & Avantika Bunga 
10% of India's population suffers from Common Mental Disorders (CMDs) which include depression, anxiety and substance abuse, according to the National Mental Health Survey (NMHS) 2016. That's more than 100 million people. India doesn't have sufficient resources to combat this either, because the country's entire mental health workforce is only around 15% of the actual requirement. This stark difference is a clear indication that mental health is not a priority in India.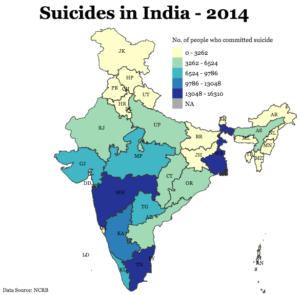 Unfortunately, the country has a culture of suppressing emotions and considers seeking help for mental illnesses as a sign of weakness. Most are unaware of their own mental disorders because they have never been taught to recognise its symptoms and characteristics. They believe its something they'll 'just get over it'. People harbour notions of shame in having a mental disorder and think that therapy is a waste of time. This stigma makes the situation worse by leading to abuse, rejection, isolation, and further exclusion from health care or support.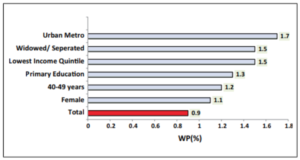 Being mentally healthy is not just the absence of disease, but encompasses "a state of well-being in which every individual realizes his or her own potential, and can cope with the normal stresses of life, can work productively and fruitfully" (WHO). Promoting mental health and emotional expression in schools helps reduce high-risk behaviours, stress, and increase the resilience and strength of students.
India had a major policy breakthrough in 2017 with the introduction of the Mental Healthcare Act. The Act promises to provide mental health care and services for people with mental illness and "protect, promote, and fulfil the rights of such persons". This is a significant step in recognising the growing problem but still does not include firm provisions for mental health education.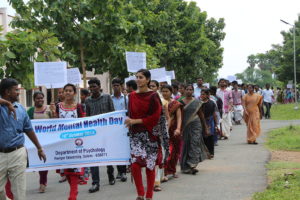 Starting Young
The resistance to seek professional help begins at a young age and must be combatted equally early. Adolescent children don't know how to cope with their mental illness. Most won't know how to identify symptoms and seek help. Psychological issues like low-self esteem, anxiety, learning disorders and psychiatric disorders have been identified as common risk factors for the initiation of substance use in children. It results in a vicious cycle because the substance abuse only makes them feel more depressed, lowers self-esteem, and causes addiction.  
Schools are an efficient, cost-effective way to reach out to young, impressionable children and their families. Physical health education has long been incorporated into India's education system and it's high time that mental health got the same kind of attention. There must be provisions for mental health education at a basic level through middle school and high school. Inculcating mental health practices in childhood could go a long way in building a healthy population.
Even though mental health is a very basic need, there is no nation-wide school mental health programme in place yet. There is

no mention

of mental health and mental illnesses in the ICSE or CBSE syllabus till Class 10.
CBSE had released a life skills curriculum based on WHO guidelines but the implementation was not uniform, superficial, and in some cases, non-existent. Beyond Class 10, only students who study biology, psychology and home science read more about it. However, basic knowledge of mental health is relevant and impacts every student, irrespective of specialisations.
Over the years, there have been government provisions on paper, to include mental health in curricula. The National Mental Health Programme (NMHP), originally launched in 1982, included revised guidelines to provide for life skills education, counsellors, and involvement of NGOs, in a bid to improve mental health in schools. It was allocated only 50 crore rupees to cover minimum mental health care and boost the ranks of mental health professionals. In a country where 1 in 100 people suffer from mental disorders, this is unlikely to make a dent.
Furthermore, the guidelines for schools were vague and recommendations which were not followed in a widespread, uniform manner. Over an email exchange with The Bastion, a psychology teacher who did not wish to be named, from a popular Delhi school wrote, "Yes, there are guidelines mentioned by CBSE and NCERT but not all guidelines are followed. Usually, they are modified for convenience by private institutions."
The National Curriculum Framework 2005, mentions Guidance and Counselling as part of the curriculum. In their Guidelines for Guidance and Counselling, they write that "To address the developmental needs and concerns of students at different stages of schooling, a professionally trained person, a counsellor or a teacher-counsellor is required to work within and with the system." Yet, apart from private schools that hire school counsellors, most Indian schools (especially government schools) cannot hire permanent counsellors, because of a lack of finances and a shortage of trained professionals.
Bridging the Gap
Since the government has no clear-cut uniform policies in place, mental health resources and programmes are not universally available in India, especially in schools. A few public players like AIIMS and private entities like Fortis work in partnership with schools to create mental health programmes and provide counselling help, although this is not always regular.
In December 2017, the UK introduced mental health services and education specifically for schools under government plans. These are expected to be in place only by 2022, because of the lack of resources and slow recruitment process of health professionals. If this is the slow pace and challenges that the UK might face, developing countries like India could face even more complex problems. As the WHO mentions in a report, developing countries struggle to bring mental health services (which are usually unaffordable) to the public due to a "lack of awareness, low political commitment and an acute shortage of trained professionals".
Even if India recognises this growing need for mental health solutions and provides resources through policy change, there remains the issue of social stigma which makes people hesitate to seek professional help. It needs to be a two-pronged attack that focuses on providing widespread resources and battles the beliefs that hold back people from accessing those same resources.
Schools are the best place to tackle these notions because it is a platform to reach students, parents and teachers. When the information and awareness are spread through the trusted, educational platform of schools, the stigma against mental illness will likely reduce.
This is why it is even more essential to introduce mental health education at the school level. The need of the hour is sensible, scalable policy and clear-cut instructions that will be implemented uniformly, in spite of low political commitment. If the problem is attacked at the roots and a change in mindset is brought about in schools, this could be an efficient way to tackle the population's growing mental health concerns.
Featured image courtesy Brian Glanz|CC BY 2.0