When Vicky Roy (VR) was a young boy, he ran away from his home in West Bengal all the way to the capital, New Delhi. He survived by living on the streets and working as a child ragpicker at the New Delhi Railway Station. Roy was later rehabilitated by the Salaam Balak Trust; it is during this period that his tryst with photography began. Decades down the line, Roy has won accolades for his work on one of India's most populous yet ignored populations: street children. In 2007, he held his first solo exhibition "Street Dreams". The rest is Forbes 30 Under 30 (2016) history.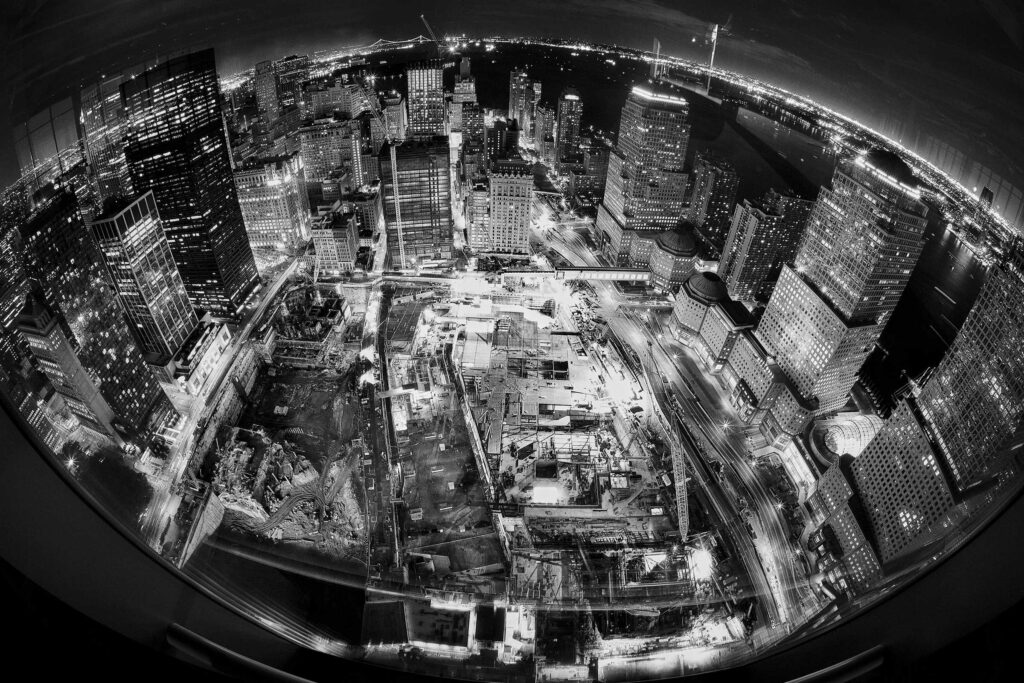 His work is only more pertinent today, on the International Day For Street Children. India is home to 307.6 million children, of which 2 million live on the streets. Of these, 79% lack official forms of identification. Without proper ID, they fall through the cracks of the Indian state. When rendered invisible to the protections of the law, addressing the issues of homelessness, violence, exploitation, substance abuse, and sexual abuse that children on the streets face at a structural policy-level will never happen. It is this state of affairs that Roy and Save the Children seek to change.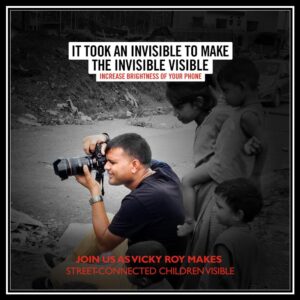 Roy's latest photographic project falls under Save the Children India's #TheInvisibles campaign, which aims to make these invisible children visible by providing them with legal identification and linking them to the education system. In 2018, Roy photographed children associated with #TheInvisibles campaign across ten cities, documenting their stories and lives. The culmination of this project is an online exhibition of his photographs to be released on the 20th of April for public viewing.
Aarathi Ganesan (AG) sits down with Roy to discuss his life's work, and how he touches the lives of people who most certainly exist, yet are invisible to a larger document-driven state apparatus.
AG: How and why did you choose photography as a medium to talk about street children?
VR: When I was at Salaam Balak, there was a photography workshop that I actually didn't end up participating in! One of my friends did though, and after the workshop there was an exhibition of his work. As we spoke, he realised my interest in his work, and suggested that I take up photography too. So I approached my teacher at Salaam Balak, and told them that I would like to learn this art form. You see, at the time, I was also learning that photography was a medium through which you could convey messages, the same you can through writing or music.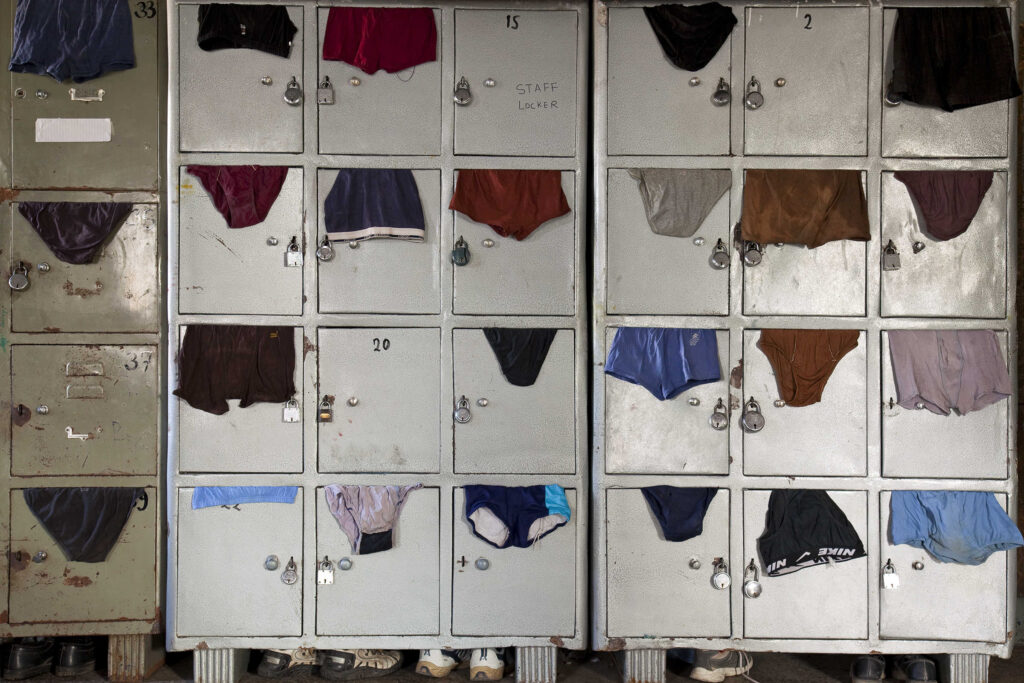 My first stint was as an apprentice to a photographer, and it's here that I picked up the basics of the art. However, it was also during this time that I started going for a lot of exhibitions, and reading a lot more about photographs. It became clear to me that there is a real story you can tell the public through photographs. So I thought I'd tell people my own story of growing up on the streets. With this in mind, I started spending more time on the streets and taking photographs of different children. These were displayed in my first exhibition "Street Dreams" in 2007, hosted with the support of the British Council. So that's how my journey with photography began.
AG: What's interesting about your work is how much it makes us empathise. For example, many of us see street children on the roads yet we rarely pay them much attention. Yet, in your photographs, you cannot help but recognise their stories. Why do you think your photography evokes more empathy?
VR: See, I've lived on the streets. I know exactly how I was treated and how these children experience life. My personal connection is wound throughout my work.
What I really want to do with my photographs is to show people our world: the street is and was our home, just like a house is a home for anyone else. This was especially the case in my first exhibition, where I wanted to change people's perceptions of what life on the streets looks like. So, in my photographs you see street children smiling, you see them surviving. I think that connection helps people empathise.
Things also change when people engage me with me, as the photographer: this happens when I share my reality and story with the audience through public talks. I've given close to 400 so far. When I started doing these, I was able to change the perceptions people had on street children. That creates a sense of empathy too, which is important to bring about change. If through my talks, I can provide someone with new knowledge, and change their perceptions of the streets, then maybe they'll be inspired to really make a difference and help someone. So alongside my work, to open this larger world, I want to continue speaking with people through these dialogues.
AG: Children on the streets live fairly under-recognised lives. How did they feel when being specially photographed for this campaign?
VR: The reason I wanted to curate this exhibition around forms of legal identification with Save the Children, is because I can never forget how much I struggled when I was younger to file for a passport or voter's ID. The authorities wanted documents like electricity bills or certificates for us to 'prove' our identity while filing for the same. Given the circumstances I was living in, these were hard to come by. I felt so helpless, like I was breaking from inside, like I was invisible. I want to raise awareness on this issue because I don't want people to face the problems we did. I don't want them to feel invisible.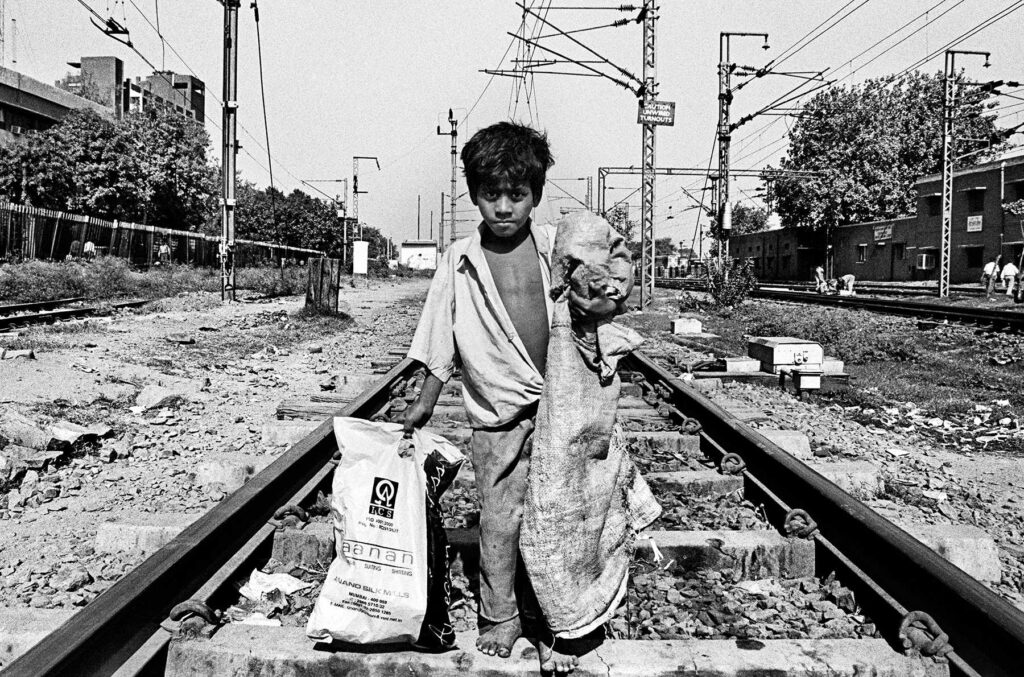 That being said, once I got down to the actual shooting process, children seemed to really like getting their photos taken. Some children had Aadhaar cards which they were proud of, so they were doubly excited to get photographed with them! They would run and collect their documents, and then eagerly wait to get captured with them in hand!  
Another thing that made a huge difference was the fact that I really spent a lot of time with the people I was photographing. I played with the children, spoke with their parents, and ate and drank with them.
We treated them with respect and like equals, which made the children even more excited. Because of that conscious effort, they were cooperative in every sense.
AG: I find it hard to believe that there wasn't a single camera-shy child!
VR: Of course there were, but as photographers dealing with different people, we need to make an effort to earn everyone's trust. There was a boy called Pawan. The first time Pawan saw me with my camera, he ran away! So naturally, I didn't photograph him. In fact, I gave him my camera bag and asked him to take some photos of himself. After that, he became friendly with me. In fact, the next time I was near Pawan's home, under the flyover in [New Delhi's] Geeta Colony, once he heard I was around, he couldn't wait to get photographed. He immediately went and bathed, wore new clothes, and stood to get his photo taken! So we need to build these relationships carefully and sensitively.
AG: Beyond conveying stories, how do you think photography can help address difficult social issues?
VR: From my experience, photographs can touch people; if they can touch people, they are likely to reach out to help. Once, I went to Jama Masjid in New Delhi for a shoot. When I was there, I noticed a family of four, a husband and wife and two children, living in a rickshaw. They painted an interesting picture and I wanted to help them. So, I went up to them and asked them if I could photograph them. They agreed, once the process was over, I decided to post it online. Now, one thing I do when posting on social media is to include the names and stories of the people I've photographed. So, it went up online with their details. I didn't think much of it.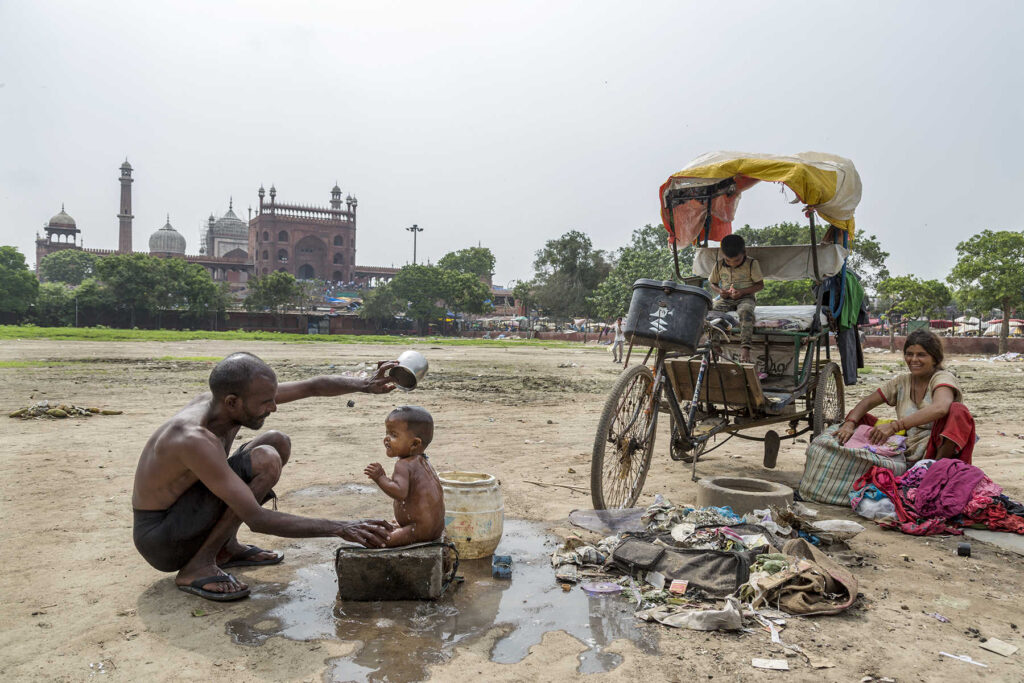 Now, a friend once told me that photographs are so powerful, that they can actually help the people in them! That's exactly what happened. My friend Rajeswari saw the photos online and was touched by the story. She called me offering to help the family find a proper rented house so that they wouldn't have to live on the streets. She was willing to put forward ₹50,000 to help them. So, the next day I went to find the family, and told them about her offer. We suggested selling the rickshaw the husband was driving during the day, and using the money to buy a secondhand e-rickshaw which would be more convenient. But, the wife disagreed. She told me they were originally from Rajasthan, and simply wanted to go home to set up a small shop. So, with the help of my assistant, we embarked on finding them a shop in Rajasthan. We helped them open it within around ₹65,000. We also enrolled their two children in a nearby school. So all of this really happened from the powerful journey of a single photograph.

AG: So finally, how do you plan on harnessing this power of the photograph in the future?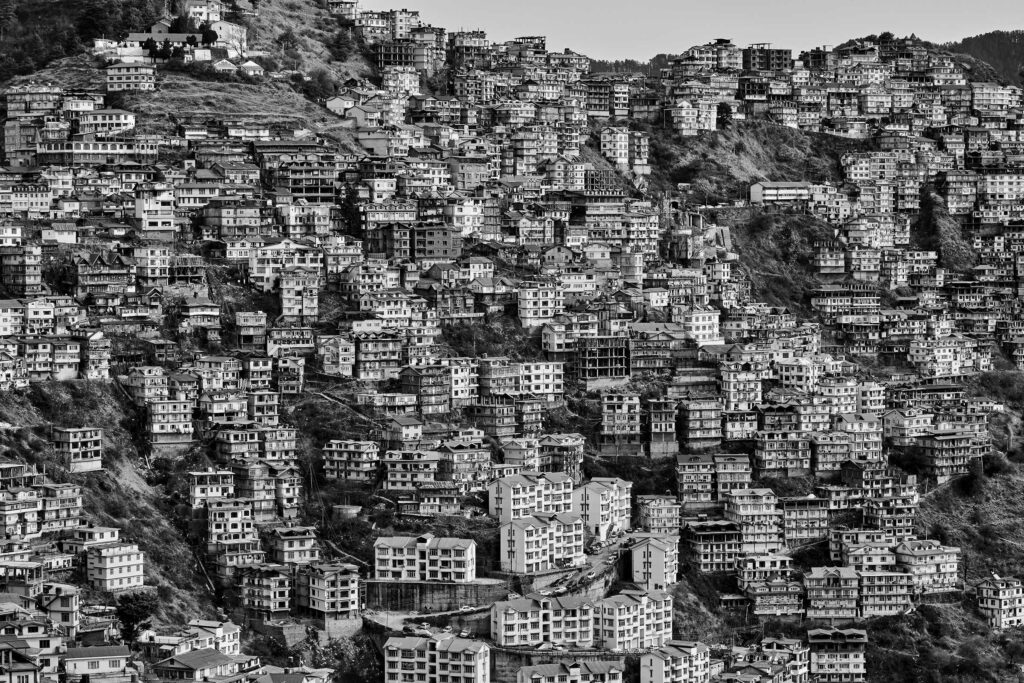 VR: My goal is to try and raise as much awareness as possible on the issue of the invisibility of street children. For example, with Save the Children we were going to hold #TheInvisibles exhibition physically earlier. We had even thought of interesting places to hold it like Jehangir Art Gallery and Central Park. But now, because of the lockdown, we're shifting things online and changing our methods so that we can reach more and more and more people. That will help so many people down the line. But beyond this, I also want to go back to the streets in general, and help people get their legal IDs made. For me, that's the most important step towards visibility and better prospects.
---
Editor's note: to view Roy's exhibition for #TheInvisibles April 20th onwards, please visit the Save the Children website. | Views expressed are personal.