As New Delhi welcomes the ten leaders of the Association of Southeast Asian Nations (ASEAN), the emergence of the 'Asian Century' is becoming increasingly visible. In what is an attempt to foreground the recalibration of the 1991 'Look East Policy' into an 'Act East Policy' by the Modi government, it is interesting to see the ideologue of development running in sync with the resurgence of Asian energies, especially in the wake of the 2018 budget session and Narendra Modi's recent speech at the World Economic Forum (WEF) at Davos.
After Donald Trump's election, Brexit, and the rise of the 'European right', world political trends indicated a rather protectionist policy landscape would take over the world, where the domestic would assume primacy. It is here that the invitation to the leaders of ASEAN as chief guests for India's Republic Day paves the way for the Modi government to illustrate its foreign policy. The prime questions to consider are: how far can ASEAN go for India? How much can India do for ASEAN?
An Ailing ASEAN?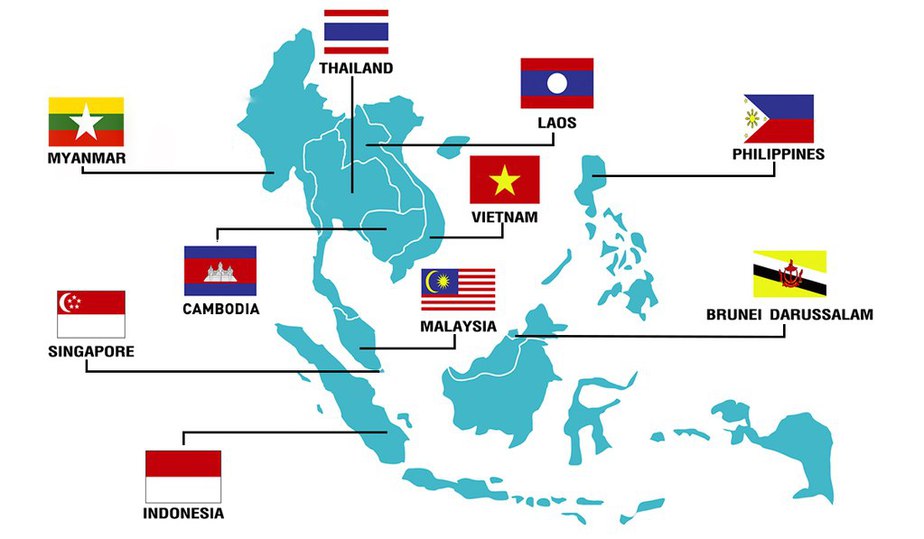 ASEAN struggles to shape its centrality in evolving the structures that would support regional development. It is also caught in the midst of countering polarisation and putting up a united front on several international issues. For instance, China, which has been described as an active aggressor in the South China Sea region, has managed to put ASEAN in uncomfortable situations due to its bilateral relationships with individual nations like Cambodia and Myanmar. The dissonance among the nations was apparent when they were unable to issue a joint statement identifying China's assertions on disputed territories at the end of the 2014 ASEAN Summit held in Myanmar.
ASEAN also drew flak for its silence during the critical days of the Rohingya crisis in Myanmar. In the recent Southeast Asian summit chaired by the Philippines, the 26-page outcome report skipped talking about northern Rakhine. The elephant in the room – the term 'Rohingya' never found a mention the draft. Perhaps, this was because of Aung San Suu Kyi's insistence on the other foreign leaders to avoid using it. While Malaysia is known to have voiced disapproval, the policy of 'non-interference' in domestic concerns dilutes the association's objective of abiding by the rule of law and justice to ensure regional stability. 
However, when one takes out political non-interference, there is no doubt whatsoever that ASEAN is a successful experiment on pan-national economic integration. By basing its foundations on a market-driven approach which facilitates free regional trade, investment flow, and labour mobility, ASEAN has managed to construct a growth story. This, according to the Asian Development Bank, inspires a model that fosters openness and transparency. It is precisely this aspect of ASEAN that India must tap into, to secure its position in the region, while restricting the growing influence of China.
The Indian Connection
Despite an engagement spanning close to 25 years, the India-ASEAN nexus has suffered in terms of development, owing to an absence of physical structures that would facilitate connectivity. To this end, there are several infrastructural projects in the works, like the India-Myanmar-Thailand Trilateral Highway Project, the Kaladan Multi-Modal Transit Transport Project, and the Sittwe Port. Further, Manipur's Moreh is proposed to be converted into an important entry point of two Asian Highways, AH-1 and AH-2. Additionally, with the development of areas like Dawei, the Mekong-India Economic Corridor (MIEC) is proposed to link India with the CLMV countries – Cambodia, Laos, Myanmar, and Vietnam.
India is a member of the ASEAN Regional Forum (ARF), which oversees security concerns in the Indo-Pacific region and the Indian Ocean region. There are 30 sectoral dialogue mechanisms in place, and seven ministerial level interactions with ASEAN, in the areas of defence, connectivity, commerce, telecommunications, agriculture, energy, environmental issues, and tourism. In fact, ASEAN is India's fourth largest trading partner, while India, which also shares bilateral ties with individual countries, forms the seventh largest trading partner to the organisation. However, these trading ties have not really lived up to their true potential. The Financial Express reported that the sum total of bilateral trade came to about $70 billion in 2016. In other words, it was just 2.6% of ASEAN's total trade, quite distant from the target of trade worth $200 billion with ASEAN countries by 2022.
The RCEP (Regional Comprehensive Economic Partnership), a major free trade agreement between 16 countries, is touted to contribute to boosting Indian trade with ASEAN. However, in its current form, the RCEP might challenge some of India's protectionist tariffs. Another fear shared by some is the increase of Chinese influence and takeover of the regional market. However, it is in RCEP that India could find an inroad into evolving its dynamics with ASEAN in terms of regional integration and assimilation into an important trading circuit.
With China strong-arming its way through regional disputes in the South China sea while investing and outsourcing production to major manufacturing sites to countries like Cambodia, Laos, Vietnam and Thailand, India is approaching the table from the positions of security, energy, and trade, as mentioned by Prime Minister Modi in his WEF speech. With ASEAN's involvement, it would be India's prerogative to restrict the entry of the People's Liberation Army Navy through the Malacca Strait in the Indian Ocean Region. The Southeast Asian nations here could perhaps provide a stable node of security in this region.
While re-energising the 'Act East' policy, India has conveniently left behind another one of its initiatives: Neighbourhood first. With a diminutive SAARC (South Asian Association of Regional Cooperation) sitting dormant, and continuing hostilities with its neighbours, India's acceleration into the east has rationale, but lacks a track record to back its success rate.
Yesterday, India hosted a commemorative summit to mark 25 years of engagement between ASEAN and India. It would be interesting to see if India's active stance could counterbalance ASEAN's political polarisation by focusing on a cultural heritage shared by the countries to foster economic development. Modi has called for maritime security as the top priority, a move to seemingly restrict China's growing influence in the region. As most relationships, the India-ASEAN nexus is work in progress. A great deal more must go in, and we must work to realize the $200 billion trading deal with ASEAN, if China's reach has to be countered. India currently stands in a position where it needs to proceed with caution and take calculated risks.
Featured image courtesy PCOO