Written by Sarah Berry 
Innumerous schemes are implemented to ensure that all children have access to quality education. Despite this, the main hindrance to successfully imparting education is the low attendance and retention of students in schools. A number of socio-economic factors contribute to their irregularity in attending classes: children of working parents stay back to assist with household chores, gender biases, cases of disability, etc.
Irregular attendance is the beginning of a slippery slope for young students. Once academic performances drop, these students often drop out of their respective courses. In inaccessible regions, Inadequate infrastructure and human resources at schools further discourage most children from pursuing their education. Oil India Limited's (OIL) Dikhya is a literacy promotion project that operates by tackling these issues head-on.
Dikhya is implemented by IL&FS Education, the social infrastructure subsidiary of IL&FS group, an Indian infrastructure and development company. It is implemented across 24 government schools in the Assamese districts of Dibrugarh, Tinsukia and Sivasagar. The project operates through initiatives like the Computer Bus, the K-Yan, Teachers Training Programmes and additional projects such as Value Added Programmes, Life Skills Programmes and Adding Dimensions.
The Computer Bus
The computer bus, as the name suggests, is a 24-seater bus that has been converted into a mobile computer lab with 12 desktops. It aims to make digital literacy a reality for students of classes 6 to 8, some of whom have never even seen a computer.
The teaching style of the programme is innovative. It moves away from traditional chalk-and-board pedagogy, thereby enabling long-term retention in the students while motivating them to study the next day. The syllabus is designed across three levels. The first includes an introduction to computers, general keyboard skills, Paintbrush and MS Word. The second consists of Internet navigation, MS PowerPoint, CD/DVD usage/burning and how to operate digicams and scanners. The third level teaches software maintenance, MS Excel and how to use emails. Through this progression, students understand the basics of operating a computer.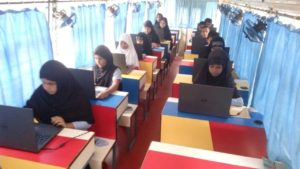 A session on the computer bus lasts for an average of 45 minutes. Two students share one laptop, enabling 24 of them to participate. The number of sessions per day is adjusted depending on the total students in each school. "I was fascinated the moment I was taught how to switch a computer on. We all get to learn something new each time, as part of the session. It is so exciting!", chimes little Rajudin Gogoi when asked of his experience.
A vital component of the computer bus is its mobile library. Through its wide selection of stories and academic books, the library encourages students to realize their potential as independent learners. It fosters a habit to read and acquaints students with a myriad range of concepts. To develop better writing skills, the students are often required to summarise in written the books they have read.
The K-Yan
The K-Yan was developed by IL&FS Education in collaboration with IIT Bombay. Unique in its functionality, it is a high-end computer with a projector, in-built audio-video system and an interactive board. It further has accessories such as WiFi/Bluetooth and an interactive remote which makes it easy to use and transport.
The syllabus for the K-Yan includes over 10,000 2D/3D learning units of multimedia animations, assessments, simulations, interactive virtual experiments, practice sheets and science videos. This helps strengthen concept-based learning and enhance the teaching/learning experience.
The Teaching Training Programme
Teachers are important mediators between the school and the education imparted to the students. It is paramount that they are adequately trained. Under the programme, teachers are equipped with skills that facilitate a change of approach from rote learning to a learning that encourages the child to think, explore, analyse and deduce solutions to problems. Their communication skills (verbal and written) are enhanced, classroom management routines are established and their techniques for assessing students are strengthened.
In addition, the teachers are provided with learning kits like the English Relay Programme, Science Kits and Math Master. The use of this kit-based approach is essential for building foundation skills in curricular subjects where, by the use of games and activities, learning happens through experimentation, trial and error, and joyful experiences.
Additional Projects
As part of additional activities, value-added sessions are conducted. These widen the range of topics taught to include monthly theme-based activities. The activities cover topics like sanitation, the environment, reading, health and hygiene.
A large part of the holistic development of an educated member of society is moulded by students' life skills. By studying multifaceted topics, the life skills programme builds students' social skills, enhances responsible behaviour and decision-making while promoting good citizenry. The topics taught include road safety, environment, rapport building, health and hygiene, conflict management, problem-solving, anger and stress management, critical thinking, etc.
The concept of 'Building As Learning Aid' is used to design a conducive learning environment. It enables an innovative use of space and facilitates a pleasurable interaction of the students with their academic environment. This is done by identifying the requisite infrastructure and reinventing the built environment to be compatible with teaching-learning aids. These aids include illustrations of different linguistic alphabets and geographical maps that improve memory retention.

The Takeaways for Public Education
Mustafa Zahid Alam, a teacher on the computer bus, said that it was "an enriching experience both for students and teachers. Guiding students to navigate through this entirely new experience is a journey for us too. Besides, teaching them something new each time while broadening their horizons through access to the internet and other digital literacy tools has seen their confidence soar. This is what is most heartening."
OIL's Dikhya provides convenient access for students to a holistic education by enhancing the combination of quality infrastructure and human resources at learning institutes. In doing so, it has evaded low attendance and student-retention rates, which plague most other educational programmes.