Over the course of the next month, four states—Tamil Nadu, Kerala, West Bengal, and Assam—are gearing up for their Assembly election results. All have had a relatively stellar history in provision of public goods and services, especially so when it comes to education and health care. Millions of children go to school in these states every day—for example, in Tamil Nadu, the Gross Enrolment Rate (GER) for primary schools is 103.89% (the GER measures the proportion of enrolled students to the total population of children eligible to study in a specific level of education). This is an achievement that is by no means insignificant considering the sheer scale of the challenge of educating India's student population of around 120 to 150 million. 
Now, one would assume that with almost every child going to at least primary school in these regions, they would learn how to read and perform basic arithmetic. But, the reality is rather different. How do we know this?
Literacy and numeracy are measured through learning outcomes—these are clear statements of what subject matter a learner is expected to know about upon completion of a particular unit or year of study. If the student succeeds in passing this assessment, that means that they are learning at a pace appropriate to their grade level. If they don't, that means there is a lag between what they are expected to know in a specific class, and what they actually know.
For example, a popular learning outcome used by policymakers is measuring how many students in Grade 5 can read a Grade 2 text, or, how many students in Grade 5 can perform a simple two digit arithmetic operation. For the states heading to the polls, the state of these learning outcomes is not promising.
According to  the 2018 ASER report, in Tamil Nadu, the country's second largest economy with a history of good governance and delivery of public goods, only 40.7% of students in Grade 5 can read a Grade 2 text. Moreover, only 37.4% of students in Grade 5 can perform two-digit subtraction. The situation is the same in West Bengal, where only 50.7% of students in Grade 5 can read a Grade 2 text and only 19.4% of students in Grade 5 can perform two-digit subtraction. Similar trends are visible in Assam where only 40.1% of students in Grade 5 can read a Grade 2 text. In Kerala, only 33.5% of students in Grade 3 could perform a simple two digit subtraction.
Part 1 of 2-part series from @PySamarth & @pramit_b: How privilege shapes learning outcomes in India https://t.co/lD3idTua3X pic.twitter.com/QrkrqfVkif

— Milan Vaishnav (@MilanV) January 24, 2019
One way of changing this state of affairs could be giving education political importance: that is, if politicians prioritise education in their electoral campaigns, voters might actually vote on the basis of improving the larger system's quality. And, if voters choose a stronger education system that prioritises learning outcomes, this may transform the futures of India's students too. However, how easy is it to platform this mandate?
Looking at the promises made in the run-up to this year's round of Assembly elections helps us understand why (or why not) education works as an electoral promise.
Why Make Learning Outcomes An Electoral Issue?
Scholars have pointed out that it is reasonably easy for leaders in democratic states to make a case for improving access to schooling when canvasing for elections because these activities are straightforward, visible, and popular.
However, "the way for the government to win elections is by doing its job," says an associate for the All India Trinamool Congress (AITC) working at the political consultancy I-PAC. Actually improving the quality of education is something a lot more difficult to measure, especially for the voter—more importantly the results of these changes are not always seen in the short term. So, to hold the state accountable, it is important to inform and integrate the public into the development of education policies.
To that end, some policy recommendations include reinstating accountability mechanisms with local communities—usually defined as the parents or teachers of school-going students—with the logic that the 'people on the ground' know what's best for them and how to hold teachers and the state accountable.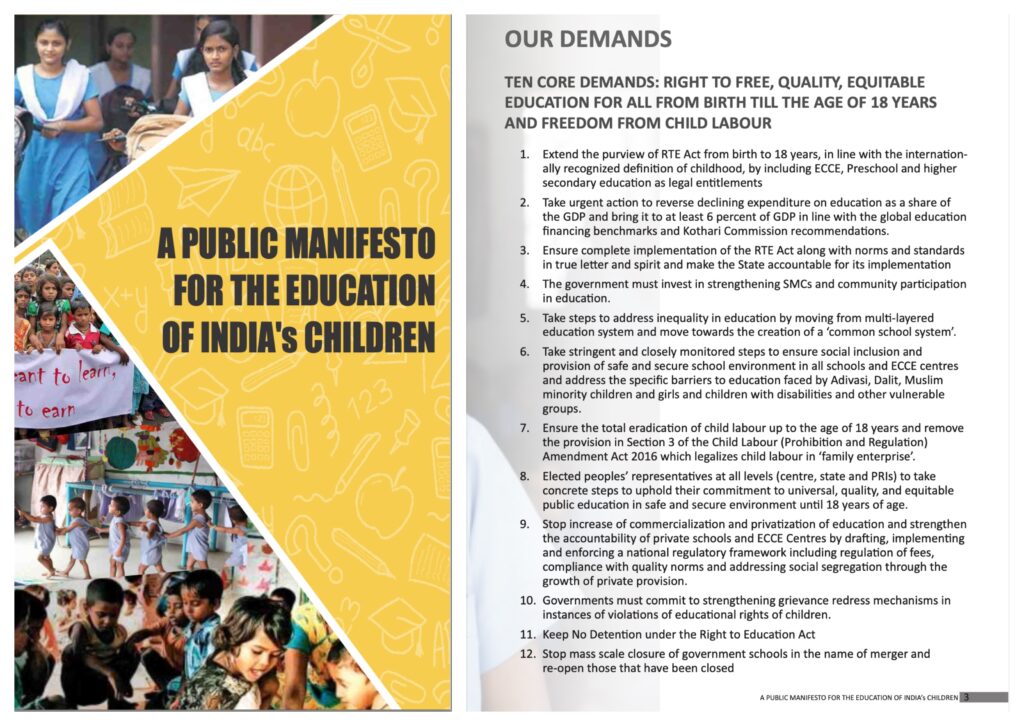 However these arguments fail to characterise multiple conflicting interests. On the demand side, parents and children want quality education to improve socio-economic conditions so that students are better equipped to enter the workforce. On the supply side, the incentive for teachers are more aligned towards completing syllabi, getting paid, earning promotions, and exerting more power within and through teacher unions. School administrators are aligned towards placating bureaucrats, maintaining infrastructure, and keeping their workforce satisfied. As each stakeholder acts in its own "rational self-interest", as  Lant Pritchett argues, their inconsistent objectives tends to develop education systems that revolve around schooling, not learning.
Then, there's the fact that socio-economically weaker groups in India often find it difficult to hold those in positions of power accountable. Additionally, the parents of millions of first-generation learners are probably unaware of what "quality education" is and thus how to keep systems in check. "There is another deeper matter," says Anurag Behar, the CEO of the Wipro Foundation. "Most (not all) politicians understand what needs to be done to improve access, while are mostly clueless about what actually needs to be done to improve education."
So, if communities are to be given the power to hold both the state and schools accountable, one way of doing it could be to make learning outcomes part of the state's electoral agenda. A socio-political movement of bringing learning outcomes and discussions on what "good quality" education is into electoral debates could be an effective way of actually giving power back to localised community issues. When such a movement is given electoral importance, the movement gains legitimacy—and everyone is incentivised to pressure the government regarding it at varying degrees.
With four states going to elections this year, there was a huge opportunity for political parties to win the minds and hearts of people by simply saying: "your children aren't learning anything in schools and it's time to change that." The question is, did they make use of this crisis?
What the Poll Promises Say
"Whether people vote for education depends on whether the opposition makes an issue out of it," says Tara Krishnaswamy, the Co-founder of Shakti and Citizens for Bengaluru. "If you look at many of the manifestos now, for education, they focus on state-level education issues. They are not running the election based on that clearly, but the fact that it's in the manifesto means that they're clearly thinking about education."
A closer look at the election manifestos of campaigning parties shows a clear focus only on access to education, not on the quality of education. In Tamil Nadu, the Dravida Munnetra Kazhagam (DMK)—the leading Opposition party in the state—has promised that milk will be provided to students in government and government-aided schools. They have also promised financial assistance for education to the welfare boards of unorganised workers. The ruling All India Anna Dravida Munnetra Kazhagam (AIADMK) in its 2023 vision document has promised universal secondary education. Similarly, the Bhartiya Janata Party (BJP)—campaigning in the state in an alliance with the AIAIDMK—has promised free tablets for Grade 8 and 9 students.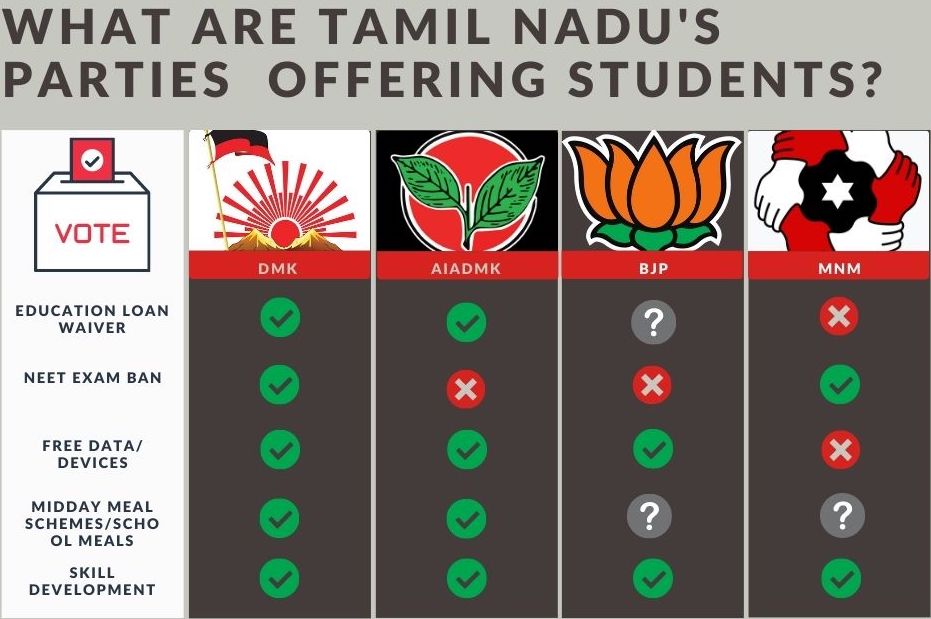 Freebies and welfare schemes to improve access to education is a popular theme in other states as well. In West Bengal, the BJP has promised free education from "KG to PG". The Trinamool Congress has promised the opening of 100 new English medium schools and has also promised tablets for nine lakh Grade 12 in the state.
In Kerala, the BJP has gone one step higher and promised free laptops for all high school students, while the ruling coalition the Left Democratic Front—led by the Communist Party of India (Marxist)—has promised to set up loan waiver commissions for students. 
Not one of the manifestos in any of these parties highlight the problem of learning outcomes or even acknowledge the learning crisis the state is in. An analysis of these manifestos very clearly reveals a tacit assumption made by political parties: that it is simply enough if children go to school. 
Why is Making Learning Outcomes an Electoral Issue Such A Challenge?
To align these objectives towards accountability, making learning outcomes a part of everyday political conversation could be an effective tactic. In Delhi, the Aam Aadmi Party (AAP) used education as a successful campaign tool and were elected to another term in office, largely on the back of building a robust education system. However, this did not happen just by creating a campaign around education. "Just because something is not an electoral issue, that does not mean it won't become a key agenda item," Krishnaswamy notes. "Education can be a key agenda, however, after the elections are won. The AAP, for example, initially succeeded electorally on the India Against Corruption plank, but public education later became a prime agenda for it." Delhi is clearly an excellent example of an aware electorate later holding their elected representatives accountable for the poor functioning of an education system.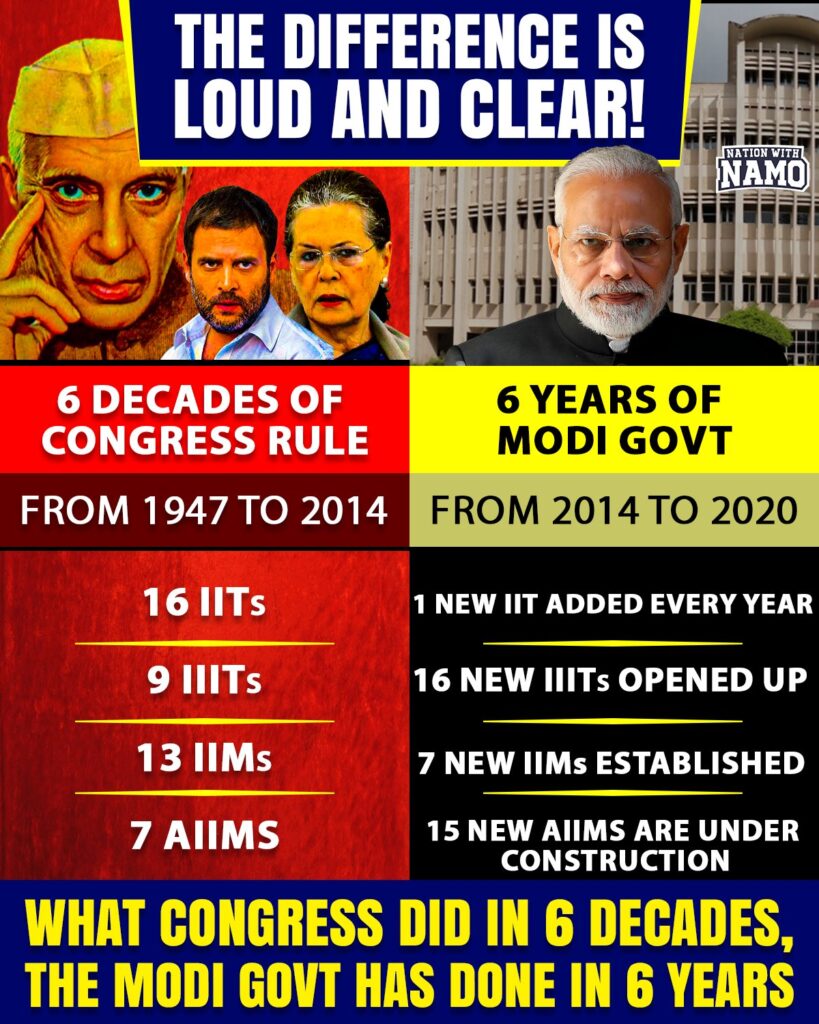 However, highlighting the dismal state of learning outcomes achieved during primary education in India doesn't bode well for established 'grand old' political parties—especially as this is not a sudden emergence. Learning outcomes have been consistently low for years now and to admit to this sorry state of affairs would be akin to shooting oneself in the foot. In the competitive world of electoral politics, admitting past failures does not make for good political capital.
"For education to become important into an election, it has to tie into the rest of the voting patterns," says the associate at I-PAC working for the AITC. "That's visible in the manifestos too. There are more localised promises than there are state-wide education promises." Krishnaswamy further adds that "when it comes to political messaging, be it in India or otherwise, it is very difficult to talk just about improving the quality of a service, versus improving the access to that service. In India specifically, we lack governance indicators to measure progress by, and use as metrics to improve our service provision with."
This is evident given the renewed focus on higher education in the manifestos for this round of Assembly elections as well. Higher education is much easier to sell politically, as it tangibly promises job creation and a path to a better future. Furthermore, it is easy to highlight results—such as building more institutions, creating more jobs, or waiving off education loans. 
In Bengal, the AITC has promised a student credit card scheme for higher education loans with interest rates as low as 4%. Keeping up the tradition of freebies and welfare schemes in Tamil Nadu, the DMK has promised to repay all outstanding student loans. In Tamil Nadu, the construction of higher education institutions has always been a politically loaded issue, with the delay in construction of an AIIMS in Madurai having been in the limelight of late—which may explain the focus of both parties on higher education manifesto promises.
However, while higher education is certainly important, it chips away at the limited political capital available for primary education—which only affects the quality of higher education in the long run.
Literacy and numeracy are so fundamental to learning that their importance cannot be overstated. Children who do not learn to read, write or perform basic arithmetic are more likely to leave school early, be unemployed or engage in unskilled labour, have poorer emotional and physical health, and are certainly more likely to end up in poverty. In simpler words, literacy and numeracy is the foundation of any education system. The impact of poor learning outcomes can also be seen in the Gross Enrolment Ratio for higher education, which is an abysmal 26.3—which means only 26.3% of all students in India go on to pursue at least an undergraduate degree. 
The potential impact of this learning crises is enormous. An entire generation of children are entering the economy and the workforce with severe learning poverty, while a small percentage of children are becoming well-equipped to take on the world. This leads to the consolidation of different "classes"—which are in turn largely a function of caste hierarchies, shaped by consequent inequalities in opportunity. 
However people look at it, this learning crises is going to affect everyone and bringing it into everyday political conversation might be a good first step to resolving it.
Finally, when it comes to electoral strategy, "most political parties are missing the gold mine," says Behar. The people "have grasped that now that schools are there everywhere, children must learn well. They say this in different ways, but it is heard all the time across the country. So, any big party that were to go after quality of education (which includes improving access to it), will rule for next 15-20 years in a state."
---
Featured image: Election campaigning for the 2009 General Election in Tamil Nadu; courtesy of Jayaseelan2k (CC BY-SA 4.0).