Authored by Ipsita Mishra
"An investment in knowledge pays the best interest" –

— Benjamin Franklin.
With education being one of the key determinants of a country's development, it needs to be overhauled and re-shaped in order to achieve the economic growth we aspire to achieve. It's time to acknowledge that there exists a huge gap between what skills we aspire to impart and what we are currently providing through the Indian education system.
This year's Union Budget 2020, presented in the Lok Sabha on the 1st of February by Minister of Finance Nirmala Sitharaman, focused on 3 major themes: aspirational India, economic development for all, and a caring society. It instills hope in various stakeholders, especially in the education sector, of an improved quality of education. 
Education Budget (2020-21)
"By 2030, India is set to have the largest working-age population in the world. Not only do they need literacy but they need both job and life skills," said Sitharaman in her budget speech. ₹ 99,300 Cr has been allocated towards the education sector, including ₹3,000 Cr for skill development initiatives. This is a ₹4,500 Cr rise from last year's allocated ₹94,800 Cr towards education. Considering most of our learning is focused on knowledge, the budget's focus on skilling is applaudable. However, although the country's education budget has improved over the years, the question is, is this really enough to match the needs for quality education?
While basic school infrastructure, teacher training and recruitment, skill development, and inclusive education are some of the basic factors that need to be focused on to improve quality education, the overall budget for the Department for School Education and Literacy in FY 2020-21 has increased by only ₹2,428 Cr as compared to previous financial year. In spite of a shortage of trained and qualified teachers at the school level, the allocation for teacher training is only ₹110 Cr in the new budget.
While a number of constructive projects have been proposed including a forensic science university, a degree level full-fledged online education programme for students from deprived sections, the provision of one-year internships to engineering students, and an INDSAT exam under the 'Study in India' programme for Asian and African students, there was no mention of the 'Samagra Shiksha Abhiyan (SMSA)', which plays a vital role in providing quality school education.
One Scheme for Them All: The Samagra Shiksha Abhiyan
The Sarva Shiksha Abhiyan (SSA), Rashtriya Madhyamik Shiksha Abhiyan (RMSA), and Centrally Sponsored Scheme on Teacher Education (CSSTE) are the three major flagship school education development programmes of the Ministry of Human Resource Development (MHRD). While the SSA covers the elementary level (grades 1-8), the RMSA covers secondary (grades 9-10), and CSSTE aims to provide institutional support to the government for enhancing the quality of teachers across grades 1-9.
Although the Centrally Sponsored Schemes of SSA, RMSA, and CCSTE have significantly contributed towards the government's efforts to put in place an equitable quality school education system in the country, their scope and coverage remain segmented. The schemes were often more concerned about providing the 'requisite inputs' and delivering immediate results rather than raising learning outcomes. In fact, these schemes seem to have little clarity on the learning outcomes to be ensured in the school education sector. In spite of satisfactory levels of fund utilisation and awareness, there remains ambiguity regarding the operation and monitoring of this scheme at ground zero.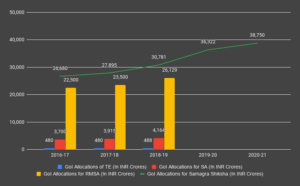 Now, the Samagra Shiksha Abhiyan (SMSA) is an integrated scheme for school education launched in April of 2018, and is aimed at ensuring inclusive and equitable quality education from preschool to senior secondary school. In accordance with the draft National Education Policy (NEP) falling under the purview of MHRD, the scheme subsumes the three already existing school education schemes: the SSA, RMSA, and CCSTE. 
As per the revised estimates for FY 2018-19, ₹30,781 Cr had been allocated for the SMSA, an increase of 10% over the previous year. In FY 2019-20, allocations increased by 18% to ₹36,322 Cr. Now, as per the 2020 budget, it has been allocated ₹38,750.5 Cr. However, figures for these funds in previous years were given, when 95-100% allocated funds were released.
Low Fund Utilisation = Low Learning Outcomes?
As of December 15, 2019, the Central government had released only 57% of the approved fund for SMSA, according to a report by the Accountability Initiative of the Centre for Policy Research. The pace of release was slower in contrast to 2018-19, when 95% of funds were released over the first three quarters.
While the release of funds for SSA and RMSA was constant in previous years, in FY 2018-19, till 30 November 2018, only 64% of the GoI's allocations of ₹30,781 Cr for SMSA had been released. What is even more surprising is that states have spent only 22% of the total approved budget for the Samagra Shiksha Abhiyan.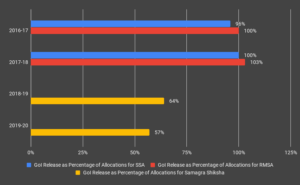 Fund release often suffers from delays due to a lack of administrative capacity. Movement of funds needs a high level of coordination between the Central ministries, state ministries, and district implementing agencies. It is crucial to have a continuous capacity building exercise based on information generated in meetings between the Centre, states, and districts.  Whether it is due to delays in the release of funds by the Centre or the low absorption of resources by states, what is certain is that it has a direct bearing on the entire school education system. 
In spite of numerous schemes and substantial funds, the primary goal is not achieved. The learning outcomes across states are low. According to the National Achievement Survey' (NAS), conducted by NCERT, only 13% of grade 10 students across all types of schools could correctly answer more than 50% of maths questions, and 11% could do the same for science. States counterargue that less allocation by the Centre than what was promised, delays in the flow of funds, and over-centralisation of education policies and schemes are the underlying factors affecting states' performance. However, the big question remains, what are the steps taken in the new budget for achieving quality education given these circumstances?
What has the budget 2020-21 done to enhance Quality Education?
The 2020 budget is promising for the education sector, as it addresses the skills deficit that India currently faces. Enabling higher education institutes to have apprenticeship programs by 2021 will improve youth employability and create a strong job-ready workforce. Another positive move is the proposed online degree programs offered by top institutes which will make education more accessible for students from the less privileged sections. 
However, not everything is great about the new education budget. While the proposal for a new educational policy will bring in some relief to the sector, the proposed transformation as stated in NEP 2019 will require changes in pedagogy and teachers will need proper training. Teacher training is an overlooked area in the new budget. While there is an urgent need to introduce comprehensive teacher-training programs that will induce teachers to follow an interactive and communicative approach of teaching, resulting in better learning outcomes, the funds for teacher training have been reduced by ₹15 Cr. Another important part of school education, the mid-day meal scheme–which is the world's largest school meal programme–saw no increase in allocation at all.
The projection for the Ministry of Human Resource Development (MHRD) for 2020-21 does not look very cheerful for the education sector, especially school education. Hence robust measures need to be taken into account for precise execution.
Capacity Building : A crucial factor
Keeping the low utilisation of funds in previous years in mind, building capacity for error-free financial management and flawless procurement is an integral part of the effective utilisation of resources. The integrated scheme that is premised on decentralised planning and implementation framework with multiple stakeholders like the Centre, state, district, and schools require a detailed approach and strategy to address the challenges faced at various levels. Accountability needs to be put in place. The capacity of school management committees and other stakeholders to make yearly plans should be increased through intensive training at periodical intervals to equip them with the required knowledge to implement policies. 
Inadequate allocation of funds by the Union government under the Samagra Shiksha Abhiyan is bound to affect the implementation of many education projects in Kerala. pic.twitter.com/UeKJ3Bjthk

— Tribal Chief (@chief_tribal) May 7, 2018
The focus of education policies has gradually shifted from inputs to outcomes. But unfortunately, resource allocation towards education has not been aligned with these policy objectives. Though the education budget has increased in absolute terms over the years, its expenditure has consistently decreased. The inadequacy of resources is no more a factor for the poor quality of education in schools. It is the under-utilisation of resources by the states, which has created this poor state of school education. While we can hope for a positive and sustainable change in the education sector, only time will tell how the 2020 education budget unfolds.
Ipsita, The Bastion's Education Associate, is a former TFI fellow and has been working in the education sector for four years now. She aims to ensure that in the future, every child receives an excellent education.
---
Featured photo by Yogendra Singh on Unsplash