Zimbabwe is one of the few relatively new entrants to international cricket. Despite having played in two World Cups (in 1983 and 1987), Zimbabwe played its first ever Test only in 1992  against India. Although they won just 1 test out of their first 30, the signs were pointing towards a bright future as they found new heroes in Andy Flower, Grant Flower, Alastair Campbell and Heath Streak.
the encouraging signs took a sharp step back in the early 2000s as internal politics played a major role in influencing the nation's cricketing affairs
Protests by senior players at the 2003 Cricket World Cup forced Zimbabwe's cricket association to expel many players from the team. And in support of those who were expelled, many experienced players ended their international careers prematurely, leaving Zimbabwe Cricket (ZC) with players who were too raw to handle the international competition.
At present, Zimbabwe finds itself languishing at the bottom of the ICC rankings in all 3 formats. From a team that was once touted to enjoy major success in their future, Zimbabwe cricket's steady decline ever since the 2000s has been a cause for concern for enthusiasts across Zimbabwe. But what exactly went wrong cricket in the country?
Slow but Steady beginnings
Zimbabwe became an affiliate member of the ICC in 1981, only a year after gaining independence. Although test status wasn't granted to Zimbabwe Cricket until 1992, the team got acquainted with limited overs cricket quickly; they were allowed to play in the 1983 World Cup. Zimbabwe shocked big guns Australia in the group stage after Duncan Fletcher's all-round heroics, providing one of the biggest upsets in cricket at the time. However, they were eliminated in the group stage after failing to win any of the other 5 games they played.
The team waited until the 1992 World Cup for their next win at the biggest stage after beating England in a low-scoring thriller, despite having already being eliminated from the tournament. Consistency aside, Zimbabwe's limited overs side showed signs that acquiring test cricket status would bring about positive changes in the coming years.
Being a late entrant, Zimbabwe didn't really take to test cricket like a duck takes to water. They did make a very promising start — after playing out a draw against an Indian side that included the likes of Kapil Dev, Azharuddin and a young Sachin Tendulkar — but they had to wait for nearly 3 years to win their first test. In 1995, they beat a talented Pakistani side by an innings and 64 runs, thanks to a double century from Grant Flower and hundreds by Andy Flower and Guy Whittall.
This test was another landmark for Zimbabwe as Henry Olonga became the first black man to represent Zimbabwe in an international game
The next few years came to be known as Zimbabwe's golden era as the team won on a more consistent basis against quality opposition. They won against both India and Pakistan in tests and ODIs in 1998, which included a test series win against Pakistan. This was a followed by a brilliant showing at the 1999 World Cup where they narrowly missed out on a semifinals spot because of their low net run rate. In their group stage run, they beat India and South Africa, sending out a strong statement to international competitors. Although the political situation in the country was deteriorating, Zimbabwe enjoyed a successful cricketing period until 2002, in which they had beaten every test-playing nation except Australia.
Period of decline
The 2003 World Cup marked a turning point in Zimbabwe's short cricketing history: Andy Flower and Henry Olonga sported black armbands during their games to mark the death of democracy in Zimbabwe. The protest was met with fierce backlash from the public; both players were subsequently expelled from the team. Many players ended their careers prematurely as they felt that the cricket was becoming inescapably politicized. Captain Heath Streak was sacked in 2004 by the Zimbabwe Cricket Union, a move which prompted 14 other players to leave the squad.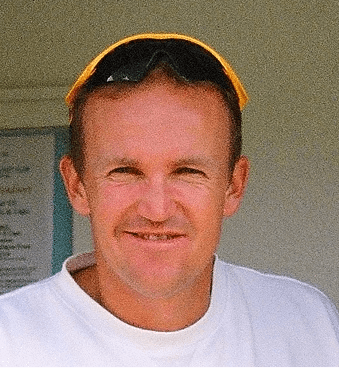 Former Zimbabwe national cricket team captain, Andy Flower, Image/Source
This severely affected the team because it was now composed of young, inexperienced players who had never been exposed to quality opposition. Poor performances against Australia and Sri Lanka prompted the ZCU to reconsider its position on playing test cricket.
In 2005, Streak returned to the team but the damage had already been done. ICC suspended the Zimbabwe Cricket's test status temporarily for the year; but even after being reinstated, the team continued its dismal performances after recording losses against South Africa, New Zealand and India.
The team was suspended once again, but this time they had to wait until 2011 to be reinstated to test cricket. Due to the worsening political and economic situation in the country, contract negotiations between the board and players failed, and on many occasions, players did not receive their salaries on time either.
The takeover of the cricket board by the Sports and Recreation Commission meant that many White and Asian-origin players and officials were now discouraged from playing for the country, which resulted in a mass exodus of talented players to county cricket in England. Year on end, a promising Zimbabwean side which was destined for the world stage slowly had its soul removed by corrupt political forces.
Financial issues and a disappointed fanbase
Zimbabwe's poor financial situation means that the country can only spend very little on cricket. The board had to borrow $1 million to pay for match fees and bonuses for players after a cash crisis in 2007. The maximum payment to each player was capped at $8000, a paltry sum compared to the millions made by international players in cricketing giants like India. The cricket board was reportedly in debt of over $19 million in 2016 and had been setback $400,000 as coach Dav Whatmore's 4-year contract was cancelled less than halfway into it. The revolving door of officials and captains has also seen Graeme Cremer being appointed as the 4th captain in just 11 months.
As an obvious result, Zimbabwean cricket fans were not pleased either: many of the stands remain largely empty. It is not uncommon to see fans holding up posters at some games calling for the arrest of players who they felt weren't putting enough effort on the pitch.
Increased competition and recent developments
Zimbabwe is ranked no.10 in tests on the ICC rankings despite having played for over 25 years. In contrast, Bangladesh are no longer minnows in test cricket, having beaten big guns like Australia and England in recent years. Zimbabwe has dropped to no.11 in ODIs and no.12 in T20Is after the rise of associate teams such as Afghanistan and Ireland.
Having never progressed beyond rank 8 in any format of the game, strong questions have been asked of the team's stagnancy in international cricket. With Afghanistan and Ireland both acquiring test status in 2017, there is a strong possibility that Zimbabwe will drop beyond no.10 even in test cricket.
However, in 2017, the team showed a glimmer of hope when they put up strong performances on their tour of Sri Lanka. Zimbabwe won the ODI series 3-2, their first series win away from home against a major test side in 16 years. It was also the first time that Zimbabwe defeated Sri Lanka in any format in their own backyard. Although Sri Lanka won the only test in the series, they were made to fight really hard to prevent an upset.
Zimbabwe were given a big boost in September 2017 when former captain Brendan Taylor announced his return to the side after a 2-year stint in county cricket. While many speculated whether he would return to the side, he quelled any doubts by putting pen to paper on a contract with the Zimbabwe cricket team. Taylor played his last international game for Zimbabwe in the 2015 World Cup against India, in which he scored 138 and finished the tournament as the team's leading run-getter. His return is set to bring about a positive impact on a team that is slowly showing sparks of life once again.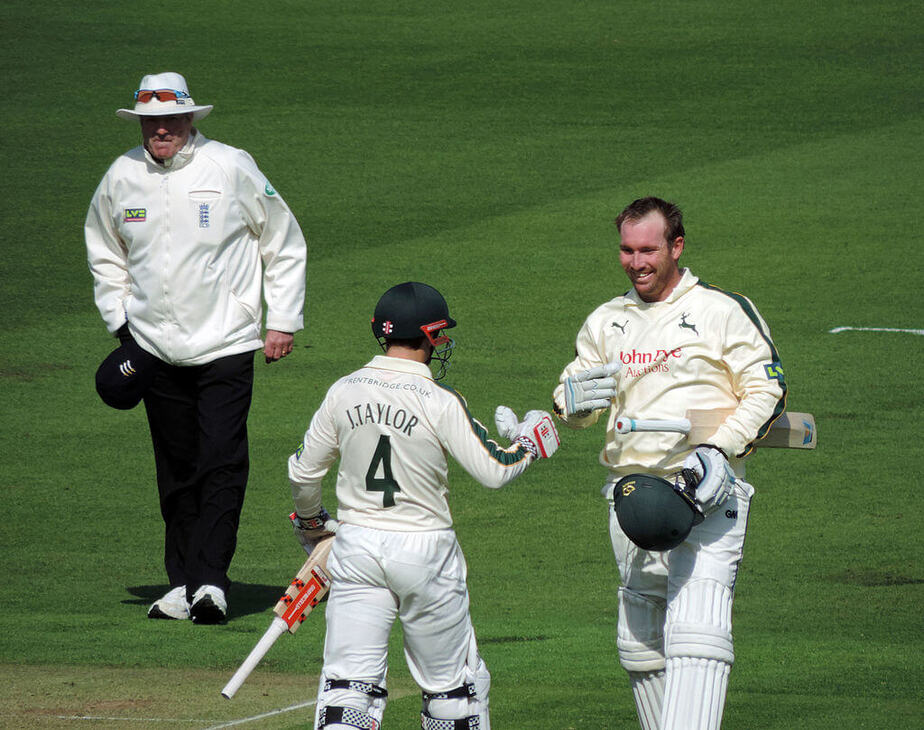 James Taylor congratulating Brendan Taylor for scoring a century for Notts, Source/Licence
Parting Thoughts
Zimbabwe's arrival in international cricket has been full of highs and lows. From shocking world class opposition in the World Cup to losing to Afghanistan in recent years, it has been a roller-coaster ride for the African nation on the global stage. In the process, the country has produced world-class talent like the Flower brothers, Heath Streak and Brendan Taylor.
Unfortunately, internal political struggles mean that talented players were never allowed to blossom completely; many even left the country for greener pastures, hoping for regular playing time and a steady income.
The rise of new nations such as Afghanistan and Ireland have also jeopardized the country's standing in international cricket. While the win against Sri Lanka is being treated as a watershed moment, followers of Zimbabwean cricket know that expectations should always be kept to a minimum. Uncertain times lie ahead for the Zimbabwean national side, as they continue the balancing act of solidifying their position in international cricket while keeping dirty politics out of cricket.