The Indian men's hockey team is the most successful team in Olympic history with 8 gold, 1 silver and 2 bronze medals. As India's national sport, hockey has instilled national pride in billions of Indians over generations. However, the team has been unable to win a single medal since the 1980 Olympics at Moscow. Recent performances at the Olympics have been dismal; the team reached an all-time low when they did not make the Beijing Olympics in 2008. Even when they qualified for the Rio Olympics, their performance was far from the golden yesteryears of Indian hockey.
A significant recurrence — apart from poor performances — is the changing backroom staff for the men's national side.
Roelant Oltmans' recent sacking by Hockey India made him only the 23rd coach to be fired in the past 23 years
Clearly, something is wrong here: player-coach cohesivity is the bedrock for sustaining performance at higher levels of the sport. So what exactly makes Hockey India tick?
A timeline of the 23 coaches of the Indian Men's Hockey team in the past 23 years. (Hold and drag for a better experience)
Oltmans' Departure
Dutchman Roelant Oltmans was given the reigns to the men's team in July 2015, after his compatriot Paul van Ass was fired from his job. Oltmans was already acquainted with the Indian national side as he had been serving as their High-Performance Director since January 2013. Although Oltmans managed to improve the team's international ranking from 11th in 2015 to 6th in 2017, including a silver in the Champions Trophy, the team suffered losses to minnows such as Malaysia and Canada in 2017, finishing 6th out of 10 teams in the Hockey World League. In a result-driven situation, the team's performances made it difficult for Oltmans to make a case for himself.
Even though many observers were surprised with the sacking, Oltmans felt that it was just a continuation of a trend wherein foreign coaches are being shown the door without getting enough time. He said, "If you come to India as a foreign coach, there is one thing for sure – before you finish your contract, you will be fired". His statement resonates strikingly given the current context wherein four foreign coaches were fired in the last four years (of which three coaches were fired while Oltmans served as the High-Performance Director). Six foreign coaches hired before Oltmans were also fired, riddling the responsibility of Head Coach for the Indian men's team with pressures.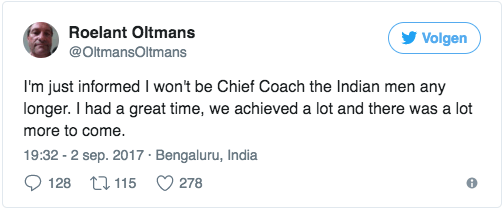 Another key factor in Oltmans' dismissal was his ongoing power struggle with the new High-Performance Director, David John. John, a former fitness coach, was promoted to his new position earlier this year. However, John frequently undermined Oltmans' role as coach by intervening in squad selections, going so far as to add six players to the team's European tour against the word of the head coach. This strained relationship also affected the players as it became increasingly hard for them to communicate with the backroom staff.
Hockey India's Desire for Success
Hockey India made it clear that they were looking for short-term results and not long-term development fairly obvious, soon after Oltmans' dismissal. While his efforts to improve fitness levels and set targets for the future were appreciated, they came at the cost of poor performances in more recent tournaments. The team was slowly, but steadily moulding into one strong unit as it began adapting to the style adopted by Oltmans. India's victory in the Junior World Cup showed clear results of investing in potential superstars and plotting out a chart for their entry into the senior set-up.
However, with Oltmans gone, the team's short-term and long-term projects are in disarray. The instability that comes with five different coaches in the span of 8 years has taken its toll on the players. Coaches and players often develop strong relationships built on trust, and the constant turbulence has severely affected the team's morale. This sentiment was also shared by Balbir Singh, the only coach to have led India to a Hockey World Cup (1975).
'He [oltmans] echoed the Indian tradition of Athithi Devo Bhava; foreign coaches must be given due 'respect' and should be given enough time to achieve their goals'
Since this wasn't the first time a foreign coach was fired by India, this issue must also be seen from a macroscopic perspective. Oltmans' stated that foreign coaches were now reluctant to work for the Indian team, as they felt it was too risky and volatile. A more amicable policy towards respected foreign coaches will go a long way, as it is the only way to attract talent and experience to India.  
Hockey India has also repeatedly played down Oltmans' success by saying it was more "incidental than deliberate". While it definitely discredits the positive work done by the Dutchman, it also underlines the attitude with which coaches are examined under a microscope. While asking for solid short-term results is understandably not wrong, criticizing Oltmans for working towards a long-term project meant to slowly bear fruit sends out the wrong message. A similar attitude ended former coach Terry Walsh's tenure in India; despite ensuring India's place at the Rio Olympics by winning gold at the 2014 Asian Games, he was sacked. He was denied time to put together a winning side for the future, showing that the real problem is Hockey India's impatience in general.
The Way Forward
Hockey India chose Dutchman Sjoerd Marijne, the women's national team coach as the new men's side coach on September 9. Harendra Singh, a Dronacharya award winner, was set to take over as the High-Performance Specialist Coach for the women's side. Both coaches signed contracts till the 2020 Olympics. It'll be interesting to see how long they hold these posts, considering Hockey India's hire-and-fire policy.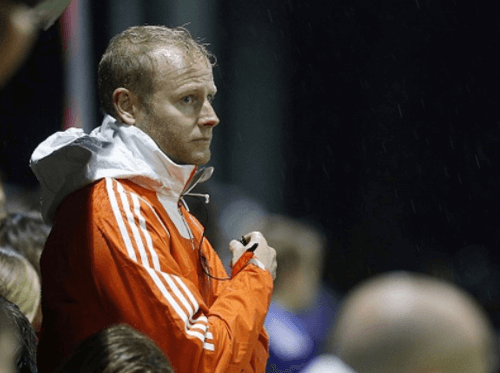 It is safe to say that Marijne will be under pressure right from the beginning; if things don't change at Hockey India and his team doesn't perform, he will be shown the door. It will also be interesting to see the power dynamic play out between members of the backroom staff and whether David John will exert any influence on Marijne's team policies.
This could either be a new start for a team in dire need for stability, or a continuation of the same old practices that have caused its downfall. The team must have its eyes firmly set on the 2018 Asian Games and the 2020 Olympics, to restore India's past glory in the world of hockey and for a more hopeful future.
Featured image by Public.Resource.Org/ CC BY 2.0