Written by Dhruv Raman
You're finally here. After the long walk through sixteen gates and a security escapade that involved hiding earphones in your shoes, you're here. The soft drink you had some time ago, anticipating the long walk, appeals for you to step out to the washroom. You search hastily only to discover that two are dysfunctional and the third has a line extending to the opposition's half. As you reach your broken seat, the match has already started but you haven't missed much. You happily cheer through the jaalis, taking in whatever you can clearly see.
This is a quintessential Indian Stadium and you a quintessential sports fan – it could only get worse if you were elderly or disabled. But since most of us seldom visit stadiums, we don't really complain. The quality of the sport, hopefully, compensates for the quality of the stadium.
But should we care? Although we, in India, are used to poor public facilities, the amount of money invested in Sport is adequate to enhance our experience. Watching a sport should be a pleasant, if not luxurious, experience; both the television and the stadium fan should get their money's worth. While the former viewer's experience is enhanced, things have not gotten much better for the latter. As sports become increasingly important in the Indian landscape, we should care now more than ever.
Rising Investment, Same Old Standards
The Government has directed attention to sports through initiatives like "Khelo India". Additionally, the various sporting leagues such as the Pro Kabbadi League (PKL), Indian Premier League (IPL), the Indian Super League (ISL) and others have led to an increase in sports viewership and sponsorship. The PKL, a fitting example, had 435 million followers in its inaugural season – four years ago. This figure has now increased by 51%. The crowds have brought money with them, and sponsors recognize this; sponsorships grew from Rs. 5,190 crores in 2015 to Rs. 7,300 Crores in 2017.
However, such a rise in government initiatives, viewership and sponsorships has not properly translated into improved infrastructure. 
The problem for sports fans is a lack of facilities at stadiums. This includes long walks (often not disability friendly), poor quality seats, viewing restrictions and either a lack of toilets or unusable ones. These issues arise either from poor construction or poor management of these stadiums.
Examples of such situations are replete if one looks at reviews of Indian Sports Stadiums by viewers. An instance worth mentioning is the Feroz Shah Kotla Stadium in Delhi. Many a time, there have been complaints about dirty washrooms, unusable seats (there are huge pillars in front of some), complicated entry procedures, and not enough accessibility for disabled fans. Further, there has been a history of non-compliance with safety measures. This has, on several occasions, led to washrooms being broken down and eating joints being sealed, among other things.  
Fans aren't the only ones affected by substandard stadiums. They are also used by national and youth teams, and thus players bear the brunt of poor infrastructure. Consider two news reports from July 2018. In one instance, the Karnataka State Hockey Association's Stadium was deemed unfit for a match between India and New Zealand because it did not have a changing room. This international match was consequently played at a training facility in the absence of a crowd. In the other instance, the Indira Gandhi Municipal Corporation (IGMC) Stadium in Vijayawada, reported The Hindu, resembled an agricultural field soaked in mud. This stadium — used for training in athletics and cricket — had been spoilt due to the repeated hosting of Government programmes, despite instructions by the local high court to not do so.
Who is Responsible?
In India, the apex body responsible for sports infrastructure is The Ministry of Youth Affairs and Sports (MYAS). It works primarily through its subsidiary organization – The Sports Authority of India (SAI). It provides funds to SAI which in turn are passed to the various National Sports Federations (NSFs) that are responsible for different sports. The NSFs, such as Hockey India, create facilities for their particular sport and delegate stadium management to local level bodies, such as the Karnataka State Hockey Association. The SAI allocates land to the NSFs and provides other infrastructural support. Some stadiums that cater to multiple sports – such as Jawaharlal Nehru Stadium, Delhi – are managed by the SAI itself.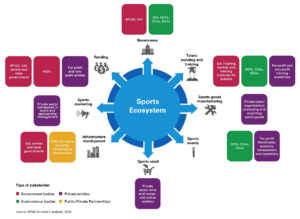 These institutions have several problems. First, there are restrictive guidelines for building sports infrastructure. They mandate that infrastructure projects be undertaken solely by the Centre or State Public Works Department (PWD) or Public Sector Undertakings (PSUs). Without a competitive bidding process, the quality of infrastructure goes down. Second, there is an absence of asset planning and monetization of built assets. Thus, new facilities aren't planned in advance and built stadiums do not generate enough revenue. Finally, these bodies are inefficient. Since a lot of them have politicians at their helm, autonomy is lost.
The Way Forward
Where the government can't do it, the private players can. Private players, in collaboration with the local boards, are likely to enhance the quality of new infrastructure, better monetize existing infrastructure and be more efficient. It takes one glance at private projects around the world to understand the potential they have.
Take the Levi's Centre for example, which is home to the San Francisco 49ers. This privately owned stadium has its own Wi-Fi network, food delivery to your seats, and an app that guides spectators to the closest washrooms or the shortest line. A possibly more familiar example is that of The City of Manchester (now Etihad) Stadium in England. This stadium, built for the 2002 Commonwealth Games, was taken over by Manchester City Football Club. The club made the venture profitable by selling naming rights to an international airline and using match day sales to pay rent. This stadium is now used to foster world-class talent – through training programmes – and showcase it.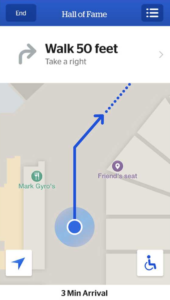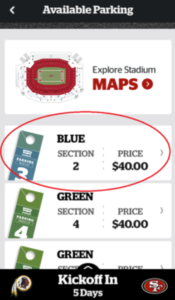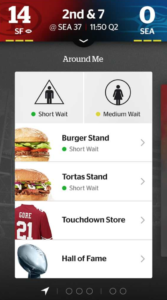 Different features of the Levi's Stadium App: a map of the stadium's inside, pre-booking parking options and tracking traffic at food outlets.
Similar such ventures can also exist in India and don't need to be completely privately owned and run.  Imagine if the Delhi Daredevils Franchise (GMR) operates the Feroz Shah Kotla Stadium in collaboration with the Delhi District Cricket Association; in all likelihood, it will lead to improved standards of seats, toilets and food at the minimum. Subsequently, it is also likely to improve training facilities. Their incentive? Increased number of fans, better facilities for their players, and certainly, more returns in the long run. 
Alternatively, for new projects, the DBOT (Design, Build, Operate and Transfer) model ensures a high quality of design and maintenance right from scratch. For instance, there exists the Greenfield International Stadium, or Trivandrum International Stadium in Kerala, which is the first stadium to be built under a DBOT model. It will be operated by Kariyavattom Sports Facilities Limited (KSFL), a subsidiary of IL&FS Transportation Networks Ltd, for the first 15 years, and then will be handed over to the state government. The stadium is an ICC and FIFA compliant ground, which means that it can be used for both sports.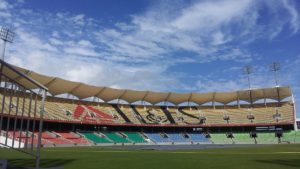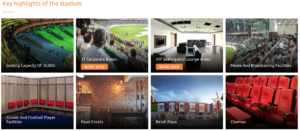 There's no question that India is now shifting gears, and is working hard to achieve its sporting potential. However, as much as a sport depends on the player, it depends on those thousands and thousands of fans who flock to stadiums to watch their teams play as well. Watching a match on a television screen can never replicate being there at the stadium, witnessing each moment unravel right before your eyes; ask any sports fanatic, they'll tell you the same. We must do more to improve the infrastructure that goes into making sports a treat to watch. Learning from the best of what is abroad and at home is a necessity, now more than ever. We must do more for the rich sporting culture that's an integral part of our society, for the millions for whom sports is a religion, and the stadiums, their temples.