Co-authored by Ishani Pant and Charith Reddy 
On June 13, the UGC announced new guidelines for the promotion and appointment of university and college teachers. The previous system of determining eligibility laid greater emphasis on the kind of research done by candidates and the papers they had published. Set to be implemented from 2021, the revised system plans to do away with research as a major criterion. Instead, academic staff promotions will be contingent on the possession of a doctorate (PhD). This decision has been met with a mixed set of responses. However, as is the case with any UGC policy change, to apprehend the situation, we must ask three important questions: what triggered this move, what is its declared intent, and how are these new guidelines conducive to the evolution of higher education in India?
'Publish or Perish'
Previously, teachers were expected to do scholastic research alongside their educational and administrative undertakings. Since 2010, faculty members of central universities and central government funded colleges needed to publish research papers in order to be eligible for promotions under the Career Advancement Scheme (CAS) because of the system of Academic Performance Indicator (API)-based appraisal. Several state universities also adopted the API.
However, mandating research comes with problems of its own. Many college teachers do not have the basic training for conducting research. To make matters worse, derelict infrastructure and overburdened teachers impedes their ability to conduct independent research.
"Currently, college teachers [undergraduate instructors] are also required to do research activity for their promotions, just like university professors [postgraduate instructors]. But we must understand that both these are [a] completely different category of teachers. A college teacher should be mainly engaged in teaching", said HRD Minister Prakash Javadekar.
"When we made research compulsory, research stopped completely. Conducting research just for the sake is taking down the quality of research"
Because of the earlier emphasis on research, under-pressure teachers hastily published their work, resulting in the proliferation of unreliable academic journals. "Making research compulsory for college teachers [has] harmed research. Thirteen thousand UGC magazines came up" alleged Javadekar. Additionally, by paying for published 'research', it became less arduous for candidates with few credentials to be promoted — irrespective of the poor quality of their work. Paradoxically, the state of research in Indian academic circles only worsened as a result of the focus on research. In addition, the API was protested against by faculty bodies across India.  
A Well-Researched Solution?
The new regulations suggested by the UGC hope to redress this sorry state of affairs. While existing requirements remain the same for teachers at the postgraduate level, changes have been proposed for determining their eligibility at the undergraduate levels. While the API has been done away with completely, PhDs are now mandatory when recruiting or promoting candidates to any academic post.
The minimum eligibility for Assistant Professors will continue to be tested by the National Eligibility Test (NET) or an accredited state level test (SET). Respective graduation marks are also being factored in during appointment. Additionally, for the posts of Associate Professor, and Professors at the postgraduate level (university professors), specific teaching experience criteria will have to be met. Certain research experience will be required in the case of university professors.
Supporters of the decision argue that it will provide undergraduate teachers ("college teachers") some breathing room, given that they lack the time to present substantive research papers in reputed journals. Moreover, proponents believe that the minimum requirement of a PhD will fortify the foundation of university education. However, plenty of criticism has risen from within the teaching community itself, potentially outweighing the benefits of doing away with research-oriented appointments.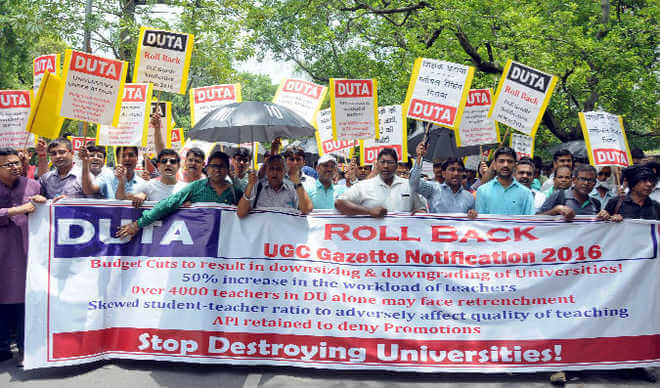 Firstly, the overall eligibility criterion has been lowered. Now, a PhD acquired from even a mediocre university makes a candidate eligible for a post, doing away with the dynamic skill assessment that research-based-eligibility ensures. In the previous guidelines, direct appointment to the post of Associate Professor required the individual to have 'successfully' guided a PhD student. This clause has been removed despite the fact that guiding a PhD student definitively measures the quality of a teacher.
Lastly, the API score computed the performance of a teacher in the classroom and their contribution to administrative and social activities, in addition to the research factor that we've spoken about already. By doing away with the API scoring system completely, the means of assessing teachers has been considerably diluted. Such dilution compromises transparency, thereby allowing for corruption to seep into the system.
The added requirement of high UG and PG marks may push students to focus on rote learning — a tradition that India's education system is already infamous for. While UG and PG marks are a simple way of measuring merit, the kind of skill expected of teachers of higher education is far more complex. Research allows merit of various kinds to be showcased, irrespective of whether it is traditionally 'mark fetching' or not. Subsequently, making UG and PG marks a part of the recruitment process limits the chance for critical thinking and pushes students to remain inside the comfortable boundaries of the syllabus. Those students who may have ventured beyond are stripped of the opportunity to qualify for teaching jobs, along with other candidates.
"Increasing qualifications will not only delay entry into the profession but also deny [the] chance to bright candidates, who, because of socio-economic conditions, fail to do PhD – as it requires many more years of study", remarked Abha Dev Habib, a DU professor. Eventually creating nation-wide obstacles to teacher recruitment, Habib advocates greater institutional autonomy in designing eligibility criteria, fueling the debate on the UGC's influence over higher education institutions.
An Issue, A Draft and Beyond
In the long run, the solution to improving the quality of research produced by faculty will not be discovered by isolating research efforts at the undergraduate level. Instead of doing away with research, it should be incentivised and accommodated for by the UGC. This can be done via research workshops and the inclusion of research-oriented courses in UG syllabi. Standards can be maintained through a UGC-approved list of peer-reviewed journals, ultimately creating a stronger research culture in higher education.
Government colleges and universities are preferred by India's millions for their affordability and established reputations. The UGC's regulation ultimately impacts a majority of Indian students negatively, by failing to address the multidimensional shortcomings of the higher education research ecosystem.