Edited by Nidhi Rejithlal 
India's massive COVID-19 surge has put immense stress on our health infrastructure. With an increasing number of patients, hospital beds and oxygen supplies are becoming more and more difficult to come by. The past two weeks have seen hospitals and citizens put out tweets asking for immediate assistance, saying they are running out of key supplies needed to treat patients and keep them alive.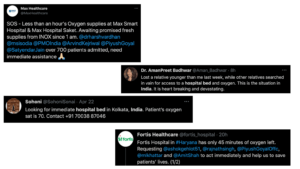 So in the midst of this severe second wave, how are hospitals dealing with these issues? To understand more, we spoke to Padma Shri Awardee, Dr. Arvinder Singh Soin, Chairman of the Medanta Institute of Liver Transplantation and Regenerative Medicine, Gurgaon.