Authored by Vibhuti Gour
In the run-up to the 2020 Delhi Assembly polls on February 8th, the Aam Aadmi Party (AAP) has guaranteed 24/7 piped drinking water to every household in Delhi. However, the AAP is yet to fulfil the promise it made during its 2015 campaign to deliver 700 litres of free water to residents across Delhi every day. Water delivery is particularly crucial to the residents of Delhi's unauthorised colonies, where citizens face severe restrictions on their access to civic amenities because they are excluded from the city's authorised master plan.
In Sangam Vihar, one such low-income unauthorised colony in South Delhi, the water supply seems to have considerably improved under the AAP government. According to the local MLA Prakash Jarwal and several residents, the settlements are increasingly receiving water from the government's Delhi Jal Board (DJB) through borewells and tankers. However, the government's distribution of this supply is uneven. The Valmiki community specifically, which is physically segregated from Sangam Vihar's other blocks, seems to be excluded from the government's supply chain, and has access only to expensive private sources of water. Why does the Valmiki community continue to be exploited by private tankers even while the adjacent L and J-blocks of Sangam Vihar receive free, albeit limited, government water? [1]
The Role of Political Access in Negotiating Water Delivery
Although the surrounding L and J-blocks have witnessed a shift from private to government water supply, the Valmiki community continues to depend on an expensive private bore-well run by local Jats and Gujjars for their water. According to Sunita, a Valmiki woman, the private borewell supplies water only once every 2-3 weeks. 
In contrast, Pooja, who lives in L-Block, receives water from a government-run borewell every week. In L-Block, Pooja pays ₹100 every month to the borewell's caretaker. When the private borewell fails in the Harijan Basti, as it often does during the summer months, the Valmikis are forced to call the operators of private tankers who charge between ₹500 to ₹1500 for a week's supply of water. What's striking is that while only privately-owned tankers stop in the Valmiki settlement, the streets right outside the Valmiki settlement receive water through government-owned tankers. What agency does the rest of Sangam Vihar (outside the Harijan Basti) have in improving its access to water?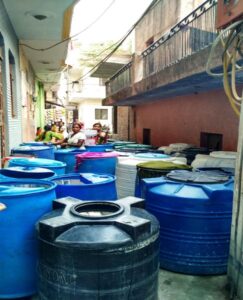 In Sangam Vihar, residents typically use personal and political networks to communicate their needs to their political representatives. For example, Pooja is connected to one of Sangam Vihar's two MLAs, Prakash Jarwal, through her neighbour who happens to be Jarwal's brother's schoolmate. This connection makes Pooja confident that the MLA will resolve any issues — water-related or otherwise — on the street. On the issue of repairing the road, she jovially says, "He [her neighbour] is close to him. He has said that Jarwalji will do it — tension mat lo! (don't feel tense!)" It is through these forms of local access that citizens engage with the state in their daily lives.
This theme of 'accessibility' echoes with Partha Chatterjee's observations about citizens who live on the margins of legality. He writes that in areas where the urban poor occupy land 'illegally', such as in Sangam Vihar, they are unable to make legal, right-based claims on services. Instead, they resort to negotiation for entitlements from the state. [2]
In the context of AAP's governance though, political negotiation through accessibility must be distinguished from political patronage or clientelism. While clientelism is limited to a party's supporters or chelas, the AAP's accessibility appears to extend to those who do not consider themselves to be the party's supporters. For example, Farida, who like many Muslims in her area supports the Congress, feels comfortable reaching out to Jarwal. Savana, despite not supporting the AAP acknowledged that "if you call Jarwalji, he will come". On the surface of it, the AAP's accessibility seems to extend to supporters and non-supporters alike.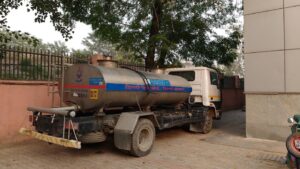 The Political Exclusion of the Valmiki Community
Such forms of engagement have opened up channels of communication for some of Sangam Vihar's residents. However, they are also exclusionary to those who lack the social capital to reach out to their representatives, such as the Valmikis. The members of the Valmiki settlement who I interviewed during my fieldwork felt more disengaged and helpless than others in the colony because they did not know anybody from Prakash Jarwal's office. Even when they visited the MLA in person, nothing came of it.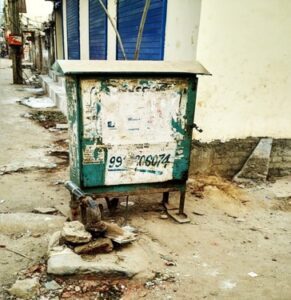 As Rajesh, a resident of the Harijan Basti notes, "Every time we go to the MLA's or MCD' office, we are told to fill out another application. Who would be willing to go through so much dhakka-mukki (jostling and fighting)? Besides, he adds, "agar jaante hi nahin toh kahan jaayenge? (if we don't know anyone, then to whom do we go?)". The only person that Sunita and her neighbours knew to be familiar with Jarwal was a nearby doctor with an upper-caste name — Srivastava — which Sunita calls a "very good name". While the so-called "lower-caste" residents of the Valmiki settlement did not share a network of common relationships with Prakash Jarwal, their high caste doctor did.
Evidently, caste and physical location play some role in determining a community's social capital. As a result, they indirectly also determine the Harijan Basti's access — or lack of it — to their representative.
A Persistent Faith in Democracy
Although the state has failed to provide a basic service like water to the Valmiki settlement, the community members have faith in their power to vote. Residents express their anger using the language of democratic mechanisms, indicating that they expect the same voice and rights as citizens as their neighbours. While water for all is missing from the settlement, a democratic consciousness remains strong amongst its residents. When voicing her frustration at the state's unresponsiveness, a Valmiki woman named Anjali asked us, "…don't people live [in the Valmiki settlement] too? Don't we vote?"
In her confidence that her vote can make a difference, Anjali thus connects localized forms of democracy, that is, her everyday experiences of making claims on public services, to a theoretical understanding of Democracy, that is, her right to vote as a citizen of the republic.
So, although the state's unresponsiveness regarding the Valmiki community's lack of water leaves the community in a vulnerable position, its members continue to express strong political agency, one that should be remembered in the run up to the polls. In its Delhi 2020 manifesto released on Tuesday, the Aam Aadmi Party has reaffirmed its promise of providing a 24/7 supply of 20,000 litres of clean, piped water to every household in Delhi. However, unless the new government can reach every corner of Sangam Vihar, the Harijan Basti's hopes for better water access may well remain pipeline dreams.
---
Featured image courtesy of Simrin Sirur and Jyoti S. Nayak.
[1] This research was undertaken in lieu of the author's undergraduate research work, and was supported by the Department of Political Science at Ashoka University. Vibhuti Gour and Bhairvi Tandon interviewed residents of Sangam Vihar's Harijan Basti as well as its neighbouring blocks between September and November 2018 to ask how residents have been impacted by the efforts of the current government. Water supply networks may have developed further in the year since these interviews.
[2] Chatterjee, P. (2011). Lineages of Political Society: Studies in Postcolonial Democracy. New York: Columbia University Press. pp 25.