Researched and written by Sourya Reddy 
In 2014-15, India was the fourth largest exporter of sugar, with a share of 4.4% of the total global exports. The growth of sugarcane, from which sugar is derived, is a water-intensive process. If ever-increasing climate change leads to less rainfall, how much would it cost the economy to divert water from other agricultural products and funnel it into sugarcane cultivation?
In January of this year, India exported minerals and ores worth Rs. 19.1 billion. What effect does the continuous exploitation of mines, which leads to their depletion, have on the economic well-being of the country?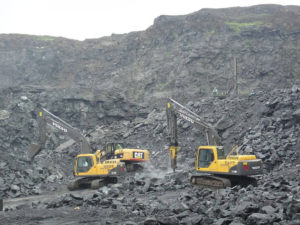 In an attempt to answer questions such as these, concepts of green accounting have emerged. Green accounting is a form of national accounting that takes into consideration environmental costs while assessing economic accounts. As the importance of taking action to preserve our environment is being recognised the world over, this form of accounting, as opposed to the traditional GDP method, is being tested and implemented.
The GDP estimation method of measuring economic progress has often been called out for its inability to capture true economic well-being in society. For instance, it takes into account only physical capital and does not look at the human capital or natural capital. Further, it is possible for a country to boast excellent GDP figures, while the resources which drive this estimation reduce by the day. The Partha Dasgupta Committee was created in 2011 by the government to look into developing a framework for India to begin its green accounting process.
"The demand for green national accounts has arisen because of a growing recognition that contemporary national accounts are an unsatisfactory basis for economic evaluation"
"The qualifier 'green' signals [tell us] that we should be especially concerned about the absence of information on society's use of the natural environment."
So why does India need to consider a green national accounting system? Well, for starters, the World Bank released a report in 2013 – titled 'Diagnostic Assessment of Environmental Challenges in India' – which estimated India's environmental costs to be equal to 5.7% of the GDP in 2009. To give this percentage a monetary expression, environmental degradation cost India around Rs. 3.75 trillion (approx. $58 billion using today's exchange rate) that year. The breakdown of this cost is as follows:
Outdoor Air Pollution: Rs. 1.1 trillion
Indoor Air Pollution: Rs. 0.9 trillion
Croplands Degradation: Rs. 0.7 trillion
Inadequate Water Supply & Sanitation: Rs. 0.5 trillion
Pastures Degradation: Rs. 0.4 trillion
Forest Degradation: Rs. 0.1 trillion
Further, WWF's Living Planet report finds that 25% of India's total land has been subject to desertification, while 32% faces degradation. These numbers are scary ─ and for good reason. India's food production capacity will bear the full brunt of this degradation; it's possible for crop production to reduce anywhere between 10-40% by the end of the century.
Over the last 50-odd years, India has lost over half of its forests, a large portion of its wetlands and around 40% of its mangroves. According to the Indian State of Forest Report in 2015, the north-east is severely affected; there has been a net decline of 628 sq. km in the region's forest cover. Further, the Green Indian States Trust (GIST), found in their 2007 report, that in states like Arunachal and Mizoram, the loss of forest ecological services was more than 12% of their NSDP. Therefore, the case for green accounting is the strongest now, more than ever.
The Dasgupta Committee's report lays out a framework to begin the conversion of India's national accounts to green accounts. It states that in order to achieve this end, India must drop the prevalent method of calculating economic growth which takes into account only physical capital. New dimensions must be added to this calculation, which are:
Human Capital: Population's skills and overall well-being
Natural Capital: The country's natural resources (land, water, soil, etc.)
The report also says that a new indicator of economic growth, called wealth per capita, must be calculated. Wealth per capita, which includes natural resources in its calculations, encapsulates the well-being of citizens across generations, today and in the future. Take for example a country that is rich in fossil fuels, and is a major coal exporting nation. Its wealth per capita can be falling while its GDP per capita increases; natural resources (coal in this case) are being continuously extracted for exports, to fuel the country's GDP. Therefore, there is a strong case for the economic accounting to reflect the extensive depletion of the natural capital, as this form of economic growth is understandably unsustainable.
Back in 2009, the UPA government – with Jairam Ramesh as Environment Minister – decided to start using green accounts when calculating economic growth. It was this government that put together the aforementioned expert committee chaired by Professor Partha Dasgupta. The 2009 government promised to release green GDP figures starting 2015, but as late as June 2017, this concept is yet to be implemented.
The implementation of this process is daunted by a set of complications. To quote a CSO official, who said, "We are fully committed to releasing green GDP figures and we hope to do it eventually but we do not have sufficient micro-level data on natural capital." Further, estimating the value of these national natural assets – called 'shadow prices' by economists – is challenging. For instance, while India has a decently accurate estimate of its forest cover, stamping the ecological services offered by this forest cover (soil protection, water recharge, climate regulation, etc.) with a monetary equivalent is undeniably complicated.
India must, now more than ever, realise the potential of and endorse green accounting. Even though there are some signs of action being taken to realise this goal (an inter-ministerial group has been constituted to bridge the gap in required data, according to the CSO official), it's quite likely that this process will be. It's been over four years since the release of the Dasgupta Committee report. The Manmohan Singh government initiated this novel process, and the Modi government must work towards realising it, for the present generations and for those to come.
---
References:
Partha Dasgupta Committee Report, 2013
Diagnostic Assessment of Environmental Challenges in India, World Bank, 2013
Living Planet Report, WWF, 2014
Indian State of Forest Report, 2015
Green Indian States Trust Report, 2007