Structural deficiencies in India's education system have resulted in lower academic standards and a generally dissatisfied teaching community. It is no surprise that Indian government teachers have little to be motivated about: they are often enrolled in supplementary government research programs (such as census data collection), paid and reimbursed sporadically and are provided with sub par academic training. All of these reasons cumulatively dissuade potential teaching candidates, projecting the profession as cumbersome and unappealing.
The National Awards to Teachers (NAT) was a loose attempt to reinvent this narrative by honouring exceptional teachers from across the country. Introduced in FY 1958-59 by the Ministry of Human Resource Development (MHRD) and held annually on Teacher's Day (5th September), the Awards implicitly celebrate achievements from resource-scarce environments.
NAT encourages the development of innovative pedagogies from teachers and acknowledges their collective importance and agency within society.
Parameters include the successful mitigation of drop-outs at Primary and Secondary school levels, academic performance of students, infrastructural development initiatives and classroom discipline
The intangible prestige of being recognised by the Union Government for regionally specific educational endeavours incentivizes teachers to improve their standards and philosophies. That being said, the Award in itself, presented by the President of India ‒ consisting of a certificate of merit, a silver medal, a remuneration of ₹50,000 along with state borne travel and personal expenditure ‒ certainly bears a charm of its own.
Award Parameters
Prospective awardees are drawn from a diverse spectrum of educational institutions from across the country, ranging from Pathshalas, Sainik schools, to Madrasas and Navodaya Vidyalayas. The shortlisting process itself is fairly stringent and is undertaken by the respective District Education Authority.
Parameters include the successful mitigation of drop-outs at Primary and Secondary school levels, academic performance of students, infrastructural development initiatives and classroom discipline. These account for 75% of the evaluation process, while other parameters such as pedagogical innovations within academic and extracurricular spheres, inclusive education, and additional official recognition constitute the rest.
Over the years, the number of awards  ─ presented to different categories of schools and certifying boards ─ has steadily increased, with this year's total standing at 374. These numbers have increased in tandem with the expansion of the education sector, and the positive diversification of its policy throughout the country. For example, 43 Awards (of the 374) are presented to teachers consciously integrating Inclusive Education (IE) into their institutional pedagogies, through the education of differently abled children. Differently abled teachers employed in 'regular' schools also fall under this category.
Meenal Nagole of Nagpur (Maharashtra) is one such teacher, receiving the award this year for her sustained and invaluable contributions to the city's Deaf and Dumb School spread over 25 years. Originally a science teacher, Nagole first struggled with teaching as a profession. Now, she has completed both master's and doctorate degrees in special-needs education and regularly presents at conferences on the issue.
Other recipients this year have been awarded on the basis of a diverse range of academic and institutional achievements that go beyond the basic parameters of cleanliness and academic excellence. Key examples include Jatinder Pal Singh, Principal of the Government Girls Senior Secondary School Amritsar (Punjab). He has been conferred the prize for his holistic approach to running the school, where students' vocabulary and general knowledge is systematically developed on a daily basis beyond the necessary curriculum. Singh also maintains a 'Virasaat Hall' on the school grounds, which houses traditional Punjabi cultural artefacts such as clothing, palanquins, and utensils, in an attempt to familiarise students with their surrounding peoples and cultures.
Inclusive Recognition
The NAT additionally recognise teachers from challenging regional circumstances. Take for instance the so called BIMARU states ‒ in 2016, 7 awards were distributed to teachers from Bihar, 14 to teachers from Madhya Pradesh, 10 to teachers from Rajasthan and 25 awards were given to teachers from Uttar Pradesh.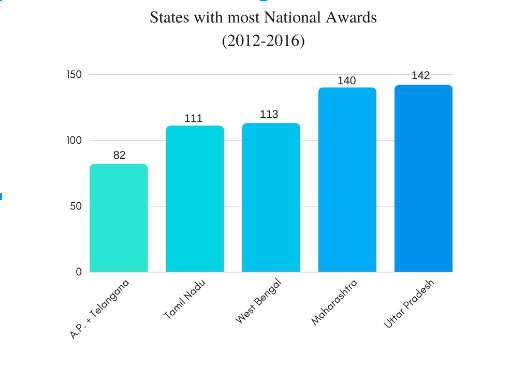 The Awards have also recognised teachers who have popularised Information and Communications Technology (ICT) beyond urban centres. For his services to digital literacy, Kambam Venkatesu has also won the Award this past year. A school assistant at the Zilla Parishad High School in the village of Dorisanipalli (Andhra Pradesh), Venkatesu started a YouTube channel with content in English and Telugu to simplify the teaching of mathematics to high school students. Venkatesu has also taught his students Adobe Photoshop and Microsoft Office alongside video-editing and typing skills.
Recognition of his work is of critical importance, for it represents the steady inclusion of otherwise-overlooked rural students into a burgeoning digitally literate workforce.
A significant milestone is the Centre's recognition of academic achievements within historically excluded tribal communities. For example, the Yannadi tribe of Pamumaletta (in the outskirts of Nellore) witnessed zero enrollments in their local school for seven years because local teachers refused to travel the long distance to the hamlet. Chilukuri Srinivasa Rao ─ already a recipient of numerous state and national level awards for education, photography, and the environment ─ volunteered to work at the school. With the help of financial donors, Rao subsequently transformed the school completely; he introduced notebooks, school-bags, and clothes for 30 children and also encouraged them to paint freely on school walls.
Rao's methods shed light upon culturally sensitive pedagogical and development models which could find great application in the somewhat delicate field of social policy making
The National Awards to Teachers and Teacher's Day are both enthusiastically celebrated across the country as a tribute to the legacy of Dr Sarvepalli Radhakrishnan, enshrining India's cultural legacy of celebrating teachers and education.
Unfortunately, today, one is compelled to question this legacy, for it remains little more than an imagined ideal. The NAT recipients certainly are inspirational; their official recognition is crucial for bolstering support for academic professions and galvanising universal education at large. However, the systemic challenges that teachers continue to point to larger questions on the success of the educational policy, as well as the national integration of diverse peoples.
All in all, what has become an annual celebration of overcoming systemic weaknesses needs to be reimagined. Much can be learned from the solutions of NAT recipients ‒ their answers to diverse and deep-rooted problems can be utilised efficiently for more precise development of the education sector. In this domestic age of potent nationalism and development strategies, concerted preparation for a literate Indian future ought to be focused upon by the State by absorbing innovation rather than by merely bestowing it with ceremonial tokens.