Written by Amrita Singh
How would you equally divide 16 oranges between 4 people? This year, the Annual Status of Education Report 2017 (ASER) decided to focus on 14-18 year-olds instead of the usual 5-16 years age bracket, and their findings ring alarm bells for India's future. Unfortunately, 43% of the students between 14-18 years cannot calculate this simple class-two division of oranges.
The report consists of surveys conducted around basic real-world tasks such as measuring weight and length, counting money and the like. In one such task, the students were required to calculate a 10% discount on a t-shirt for sale. More than 6 in 10 students could not solve the problem.
At a stage wherein citizens, academia and policy personnel are still inspecting the potential held by Arun Jaitley's Budget 2018, ASER points to gaping holes in students' conceptual understanding of the material taught at school. A system of education rooted in rote learning has failed to translate going to school into actual learning — wherein students are capable of applying concepts to the real world. This hole in learning outcomes calls for introspection into the pedagogy employed while teaching.
Moving Past Rote Learning: Game-Based Learning Systems
While pedagogy plays an important role in ensuring 'quality education', it cannot be seen as the only determinant. An active learning environment — created by an amalgam of the pedagogy type, in-class syllabus, and student engagement — ensures learning outcomes remain productive. By responding to concepts and their applications, the end-game will re-orient itself from securing grades to grasping necessary tools for carrying out everyday activities.
Besides, there are few things that spell doom more than poor learning outcomes even after sitting through school. A classroom wherein students are disinterested becomes dull and inevitably empty; India cannot afford to allow its school-going population (86% of 14-18-year-olds) to drop further. In today's tech-driven world, e-learning systems could hold the key to India's predicaments in educating its youth.
E-Shishya, for example, has a personalized pedagogy. The organization dedicates itself to using technology in classrooms so as to make learning fun and interesting. 15 bright children from poor economic backgrounds are chosen to be mentored in various schools throughout the country by conducting a "Genius Hunt Exam". The students who make the cut are enrolled in a 100-day long mentorship programme that focuses on overall development of the student. Through books, videos and mobile apps, E-Shishya curates its use of technological and material sources to educate these students.
In an interview with The Bastion, Garima Wadhera, the founder of E-Shishya, lamented that school teachers are more focused on completing the prescribed syllabus than actually ensuring holistic development and learning within the classroom. This is where mentors for bright children — who want to learn but are deprived of a conducive learning environment because of their socio-economic position —  step in to help them become active learners.
The mentorship programme focuses on developing specific components such as health, civic and financial literacy. In their formative years, students between the ages of 10 and 14 are targeted so that these skills are remembered for a lifetime.
Syllabus apart, the mentor-mentee relationship is also an emotional one. For these otherwise neglected children, this level of moral support makes them find solace because someone 'important' is taking an interest in their lives. For instance, one of the student mentees managed to learn 50 words a week (instead of the prescribed 10 words per week) because of a strong relationship with her mentor.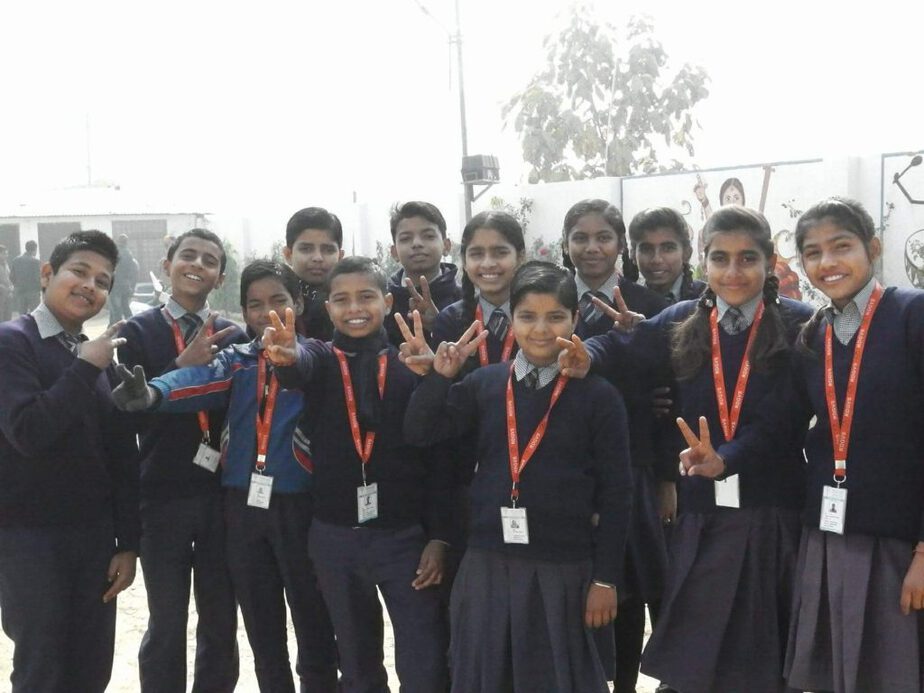 While E-Shishya helps 15 students from each school where the programme operates, they make the syllabus available to teachers who can choose to implement it in their classrooms for the benefit of other students.
E-Shishya employs English as the language for their teaching. In this manner, they are able to instil confidence in students who may otherwise shy away from speaking in English by cultivating reading habits. Students who started off reading Amar Chitra Katha read Ruskin Bond by the end of three months.
The mentorship programme comes to an end with guided career counselling from the same mentors who have traced the development of their mentees. "It's all about calibre, confidence and providing the right environment…[this way,] each child can reach his or her potential", says Garima.
The ultimate creation of an active learning space by combining technology with student-engagement can convert schooling to learning, surpassing distance barriers as well. Budget allocation aside, innovation in teaching methods and updated syllabi make tangible strides in bypassing the demerits of rote-learning for India's youth.
Featured image courtesy Pixabay