It has been a tumultuous year for Nike Inc. While the Oregon-based corporation's stock surged to an all-time high in September 2019, it has also been marred by allegations of discrimination, sexism, and harassment. These come not just from Nike's female employees, but more worryingly, from its female athletes too.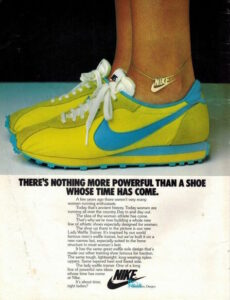 For decades, Nike has advocated for several different social causes through its creative and strategic advertisements. These have ranged from combating ageism and racism to promoting the rights of women, differently-abled, and LGBT sportspersons. To resonate with viewers' emotions, its advertising technique tells inspiring stories of unsung heroes. However, off late, Nike's advertising and the spirit it portrays on screen have been worryingly detached from the real picture.
The Ugly Undersole
In May 2019, decorated Olympic athlete and three-time US National Champion, Alysia Montaño came out with an op-ed titled "Nike Told Me to Dream Crazy, Until I Wanted a Baby." As the title suggests, Montano had been embroiled in a bitter battle with Nike over her sponsorship during and after her pregnancy. In 2014, she was hailed by many as the 'Pregnant Runner' as she ran the 800m event of the USA Outdoor Track and Field Championships while eight months pregnant. Little did we know that she was running to sustain her income and keep her health insurance. American athletes Kara Goucher (an Olympic runner) and Allyson Felix (an Olympic sprinter) faced similar issues with Nike during their pregnancies and childbirth. It is telling that all four Nike executives involved in negotiating contracts for track and field athletes at the time were men. 
Montaño's op-ed featured only a few months after Nike's "Dream Crazier" campaign was released. It featured Serena Williams, who had made a comeback to professional tennis after childbirth. While Williams was made a central figure around discussions of empowerment and maternity, Nike threatened to terminate sponsorship deals and reduce pay during pregnancy and childbirth for some track and field athletes. 
Apart from its athletes, four former women employees of Nike filed a class-action lawsuit in the United States against the sports-apparel giant. In August 2018, they claimed that Nike had a culture of discrimination and sexual harassment; that women were less likely to be promoted, were relatively underpaid and constantly faced a hostile work environment. Nike attempted to get the class-action status dismissed on the grounds that the "class action allegations" were extremely broad and that the plaintiffs could not possibly establish that women employees as a class had experienced the same levels of harm. This attempt failed and the lawsuit has moved forward since. 
Just a Courtside Bystander?
This sense of discomfort with Nike's image does not reside only in its aggressive marketing strategies. Most companies market their products in fanciful and creative ways. What is worrying is that Nike does not apply the same standards (that it claims to stand firm in support of) to its own employees and the athletes it works with. This should matter to those of us who buy products from Nike in the belief that the company is a agent of social empowerment and non-discrimination.
I got caught in a system designed by and for men which destroys the bodies of young girls
Just last month, Mary Cain, who was one of America's fastest runners,  came forward in a heart-breaking video op-ed, expressing how she suffered physical and mental abuse at the hands of Alberto Salazar. Salazar was the head coach of the Nike Oregon Project where Cain trained and has now been banned on counts of doping violations. Cain, who shattered multiple American records as a young athlete, recounts how Salazar publicly shamed her for her weight. During her time under Salazar, her body fat content dropped drastically; as a result of low estrogen levels, she missed her period for three years and also suffered multiple bone fractures because her bone density dropped. Her claims have been backed by fellow athletes who faced similar forms of abuse. 
During the recently-concluded Women's FIFA World Cup, Nike launched another campaign after "Dream Crazier", called "Dream Further". Although it wasn't an official sponsor during the World Cup, Nike gained enormous attention for its social media campaign. 
Releasing official statements on political issues often hurts multinational corporations' revenue interests, but it is unnerving that Nike remained diplomatic in the conversation surrounding equal pay after the victory of the USA women's football team. While Adidas publicly committed to furthering the cause of equality by announcing that "all Adidas athletes on the winning 2019 FIFA Women's World Cup team" would receive the same performance bonuses as their male counterparts, Nike did what they do best — evade the depths of this debate by releasing a sixty-second advert in support of the new world champions and their athletes.
You May Also Like: #TheSportsEdit: On Sports for Society
It's not like Nike has taken less controversial advertising positions in the past. Its campaign featuring Colin Kaepernick, the NFL player who knelt during the American national anthem in protest against police brutality towards African Americans was met with criticism by many. Yet, its sales worldwide rose by 31 percent
Lacing Up for Battles Ahead
Although the events that all these women and athletes have endured during their engagement with Nike are horrific, they are not entirely inconceivable. In the history of sport, women have been met with discrimination, sexism, and harassment both on and off the courts. Last year, the inaugural women's edition of the prestigious football award Ballon d'Or was awarded to Ada Hegerberg, a Norwegian football player. While receiving the award, she was asked by the host if she could "twerk". In 2016, Indian Grand Slam Champion Sania Mirza was asked by a journalist "when would she settle down". Serena Williams has been the subject of racist and hyper-sexualised attacks since the inception of her career. Last year, Australian football player Tayla Harris became the target of sexually charged and abusive comments from trolls after this image of her powerful kick went viral.
Here's a pic of me at work… think about this before your derogatory comments, animals. pic.twitter.com/68aBVVbTTj

— Tayla Harris (@taylaharriss) March 19, 2019
There is a need for consciously authentic representations of women athletes in sports media. Normalising women's sports could allow for a change in people's attitudes towards women athletes. After all, only 4% of all sports media content is dedicated to women. 
Most recently, Corporate Human Rights Benchmark (CHRB), a London-based not-for-profit organisation that benchmarks the 'corporate human rights performances of publicly traded companies' ranked Adidas in the highest spectrum (80-90%), whereas Nike fared much lower (40-50%) in terms of meeting its human rights obligations. Nike is also a signatory to the UN Global Compact, a non-binding pact that encourages businesses to adopt sustainable and socially responsible policies. The UN Global Compact principles focus on several factors, including the protection of human rights.
CHRB's report explicitly says that Nike failed to meet its human rights commitments with respect to women's rights and women's empowerment principles. 
For a brand that champions the causes of equality and women empowerment, Nike has failed in its mandate time and again. Their campaigns in 2019 are contrasting to the cases presented above. Nike itself has acknowledged its somewhat exclusionary policies. The time has come for the corporation to listen, engage in dialogue and be inclusive of other groups irrespective of its revenue models. As a global influencer in the sports world, non-discrimination must be adopted as Nike's norm. 
The twenty-first century is here. Just do it, Nike.
Sanchita Aidasani is a lawyer and is interested in business, sports, and human rights.