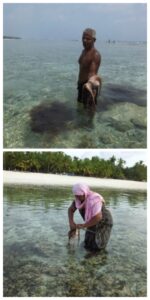 "Kadikidamaale balichittum, 
Kirikidamaaya kachayum ketti,
Appal irrikum kalline noki chirichu thudangi,
Ayal, bismiyum cholli irangiya neeram Appalu kuthi."
"Ready with a strong grip,
In the shallow waters, wearing a dhoti, 
He smiles as he waits at a rock under which an octopus lives 
And upon reciting His name, he catches the octopus." 
---
People have been fishing for centuries using a spectrum of tools and techniques, ranging from a spear to a sonar. On the face of it, one end of this spectrum seems to represent a traditional 'method of the past', while the opposite end represents a developed 'modern approach'. 
This perception is largely reflected in reality too: while the gamut of fishing practices that fall under the 'traditional' variety continue to be marginalized, both nationally and globally, they have received more policy attention only of late. This is especially the case of small-scale traditional fisheries (SSF), defined by the United Nations' Food and Agriculture Organisation as those "involving fishing households (..) using relatively small amounts of capital and energy (..) making short fishing trips close to the shore, mainly for local consumption." Even India's Draft National Fisheries Policy, 2020 (Draft NFP) seems to have outlined a holistic and sustainable development plan for the fisheries sector. Although some details are clouded, the policy places the socio-economic wellbeing of traditional small-scale fisheries as one of its core objectives. 
In the same breath though, the Draft NFP also includes traditional fishing practices such as SSF as one of the "factors constraining the growth of capture fisheries" in the country. This in spite of the fact that traditional Indian fisheries are highly diverse, and comprise nuanced fishing practices, ranging from the fishing on foot to boat fishing. They are value-laden with social and cultural relevance for not only the environment but for the people who depend on these practices for food and livelihood–they are hardly a 'constraining' factor.
Take the example of Lakshadweep. Given that they have limited space and resources for agriculture, the inhabitants of the Lakshadweep islands, India's smallest Union Territory (UT) surrounded by the Arabian Sea, are highly dependent on marine life for food and livelihood. While various fisheries operating in Lakshadweep primarily target commercial tuna and reef fisheries, the traditional fishery of octopuses (or appal) called appal koothal is practiced mainly for the subsistence of local communities.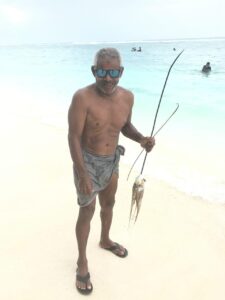 Most of the catch is procured for local consumption, while some of it is sold. "When I don't go fishing in the open sea for tuna or during the dry season, octopus hunting is my alternative source of income," says Ameen, a tuna fisher and octopus hunter from Kavaratti. "I can easily earn around ₹900. in one hunting trip," he adds.
While not bidding for one over the other, such fisheries are unlike modern fishing practices, which focus more on increasing fished outputs, improving food, livelihood security, and economic growth. Despite its small scale and clear relevance in providing subsistence, these informal octopus fisheries thriving in the intertidal coral reef flats and reef borders of the islands mainly stand out because of intrinsic social and cultural values associated with them.
A Wise Man Once Said…
For centuries, the octopus has been caught using simple, customary tools like baited traps, pots, and hooks in many parts of the world. In Lakshadweep, octopuses, most commonly of the Day octopus (Octopus cyanea) variety, are hunted. 
While octopus hunting is practiced on almost all of Lakshadweep's islands, Dakshin's work is mostly focussed on the islands of Agatti, Kavaratti (the UT's capital), and Minicoy. Octopuses here are caught using two or more iron rods, which are used to lure out octopuses from coral crevices while ensuring that delicate coral reefs are not damaged in the process. Kitted with just a set of rods, anyone, regardless of age or gender, can head to the coral reef flats when the ocean waves have ebbed. The inexact number of people engaged in octopus hunting can make profiling the fishery, a challenge.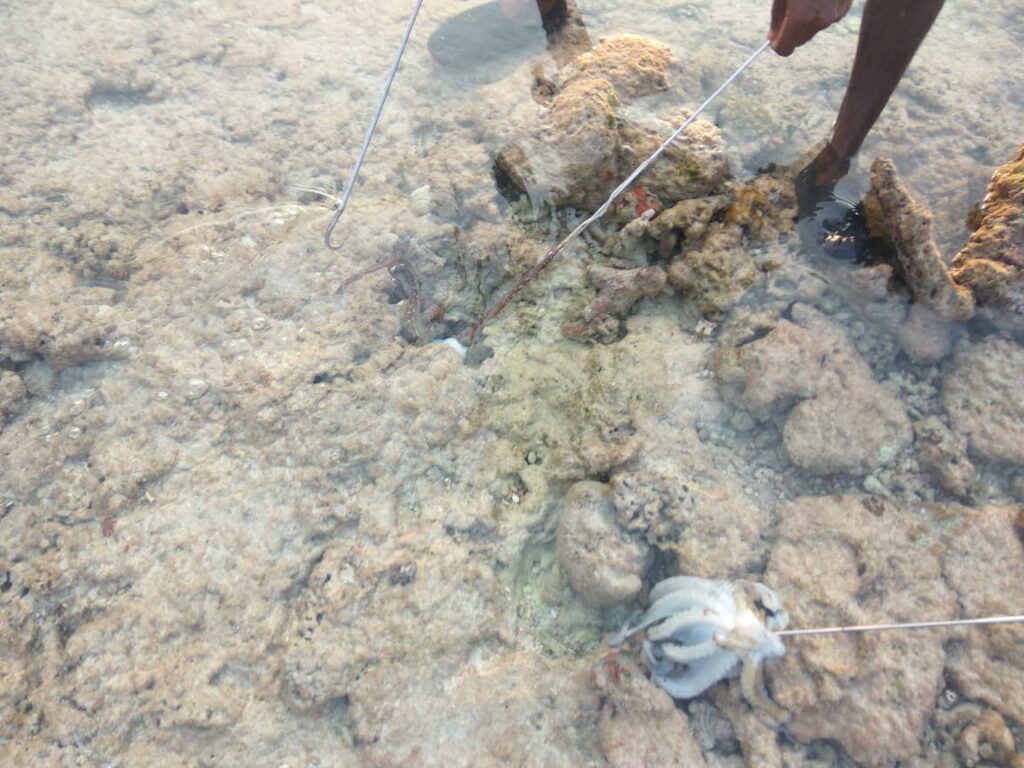 As they comb the waves for their catch, these seasoned octopus hunters have clearly developed and sustained a great deal of knowledge on the local ecology, as well as the skills to protect it too. "You will find another octopus under the same coral if you leave it intact," says Jaleel, an elderly octopus hunter from Agatti island. "That is why we should take care of corals." This sense of ownership over natural resources and their conservation is an ethos that is passed on to the next generation of hunters.  It is not unusual to spot a group of children strolling about on the exposed reef flats looking for the knotted creature.
Conservation may also indirectly weave into the faiths of the islands. With over 96% of the population Muslim, the people of Lakshadweep widely observe the holy month of Ramadan. While fasting, the islanders also abstain from entering the sea for the entire month and avoid engaging in any type of fishing activity, including octopus hunting. 
Given the low hunting pressure, this temporary halt incidentally gives biological rest to the surrounding octopuses. Conservationists and fishery managers often consider such brief fishing halts, or temporal closures, as useful tools for managing octopus numbers for their conservation and sustainable collection. 
And so, along with the environmental ethics of balanced and waste-free use of natural resources that the locals are culturally endowed with, such religious imperatives seem to indirectly act as conservation tools too.
The Women Hunting Octopuses
Fishing is one of the last remaining hunter-gatherer activities of humans; throughout though, historical narratives of 'hunting for fish', as well as modern fishing, have been dominated by men, as they typically 'do' the actual fishing.  Women, on the other hand, are primarily restricted to pre- and post- fishing tasks. 
But in Lakshadweep, women actively hunt, in this case, for octopuses.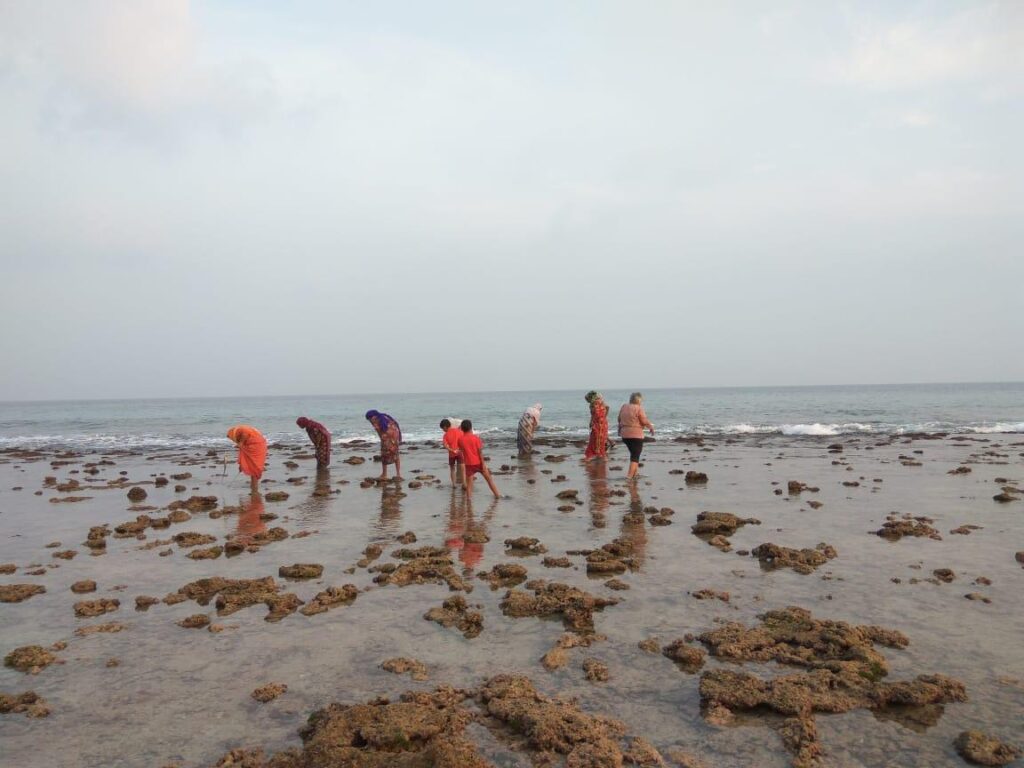 Though not in a large number, the presence of women in octopus hunting is significant. Facilitated by the simplicity of the technique, the modest investment in gear and accessible octopus grounds, catching them becomes appealing to women and children, besides just men. Rubina*, a second-generation octopus hunter recalls,  "I have been hunting octopuses since childhood. At first, I was fearful of the eight-legged creature. But while hunting with my brother over the years, I have learned the techniques too." Women glean the rich intertidal areas of the island looking for octopuses in ankle-deep water, individually, or in groups. As a communal activity, octopus hunting adds value as it becomes a means of social interaction with other women. 
Women's participation in fishing activities is often limited by strong cultural and societal conventions. However, in Lakshadweep women also engage in the sale of their octopus catch, which becomes a small but valuable income for them. "Though I started catching octopuses recreationally and sometimes for a meal at home, it is reassuring to know that we have an option to earn income through the sale of our octopus catch.  Now I sell octopus and people who know me buy it from me," recalls Ayesha, an octopus hunter from Agatti.
And so, given the islands' insular and isolated geographical setting, Lakshadweep's communities seem to have developed a strong sense of social cohesion based on a value system of sharing the resource and selling the catch. Octopuses caught are often shared with family, friends, and the island community as gifts.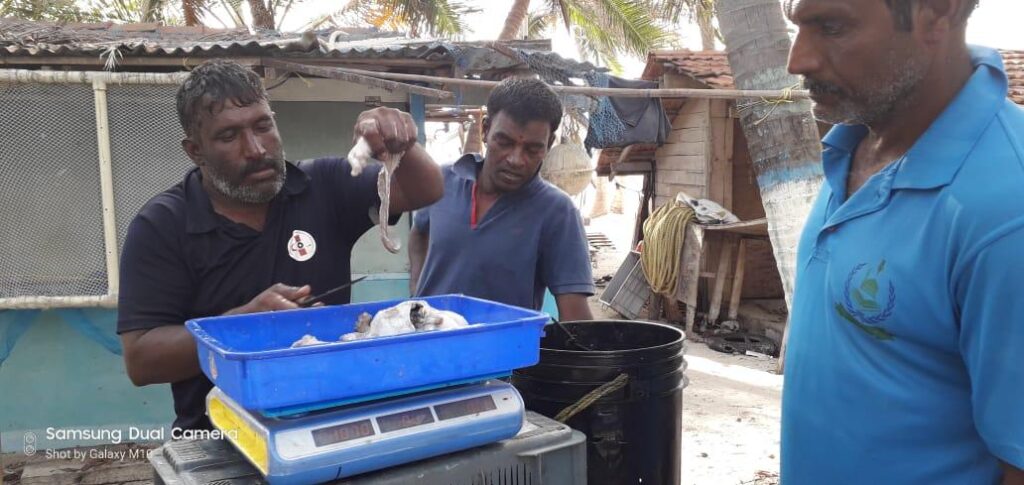 Once caught, the octopus is a valuable source of protein for the islanders, making its way into the island's indigenous food culture: octopuses are used fresh, dried, or pickled and in dishes like octopus biryani.  During the Monsoon particularly, when fishing activities are limited and fish are not readily available, the octopus becomes an alternative source of nutrition.  
Challenges and Making Our Way Through Them
Backed by traditional knowledge and value systems, octopus hunting is essentially a skill-based practice. It requires gauging the size of the octopus by the size of its coral den and then drawing the octopus out without damaging the corals. 
However, currently, the erosion of these skill-sets is posing challenges to octopus fishery in Lakshadweep. When devising effective ecology-driven management practices, ensuring sustainable fisheries that support health octopus populations are outcomes that need to be taken into consideration. Even though Lakshadweep's octopus fishery is small-scale, localized management strategies will benefit both the ecosystem as well as octopus hunters.
By collaborating with other marine conservation organizations such as CARESS and  Blue Ventures, as well as the local octopus hunters in Lakshadweep, Dakshin has been conducting baseline interviews, awareness workshops, and initiated octopus catch monitoring initiatives to try and address some of the challenges the fishery faces.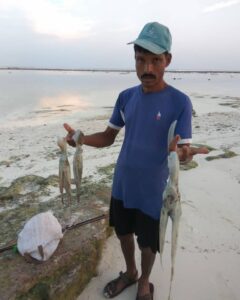 So far, our preliminary findings show that the number of locals engaging in octopus hunting is increasing, as many are now interested in selling more and more catch. Often older, more experienced hunters astutely remark that the younger generation hunters are moving off the coast and diving in lagoon reefs to catch more octopuses and in the process, damage corals and catch young octopuses, or female, egg-bearing ones. This can cause a decrease in the local octopus numbers, due to their specific biological characteristics: they breed only once in their lifetime, have short life spans, and high natural mortality. 
This will potentially increase the pressure on octopuses in the coming years warranting the close monitoring of octopus catches and the sustainable management of oceanic assets. Encouraging local octopus hunters to collect information on their catches helps sensitize the hunters about their fishery, apart from also monitoring their hunting and producing the crucial missing data on this fishery.
 On the whole, Lakshadweep's octopus fishery is not just a fishery, but a support system that provides "invisible services"; it fosters a sense of sharing, community, and responsibility in the context of environmental interactions. It offers a glimpse of how a society functions; its nuances, preferences, and relationships. More studies focussing on them would strengthen the position of traditional fisheries in the discourse around sustainability and conservation beyond top-down centralized policies.
For more on coastal India's past, present, and future, curated by The Bastion and Dakshin Foundation under "The Shore Scene", click here.
---
Featured image: octopus hunting in action, courtesy of Vineetha Hoon. | *Names changed | Views expressed are personal.