Researched and written by Sabhya Kumar. 
In May of 2016, Rodrigo Duterte was voted to power in the Philippines. The former mayor of Davao was known as 'The Punisher'; legend has it that he would roam the streets on a bike and shoot down criminals. The Davao Death Squad is infamous for extrajudicial killings, something Duterte has alternately confirmed and denied. Even though the courts did not have sufficient proof to confirm its existence or Duterte's association with the same, he has repeatedly confessed to killing three kidnapping suspects near a police checkpoint in 1988. His inflammatory speeches are well known for their candour and abject lack of empathy for the loss of human life. During his tenure of seven terms totalling 22 years, Davao became a city with a significantly lower crime rate than before, and Duterte was recognized as its intrepid leader.
"There were 32 killed in Bulacan in a massive raid, that's good. Let's kill another 32 every day. Maybe we can reduce what ails this country"
─ Duterte speaking at the anniversary of the VACC in Malacañang

During his election campaign, he promised to wipe out all criminal activity. He secured around 39 percent of the total vote and started a war on drug use. He encouraged people to take up arms against drug users, advocating vigilante justice. Extrajudicial killings became the norm, and around 7000 people have been killed this way. Human rights institutions have been quick to condemn this form of execution; they suggest better-policing practices, drug rehabilitation facilities, and an easier-said-than-done eradication of the crime syndicate in China, which sources the drugs. Reports suggest that these unceremonious killings target the urban poor and have fostered a culture of fear in the Philippines. All of Manila's woes stem from poverty, which affects nearly 20 percent of the population, and not the tales of exaggerated drug use.
Criticism from the United Nations was met with threats to withdraw from the global body. Duterte has sought closer ties with Russia and China while distancing himself from the United States and other European countries. His lurid remarks on former President Obama embarrassed diplomats on both sides of the aisle. Even in formal spaces, he has caused offence with his insensitive and often brash comments. When reprimanded, he refuses to apologize.
"Hitler massacred three million Jews. Now, there are three million drug addicts. I'd be happy to slaughter them. If Germany had Hitler, the Philippines would have (me)"
―Rodrigo Duterte, September 30, 2016
The sole voice of opposition in the Philippines was Senator Leila de Lima, who investigated the killings as chair of the Commission for Human Rights. Duterte called her an 'immoral woman' and proceeded to cast aspersions on her personal life. She was later detained on un-bailable charges related to drug trafficking. Her relentless criticism made her Duterte's first political prisoner. While she continues to actively engage in the conflict from prison, naysayers have been adequately warned about the consequences of non-compliance. He has made demeaning remarks about women and is often compared to US President Donald Trump for their similar archaic world views and outspoken style of public communication.
But the average Filipino sees things differently. A survey by Social Weather Stations in March 2017, found that 77% of the population approved of the state-sponsored killing sprees. Duterte's approval ratings remain a staggering 82 percent as the Philippines seem to think that his brutality is the key to ensuring lowered crime rates. Most find the justice system inadequate to bring convicts to task. The expedited trials guarantee results and have met with massive public support. Many drug users have voluntarily surrendered fearing targeted attacks from vigilante groups. While the numbers which second the war on drug use have dwindled within a year from 82 to 77%, Duterte continues to ride on a wave of immense popularity.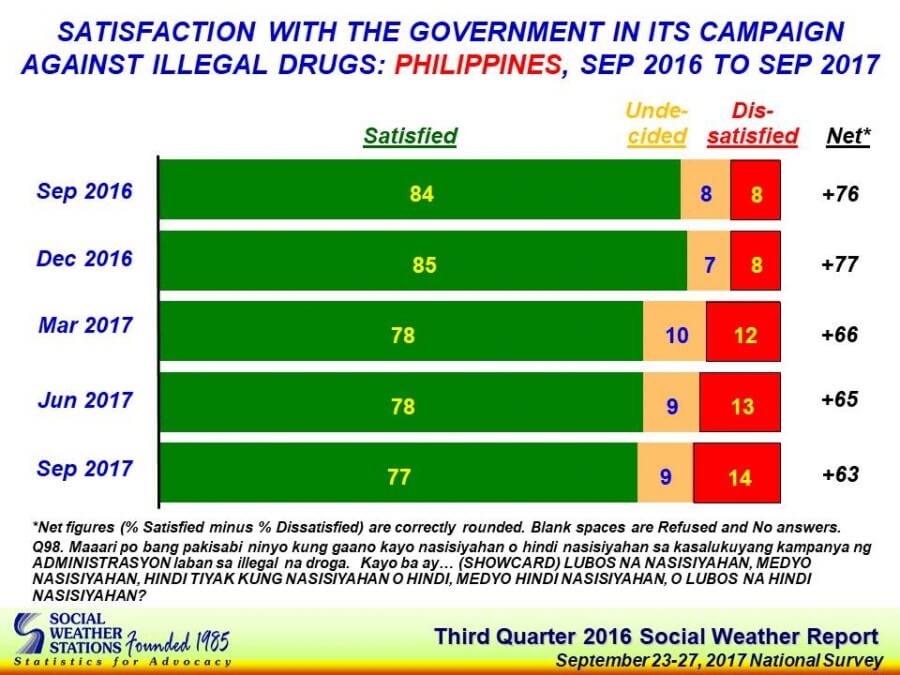 It seems incredulous that such barbaric methods may be resorted to. All convicts, no matter how heinous the crime, deserve their day in court. But this wildly popular President and his devices merit closer examination. While these unorthodox killings can be justified in no way, an intensive overhaul of the state machinery is necessary. The Philippines must search for more democratic means to establish law and order. Even though the efficacy of Duterte's methods cannot be disputed, efforts must be made to redirect the authority to traditionally robust mechanisms. This may not ensure instant results but will guarantee fairer trials and prevent the slaughter of innocent bystanders. The public perception of the killings will change if they find effective alternatives available to counter drug abuse. The prevalent opinion persists mainly due to an absence of other options to uplift Filipinos from the drudgery of third world poverty and the consequent lawlessness.
These instances paint a morbid picture of the ground reality faced by the developing world. Young nations which overthrew imperialist powers struggle to establish any semblance of order. Systematic loot and plunder impoverished several generations. The decay of public services is such that citizens prefer brute force to the prevailing system of law enforcement. The Philippines is on a tricky, dangerous path, led by a man who is blind to the views of anybody else. You know something is terribly wrong when people applaud mass slaughter chaperoned by a self-proclaimed murderer.
Featured image courtesy Concept News Central/ CC BY-SA 4.0