"What can one say about the Rashtriya Swayamsevak Sangh (RSS) that has not already been said before?" [1]
The RSS, perhaps the focal organisation of India's political Right, has received much scholarly attention over the years. While these accounts have studied the RSS's politics, its historical evolution, and its famed discipline, at the centre of this diversity of thought lies a single question: why is this organisation so powerful? 
As Dr. Malini Bhattacharjee (MB) shows in Disaster Relief and the RSS: Resurrecting 'Religion' Through Humanitarianism (2019; SAGE), the answers to this question lie in not just probing what the RSS is for the people who subscribe to it, but what it does for them. Dr. Bhattacharjee is an Assistant Professor at Azim Premji University, Bengaluru, whose research interests span from Hindu nationalism, to the anthropology of humanitarian assistance.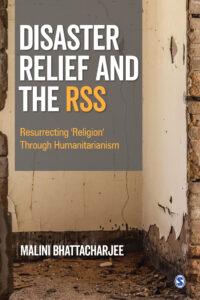 Through analysing its role in providing relief during national disasters over the years, Dr. Bhattacharjee delicately strings together the various factors that motivate the organisation's famed model of social work, or seva. For Dr. Bhattacharjee, some are truly altruistic, while others are politically motivated, yet all of them work towards the consolidation of a strong Hindu rashtra. In this interview with The Bastion's (TB) Aarathi Ganesan and Chirag Chinnappa, Dr. Bhattacharjee sheds light on the historical politics of 'helping people', the need for new lenses to view the RSS through, and how seva can penetrate the country in ways that traditional development models cannot.
TB: In your opinion, why is it so important to understand the role of seva in the RSS's operations? 
MB: Hindutva, or Hindu nationalism, has gained enormous popularity over the past few decades. The RSS has had a huge role to play in this. But, despite its controversial status in Indian politics, we know very little about the reasons for the massive support that the RSS enjoys. An interrogation of the practice of seva helps us partially understand the ways in which the Sangh has been able to build a massive network of support groups through community mobilisation. By doing so, it has entrenched itself both institutionally and ideologically at the grassroots levels.
Conventionally, academics have highlighted the more confrontational aspects of Hindutva, by focusing on the politics of communal mobilisation and street yatra strategies. In my work, I have attempted to shift the gaze to the more 'compassionate' aspects of the movement, in order to make sense of the reasons for its cultural appeal. 
Contrary to the dominant academic position, through my examination of seva, I submit that the motivations for performing service are far more complex than we imagine them to be. While there are instrumental motivations at play, the compassionate and altruistic commitments of the swayamsevaks themselves cannot be ruled out either.
TB: In the context of disasters, what can studying the RSS through the lens of praxis tell us not only about the organisation, but its models of national development?
MB: The field of humanitarianism, especially disaster relief, is a complex and competitive one and we are increasingly seeing a surge of cultural, religious, and spiritual actors populating this space. Disaster relief has been a very important aspect of the RSS's praxis since its inception. This became particularly evident during the Partition in 1947, and several other subsequent disasters, most importantly, the Odisha Super Cyclone of 1999, and the Bhuj Earthquake of 2001.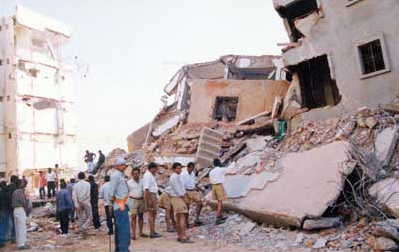 The Sangh's participation in relief during these disasters, and several others, demonstrates its organisational discipline and it's phantom-like ability to mobilise swayamsevaks within a couple of hours. I have heard countless accounts of how the 'men in khaki shorts' jumped into action after these calamities and were the first to clear roads and debris, cremate dead bodies, start community kitchens, and organise shelter homes. 
It's also important to remember that seva goes hand in hand with the organisation's vision of nation-building. Like all other institutions in the Sangh, seva is a means to an end: that of creating a strong Hindu Rashtra. The Parivar is also clear that the larger purpose of offering seva is the promotion of character-building and discipline amongst swayamsevaks. The most remarkable thing to acknowledge here is that the Sangh's conceptualisation of seva offers a certain resuscitation of an innate idiom, a common communicative structure, a common 'bildung' [2] that people instantly connect with because they recognise it as their own.
TB: Your work shows that the nature of seva seems to be historically shaped, in part, by reactionary measures to curb the efforts of Christian missionaries during the colonial period. Yet, the RSS defines seva as part of paying off one's debt to society–what is the nature of this debt in modern India, and how will it continue to evolve with every generation?
MB: It is indeed true that the nature and scale of seva underwent a paradigm shift during the colonial period, owing to the influence of Christian missionaries. Missionaries were especially active during epidemics, which also led to proselytism in some cases. However, I largely agree with Carey Watt [3] when he says that despite the influence of colonialism, seva also drew on indigenous ideas and practices of humanitarianism that had existed in the Indian subcontinent in the pre-colonial period.
For example, when the RSS defines seva as 'samaj runa' [4], this is again an invocation of the traditional and capacious understanding of seva as being devoid of any reciprocation, an idea that has been historically dominant in the Hindu tradition. The idea of 'samaj runa' primarily stems from the idea that every individual incurs a debt from society, by way of being benefited from the larger community in multiple ways. Seva is one way of 'giving back' to the community in order to repay this debt.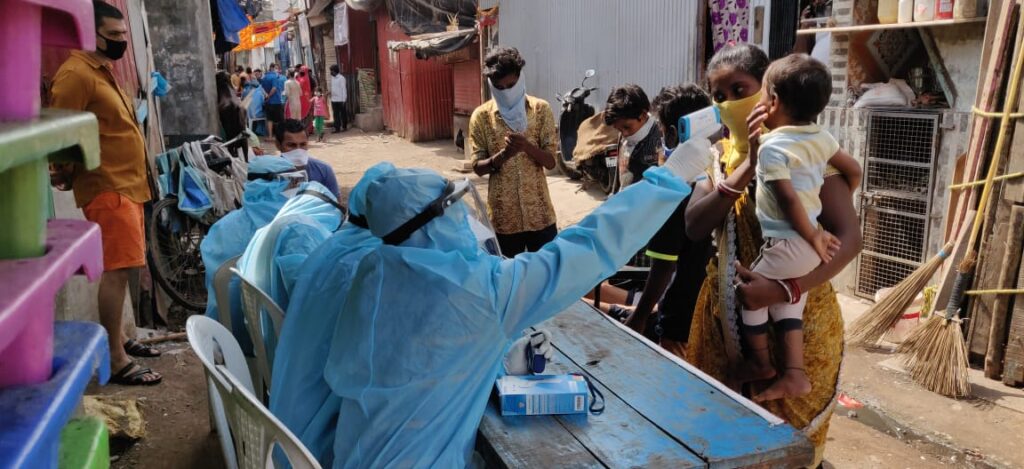 In the context of modern India, this is all the more truer, as we are far more dependent on each other now than before. The COVID-19 pandemic has driven home this point even more strongly than before. We have come to realise that an atomised individualistic identity can create a deep sense of alienation amongst people. There is a larger society that we are part of, and this larger community interacts and contributes to the overall well- being of individual members. The idea of 'samaj runa', therefore, is something that every volunteer and donor of the Sangh connects with, and will continue to do so in the future.
TB: Devesh Kapur has termed India's democracy as a 'precocious' one, with a strong head and a weak body. How does the RSS' familiarity with local terrains and patronage networks fit into this body, especially with providing COVID-19 relief or restarting local rural economies in a post-COVID world?
MB: A 'precocious democracy' actually provides a fertile terrain for non-state actors like the RSS to thrive. As I have shown in my book, the Sangh has systematically targeted seva interventions to subaltern groups who have been unable to access state goods. In fact, certain specific affiliates, such as the Vanavasi Kalyan Ashram, were specifically established by the RSS to provide institutionalised seva to Adivasis and wean them away from the Christian missionary influence. 
Given the symbiotic relationship between the Sangh and the BJP, the former has been able to bolster these efforts more significantly in those states where the BJP has been in power.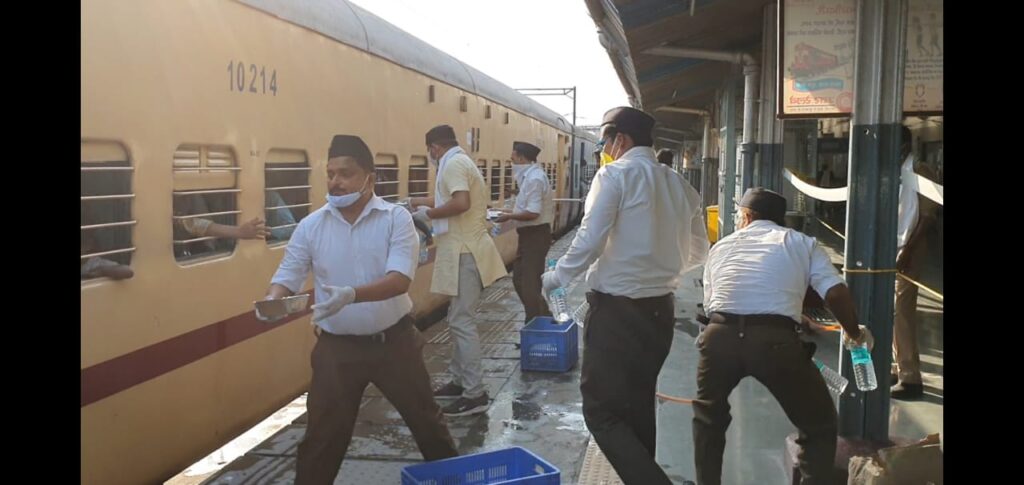 The RSS has also been very active in providing relief during this ongoing pandemic. My intuition tells me that they will continue to play an important role in rehabilitating rural livelihoods after the crisis tides away. With the BJP firmly entrenched in power both at the Centre and in several states, it will be easier for the RSS and its affiliates to implement their interventions through a variety of public-private partnerships.
TB: In your book, you note that "in contrast to a slow, apathetic, unfamiliar and bureaucratic State, politico-cultural and religious groups that are more embedded in society provide both emotive and material support to the affected." In the context of the widespread acceptance of the RSS's seva by more Indians, what do you think such readings tell us about the changing nature of assisted development models in India?
MB: Since the 1990s, an interesting change in humanitarianism and development has been witnessed not only in India, but across the world. This is what Barnett and Stein have called 'sanctification' [5]. It basically means that we increasingly find the development space being populated by religious and cultural actors, who work as legitimate and sometimes equal partners with secular actors like the state and transnational development bodies. 
In India too, post-liberalisation one finds an ascendance of non-state actors being roped in for developmental work. On the one hand, this may straightforwardly be interpreted as the 'rolling back of the state' in an essentially neoliberal world, where non-state or private actors fill up the space left behind by the State. On the other hand, the trajectory of the Indian state even after liberalisation demonstrates that despite the rise in numbers of non-state actors, the state continues to be the primary driver of development. However, its modus operandi has changed to the extent that it no longer marginalises religious, spiritual, or cultural groups. In fact, the BJP government both at the Centre since 2014, and in certain states like Gujarat where it has traditionally enjoyed support, has encouraged the work of Hindu organisations in development activities. Given that the reach and the familiarity of these organisations with the local terrain are sometimes better than that of the state, and because 'cultural' mobilisation around Hinduism has yielded benefits even electorally, the BJP is unlikely to abandon this strategy.
TB: The RSS' model of seva, which lies at the heart of its developmental agenda, primarily targets Adivasis and Dalits, as per your research. However, does the RSS' model of seva, and thus societal development and progress, focus on the internal reformation of Hindu society into a more equitable, and less caste-oriented one? What are the implications of its chosen mode of development on the definitions of not only what 'Hinduism' is, but who 'Hindus' are?
MB: That seva has been deployed to targeted beneficiaries like Dalits and Adivasis is indeed correct. But, these groups are not the sole recipients of seva. My research shows that in many disaster situations, seva has targeted Muslims, Christians, and 'upper caste' Hindus too. The relief carried out after the Partition in 1947, the Charkhi Dadri air-crash in 1996, the Odisha Super Cyclone of 1999, the Bhuj Earthquake of 2001, and the current COVID-19 pandemic are a few examples that come to mind. As I have mentioned before, the motivations for seva are complicated; there is as much altruism and love for the nation involved, as there is a rational reckoning.
On whether seva aims at the internal reformation of Hindu society; yes, I certainly believe that there is a normative principle that guides the Sangh. There is a certain imagination of what that reform is and what an ideal Hindu society should be. In this context, 'sangathan' (organization) and 'seva' occupy an important place. For instance, the Sangh believes that the Hindu society lacks a common consciousness due to its heterogeneity and that a concerted effort should be made to build this unity across the divides of caste, sects, and language. An ideal Hindu society according to this imagination is one that is built on the foundations of 'sanatan dharma' or eternal codes of conduct. Seva focuses on achieving the same by seeking to transform both the doer of seva and its recipient.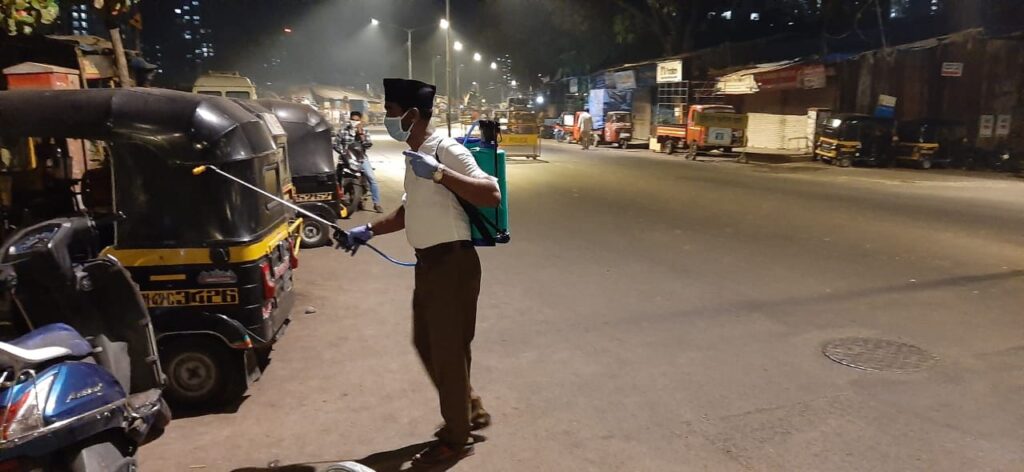 On the question of making Hindu society more equitable, I would submit that when viewed through the secular-rational lens, the idea of equity endorsed by the Sangh may not seem adequate, or even fair. However, one has to understand here, that the episteme [intellectually certain knowledge] of equity at play is quite different.
For example, if one were to argue that the RSS is 'patriarchal' simply because it does not allow women to be members, I don't think that is an intelligent observation. However, that does not mean that larger questions of equity concerning women, Dalits, and Adivasis are not important. During my own fieldwork, I came across a few instances where Dalit respondents, from a village that had been adopted by Seva Bharati after the Bhuj earthquake, mentioned that the larger question of humiliation associated with being a Dalit was not adequately addressed by the Sangh. 
The institution of seva has been partially successful in creating an omnibus Hindu political identity. On the question of Hinduism, the model of seva, goes hand in hand with the idea of sangathan, or organisation, a principle that was emulated from the ecclesiastical structure of Christianity during the colonial era. In this context, the practice of seva is an assertion of indigenous forms of humanitarianism, and the possibility of an organised Hinduism where various sects are bound by the common idiom of public service or doing good for humanity.
TB: While seva has clearly paid dividends in terms of the consolidation of 'Hindus' and cadres, what effects does this work have on transforming gender and gendered social roles? How does seva present new ways of thinking of gendered development models and 'modernity'? (For example, a Western model often places gender equity vis-a-vis literacy or financial independence at the core of development.)
MB: I think the impact of seva on gendered social roles has been complex as there are class dimensions too that interact with gender. In urban areas, one encounters more women involved in RSS-led development projects related to education, health, and livelihoods. On the other hand in rural areas, you see women mostly confined to their traditional gendered roles even while they engage with seva. 
In spite of this, it is evident that engagement with seva activities has propelled a large section of women, even in rural villages and small towns, to break traditional barriers and become more enterprising. In Kutch, for instance, I came across several Self Help Groups that were being promoted by Seva Bharati and Sewa International. That being said, more 'masculine' dimensions of seva, such as engagement in relief work post disasters, continues to be dominated by men.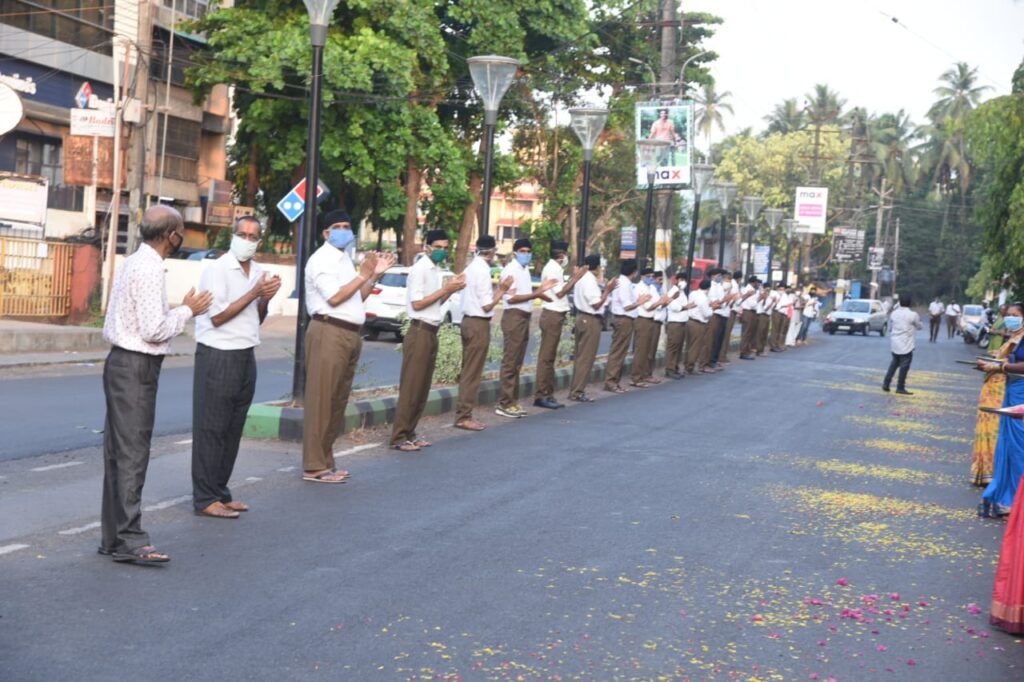 Like all big organisations that have survived for that long, I think the Sangh has evolved and managed to adapt to changing times quite intelligently. The praxis of seva both challenges and adapts itself to modern forms of humanitarianism, and in the process, both are transformed. Much before the RSS was even established, seva had been secularised during the colonial period to the extent that it had adapted itself to modern bureaucratic techniques of fundraising, book-keeping, and transparency in order to compete with the missionaries. 
The RSS has carried forward a similar tradition: it does not shy away from modernity, in fact, it embraces it. The praxis of seva advocates a different weltanschauung [a philosophy of life] in the sense that it tries to bring back more communitarian, or traditional ways of addressing developmental problems. The Sangh avoids a rights-based approach and hence is often considered patronising and condescending by its critics.
TB: The penetration of seva in the fields of education is apparent in the huge number of schools run by Vidya Bharati. How do you see seva's goals of social good and education similarly mirrored in the Akhil Bhartiya Vidya Parishad (ABVP), an educational student organisation of the Sangh? Keeping in light disturbances associated with the ABVP, especially in Delhi over the past few years, do you see discord between seva's ideals and outcomes?
MB: As far as I understand, the ABVP's social projects are not comparable with Vidya Bharati's initiatives. ABVP is primarily student-led, their seva projects are more in the nature of organising need-based relief by coordinating with other affiliates of the Sangh. They do also organise blood donation camps, cleaning drives, collection and distribution of books, and other educational kits occasionally. In addition to this, the ABVP has been doing some interesting work in the Northeast through its Student's Experience in Inter-State Living (SEIL) project to promote the 'cultural integration' of the northeastern states with the rest of the country.
One has to understand that seva is not apolitical in the imagination of the Sangh Parivar. Like I have mentioned before, it is essentially a strategy for nation-building. There is a certain imagination of how this 'nation-building' process needs to happen, and this goes hand-in-hand with an engagement with day-to-day politics. I think their association with 'disturbances' is rationalised by the organisation on the grounds that it is a manifestation of 'seva for the nation', wherein the means justify the end. While this may be politically (and otherwise) distasteful to analysts, this is how it is perceived by those who adhere to the ideology of the Parivar.
TB: Reading your book makes one wonder why we hear so almost nothing of 'the Hindu Left'. For example, the Arya Samaj embraced women's education and the eradication of untouchability early on. 'The Hindu Right' is a term that is commonplace, but where do you see the organized Hindu organised Left, if at all? Does it exist? What can discourse between leftwing and rightwing Hinduism do for India's development narrative?
MB: I personally do not find these dichotomies useful as the definitions of the Left and the Right are so fluid. Long back Vanita Ruth had lamented in an interesting piece that the Hindu Left was practically dead after the assassination of Gandhi [6]. However, as Ashish Nandy has argued, Gandhi was clearly more traditional and religious in his outlook on Hinduism than Savarkar [7]. So, if one were to associate the Left with being more revolutionary and secular, then Gandhi is clearly an outlier in that sense. Similarly, as Partha Chatterjee has argued, the 'Hindu Right' is very comfortable with the modernist ideology of secularism [8].
If we are however insistent on making that distinction, then perhaps one can locate a different form of political Hinduism in the work of organisations such as the Ramakrishna Mission, Chinmaya Mission, and Mata Amritanandamayi Math, amongst others, who are located outside the Sangh. During my fieldwork, I had actually found that many such Hindu organisations actively collaborate with Sangh-affiliated groups when coordinating relief and rehabilitation work post disasters. I do not foresee a situation yet where these kinds of organisations would compete with Sangh-affiliated organisations ideologically. Given the electoral success of the BJP, it is more likely that Hindu organisations would maintain their bonhomie with the Sangh and its affiliate bodies.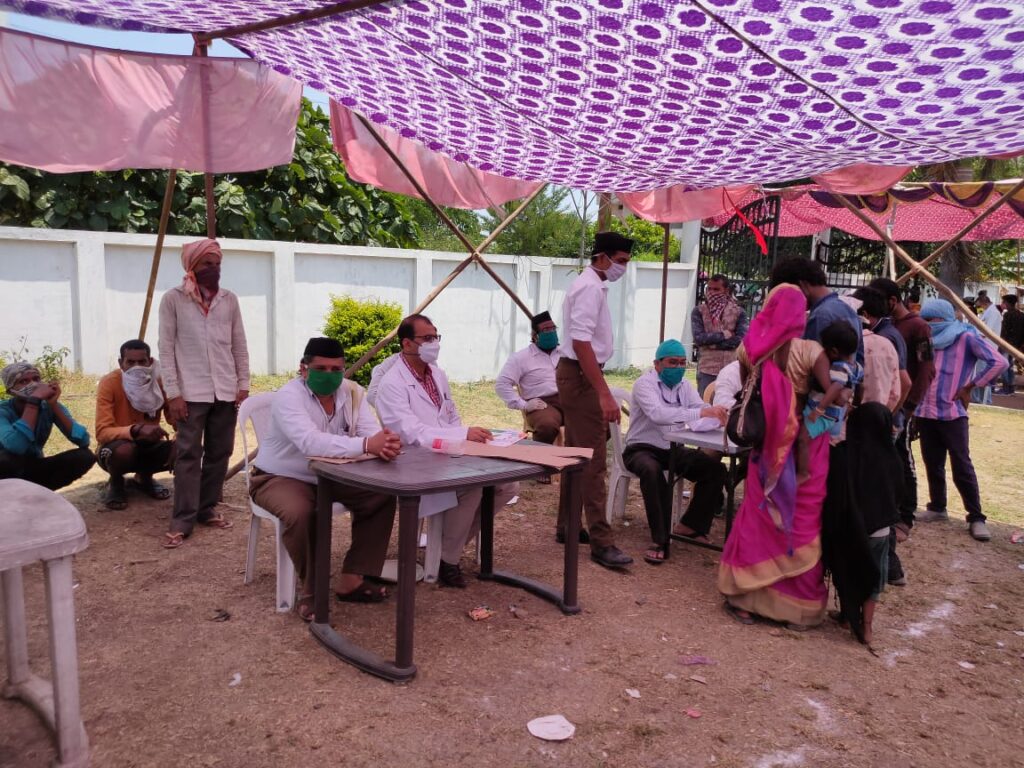 Another aspect that needs to be acknowledged here is that the Sangh Parivar displays a remarkable capacity to subsume quite divergent ideas. So, to some extent, I think that the Hindu Right and the Left are both subsumed within the Hindutva movement today. That is partly one of the reasons for its remarkable growth.
That being said, I think an influence of 'Leftwing Hinduism' can possibly help in toning down the more virulent dimensions of the 'Hindu Right', as they certainly come in the way of development interventions.
TB: The access to the diaspora that the RSS and its affiliates have is arguably unlike any other organisation in India–seva enthuses pride and a sense of nationalism among the Hindu diaspora. How do you see this critical group contributing to India's growth in the future through such channels of development? 
MB: Absolutely. I think the Hindu diaspora has been a very critical component in scaling up the seva activities of the Sangh Parivar both in India and transnationally. For example, the 2018 annual report of Sewa International USA reveals that it spent close to USD 2.5 million dollars on its welfare programmes, of which 47% went to disaster relief in the US [9].
The Sangh nurtures this relationship with the diaspora through several affiliate bodies such as the Hindu Swaysamsevak Sangh, Sewa International, and the Vishwa Hindu Parishad America, amongst others. These bodies further reiterate the tradition of seva as a way of 'giving back' to one's homeland, and also, as a way of asserting the 'superior traditions' of Hinduism in a foreign land. Furthermore, not only does the diaspora donate generously towards seva activities both in India and in their host countries, but many of them also send their children to intern with humanitarian organisations affiliated to the Sangh in India. The diaspora will continue to play a very important role, given that its networks are so strong.
---
Updated on 29/06/2020 | Views expressed are personal.
[1] (Bhattacharjee; 2019: xv)
[2] 'Bildung' is a German word that refers to a process of self-cultivation through education and philosophy. The term is used here in order to convey the idea of character-building that is invoked through the idea of 'seva'.
[3] Watt, C. (2005). Serving the Nation: Culture of Service, Association, and Citizenship in Colonial India. New Delhi: Oxford University Press.
[4] Hindus by birth are said to incur four runas (debts): Matru Runa—debt to one's mother; Pitru Runa—debt to one's father and ancestors; Rishi Runa—debt to sages; and finally, Samaj Runa—debt to one's society.
[5]  Michael Barnett and J. Stein, eds. (2012) Sacred Aid: Faith and Humanitarianism. Oxford University Press.
[6] Vanita, R. (2002). 'Whatever Happened to the Hindu Left?', Seminar, 512, pp. 76-82.
[7] Nandy, R. (1995). An Anti-secularist Manifesto, India International Centre Quarterly, 22(1), pp. 35-64.
[8]  Chatterjee, P. (1994). Secularism and Toleration, Economic & Political Weekly, 29(28), pp. 1768–1777.
[9] 'Sewa USA', Annual report, 2018, available here (Accessed on 10 June, 2020).