When inaugurating the 750MW solar plant in Madhya Pradesh's Rewa last month, Prime Minister Narendra Modi reinstated his commitment to the vision of "One Sun, One World, One Grid" (OSOWOG). First mentioned by the PM in 2018 during a meeting of the Indian Ocean Rim Association, OSOWOG is a giant solar power grid intended to operate across multiple South Asian, West Asian, and African countries. As India's Ministry of New and Renewable Energy (MNRE) notes, the OSOWOG initiative "plans to take another leap towards building a global ecosystem of interconnected renewable energy resources that are seamlessly shared for mutual benefits and global sustainability." 
Intuitively, leveraging the power of the solar-rich countries of the Global South through massive investments, for generating a constant supply of clean electricity across borders seems like a great idea. 
It falls in line with India's formation of the International Solar Alliance (ISA) in 2015, which resulted in a treaty-bound multilateral organisation of 121 countries. The Alliance was committed to a simple policy axiom that "Every home no matter how far away, will have a light at home"–presumably powered by solar energy. With the execution of the various phases of the OSOWOG to be facilitated by the ISA, this global grid could mark another cornerstone in India's enterprising foreign policy on renewable energy.
Prime Minister dedicates to the nation the 750 MW Solar Project set up at Rewa,Madhya Pradesh
⚡This project will reduce carbon emission equivalent to approx.15 lakh ton of CO2 per year
?Delhi Metro will get 24% of energy from the project with remaining 76% to the State DISCOMs pic.twitter.com/pl4PhEUhCP

— All India Radio News (@airnewsalerts) July 10, 2020
However, the success of such a vast intercontinental undertaking largely depends upon one crucial geopolitical factor: a mutual sense of collaboration between the partner countries. A single flare-up between any two members could result in the halting of power transmission, thus compromising the entire grid. Are our foreign relations currently strong enough to broker peace and trust across respective parties? Looking at other examples of integrated grids offers sobering answers on the prospects of OSOWOG. 
For OSOWOG to Work, Our Foreign Relations Need to Too
According to CPR's Aditya Valiathan Pillai, there are two other comparable mega grids within Eurasia: China's Global Energy Interconnection project (GEIDCO), and Europe's "gold standard power pools". In the European case, integrated grids like Nordpool, have attempted to establish independent institutional redressal mechanisms to enhance regional cooperation. 
In the case of China, GEIDCO falls under its ambitious One Belt One Road (OBOR) infrastructural mega-project, which targets many of the regions OSOWOG does.  Commentators note that countering the influence of China via the OBOR is ostensibly the main reason why the Indian government is pushing for this project at all–the Centre's long-standing apprehensions of the OBOR, and refusal to join it, have now been indelibly integrated into the public record. Now, GEIDCO certainly has its own limitations in terms of feasibility and sustainability. But the crucial factor here is that China has what India doesn't–a strong, established (if not predatory) fiscal presence in South Asia, West Asia, and Africa. The Chinese have managed to create a sense of regional integration and 'collaboration' through the nature of the OBOR itself, in that it subversively operates by integrating economically weaker states into its development projects. 
One Belt One Road has troubling implications for debt sustainability. According to the Johns Hopkins China Africa Research Initiative, East African countries borrowed about $29 billion from China for infrastructure, energy, and construction projects.https://t.co/XdEmnyVApm pic.twitter.com/XXSUcqs8AI

— Africa Center (@AfricaACSS) August 15, 2019
India simply cannot compete with a project funneling $8 trillion (USD) into infrastructural development, or with a country that has the power to coerce foreign policies to suit its own interests. Given India's current state of extreme regional isolation–evidenced by cooling developmental relations with Nepal, Pakistan, Bangladesh, and Sri Lanka–not to mention a lack of formalised regional integration, building regional trust for the OSOWOG will be a huge hill to climb. This is an aside to the distinct technical complications of actually developing such a grid over a long distance. Unless Modi and S. Jaishankar & co. are able to pull off an unprecedented array of diplomatic acrobatics to bring about the necessary regional cooperation required for countries to even consider OSOWOG, predicting it's viability, even as just an idea, remains difficult.
Looking Inwards
Now, a country's foreign policy is a negotiation of which domestic policy matters it chooses to push into the international domain for recognition and consideration. Competing with China, and ensuring a level of strategic confidence, security, and sovereignty is certainly a domestic and priority for India. However, plans like the OSOWOG–which attempt to use renewable energy as a collaborative foreign policy tool–may currently be a misguided attempt of actually achieving those goals, given that the diplomatic and economic odds are stacked against us.
However, that doesn't mean that the larger purpose of the initiative, to scale solar energy, is unviable. It's just that in this case, India could do more for its international solar strategy by first looking inwards, rather than outwards. Instead, India could compete with China in the domestic renewables market with relatively greater potency.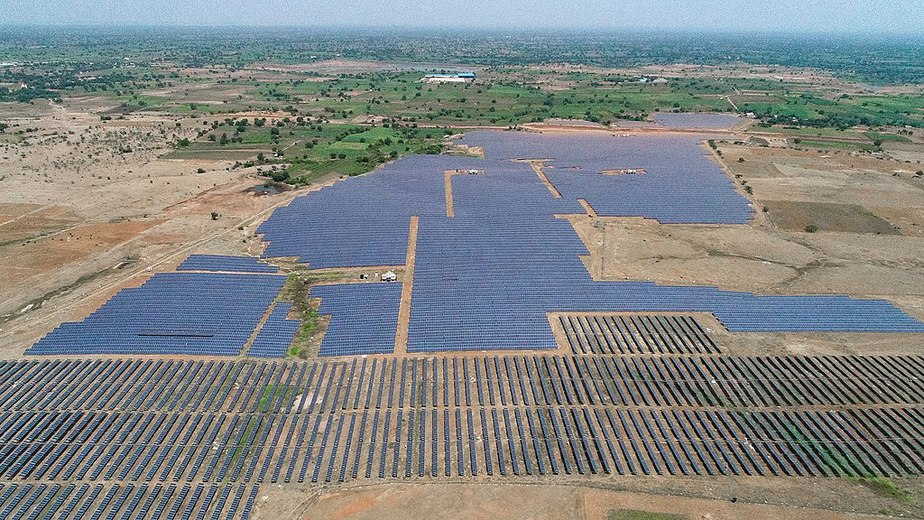 Creating a self-sustaining domestic solar sector that can operate without being drastically affected by the externalities of retaliatory foreign policy will ensure a greener future for the country. The right reforms in our solar power sector can not only drive our targets of installing 100 GW of solar energy capacity by 2022, but also establish India as a global ethical manufacturing hub of solar components and energy, a veritable alternative to China's current dominance in the solar market. 
No doubt, solar power in India, a cornerstone of the Prime Minister's clean energy drive over his two terms, has grown by leap and bounds. While we're still far off from the 100 GW target, with a capacity of 35 GW installed as of 2020, the long term projections for the sector are strong, perhaps evidenced by the massive inflows of foreign direct investments into large solar projects in India from Western and East Asian countries, and private equity firms like KKR as well (which is incidentally also backing Reliance's Jio). This fiscal backing is important, because it provides the sector–which is a crucial part of India's journey to reduce emissions and actually enable sustainable development–with a sense of operational longevity that will help the country achieve its targets of 450 GW of installed solar capacity by 2030. 
However, to be truly independent, India also needs to implement some strong reforms. 
Sunny Side Up: Scaling Solar in India
Currently, "out of the country's annual demand of 10 GW solar PV equipment, nearly 85 per cent is still imported" from China. In March, the Minister of Renewable Energy reported that India had imported solar equipment worth $1,179.89 million (USD) from China over the first nine months of FY 2019-20. This dependency on China only cripples the solar sector in India, especially when bilateral relations turn sour, as they have in the aftermath of the events that transpired at Pangong Tso. 
For example, come August 1st, a new Basic Customs Duty is to be levied on Chinese solar imports–which in the short term will only impact the progress of an industry already massively impacted by the delays and labour shortages that COVID-19 induced lockdowns brought about. This demands a strong, swift commitment to implementing an 'Atma Nirbhar' domestic manufacturing strategy for solar components in the short and long term. The government's plans to float tenders to set up manufacturing hubs, and to produce crucial components of solar cells like ingots and wafers domestically is a step in the right direction.
Furthermore, land acquisition for solar parks in India remains embroiled in community opposition–the anti-democratic amendments to the draft Environment Impact Assessment 2020 may benefit companies, but will come at the cost of much public discontent. In the interest of scaling solar collaboratively and democratically, devising consultative acquisition mechanisms will not only strengthen the sustainable development of the renewables sector, but will also signal the Centre's ability to 'collaborate' with diverse sets of stakeholders effectively. Evidence of the latter may prove helpful when attempting to curry international favour for the OSOWOG at large, against the backdrop of a more coercive GEIDCO. 
You May Also Like: Dhaval Negandhi on Siting Renewable Energy Projects Sustainably
Additionally, the inability of state DISCOMs–the distribution companies that buy electricity from producers and sell it to consumers–to purchase expensive solar energy during the lockdown-induced economic slowdown has raised Central eyebrows. Proposed amendments to the draft Electricity Amendment Bill, 2020 include the setting up of an Electricity Contract Enforcement Authority (ECEA) to ensure that states honour power procurement contracts. This is a move widely seen to support solar producers, who found that states reneged on their commitments to purchase solar power during the lockdown. Many states, including Jharkhand, Telangana, Tamil Nadu, and West Bengal–none of which are ruled by the BJP–view this as a federal overstep. If the Centre is to push for solar then, looking at reforms and incentives ailing decentralised DISCOMs, and actually fostering a sense of cooperation with different state governments regarding achieving development goals is necessary.
Andhra Pradesh, traditionally known for its better discom performance, reported a loss of Rs 16,736 crore in FY19, up from Rs 546 crore in the previous fiscal. The state had earlier blamed it on super expensive solar power deals… https://t.co/S40xCva0S8 via @FinancialXpress

— Anupam Chatterjee (@anupam_toko) July 8, 2020
If in an ideal world all of these outcomes can be even reasonably achieved, we arrive at an example of a country that was able to sustainably scale solar energy to not only the benefit of the consumer, but to different federal parties and environmental democracy as well. As an increasing number of countries view the Chinese state's mismanagement of COVID-19 with suspicion, resulting in diplomatic standoffs and sanctions across the board, the solution ahead cannot simply be focusing on the vaguely defined benefits of solar and mutual collaboration under OSOWOG. Taking on a bullish China in the larger global race for infrastructure development requires strong evidence that a democratic and technologically sovereign alternative model works–and more importantly, can be developed by India.
But for the sun to shine on the solar sector, the Modi government needs to work on serious internal reforms that for once may actually benefit the state of development, environmental democracy, and cooperative federalism in its quest for Vikas. Only time will tell whether such turnarounds are possible, or whether India will continue to obfuscate its domestic inefficiencies with grand foreign policy announcements.
---
Featured image courtesy of Zbynek Burival on Unsplash