Photographs by Yogesh Upadhyay
Come June, the monsoon ventures into the subcontinent and India welcomes it with open arms. But for Najuki and her husband, Vinod Kumar, this is a stressful time. 
They begin packing most of their belongings in their small shanty in Chetru, a village just a short distance away from the smart city of Dharamshala, in Himachal Pradesh's Kangra district. Then, Najuki and Vinod move higher up the mountain slope, and prepare to spend at least a night there.
They do this in response to the swelling Manjhi khad (stream), on whose banks they have been forced to live. When the khad violently flows over its floodplain, strengthened by the heavy downpour of the monsoon, Vinod and Najuki's jhuggi (hut), along with those of 60 other nearby families, faces the brunt of it. With the Indian Meteorological Department (IMD) issuing a "yellow" warning—predicting heavy to very heavy rainfall—for 11th July in Kangra district, Vinod and Najuki are preparing to repeat this cycle once more.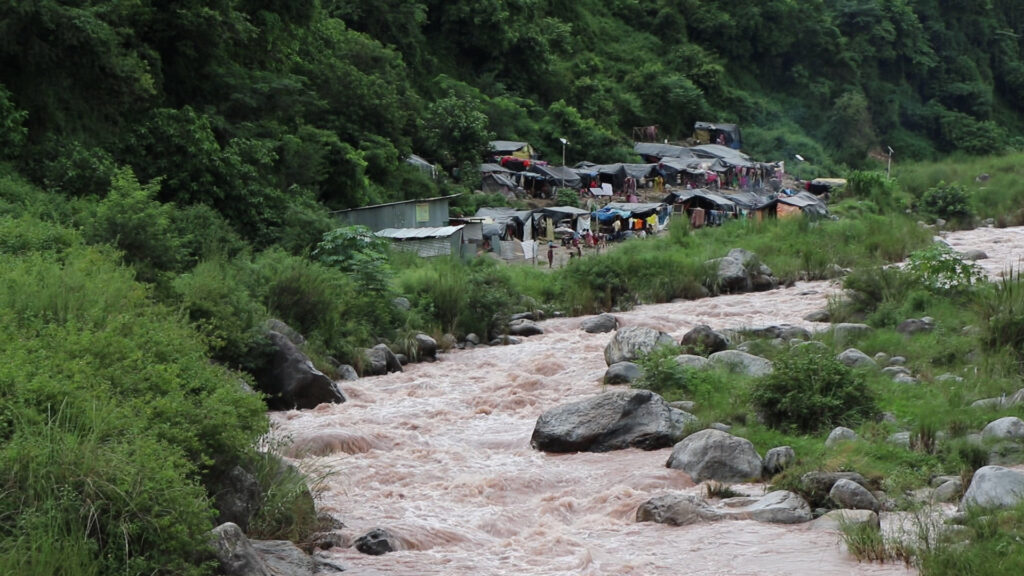 This time around though, the stakes of losing their belongings are even higher. With the Coronavirus induced lockdown, this community of leather workers, blacksmiths, and street vendors have already been economically hit, as they could not earn daily wages.
An Ousted Past
Up till four years ago, families like Najuki and Vinod's didn't worry about the flooding khad. Before they arrived on the banks of the Manjhi in Chetru, they used to call Charan Khad, around 10 kilometres from Chetru, their home. These families migrated to Himachal Pradesh from Maharashtra and Rajasthan in search of work, around 35 years ago.
"Ab toh hum Himachali hi ho gaye hai, (now we consider ourselves Himachali)" says Najuki, who spent most of her life in Charan Khad, raising 5 children. Living there had always been accompanied by the fear of eviction—the Municipal Corporation of Dharamshala (MCD) never officially declared Charan Khad a slum under the Himachal Pradesh Slum Act 1979. Neither seen as a part of the growing city of Dharamshala, nor designated as a slum, this settlement had mostly been overlooked.
But in June of 2016, this settlement suddenly became the administration's centre of attention. Residents of Charan Khad were given notice to leave the government land they had allegedly encroached upon. The community was prepared to leave, with belongings packed upon receiving the notice, yet, there was a missing link in the eviction process—the administration had not finalised any site for their rehabilitation. After a few traumatic days with nowhere to go, some found their way to Chetru. Today, they live in tents in Chetru, paying ₹ 1000 as rent per month.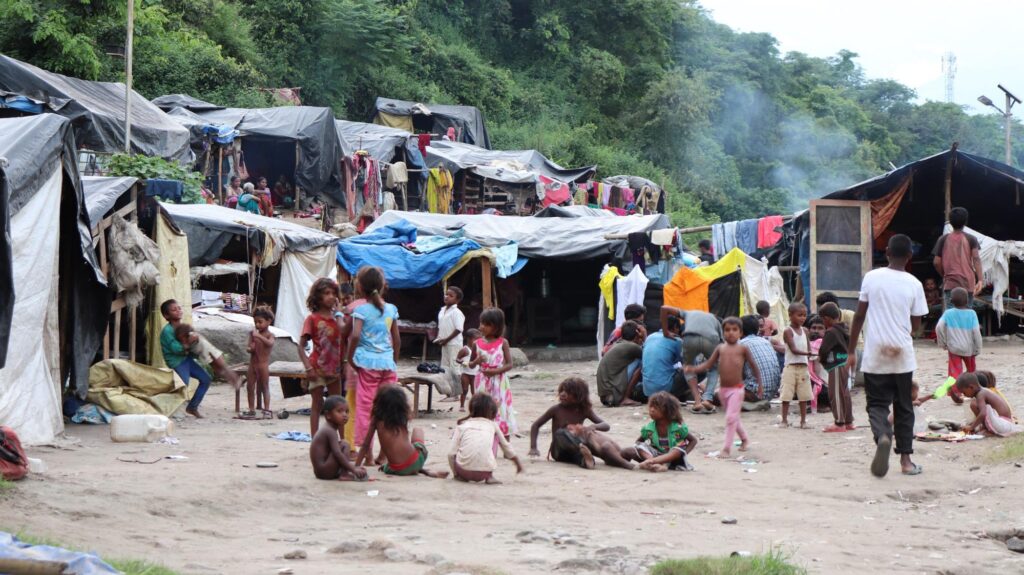 In Chetru, Najuki says that death looms at every corner. "If the Khad floods, we will die because of the water, if rocks fall or landslides happen, we will die because of them. And if nothing else happens, we will die of snake bites instead," she says.
A fact-finding report following the eviction drive states that the then Mayor of Dharamshala attributed the evictions to a High Court order which directed the local government to clear all "illegal settlements that posed a public health hazard." Charan Khad fell into this category, especially given the fact that it was located upstream of one of the city's main water sources, and that the community here practiced open defecation.
But, a glance at Dharmashala's Smart City Proposal suggests another reason for their eviction.
Bearing the Brunt of a Smart City
The proposal advocates for an ambitious "Charan Khad Project", which includes a Tourist Interpretation Centre, a mini Himachal Theme Park, and a Botanical Garden, all to be raised in the same area where the migrant workers were evicted from. In total, this project in Charan Khad would cost ₹105.77 crores.
Yet, the construction work for these projects does not seem to have begun. "The last time I saw Charan Khad before the lockdown, the trees seemed to have taken over the area," Vinod, who sells balloons and toys, says. "There was no sign of construction then."
In fact, even though Dharamshala was one of the first 12 cities in the country to be selected under the Centre's Smart City Mission in 2016, four years on, the Mission authorities in Dharamshala have been dragging their feet towards completing projects. A recent investigative report showed that of the ₹222.89 crores available under this project, only ₹66.12 crores have been spent on infrastructure development in the city till date. The report also pointed towards other gaps, such as a shortage of staff, slow decision making within the DMC, and a non-existent one-square kilometre "model" smart city area within Dharamshala proposed by the DMC. The Smart City Mission seems to have made minimal progress in Dharamshala, at the cost of many migrants losing their homes.
"During the lockdown, we were the ones who were keeping this city clean every day, without caring for our own lives," says Raju, who also lives in Chetru. Raju, along with 42 other people from their Charan Khad basti, is employed with the Municipal Corporation as a 'safai karamchari' or cleaner. "Yet, the administration has not paid heed to our demands even now."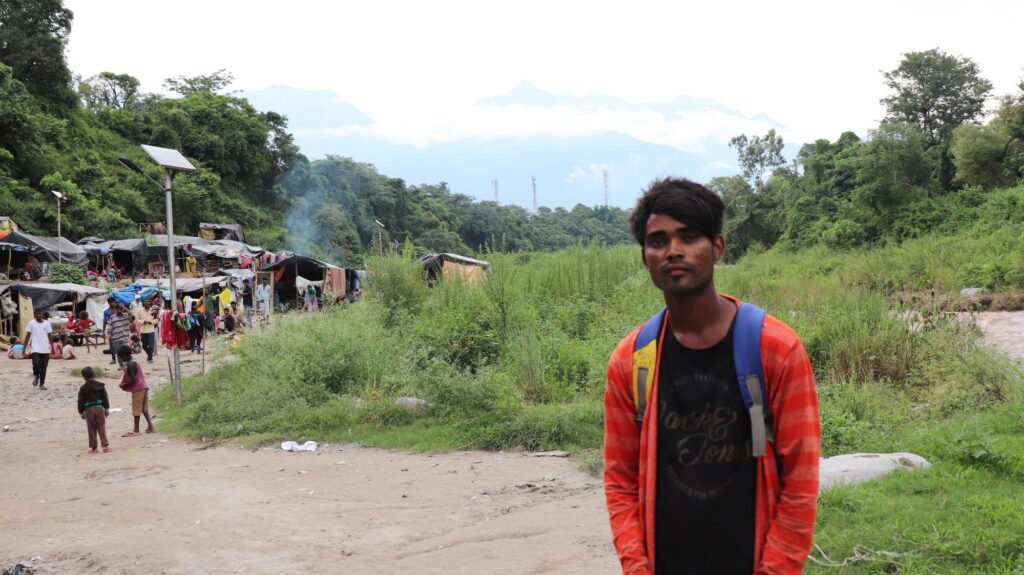 Demanding Rehabilitation 
This June, to mark four years of their displacement without any rehabilitation, the Charan Khad Basti Punarwas Samiti—a committee formed by those affected by the eviction—submitted a memorandum to Kangra's District Collector. This was only one of many meetings the Samiti has held with the various local heads of administration over the years.
Early in 2016, the community filed a case in the High Court. The case was dismissed, stating that the "…petitioners are at liberty to approach the competent authority for the redressal of their grievances."  "We have approached every authority possible to grant us shelter, they listen to us, but no action has followed," said Raju, who is also the Pradhan of the Samiti.
Some of Chetru's residents have even applied for housing under the Pradhan Mantri Awas Yojana, a central government scheme aimed at "providing housing for all by 2022." For the city of Dharamshala, ₹60 crores have been sanctioned (it is unclear as to when this amount was sanctioned) to build around 1,300 houses. Yet, to date, only 376 houses have been completed. None of these have been allocated to those evicted from Charan Khad, despite their applications.
In their latest memorandum, the Samiti reinforced the same demand. "It is important that we are relocated close to the city, with the same proximity as was the case when we were living in Charan Khad," explains Vinod. "To make money, we have to go to Dharamshala. From Charan Khad, we could walk to our work. But now, going and coming back each day costs  ₹30—that's another ₹900 per month of expenditure."
This administration's silence has not only left the community aggrieved, but has also directly gone against the directives of the National Human Rights Commission (NHRC). In 2018, the Commission had directed the Commissioner of the DMC to submit a report within six weeks regarding the steps taken for the rehabilitation of the evicted settlers. The NHRC also directed the DMC to ensure the benefits of various government welfare schemes reached Chetru's residents. To date, the Commission has not received any response, despite reminders being sent.  
"All we want is a better future for our children," says Raju. His two children study in Tong Len school, which is a charity organisation that has its own hostel accommodation and education centres for children of displaced communities. Many other children from the settlement either study here, or in the local government school. In fact, it was the senior students of Tong Len–whose parents lived in Charan Khad–that took the initiative to meet with a lawyer in 2016, leading to the case being filed in the High Court. On their blog, the students wrote on how they faced a "personal dilemma," since they lived in the hostel which had better conditions, but "still owe(d) a moral responsibility and duty towards (their) families back in Charan Khad."
Yet, four years later, the children's parents, many of whom are also "Corona warriors," are still without a permanent roof over their heads. "The administration only consoles us every time," Raju says. "We don't know when that will turn to action." Meanwhile, Manjhi khad is only days away from swelling.     
---
Featured photograph by Yogesh Upadhyay