"From being an outspoken frontbencher in class, the constant bullying and unwarranted attention made me isolated and quiet. I began sitting right at the back and in spite of such a withdrawn attitude, not one teacher came to ask me why I was behaving this way or what happened to me."
A recent UNESCO report studying sexual orientation and gender identity-based bullying in Tamil Nadu raised some alarming figures. 60% of the survey's respondents were bullied in middle and high school, 43% were sexually harassed in primary school, and of these, only 18% reported these incidents to the school authorities. 70% of those who faced bullying suffered from anxiety and depression and also lost focus on their studies. 63% reported a lower academic performance and an astounding 33% of them dropped out of their schools.
TW: Queerphobia, Violence, Bullying

Queer youth continue to be at the receiving end of bigotry, violence and hate crimes. Equal protection under law and greater sensitisation is the least we can work towards before we lose yet another life to queerphobia.https://t.co/asFPfrZIcg

— Pink List India (@PinkListIndia) July 12, 2020
The state and schools clearly need to develop a more progressive and inclusive culture in schools: but for that to happen, we first need to understand how marginalised identities are discriminated against in the first place. We set out to understand just that, with an aim of exploring the events that unfold in a queer child's school life, and how they differ to those experienced by individuals with heteronormative identities.
The research process–based on qualitative interviews–was carried out across two months, with respondents mainly ex-students at government schools, and low to high-income private schools in Delhi [1]. Through gauging these experiences, it also became clear how various stakeholders within the school system–including peers, teachers, counsellors, and even the school management–interacted with a person's sexual identity, often to reinforce heteronormative societal prejudices. Are schools aware of these blind spots, and are there any that are attempting to course-correct?
Bullying in School  
Professor Sanjay Srivastava writes that schools are sites where masculine cultures are both produced and refined. So, it was no surprise that most of the behaviour that was meted out to our respondents was derived from similar narratives of gendered masculinity. 
An overwhelming majority of our respondents were subjected to comments based on their 'hand gestures' or 'walking style', solely because they didn't conform to fixed ideas of toxic masculinity. As one of our respondents, Paarth* said, "When I was in Grade 6, boys had begun masturbating and would discuss girl's bodies. But, because I wasn't interested in those conversations and would always walk away from them, they began teasing me for not being manly enough or for being too girly. (emphasis added)"
This display of masculinity translated into preferences for extra-curricular activities as well. Says Abhay*, "I never wanted to participate in sports in school, which was mostly seen as a suitable interest for boys. I preferred the art class instead for which people would often call me words like, chakka, hijra, or madam. (derogatory terms used for the Hijra community in India)" Such comments, if left unchallenged, can have disastrous consequences for non-binary identities, be it in terms of their safety, or long-term recognition before the state.
The Trans Bill in its current form completely disregards the fundamental right to privacy and the mandate of NALSA judgement which recognised the rights of trans persons in India #StopTransBill2019 https://t.co/l5ITS7ZHG2

— Jignesh Mevani (@jigneshmevani80) November 22, 2019
If the bullying from peers wasn't enough, teachers too added to this discomfort at school. Our research also explored if these students had ever been comfortable discussing their sexual identities with their teachers. Many respondents mentioned that even if they did share a comfortable relationship with their teacher, it didn't necessarily translate into them being accommodating of their sexuality or gender identity. 
For instance, one of the respondents, Neil* mentioned that he had a very young and understanding geography teacher in school. When he confided in her that he was gay, he received an unexpected response. "She told me that I shouldn't ponder too much upon 'this' and to just wait for the 12th Board Exams to get over. Then, I could visit Goa and have sex with girls." According to the teacher, this would make him feel "normal", that is, heterosexual. 
One of our female respondents Jennifer, who identifies as a lesbian, studied at a top private school in Delhi. During her time there, the entire school was aware of her sexuality. Since she was also considered to be a 'notorious' student, one teacher once threatened to tell her parents about her queer identity if she didn't behave in class. Teachers who she confided in weren't very understanding either, telling her that her sexuality was "just a phase." 
"Rates of depression, anxiety and suicide are disturbingly high amongst LGBTQIA+ youth and school going children. Teachers play a huge role in being strong support systems," says @shrutiv_, Program Director of @onefuture_india's Queer Resource Centre. https://t.co/PS6OxysXZO

— Chintan Girish Modi ? (@chintan_connect) October 22, 2019
 Queer children who privately identified as homosexual also ended up losing many valuable friendships because of their identity, leaving longlasting impacts on their social lives. Abhinav* says, "My best friend stopped hanging out with me. The other boys warned him that if he spent too much time with me, he too would eventually become a 'woman' like me." As a result, to date, Abhinav finds it hard to trust people and form meaningful friendships.
The need for every school to have a well-trained counsellor to deal with matters of gender identities and sexuality was also raised. In the absence of such counsellors, queer children were often made to feel insecure about their identity, often by people who were particularly ill-informed on queerness in the first place.
Deepal* was a student at a private school in Delhi, who identifies as gay. During his time there, "My counsellor asked me to forget about my queer identity as it was 'just a phase'. They just told me to 'focus on my studies and build a career for now'."
Additionally, in our own interviews with school counsellors it became evident that many of them weren't well trained to deal with issues of gender or sexuality. One of the counsellors was unable to provide the full form of the acronym 'LGBTQIA+', and was unaware of the recent decriminalisation of consesual sexual acts between same-sex adults, under section 377 of the Indian Penal Code. 
This lack of discourse amongst administrators and non-existent redressal of students' complaints led to long-lasting emotional repercussions for the queer students we interviewed. 
Respondents noted that constant bullying in school generated a strong sense of self-doubt. According to Krishna*,"from being an outspoken frontbencher in class, the constant bullying and unwarranted attention made me isolated and quiet. I began sitting right at the back and in spite of such a withdrawn attitude, not one teacher came to ask me why I was behaving this way or what happened to me."
Tagore International School, Vasant Vihar: A Successful Case study
Across our research, we continuously strove to find schools that were open to discussions on homosexuality, or even sex and sexuality. This was an uphill task, to say the least. In the process, Delhi's schools often came across as institutes that rarely questioned prescribed moral standards, even when they were clearly thwarting an individual's fundamental rights. If schools continue to remain conservative, then, their ability or indeed will to address the mental trauma and concerns of queer students remains lacklustre too.
However, after much research, a ray of hope emerged in the form of New Delhi's, Tagore International School (TIS), a private school located in Vasant Vihar. The school runs a campaign called Breaking Barriers, initiated and run by the students themselves, that works to raise awareness on sexuality and gender identities. On the 1st June 2020, The Hindu noted that TIS was the only school in the country to register for pride month's 21-day ally challenge.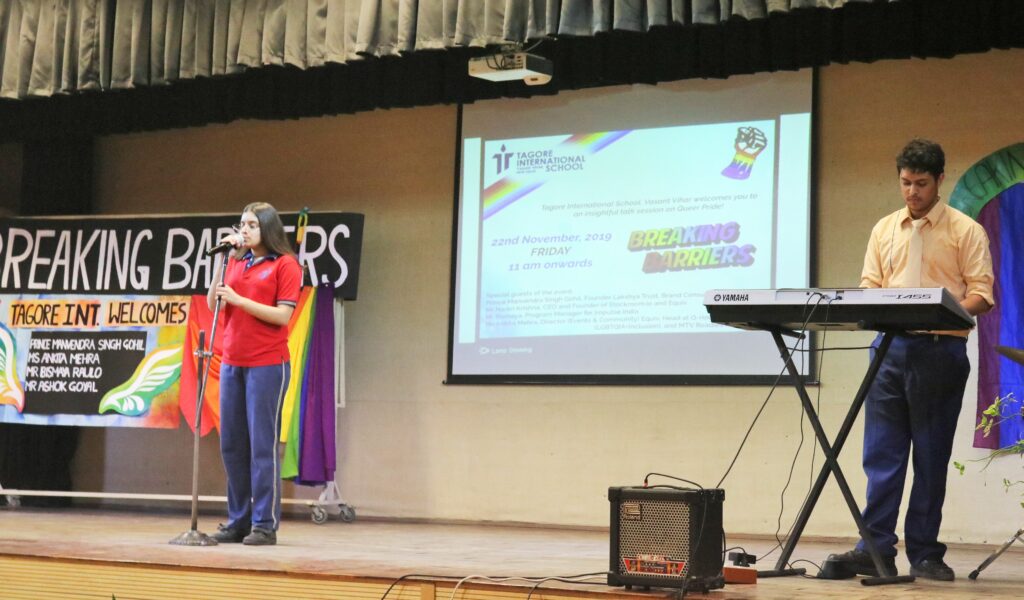 The school has been largely open in its efforts to reach out to queer children through Breaking Barriers. This extends from the less enviable task of convincing conservative parents to allow students to join the campaign, to encouraging students to receive training from LGBTQIA+ rights NGOs. 
Nevertheless, once trained, it is the students who take the lead. These same children then train the teachers in their school to become more sensitive to issues of gender and sexuality in their classrooms.
According to Aarushi Guleria, the student head of Breaking Barriers it is more important to raise public awareness on sexuality, gender, and queerness at the school level itself, amongst young people. After all, "An aware youth can help build an equitable society for all in the long run."
The campaign has also helped students within the school, who were earlier suffering the brunt of a lack of discourse on queerness, to come out to their peers and school counsellors, and openly talk about their experiences. [Editor's note: as these children are still in school, we have refrained from submitting detailed anecdotes in the interests of their privacy.]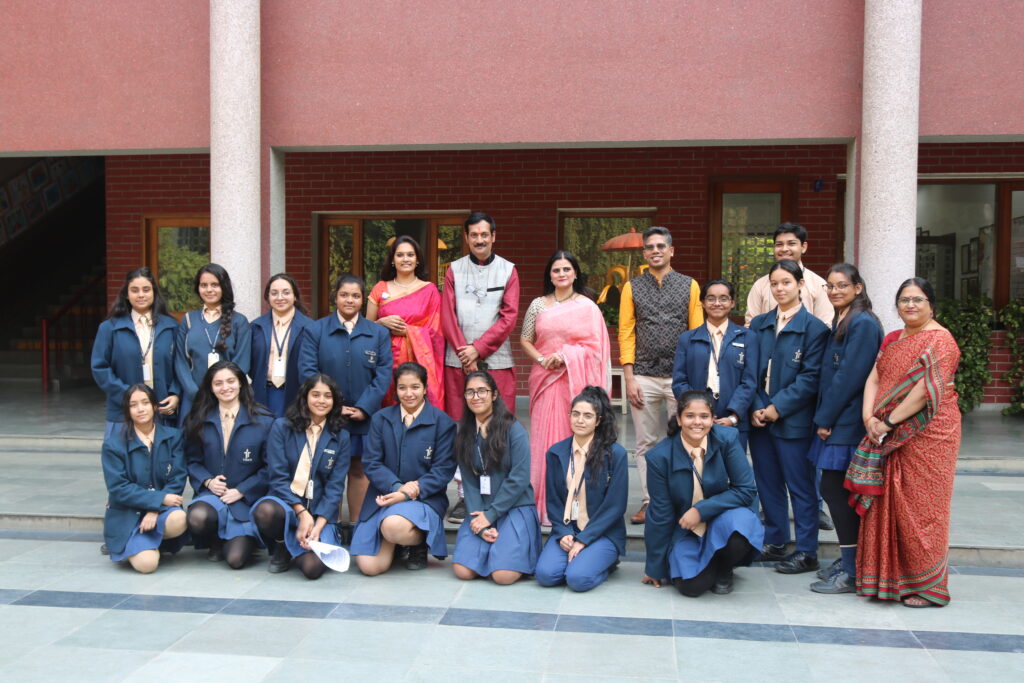 These discussions often extend to students' homes too: Students inducted into the campaign are generally also tasked with raising awareness on sexuality and gender in India today within their own families, especially amongst older relatives. Breaking Barriers has also breached the private sector, and according to Program Director, Vedica Saxena, "Companies like Amazon India and American Express have previously invited our students to conduct gender sensitisation programs for their employees." 
Students and coordinators have also consistently sought to bring other public and private schools in Delhi under the fold of the campaign, the benefits of which are clear to TIS' students and campaigners. 
According to student campaigner Suhana Mehta, "Before I was trained and educated on the nuances of gender, sexuality, and queerness, like many other uninformed people, I used to get intimidated by people who differed from the norm. But, this training helped me clear all the preconceived notions that I had in my mind, and helped me normalise differences."  
More importantly, TIS has also actively played a part in helping queer students come out to their parents, which goes to show that schools need not merely play an external role in a child's life. TIS' model may not be perfect, and like any initiative, will require fine-tuning. However, following in its footsteps, if more schools start campaigns to support children, either through constant engagement with gender and sexuality, or class discussions and better teacher training, the normalisation and acceptance of queer identities in school will cease to be a distant dream. 
---
Featured image courtesy of Yannis Papanastasopoulos on Unsplash | *Names changed |  Views expressed are personal. 
[1] The respondents of this study were above the age of 18 years, self-identified as queer, and provided informed consent.