Farmers found their hands tied when supply chains froze during the COVID-19 pandemic. As restrictions on movement led to shortages of farm labour, input costs rose, selling prices fluctuated, and farmers' access to physical markets, storage facilities, and finance dwindled. 
In many ways, the pandemic set the stage for alternative solutions to be adopted for automating and streamlining supply chains by connecting farmers, traders, and buyers, and for facilitating instant cash settlements. In fact, this was one of the intentions behind the NDA's internet-based National Agricultural Market (eNAM), launched five years ago in 2016. "It can be difficult to run a household and fill a family's stomach while cultivating only a small piece of agricultural land. We want to make farmers [and farming] viable through eNAM," declared the Prime Minister at a public gathering in Chhattisgarh back in 2016. 
However, the Centre's efforts to integrate Agricultural Produce & Livestock Market Committees (APMCs) through the online trading of commodities for farmers, traders, and buyers has not garnered the popular support it hoped for. As of April 2021, eNAM records show that only 1.7 crore farmers are registered on the platform, out of a total of 11.8 crore farmers (as per Census 2011). One of the main reasons that only 14 per cent of India's farmers are aboard eNAM is a lack of trust and transparency in how the rates for a farmers' produce is decided. Agritech is trying to solve this problem.
The Promise and Problems of eNAM
"Before, farmers across [Himachal Pradesh] used to visit APMC mandis in Punjab to sell their produce," says Aman Kaul, the Agriculture Extension Officer in Kangra District, Himachal Pradesh. This transaction involved "middlemen" or arhtiyas, who facilitate a farmers' sale after they bring their produce to the APMC market yard. "This whole process brought farmers relatively little profit," adds Kaul.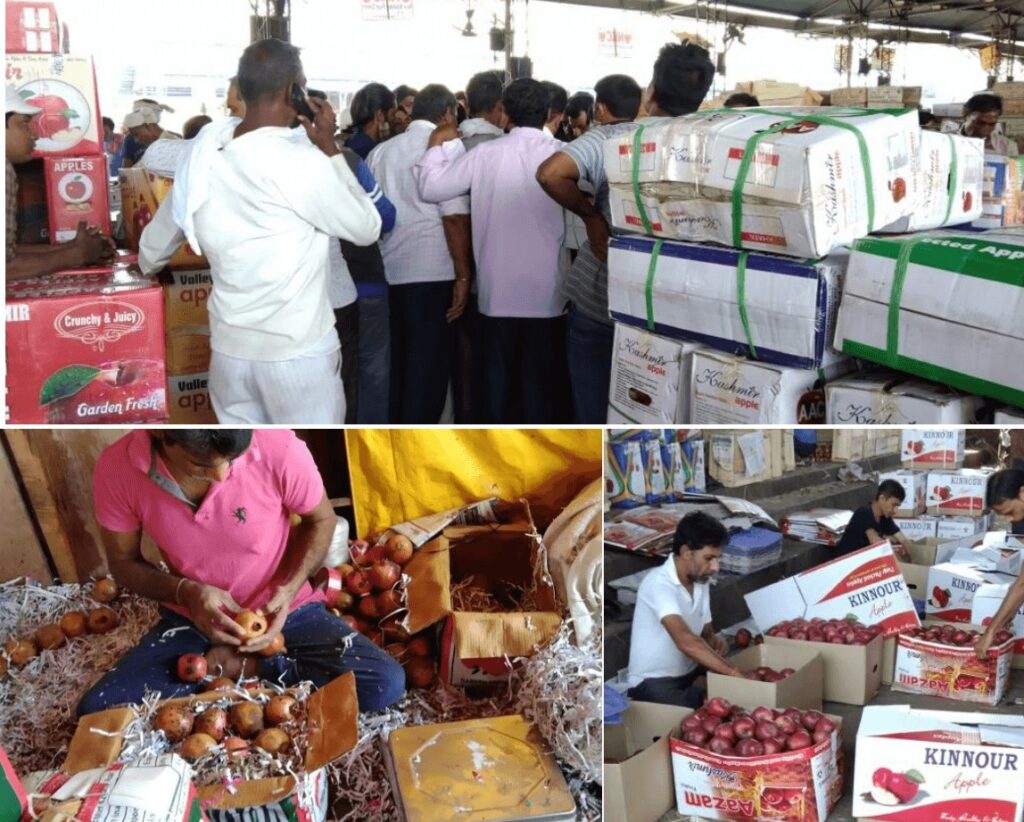 The Himachal Pradesh state government then introduced an online market selling place where farmers could directly sell their produce to mandis, without the need for middlemen. "The farmers can register on this portal using their mobile number authentication, and after linking their land details from land record data available online, officials from the HP Departments of Agriculture and Revenue access the portal for verification for online registered farmers," Kaul tells us, lauding the simplicity of the new e-process. The Agriculture Department and FCI officials access the portal when paddy is procured in October, they run quality checks, generate bills of sale, and make online payments to farmers by November of the same year.
Despite the promise of said framework, out of the 6,946 APMCs in India, only 1,000 are registered on eNAM, with a paltry 479 transacting on the network.
Why is the government's promised disruption of farm procurement yet to be realised?
The first main problem is a lack of awareness among farmers and even retailers about how eNAM works and its benefits. These are eNAM's main users. "We can only resolve this by doing door to door campaigns," says Kaul. Other farmers who want to learn more about eNAM worry that inadequate infrastructure will present a challenge during peak seasons. Long lines at weighing bridges, live workstations, shortage of staff, space, and auction platforms have mellowed the excitement of farmers and traders.
There is also a lack of trust in technology that is restraining the adoption of eNAM. Albeit reasonable, there is a fear that technology will work against farmers, rather than in favour of them. For centuries, farmers have been accustomed to using trading for cash, and many do not understand the digital money framework to trust it. Besides, cash payments are needed to meet immediate expenses and to repay informal loans.
On top of all of this, as of now, eNAM appears to have a very limited capacity to conduct quality assessments of all commodities. Quality inspections take much longer than expected; given large volumes of produce, traders find the process intolerable. The process for checking the quality of consignments within the eNAM model has come under scrutiny, with some farmers expressing a lack of trust and expertise in the officials testing their produce in mandis. When the assessment of a consignment's quality is suspect, stakeholders along the entire chain reduce the value of a transaction.
Why is the Quality Check Critical in eNAM?
In today's era of the internet, where information is at everyone's fingertips, people are more conscious of what food goes into their bodies. The health challenges induced by COVID-19 have furthered the importance of good quality food. But what does quality mean for the farmer?
In India, post-harvest losses of vegetables and fruits amount to nearly 40% even before it reaches the end consumer, which adversely affects the economics of farming. A big chunk of this food wastage can be traced back to inefficient quality control and a substandard supply chain. According to InfyU's field research, a smallholder apple farmer in Kashmir loses an average of 30 kilograms of apple per day because of destructive testing techniques, which equates to a monthly loss of around ₹1,00,000.
Traditional lab-based fruit and vegetable testing methods are time-consuming and laborious; by the time the procedure is completed and the product is shipped, a lot of food is already wasted. For instance, apples are chopped, and after their juice is extracted, sensors are used to assess the quality of said consignment. This procedure takes 15-20 minutes to test five apples. Fruits that have been used for testing become so toxic that they cannot be even fed to animals, resulting in them going to waste. And since the process is time-consuming, getting one consignment tested takes an average of three days, which is a significant loss of time and business for all parties.
More importantly, lab-based testing relies heavily on the availability of human resources and is not as transparent as one would like. Farmers have no knowledge about the interior workings of lab testing, and are left at the mercy of middlemen in terms of quality and have to accept any price established by them.
What Solutions Exist? 
The quality of a fruit or vegetable is never better than at the time of harvest — it only deteriorates from that point on, until it eventually dies. "If I talk about quality, yes that is a problematic area. We judge the paddy crop by seeing it in and out. This is not a scientific method, but one that is based on experience. So, if a digitised device is incorporated for a quality solution, it will definitely make ours and farmers' lives easier as well as making decisions fair and accountable from both sides," opines Kaul.
Rohan Satish Ursal, the Secretary of Pune's Chatrapati Shivaji market yard went on record to talk about why more farmers are not using eNAM. According to Ursal, farmers are more comfortable with real trading than with online trading. "To sell a commodity online, the farmer must post a photo, which operates in the same way as any other online marketplace, but the issue is the product quality. The quality of the commodities is the most important in agriculture, and pictures can be deceiving," he told The Quint.
Agritech has come up with an alternative testing method that is non-destructive, fast, and accurate. One such digital quality testing device is called Infyzer, made by InfyU Labs, an Indian-based agritech company with IoT-based products for food safety. The device tests fruits and vegetables within seconds using the principle of spectroscopy, which is how light interacts with matter when it is split into its constituent wavelengths, and machine learning. Harmless infrared radiation is sent out by Infyzer that enters 4 to 5 cm into the fruit, interacts with its internal composition, and sends back a response signal. The response signal is then sent to the cloud server, where there are various analysis models that provide a report on the fruit's health, chemical composition, and other interdependent factors. The Infyzer device is in turn connected to an app in the user's mobile phone via Bluetooth, where all consignment reports can be retrieved, as seen below.
The device can measure the quality of said fruit or vegetable in terms of its nutritional value and external factors like ripeness, uniformity, firmness, and freshness.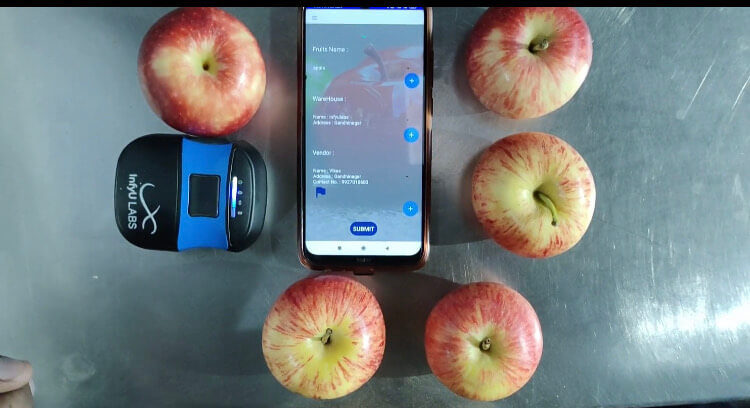 Using these metrics, it can grade and sort fruits and vegetables so that a farmer can assess the market value and receive fair prices for the quality of their produce. Accurately predicting the shelf-life of a fruit or vegetable consignment makes it easy to categorize which ones can be transported to farther locations and which need to be sent to nearby local markets.
Improving eNAM by Standardizing Quality Control 
Agritech products like the Infyzer address two of the biggest challenges of traditional quality checking methods, which are the hassles of transporting food for lab-testing, and the post-harvest wastage of produce due to waiting time and destructive testing methods. The intent is that farmers can test their fruits and vegetables without needing experts. For customers, it creates transparency and trust in a cost-effective way.
Such predictive technology can help in the adoption and efficiency of eNAM, whose quality control process is otherwise slow, opaque, and often ineffective. Governments can deploy Infyzers at eNAM sites for accurate, quick, and efficient quality control. As and when reports become standardized, transparency in the buying and selling process becomes easier, adding trust between involved parties. Infyzers can also prove to be a useful tool for bigger retailers who deal with large consignments. Besides the government and retailers, Infyzer can also be used directly by small-and large-scale farmers for testing their own harvest, as it is available for rent on demand. Farmers can use the device during peak seasons and for large loads, thereby avoiding paying a lump sum to buy the device.
Quality is everyone's friend, and ensuring quality through a balanced, efficient, and transparent system would benefit both customers and farmers. Wholesalers are more likely to trust a consignment on eNAM if it came with a quality report. Farmers can be paid fairly for their products based on their quality, and eNAM will save time and resources by not having to test large quantities of goods during peak season. No produce will have to rot in the interest of quality checks. It is a matter of meeting safety and quality requirements that customers demand and farmers deserve by making the most of available resources and agri-based technology.
Representative featured image from Wikimedia Commons