Written by Sourya Reddy
2008 was an important year for China, as it successfully hosted the summer edition of the Olympics while bagging the highest medal tally. In the decade since, the Chinese state and corporations have poured immense resources into building the country as a global sports powerhouse — not just in terms of athletic prowess, but by becoming an economic resource for sporting events, teams and athletes.
As part of a policy to increase the country's 'soft power', sports have become integral to Chinese government and business strategies as the nation vies for influence in the global economic and political stage.
The Jinping Effect
It is no secret that making China a sports leader is Xi Jinping's pet project. He has introduced a number of programmes not just for boosting competitive sports, but to employ sports as a development tool as well.
For instance, in 2016, Jinping launched a national plan for mass fitness. Its scope? To have 435 million people regularly doing physical exercise by 2020. To put it in context, that figure approximately amounts to the populations of Germany, the United Kingdom, Russia, France, Netherlands, Spain, Sweden and Hungary put together! With China getting ready to host the 2022 Winter Olympics as well, there is expectation that public involvement in these games will grow as well.
Xi Jinping believes that becoming a sports power — not just in terms of athlete's domination, but also in economic prowess — is in 'perfect harmony with the realization of the 'China Dream'. "Sports set the stage for a stronger and more prosperous country….Great importance should be placed on the development of sports, with more efforts made in both the scheduling and implementation of new projects," said Xi at a meeting with several stakeholders working in the sports sector in August of 2017.
Although Xi claims to be a fan of several sports — he told reporters that he is a fan of swimming, basketball, tennis, ice hockey and more — his love for football stands out. From kicking a football in Dublin's Crooke Park in 2012 to his selfie with Manchester City football star Sergio Aguero, he has used his love for the sport as a tool for diplomacy.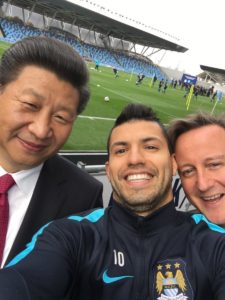 Making his intentions clear back home, he directed the 2016 'Medium and Long-Term Development Plan of Chinese Football', whose simple aim is to make the country a superpower in the sport by 2050.
Football Fever
Both, the private sector and the general public alike have taken to this sports connect. In the years following 2008, Chinese companies have steadily increased their interest and investments in events, teams and athletes across the world.
Nowhere is this more evident than in Football.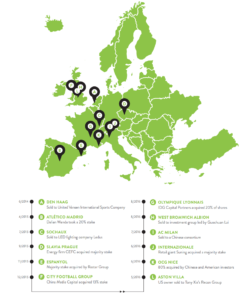 Seen as a direct result of Xi's love for the sport, Chinese companies have been pushing out huge amounts for sponsorship in the world's most popular sport as well.
Chinese companies put out $835 million for advertising this year's FIFA World Cup in Russia, a figure that accounts for 35% of total sponsorship deals signed for the tournament. Further, the Dalian Wanda Group, a real estate and entertainment giant, signed a $150 million sponsorship deal with FIFA in 2016, which allows the company to enjoy all advertising and marketing rights of FIFA World Cup matches in 2018, 2022, 2026 and 2030.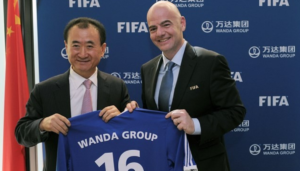 One can spot logos of several companies in the five major European leagues — the Premier League (U.K.), Bundesliga (Germany), Serie A (Italy), Ligue 1 (France) and La Liga (Spain). The list includes giants like Huawei and Sockatyes, as well as betting companies such as Heji18.com and Fun88.
The sport's governing body has acknowledged this recent shift in economic prowess; FIFA Secretary General Fatma Samoura said, "China plays a significant role in our strategy to promote global development of football, and its participation is indispensable".
India and Beyond
The economic influence that Chinese companies carry is present in other sports as well. From sponsoring team kits to being title sponsors for popular sports events, Chinese corporate entities have made inroads into the Indian sports environment in a big way.
Last year, BBK Electronics (the world's third largest mobile phone manufacturer) spent close to ₹3,500 crore on sponsoring several Indian sports projects. This was streamlined through its two smartphone brands Vivo and Oppo, which are popular products in the Indian market. The two brands together put in close to Rs. 3,500 crore for sponsoring several sports projects.
| | | | |
| --- | --- | --- | --- |
| Sport | Sponsoring Organization | Kind of Sponsorship | Amount (in Rs. Cr.) |
| Cricket | Vivo | Event: Indian Premier League | 2,199 |
| | Oppo | Indian National Team Sponsor | 1,079 |
| Kabaddi | Vivo | Event: Pro Kabaddi League | 300 |
| Olympic Sports | Li Ning | Kit Sponsors: IOA | |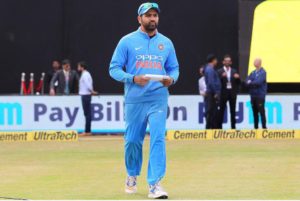 Li Ning, a Chinese sportswear brand bagged a deal with the Indian Olympic Association (IOA) to sponsor the Indian team kits till the Tokyo games in 2020. In 2014, the company also inked a deal with Badminton star P.V. Sindhu to become her apparel sponsor.
The breadth of Chinese influence on sporting culture cannot be underestimated. Ganten, a food and drink retailer, became a global partner for the Australian Open with its natural drinking water brand. Ganten will enjoy on-court branding at the Melbourne event — an event whose 2017 men's final between Nadal and Federer saw an approximate viewership of 15 million people around the world — from 2018 until 2022.
Li Ning and other sportswear brands like Peak and Anta have been setting foot in the NBA as well. Basketball is the most followed sport in China, and the apparel sponsorships of stars like Dwayne Wade, Kevin Garnett & Tony Parker by Chinese companies have made huge statements about China's involvement in and intentions for the NBA. The Dalian Wanda group has made telling strides in this arena too; it is an exclusive partner of the International Basketball Federation (FIBA), which gives the licensing rights and control over global marketing.
The Chinese Juggernaut is Here to Stay
With China being a mainstay in today's economic and political spheres, the country's focus on recreating its image for the world cannot go unnoticed. Sports has become central to the vision of Chinese development and international influence; it would not be an exaggeration to say that there are less than a handful of countries that are spending as much time, energy and resources on sports. With new and increased spending each year, China's soft power policy seems to be working.
Is this a dangerous takeover of world sports? Or is this Chinese interest a welcome boost for the international sports fraternity? The jury is still out, but if the annual record-breaking spending on sports is anything to go by, the Chinese juggernaut is set to roll on.
Featured image courtesy mancity.com