Written by Parkhee Rattan  
At various levels in almost every sport, tournaments are conducted as platforms where the best athletes compete against each other for the top prize. Most sporting events are organised separately for men and women, the primary reasoning being that 'men are physically superior to women'. These biological disparities between the sexes make it unfair to pit one against another in competitive sports where power and speed are crucial factors to winning — men would have an obvious advantage, say many. Even if so, this is true only in a physical context.
Considering that a negligible amount of physical effort is required to lift and place a chess-piece, then why is there a separate Chess Championship for women?
Research has revealed and consolidated that intellectually, women are not inferior to men in any way. Unlike other sports, Chess does not inherently offer male players any advantages over their female counterparts. Then why aren't more women competing against men?
Tracing Chess Back
Chess has been played competitively since its inception in 6th century India. The first ever Chess World Championship was contested in 1851 in England. In 1924, the World Chess Federation called the Federation Internationale des Echecs (FIDE) was founded.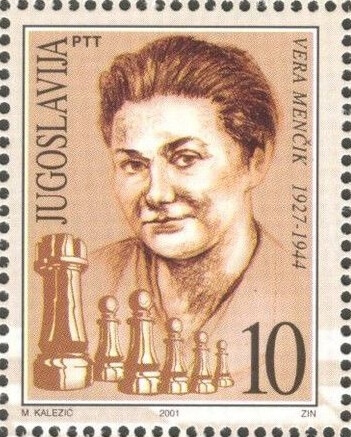 FIDE has regulated all World Chess Championships since 1948, establishing the Women's World Chess Championship in 1927, where Czech-English master Vera Menchik was crowned champion. She is pictured here in a Yugoslavian stamp from 2001. WikiMedia Commons
Unlike other sports, women are allowed to compete alongside men in chess tournaments such as the World Chess Championship and in tournaments exclusively for women, like the Women's World Chess Championship. There is no championship exclusively for men.
Need for a women-only tournament
Why is there a need for a tournament only for women, considering that men and women have equally able intellectual faculties?
The title of 'Grandmaster' is the highest honour a chess player can be awarded. Nearly every grandmaster in chess is a male. FIDE reports that out of the current 1440 grandmasters, only 31 are female. A strikingly similar trend is noticed in the fields of mathematics, engineering and science. These fields are considered to be masculine only because of the sheer majority of men participating within them.
Although there is no explicit reason for men performing better than women at chess, it would be unfair to make the claim that chess' situation is like that of any other major sport. It is indeed puzzling that women do not perform as well as men do at chess. Having separate tournaments for them is an extreme measure. Even if men's participation rates have been significantly better than those of women, in theory, both genders should be equally capable of performing.
A testimony to this reasoning is Judit Polgar, who is regarded as the best female chess player in the world. She became a Grandmaster at the age of 15, breaking all previous records for the youngest grandmaster at the time. Ranked world #1 for women 50 times, she was also world #8 in the men's and women's (joint) category in 2005.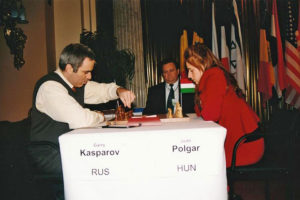 The different performance and participation rates between the sexes can be attributed to deep-rooted social factors such as the inequalities and oppression that women have faced in the past. These have carried into the sport today, where women are not provided with the same opportunities as men. Even in chess, the World Women's Championship winner in 2017 received $60,000 as prize money while the World Chess Championship winner in 2017 received $120,000. Intellectually capable as they may be, women chess players are still treated differently from their male counterparts, even today.
Although Polgar's contributions to women in chess have been impactful, she is still the only woman to have qualified for a World Chess Championship tournament. Importantly, it may not always be completely fair to make women compete with men because of the vast performance disparities, and their current rankings in chess.
Considering that women do not perform as well as men do because of complications beyond their direct control, it is necessary to uplift female chess players to get them level with the men. If tournaments only for women did not exist, women would hardly have any representation in chess. This is apparent by the 2017 World Chess Championship, where out of the 128 participants, only two were women. If it weren't for the Women's World Chess Championship, budding female chess players like India's Tania Sachdeva would be deprived of an avenue to pursue their passion.
Women-Only Chess: The Social Implications
In an ideal sports world, there would be no tournament in a non-physical sport (and arguably in physically demanding sports as well) dedicated solely to women. Women's performances in The World Chess Championship is hindered by compounding social factors which force low participation rates and a collective lull in performance.
Consequently, support is meritorious, whether financial or otherwise. The Women's Chess Championship is an excellent prerogative which has provided a platform for women chess players.
Until men and women have equal representation in chess and other social factors —  like access to the sport and financial support for pursuing it professionally — are granted equally, it is unsustainable for women to compete only with men at professional chess tournaments because it may further hamper player development.  
The seeds for bringing women's chess to par with the men need to be sown immediately. With a fostering climate and early training, there would no longer be a need for separate tournaments where women were crowned champions of chess.
Featured image courtesy WikiMedia Commons