Written by Vaishnavi Rathore
A recent water stress index has ranked India the 46th highest risk country in the world;11 of India's 20 largest cities face an 'extreme risk' of water stress which include Chennai, Bengaluru, Jaipur, and the nation's capital, Delhi; over the years, the groundwater levels here have severely depleted.  
In an attempt to correct this, the National Green Tribunal approved a proposal by the Delhi Irrigation and Flood Control department for a pilot project in the flood plains of the Yamuna that aims to create a reservoir of small ponds between Wazirabad to Palla regions. Ideally, this would retain excess water during the monsoon season, which can be extracted, when required, to meet the city's demand.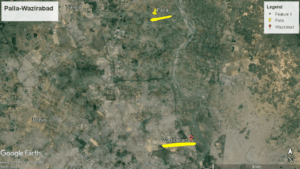 However, the launch of the pilot project on 9th August brought with it a series of questions and doubts about the success of its implementation.
Technically Challenging
After the Yamuna enters Delhi, it curves through the National Capital Region (NCR) and covers a distance of about 50km. The highly fertile flood plains that the river creates on its east and west banks are no strangers to inundation. In fact, since the 1900s, Delhi has had eight close encounters with floods, the latest of which occurred in 2013 So, for an area that already gets enough water for it to restore naturally, is diverting funds to create a reservoir here even required? Vikrant Tongad from Social Action for Forests and Environment (SAFE) does not seem to think so;
 

"It is already creating a reservoir in its own sense, naturally replenishing the groundwater. Do we really need to hold this water here through farm ponds for recharge?"
This measure would only be advantageous if the recharge rate through the reservoir would be more than its natural percolation.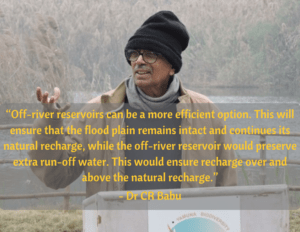 Often, fertile silt accompanies the floodwaters.  Now for the effective functioning of farm ponds, as this project envisions, they would require to be frequently de-silted after a couple of seasons, which is an expensive process. The silt also creates an added complication; "The fine silt blocks pores of the soil through which recharge takes place," says Manu Bhatnagar of the Indian National Trust for Art and Culture (INTACH). "With passing years, there might be lesser percolation in the soil, and the next flood pulse will not generate the same amount of recharge." A flood pulse refers to a period when a floodplain is inundated which is when the main river channel and the floodplain exchange water, nutrients and organisms. 
The Yamuna Reservoir project assumes that the floodplain will receive a flood pulse cycle somewhere between 8 to 18 pulses. However, over the years, the frequency has reduced. "Watching the river for several years, not more than 3 pulses in a season arrive," remarks Bhatnagar. "In fact, this season, not a single flood pulse has arrived." With the flood making a visit possibly two or three times instead of the estimated 8-18, the estimated storage of 37,000 million gallons seems questionable. "Have all these things been accounted for or is this project just an overestimation and a grand announcement?" he continues.
Delhi Water Bodies: No-one's baby?
The 2015 report 'Flood plain Survey and Recommendations', of which Dr Babu was also a part, observed that "there are serious difficulties in securing coordination among a large number of agencies/departments, even in procuring the required information (for their survey)". They further suggested that a separate, independent body should be created to plan and execute the entire restoration programme for the river zone in the NCR that involves three state governments of Delhi, Haryana and Uttar Pradesh. 
Up till now, lakes and wetlands in Delhi have been a shared responsibility of different land-owning agencies — Delhi Development Authority (DDA), Delhi Jal Board, Municipal Corporation of Delhi (MCD), and the Public Works Department (PWD). A multiplicity of such shared functions creates monitoring and functioning inadequacies and shirking of responsibilities. Who really is accountable for these water bodies? It's hard to say.
This does not mean that the government is not working to better its administrative web; according to an affidavit filed while hearing a plea early this July to restore the Old Fort Lake, the Delhi Government said that according to a notification by the Ministry of Environment, Forests and Climate Change (MoEFCC) a separate wetlands authority had been created to deal with all such issues. How effective this will actually be, only time will tell.   
The Right Solution to the Right Problem
Considering the crisis at hand, any step in the direction of increasing groundwater seems to be a good intervention. But, have we picked the correct solution? More importantly, have we targeted the correct problem?
"All our concentration has always been on supply management, when will we speak about demand management?" remarks Manu Bhatnagar. "We cannot keep sucking our rivers dry."  A significant way to manage the demand side of the problem would be to encourage the use of recycled and treated water. If commercial and industrial hubs like Anand Vihar bus and train terminals, and the Patparganj industrial area stop consuming the groundwater and alternatively shift to using recycled water, the groundwater table would automatically rise.   
Another important suggestion is to conserve the wetlands that Delhi is blessed with. "Take the example of the Yamuna Biodiversity Park which lies on the floodplain," Dr Babu says. "All the settlements close to the wetland derive their water from there, and the wetland naturally replenishes itself during monsoons."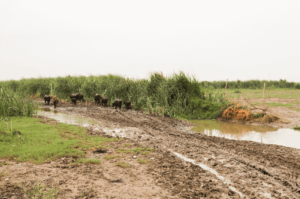 Manoj Mishra from Yamuna Jiye Abhiyan agrees. He says, "Equal focus also needs to be on continuing the lake rejuvenation processes within the city." Additionally, land use planning or a study that indicates towards ecologically sensitive areas, restricting continued development is also suggested, along with strict compliance to it.  
The Yamuna reservoir project continues the legacy of schemes and projects that cater for increasing supply of water, but keeping in light the erratic rainfall patterns, the day does not seem far when we will run out of water to supply. At that point, managing demand as a solution will be out of reach.
Featured image courtesy Atul Burnwal|CC BY-SA 3.0
Vaishnavi works as an Environment Associate with The Bastion, and is interested in covering stories on forest and land rights, ecological restoration, governance of commons, and environmental justice.