Written by Vaishnavi Rathore
Mangar Bani is an ecological hotspot located in the Aravallis between Haryana and Faridabad. The over 600 acre sacred grove is mystically tied by a legend which keeps the community living around the grove strictly at bay. The community believes that plucking even a single leaf for personal use would cause years of misfortune to follow. Apart from the various species that reside here, the Bani is also known to churn ecological services, including groundwater recharge.
But just a kilometre away from this forest (it was officially declared a forest by Haryana Chief Minister Manohar Lal Khattar in 2015), a new development has recently been proposed—a garbage dumping site.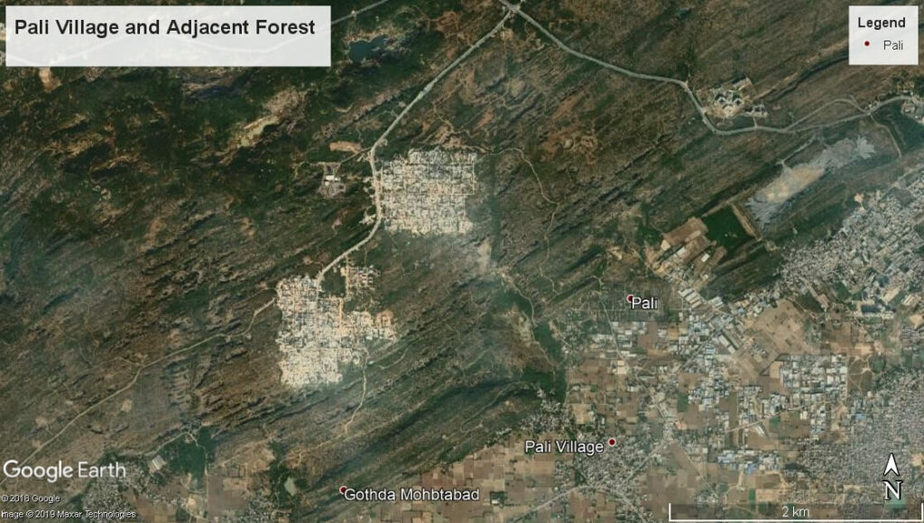 Earlier this month, on 14 September, the Municipal Corporation Faridabad was asked to allot 30 acres of land in the village Pali in Faridabad to dump the municipal solid waste of cities of Faridabad and Gurgaon. This proposal comes at a time when these 3 billion years old ranges are being hollowed out with illegal mining on one hand, and are facing the brunt of the insatiable real estate market on the other. Just as the minutes of the meeting found their way to social media, citizens and activists expressed their dissatisfaction with the decision. 
The proposed site falls in 30 acres of the 692 km long ranges that meander through the states of Gujarat, Rajasthan, Haryana and Delhi. The location is less than 2 kilometres from the Asola Wildlife Sanctuary in Delhi, which was highlighted in the news recently with the spotting of a rare species of frog; the presence of amphibians is regarded as an indicator of good ecological health. The proposed site also falls in the catchment area of Badhkal Lake, which has remained sans water for the past twenty years owing to the continuous mining and quarrying in the area. Talks of rejuvenating this lake are on. With Faridabad being declared as a 'Dark Zone' with regard to groundwater sources, a garbage disposal site that risks groundwater contamination adds to the bleak water future that Faridabad might be staring at. 
The 'Guidelines and Check-list for Evaluation of MSW Landfills Proposals' states that the "proposed landfill site should be away from habitation clusters, forest areas, water bodies, monuments, national parks, wetlands, and places of important cultural, historical or religious interest."  The Pali village site falls in most of these. For the range that prevents the adjoining desert from engulfing the areas near the mountains, developments like the proposed site are a risk to its ecosystem, and a cause of worry. 
Déjà vu 
For the people living around here, it seems like a nightmare ready to repeat. In 2008-09, a waste processing site was established at Bhandwari in Gurgaon which was meant for dumping of segregated and processed waste. On the contrary, Ecoservices, a company contracted for the task dumped unsegregated waste. What should have been a waste processing site was, in effect, functioning only as a dumping site. 
Additionally, leachate—which is water that passes through the toxic waste before leaching into the groundwater— contaminated groundwater and polluted surface water. In fact, when a study was conducted by the National Environmental Engineering Research Institute of India (Neeri), evidence of groundwater contamination in three villages near the Bandhwari landfill was found. Water samples from 14 locations within a five kilometre radius of the landfill were "highly contaminated" with pathogenic bacteria and heavy metals.  
#Bandhwari is home to a toxic landfill where #Gurgaon dumps it's garbage. Underground water is contaminated and this is the region of Aravali forests. If this forest does, we die too! #StopPLPAamendment#AravalliBachao #ClimateActionNow https://t.co/auPJuOiEwH

— Nandini Gulati (@belightcoach) September 5, 2019
When the case was heard in

National Green Tribuna

l (NGT)  in April this year, the Green Court called this a "classic instance of incapacity, incompetence and unwillingness of the Municipal Corporation Gurgaon to perform its duty to handle solid waste in a scientific manner." 
Owing to non-compliance as observed by the NGT, a fine of 2.5 lakh was slapped on to the company in August, 2018. "You would think that such a company that has seen the courtrooms of NGT too many times, and gets a penalty every other month by the NGT, would not be allowed to be involved in any other implementation," says Jitender, from Save Aravali Trust, an NGO working on the betterment of the ranges. "But guess who got the contract for this new proposed site? Ecogreen Services. When they have failed to perform the task at existing garbage plant at Bandhwari, what do we expect to happen in the new proposed site?"
The Unsegregated Waste Problem
While this particular development is a concern in itself, it also reflects at the larger waste management problems that the National Capital Region, or for that matter, major urban cities are currently sinking in. The foremost of all these problems result from a simple step that you and I probably do not do either: segregating waste. 
The Annual Report of Solid Waste Management of Haryana Pollution Control Board throws up an alarming figure when it states that garbage segregation achieved in the state was only 20%, as of September, 2018.
This means that most of the municipal solid waste that finds its way to the garbage sites, including the one at Bandhwari, is mostly a non-segregated mix of plastic, biodegradable waste, e-waste etc., which is in complete violation of the Solid Waste Management Rules, 2016. It is unlikely that the future of the new site would be any different. 
Putting forth the same recommendation, Save Aravalli Trust, in a letter to the administration raise their objections and concerns regarding the new site, "Why does MCF need garbage dumping yards when 80% of waste can be recycled and reused? It is strongly recommended to setup segregation units in each colony and do the segregation of waste manually." 
Officials from Municipal Corporation in a bid to offer solutions are usually found commenting "We desperately need to find new sites" or "there are not enough landfills in Delhi". The current focus, this shows, is only on finding more sites for waste disposal. And that's where we are at a loss. Focus of efforts needs to be made instead, on waste segregation at source as well as at processing units. This would not only make acquiring more landfills unnecessary, but may also ensure efficient working of a measure of waste disposal—Waste to Energy plants. 
"The waste processing unit at Bandhwari was supposed to have a waste to energy plant, but that has been lying unused ever since its inception," informs Jitendar expressing his dissatisfaction. But, even if it did function, the waste problem would still not become any less grave. Since the waste collected is unsegregated, it has high moisture content and produces lesser amount of heat and energy when the waste is burnt, a report by the Centre for Science and Environment (CSE) shows. In effect, it means that it costs more to produce power through Waste to Energy plants as compared to other sources of electricity. 
Wasting the Land Away
In the hierarchy of waste management, prevention, minimization are usually considered as 'most preferred', and landfilling, energy recovery lean towards 'least preferred'.  Currently, the emphasis is on the least preferred options. "There is no other solution than the immediate segregation of waste at the time of production as well as collection," says Jitender. In its absence, the country's garbage management solutions would be far from effective implementation.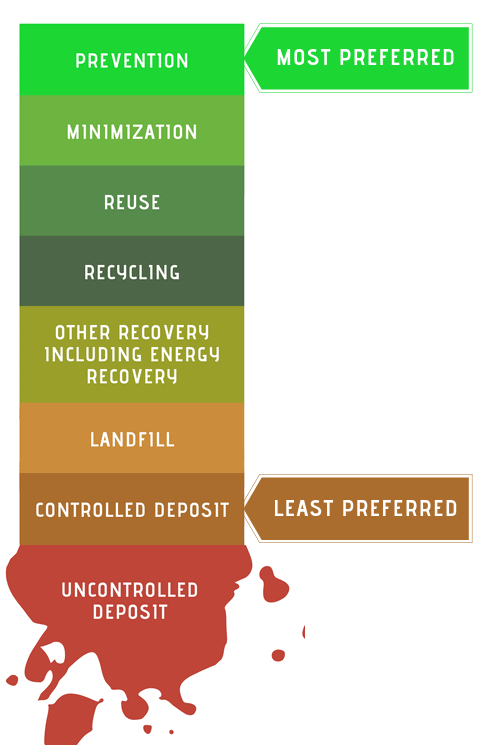 It seems that with the new garbage disposal site in Pali village, past experiences of dumping unsegregated municipal waste are set to repeat itself. But this time, if this goes through, we better brace for worse impacts, for this constitutes 30 acres of the ecologically fragile and significant Aravallis.