Written by Kanishk Srinivasan
Goa is undergoing a major identity crisis. The State has been earmarked for activities such as mining, a massive port-expansion, river nationalisation and more. At the same time, there is a year-round influx of people from other states — tourists visit Goa for its beaches, parties and nightlife. Policymakers and politicians are pushing for each and every one of these activities, with no cohesive strategy apparent. In a region as small as Goa, such an approach is guaranteed to create friction between the communities invested in different activities.
As a policymaker, one of the fundamentals of planning would be to ensure that the activities in one industry do not hinder those in another. Goa's politicians seem to have forgotten this critical point; tourism activities are hindered by river nationalisation, dredging and the expansion of ports. For instance, all scuba diving activities are conducted at Grande Island, which is only 8 km away from the Mormugao Port Trust (MPT) Harbour. This harbour is earmarked for expansion to an international-scale coal port. Port expansion activities on the mainland will also have an impact on the coral reefs around Grande Island. Leave alone accommodating or adjusting; none of these activities seems to even acknowledge the presence of the others.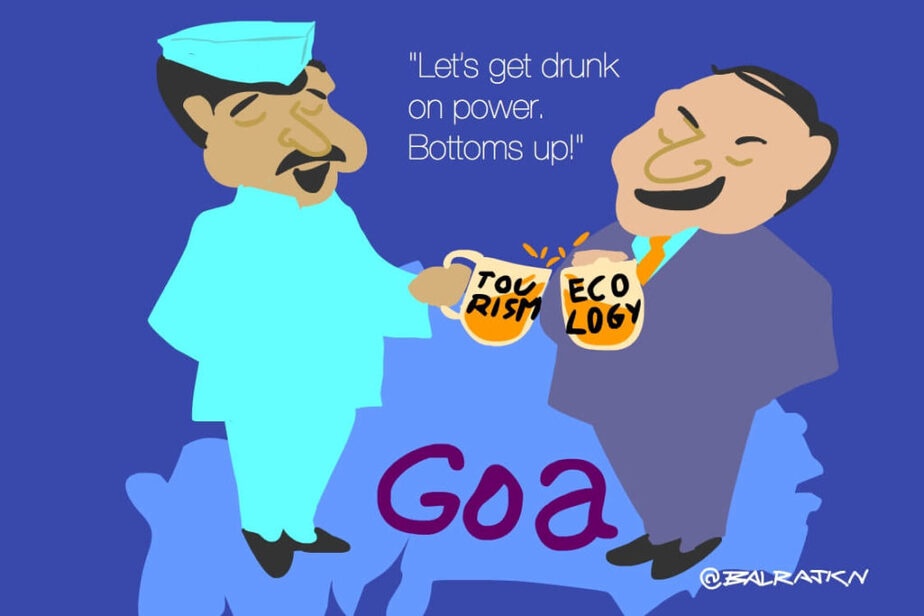 Illustration by Balraj K.N.
The Tourism Master Plan (TMP) 2016 is being developed by KPMG on behalf of the Government of Goa. It reflects confusion and discord between developmental plans. The TMP is expected to put together a cohesive vision for the future of the tourism industry in Goa. The plan encompasses all aspects of tourism in Goa — ranging from historical and cultural tourism (like forts and homestays) to party-based tourism (nightlife, beach parties and casinos). The first three modules of the Plan are on the website of Goa's Department of Tourism. 
A light reading of the proposed plan throws up red flags and uncertain priorities. Sensitive ecological zones, such as the Chapora river-mouth, were being designated as suitable regions for high-end tourism such as waterfronts, promenades, jetties, cruises or for nightlife activities such as beach parties and clubbing. A paper by Sawkar et al. notes that "the growth of coastal tourism has been rapid and uncontrolled". This unchecked growth in tourism has resulted in the loss of biodiversity, erosion of sand dunes, declining fish stock, accretion, and siltation, as well as depletion of groundwater. Although Goa has sensitive and fragile ecosystems, complex social and economic systems that involve almost too many stakeholders with differing interests, and ineffective institutional and political structures have made it incredibly difficult for Goa to have a comprehensive tourism strategy that would support everybody.
The plan adopted a zoning methodology to accommodate the various types of tourism. While some regions were set aside for nightlife and party-based tourism, others were classified as 'eco-beaches' — areas where marine and terrestrial flora and fauna were to be preserved and protected. For example, the beaches of Mandrem, Morjim and Ashvem were designated as eco-beaches. But right across these beaches, the regions of Chapora, Vagator and Anjuna (along the Chapora River) were placed within a 'nightlife/party' zone of Goa.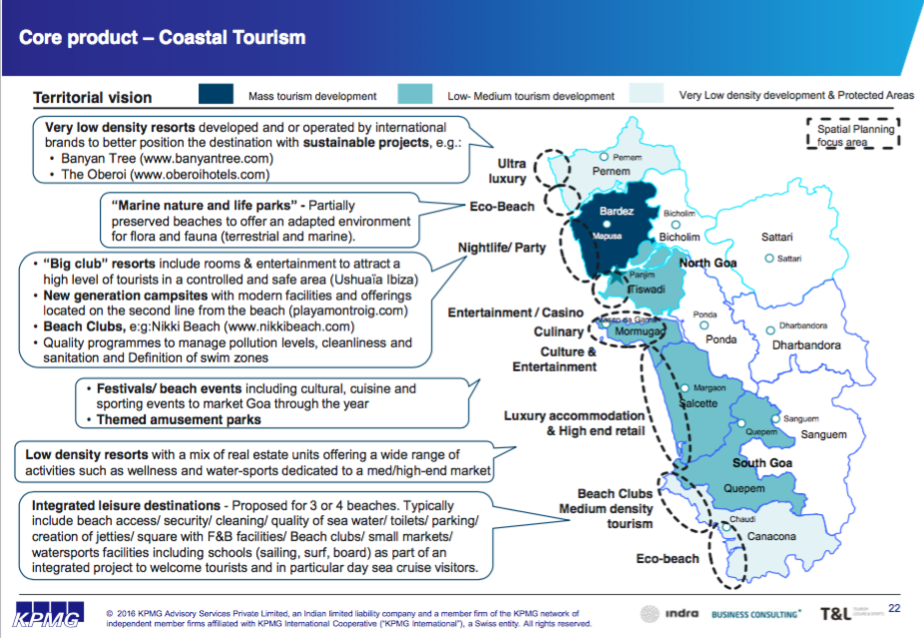 Different zones as described in the TMP
These proposed eco-beaches and nightlife zones are barely 0.5-1 km away from each other. Unsurprisingly, this is a nightmare for conservationists because it would not only be impossible to enforce this zoning while working with the fauna in the region but the proximity of these zones makes the very existence of these zones redundant. While KPMG and the Government of Goa have done well to put together a document as large (in scope and size) as the TMP, it seems to have missed out on necessary nuanced arrangements.
None of the objectives in the Master Plan talk about minimising the adverse economic, social and cultural impacts of tourism. The plan boasts of Goan culture and Goan society as 'products', but fails to acknowledge the fact that the tourism industry may pose a threat to these very elements. The focus on growth and progress have sidelined discussions about environmental degradation (loss of biodiversity, scarcity of freshwater, improper waste management, and treatment), cultural decay as well as the alienation of communities from their lands and their removal from the benefits of the tourism industry.
Perhaps the most alarming part of the plan is that it has been created without regard to those directly affected by it. It reeks of top-down decision-making, where actors on the ground are expected to mould and shape their activities based on decisions made by a few officials whose livelihoods are not directly dependent on the very spaces that they are creating legislation for. There's little evidence to show that the local communities have engaged with these planning processes. Without the presence of people who are directly dependent on these environments, the plan will always be incomplete.
There is no doubt that the TMP has been created in a bubble. The Plan has not taken into account that there are other industries (almost all of which are earmarked for expansion) dependent on the same spaces. Any tourism operator on the ground is aware and even responsive to the fact that these other industries exist and impact their livelihoods and occupations. If KPMG and Goa's government involved these people in their discussions, the TMP would probably look extremely different. One thing is for certain: if this blind expansion continues, Goa faces a grim future.
Featured image courtesy Terraconscious