India's education landscape is vast ─ close to 260 million students attend more than 1.5 million schools and around 30.5 million college students attend 39,000 higher education institutions. But given India's demography, these numbers are not close to where they could be at.
While India's basic literacy rate stands at 74%, a NSSO survey from 2014 illustrates the growing divide between the rich and the poor as levels of qualification increase.
At the primary school level, the gap is relatively small: 89% of the richest parts of the population attend school whereas the literacy rate is around 79% for the poorest strata. However, the poor's literacy rates drop significantly at the secondary level, and even further by the time students reach college, with an eventual literacy gap between 4-6% and a 20-31% net attendance ratio (NAR) for higher education.
This inequality exists not only across economic strata but also between urban and rural, and male and female portions of the population, as a result of numerous disadvantageous factors. It is within these disadvantaged populations that online education sees the potential to step in across multiple segments within the education system. Formally, to supplement school and higher education, tutoring services and test preparation are a massive space for opportunity. Informally, there is a demand for reskilling, corporate training and additional language and skill acquisition.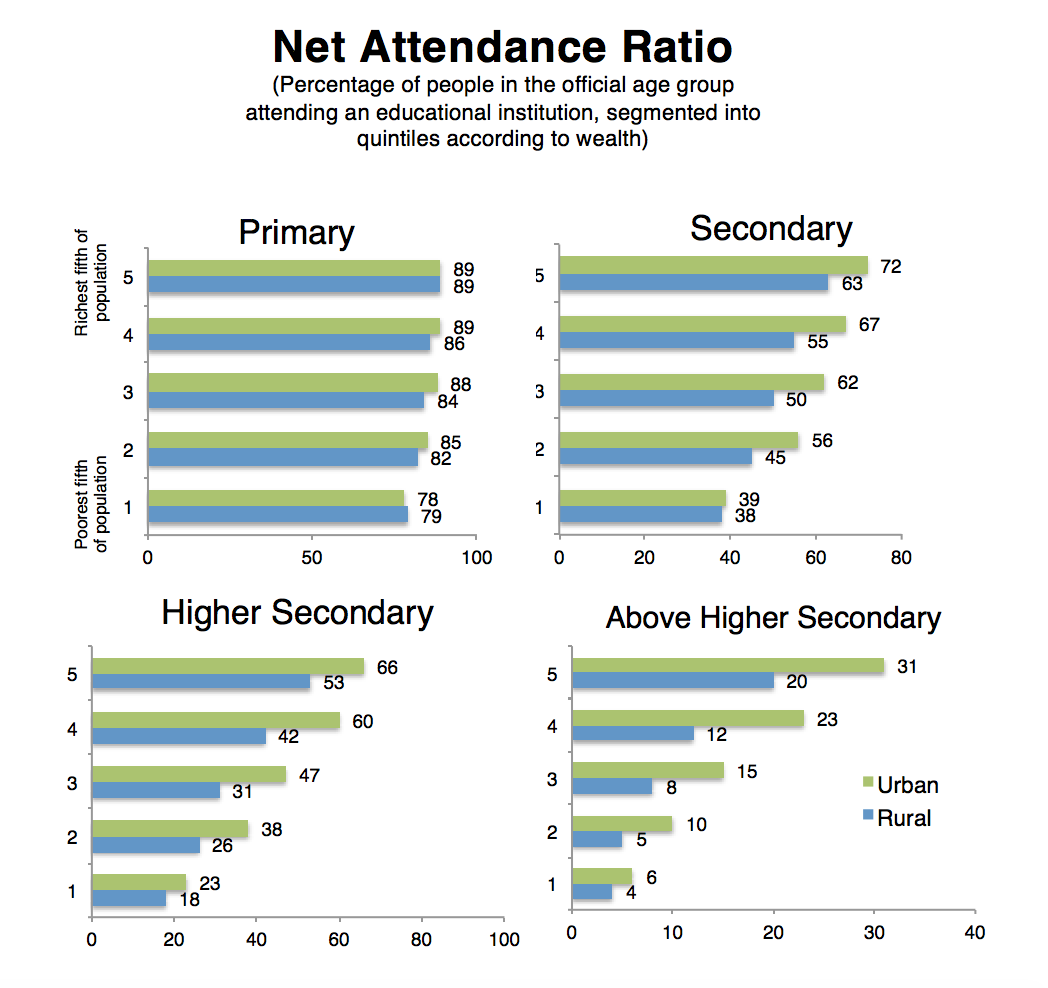 A recent report by Google and KPMG stated that the Indian online education industry is currently worth close to $247 million and estimated it to be valued at $1.96 billion by 2021. A number of factors are driving this impressive online boom, largely because of its accessibility and quality. Online courses are not only cheaper than their offline alternatives (by 53%, according to KPMG), but they are also less dependent on the general infrastructure or geography of the area. Additionally, the content provided by online courses is constantly evolving. Often, online content is of a far higher quality than what is offered in schools. They are also better attuned to industry-specific requirements than colleges are. The sizeable youth population (around 50% of India's total population), numerous job seekers and a constantly increasing disposable income along with improved internet and smartphone penetration enable students to have easy access to distance learning.
Policymakers have not missed out on the immense potential of the online education market to overcome the hurdles facing students in the country. The Digital India campaign has connected with numerous colleges across the country to develop hundreds of Massive Open Online Courses (MOOCs). These will be hosted on the newly launched platform SWAYAM, which is available free of cost and in multiple languages. The completion of both online and offline courses are to be synchronized with the online National Academic Depository, which is a database of students and their qualifications can be linked with Aadhar for easy access. Additionally, e-Basta makes textbooks and other learning resources accessible online for teachers and students.
At this point, it is important to note that the government is not the only player to board the e-learning bandwagon. Privately owned apps and websites have begun to cement their place as legitimate sources for education. While renowned platforms like Coursera and edX remain prominent in the market, other companies are attracting funding from prominent names in the technological world. Khan Academy, a Boston based non-profit founded in 2004 has its fifth largest user base in India and is backed by the Bill and Melinda Gates Foundation. Similar to SWAYAM, Khan Academy creates its own content but also adopts existing resources and partners with institutions to implement its system of content delivery. Homegrown start-ups that have received similar support include BYJU's, the brainchild of Byju Raveendran, which raised $50 million from the Chan Zuckerberg Initiative, Meritnation, a school-level app with over $15 million across funders, and Simplilearn, with $28 million from various sources.
However, alongside such a large scope for growth, significant challenges do exist for any player attempting to penetrate the market in an impactful and lasting manner. In the rush to bring users online, many companies run the risk of creating sub-standard content or regenerating information that already exists in any case. Thus, they risk dying out, even if their services might be backed by advanced technology. Additionally, with a market that is looking to the internet as a means to reduce costs and surpass infrastructural problems, monetization is difficult and content delivery to areas with weak internet connection becomes challenging. Similarly, payment is also an issue because many who seek to avail of such education services are not comfortable with online transactions.
If these hurdles are surpassed, however, any successful Indian education startup has numerous prospects to develop their service, improving user experience and integration with the current educational scenario. Original content that can be customized to fit more specific needs and better content delivery can be created, including the gamification of learning models to make learning an interactive, engaging process. They can include co-developed content and value-added services which could range from actual tutors to internship and project opportunities. Additionally, offline touch points such as labs and group discussions can be set up to assist unfamiliar users with online servers, as well as to bridge the gap between traditional education systems. Companies working with college-level users can also provide recruitment linkages.
In a country that hosts the world's second-largest group of internet users, where education is greatly lacking, the prospects for growth in online education are endless. This, of course, is only if the developmental challenges that have hindered traditional education can be surpassed.
---

References:
http://www.livemint.com/Education/txBcHtzdIEC3fhA3P25f3J/Govt-framing-policy-to-push-online-education.html
http://gadgets.ndtv.com/internet/features/google-online-education-india-youtube-khan-academy-1709353
https://www.bloomberg.com/news/articles/2017-06-20/zuckerberg-or-gates-billionaires-try-opposites-paths-for-online-education-in-india
https://assets.kpmg.com/content/dam/kpmg/in/pdf/2017/05/Online-Education-in-India-2021.pdf
https://yourstory.com/2014/06/online-education/
Featured image by Opensource.org/ CC BY-SA 2.0