Saurabh Taneja (ST) is the CEO of The Akanksha Foundation, a non-profit organisation providing children from low-income communities with a high-quality education. For over 28 years, Akanksha has educated children from low-income communities across Mumbai and Pune, through their after-school centers, and since 2007, through The Akanksha School Project. Today, as one of the largest urban networks of public-private partnership schools in India, Akanksha runs 21 English medium schools in Mumbai and Pune impacting over 9,000 children. These children are taught with the help of approximately 450 educators, leaving behind an alumni base of over 3,000.
Saurabh was the founding school leader of the Acharya Vinoba Bhave School in Pune, Akanksha's first Secondary school, run in partnership with the Pune Municipal Corporation and The Thermax Foundation. From an IIT graduate to a Teach for India fellow, and then on to a school leader, he has constantly worked towards improving the quality of education around him. Saurabh, who has worked with Bodh Shiksha Samiti, UNICEF, and the state government of Rajasthan, is a deeply passionate leader with a vision to lead Akanksha into its next phase of growth. He speaks to The Bastion's Education Associate Ipsita Mishra (IM), on his work and Akanksha's plans for the future.
IM: What does a 're-imagined education system' look like to you?
ST: For me, a re-imagined education system is one where children have the freedom to choose how and what they learn. Currently, 'adults' decide what children should learn in school. Student voices in decision making inside the classroom, or at the school or policy level, are nonexistent. In my desired approach, a teacher is a facilitator, and learning in the classroom is driven by the student's choice and interests.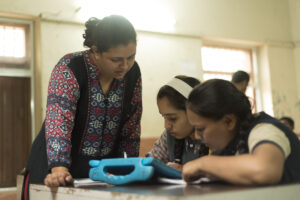 A re-imagined education system is also one which instils core values, skills, and knowledge in order for children to thrive in the future. To enable all that we aspire for the children of India, we need to anticipate how the world economy is going to change in the next 20 years and prepare them to face these changes and challenges now, as well as in their adulthood.
Akanksha's student vision envisions that all children who graduate will have the mastery over what they are really good at, the autonomy to make rational choices, decisions, and take ownership of themselves, and a sense of purpose to give back to communities and make the world a better place. So, for me, a re-imagined education system should empower children and adolescents to maximize their potential so that they can successfully thrive in the outside world. 
IM: According to you, what are some of the biggest challenges in India's contemporary education system?
ST: India's education system is a labyrinth, and perhaps faces some of the most complex challenges in the world. However, for us at Akanksha, there are two fundamental issues at the heart of it.
First, the disconnect between the prescribed curriculum and real-world scenarios. Curricula across the country focus on content mastery for 'scoring' in exams from as early as kindergarten. There is little attention paid to the mastery of essential skills that encourage hands-on learning experiences, community projects, and creating products.
Second, the gap between public schools and private schools has only widened over the last three decades. Public schools, especially in urban India, are at the lowest rung in the system and are the only option for the bottom quartile of families who cannot afford to pay for their child's education. This has perpetuated a vicious cycle of deep distrust in the quality of public schools.
IM: How does the 'Akanksha School Model' play an important role in bridging these gaps?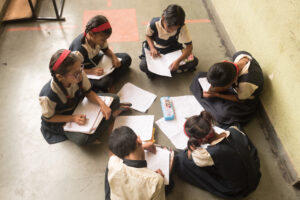 Through Akanksha's school model we aim to address these two core issues. The fundamental principle of our model is to always keep the child at the centre of education. It's based on the whole school approach, which drives holistic learning for all children. Along with academics, Akanksha also gives equal importance to social and emotional skills and building emotional intelligence for students inside the classroom as well as outside of it.
Students' interests, passions, and voices plays a central role for us in determining 'what's worth learning' for our children. And that leads to creativity and a joyful learning experience. Our children love coming to school and hence our average daily attendance across the network of 21 schools is ~97%!
At Akanksha, we also believe that an excellent education is a fundamental right of every child in our country, and can be achieved in excellent public schools supported by synergistic private partnerships. We want to prove that it is possible to achieve 'platinum standard outcomes' for children from the poorest of communities, through the provision of resources that ordinary public schools should provide (like infrastructure, cost per child, materials, textbooks, etc.) Over the last five years, our alumni have outperformed even the most expensive private schools in the cities, restoring the faith amongst parents that excellent education can be delivered to even to the poorest of communities. 
IM: What needs to be done to ensure quality education in India's government schools?
ST: Solving for quality education across all govt schools is a really complex challenge. However, there is an unequivocal agreement that it must begin by respecting the educator's duties and doing away with all responsibilities that take them away from their core responsibility: that of classroom learning.
Secondly, the current systems of 'mandatory' training for educators are irrelevant. Making them key stakeholders in determining their training needs will allow for professional development to be more personalized and relevant, leading to higher engagement and shifts in teaching behaviour. 
Finally, it has been demonstrated that genuine nonstate actors (civil society organisations, NGOs) can drive innovation at smaller scales, and then effectively collaborate with the government at larger scales too. Formulating guiding policy frameworks to encourage such public-private partnerships will accelerate the process of change in our education system.
IM: Why is it necessary for schools to focus on skill-building and employability? How does Akanksha's Alumni Support and Engagement program envision to support students?
ST: Skill building is a powerful tool that empowers all students both within academics and outside of it. It is the driving force for children and adolescents to learn in-depth about what they are good at. In the long run, it equips them to become financially independent without giving up or compromising on their ambitions. If schools are able to design a skill-building program with an aim to empower, encourage, and support the competencies of each child, then that can drive personal financial growth, and community development too.
With that belief, Akanksha's Alumni Support and Engagement program envisions to create a supportive ecosystem for all our alumni to fulfil their life goals. The program caters to all Akanksha alumni right until they become financially independent.
IM: Given the impact parents and communities have on a child's holistic development, what are some of the strategic choices made by the Akanksha Foundation to establish constructive partnerships with them?
ST: At Akanksha, parents are our partners in our drive to provide holistic learning for all children. Parents' voices are important for integration with large communities. So, Akanksha schools aim to create constructive partnerships between students, parents, schools, and the larger community to ensure that children are in a supportive and nurturing environment, both at school and at home.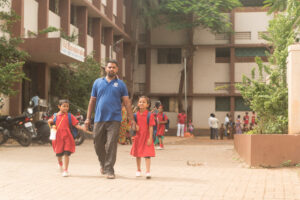 Every Akanksha school has a School Management Committee (SMC). SMCs are formed and led by parents, while social workers and school leaders facilitate and support the development of an SMC. The SMC is the backbone of Akanksha's parent engagement approach, and represents an influential set of stakeholders who help us reach the wider communities. The committees' role is to conduct intensive interventional work such as driving awareness campaigns for substance abuse, violence, and physical abuse in the communities. They also facilitate programs that raise literacy levels among parents, building awareness for proper hygiene and nutrition and women empowerment. Parent engagement also happens through programs such as parent literacy classes and parent volunteerism. The impact of Akanksha's work thus extends to the whole community.
IM: Could you tell us about your short term goals and plans for upcoming projects?
ST: At Akanksha, our 10-year goal is to impact 1 million children through excellent government schools. Over the next three years, we will set up more than 15 schools across new cities outside of Mumbai and Pune, taking our number of schools to 35, and directly serving ~15,000 children. We will also enable our student alumni to become change-makers in their own community and self-reliant.
We have also begun to lay down a blueprint for a closer partnership with the city governments of Pimpri Chinchwad (PCMC) and Mumbai to support them in improving learning outcomes for government-run schools. This is to be done through a structured professional development program for their principals and teachers, which can hopefully be rolled out to 100 schools over the next three years, serving nearly 50,000 children.
---
Featured image courtesy of Saurabh Taneja. | Views expressed are personal.