Written by Manas Dutt. 
As international limelight continues to fall on the Rohingya crisis, the UN has repeatedly stated that the displacement of Rohingya Refugees is 'a grave humanitarian crisis' and a textbook case of 'ethnic cleansing' on an unprecedented scale. In his recent address at the 72nd session of the UN General Assembly, Antonio Guterres, Secretary-General of the United Nations, described the continuing atrocities inflicted by Myanmar's military forces as a "dramatic escalation of sectarian tensions", which has left the world "shocked".
As the Rohingya issue has undergone prolonged fermentation by way of extensive political discourse and bilateral meetings, several viewpoints and perspectives of world-leaders (especially those closely associated with the crisis) have been shed a light on. This places us in a unique position to analyse this crisis against the backdrop of political posturing on the one hand and factual evidence on the other.
Scrutiny of Myanmar
To begin with, Aung San Suu Kyi's stance on the issue must be addressed. As Suu Kyi holds the mantle of Myanmar's State Counsellor and is the de facto leader of Myanmar, her take on the Rohingya crisis is of foremost importance; it brings the possibility of a long-lasting policy change which could serve as the Rohingyas' salvation. Consequently, it comes as a massive let-down that Suu Kyi, a Nobel Peace Prize laureate, has a dilly-dallying position on this issue which remains lost in rhetorical subterfuge.
Still, it doesn't take a political guru to gauge that Suu Kyi does not sympathize with the plight of the Rohingyas; instead, it appears that she believes that sustained militarization is the only far-reaching solution to the Rohingya 'problem'. This is largely due to Myanmar's failed peace process and the subsequent rejection of the government's nationwide ceasefire agreement (NCA) by ethnic militias in the country. Judging from her interviews and public addresses on the matter, her position on the problem seems resolute and stagnant, at least for the near future.
Suu Kyi's treatment (betrayal?) of the Rohingyas is in violation of the 1982 Burma Citizenship Law
This law recognizes members of the 'Rakhine ethnic group' who have settled within Myanmar's state boundaries as official citizens of Myanmar. Hence, the regime in Myanmar is legally obligated to accept all refugees back into the nation, and grant them permanent citizenship — a caveat that the Myanmar military and administration has chosen to ignore.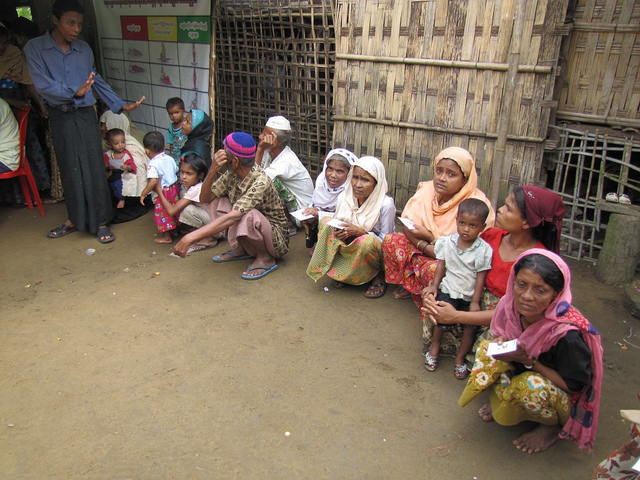 Rohingya Muslims near mobile clinics at Sittwe. Image source/ CC BY-ND 2.0
The popular claim that Rohingyas are either terrorists or are 'prone to radicalization' could not be further from the truth. At best, it is a gross over-simplification of the long-standing socio-economic challenges facing the community.
According to the final report of the UN-appointed Advisory Commission on Rakhine State (also known as the Kofi Annan Commission), the state of Rakhine is among the poorest in the Union of Myanmar. Historically, it has faced abject neglect from state authorities and presents a developmental, humanitarian and security crisis in itself. The crisis is only exacerbated by the unresolved status of a large number of currently stateless Muslims.
While there have been several uprisings against the central government by armed ethnic groups in Rakhine and the surrounding regions, this does not in any way imply that the entire community is complicit in terrorism. If anything, they are a community ousted from their own country, deprived of an identity and a place to call home as sectarian tensions escalate.
The Indian Conundrum
India's position on the Rohingya crisis couldn't be more outward. "Let me make it very clear. Rohingyas are illegal migrants and not Indian citizens. So they are not entitled to anything that any ordinary Indian citizen is entitled to", said Kiren Rijiju, Minister of State for Home Affairs, in a press conference. Further, in his address to the Lok Sabha last week, he mentioned that India's primary concern with providing Rohingyas asylum is that the nation's "demographic pattern not (be) disturbed". India has so far expressed a zero tolerance policy for the Rohingyas, even towards those with refugee IDs granted by the UNHCR (United Nations High Commissioner for Refugees).
Granted, there is no legal obligation on India's part to grant asylum to or even temporarily host the Rohingyas, as it is not a signatory to the UN Convention on the Status of Refugees (1951). This convention stipulates laws and statutes on the treatment of inbound refugees; it includes the principle of non-refoulement, which states that any country receiving asylum seekers is forbidden from returning them to a country in which they would be in any danger of persecution based on "race, religion, nationality, membership of a particular social group or political opinion".
As a non-signatory of this convention, India approves refugee asylum pleas on an ad-hoc, case-to-case basis. With respect to the case at hand, not only has the Indian government chosen to ignore all asylum pleas but has also expressed its desire to actively identify and deport all Rohingya refugees in the country.
The Supreme Court is currently hearing the petition of two Rohingyas registered as refugees by the UN, who have cited that deportation is against their fundamental rights. However, the Center has asked the judiciary not to intervene in this matter, stating that deporting Rohingyas is an "executive policy decision" and is therefore beyond the court's jurisdiction. A counter-petition has also been filed in the Supreme Court favouring the Centre's stand to identify and deport around 40,000 illegal Rohingya Muslims staying in various parts of the country, to Myanmar. In impeding the judicial process of the apex court, it is not far-fetched to say that the central government is displaying characteristics akin to a totalitarian regime.
During Prime Minister Narendra Modi's recent visit to Myanmar, he pledged his support to Suu Kyi's National League for Democracy party, citing that India "shares (Suu Kyi's) concerns about the violence against (Myanmar's) security forces". Modi also expressed his desire to "deepen the multi-faceted bilateral relationship" between India and Myanmar. He ended his speech by extending "non-gratis visas" to all Myanmar citizens "desirous of travelling to India". Ironically, no such visas have been granted to the Rohingyas, who remain destitute and homeless.
What Can India Learn From Bangladesh?
Meanwhile, Bangladesh has set a stellar precedent for India and other South-Asian countries to follow; it has provided asylum to about 800,000 refugees displaced from Rakhine. Sheikh Hasina, the Prime Minister of Bangladesh, strongly condemned military violence against ethnic tribes in Myanmar at the UNGA summit. Hasina also called for 'UN-supervised safe-zones' to be set up inside Myanmar to protect Rohingya Muslims from the military crackdown. She accused the Myanmar authorities of laying landmines on the border to prevent the Rohingyas from returning and urged Myanmar to restore peace, in accordance with the Kofi Annan Commission's recommendations.
The Way Forward
India's position on the Rohingya issue is both precocious and deleterious. On the one hand, the administration does not seem to want to outrightly condemn the excessive use of force by Myanmar's military and risk losing Myanmar's support in its anti-insurgent efforts. On the other hand, India's tacit approach to the refugee crisis will only draw strong condemnation from other nations of the free world, as it has for a while now.
One thing is for certain, owing to the geographical proximity of India to Myanmar, India cannot choose to remain neutral
India must pressurize Myanmar's government to open its borders to the Rohingyas while providing temporary asylum to refugees stationed in India. The Kofi Annan Commission has made it clear beyond an iota of reasonable doubt that the military crackdown in Myanmar presents a grave humanitarian crisis ─ one that needs to be dealt with internally.
By choosing to ignore the findings of the Kofi Annan Commission and playing ally to Myanmar's administration, India is complicit in the war-crimes perpetrated against the Rohingyas. Sooner or later, it will have to confront the statelessness of inbound refugees continually flowing in through its porous borders. By simply exiling the refugees stationed inland, India has chosen to ignore a fundamental problem: where else will they go?
Featured image from aRockefeller/ CC BY-SA 2.0