"I'm pleased that my role allows me to support teachers by identifying their innovative ideas and recognising their contributions."
Manjula G.S. is the Block Resource Person (BRP) for Bagepalli Block of Chikkaballapura district in Karnataka. Previously an innovative and engaging teacher herself, Manjula was asked to lead some of her school's teacher training programmes. She grew to enjoy the opportunity of working with other teachers,  so when the opportunity to apply for the role of BRP came up, she was keen to take it up. Manjula is now responsible for school improvement in Bagepalli, and is supported in this role by 22 Cluster Resource Persons (CRPs).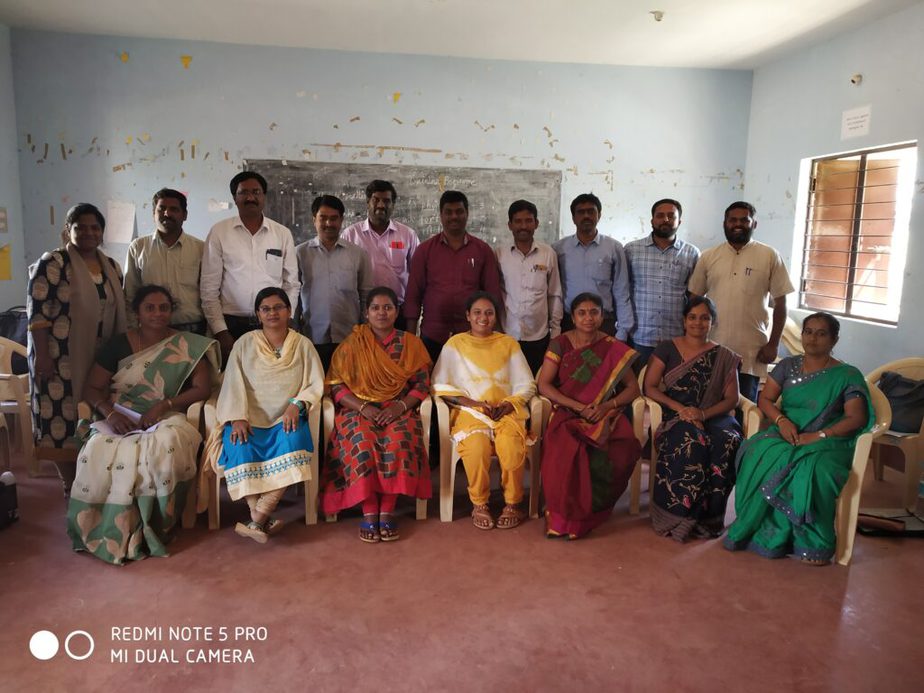 CRPs are teachers who have been appointed to manage academic and administrative activities at a cluster level. Together, Manjula and her team of CRPs provide training and support to the 565 teachers in Chikkaballapura's primary and upper primary schools—who go on to impact the learning of 8,700 children. 
This structure is not unusual—most states in India operate with a similar structure of officials in place, who provide the backbone of education administration in the heartland. But for many of these officials, there is a lack of clarity about their roles and responsibilities. Research by the international NGO STiR Education found that they are often required to respond to multiple programmes and situations, ultimately creating impact in only a portion of them.

Chikkaballapura is different. It's one of seven of Karnataka's 31 districts whose education administration is supported by STiR. Through their programme, delivered since 2017 in partnership with the Department of State Educational Research and Training (DSERT), all primary and upper primary teachers in these districts attend monthly 'sharing meetings' at the cluster level, facilitated by their CRP. Teachers from approximately 10-15 schools meet to share and learn from their teaching experiences on a regular basis.
Says Manjula, "before STiR came to my district, our training sessions were unstructured and highly dependent on the CRPs. When I heard about these meetings, I thought that they could be a great opportunity for teachers to come together on a regular basis to share their achievements, challenges, and to support each other. It has also provided me with a platform to interact with and support all of the teachers in my block."
Developing role-models at all levels
Getting the CRPs to conduct these meetings was initially an uphill battle. Unlike traditional lecture-style training sessions delivered in the state, these meetings offered a number of activities designed to engage participants in experiential learning, including role play and group discussions. Many of the CRPs were hesitant to adapt to these different methods and as a result, some started to miss out on training sessions at block level altogether. As a result, the quality of their sharing meetings was low, and teachers were disengaged by the content and were not improving their skills in classroom practice.
Manjula soon realised that "the only way to motivate the CRPs was to change their mindset about facilitation during meetings, to support them in understanding the purpose of sharing meetings, and to help them plan effectively for the meetings." To this end, she began to "role-model a few aspects of innovative facilitation by using an online platform to gamify the training content. This increased the curiosity and interest of the CRPs, and they wanted to try the same techniques in their sharing meetings with teachers. Over time, I saw their confidence increase and their facilitation skills improve. Most importantly, I observed them exploring new and innovative ways to facilitate meetings on their own."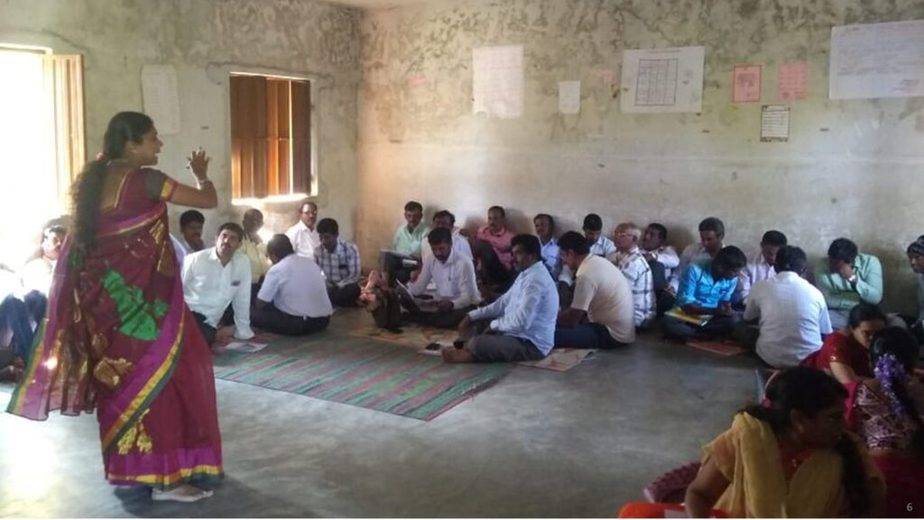 All of these efforts have led to improvements in the quality of sharing meetings across the entirety of Chikkaballapura. CRPs are now more open to giving and receiving feedback, want to perform better at facilitating sharing at the meetings, and have created a culture of peer support. While some teachers initially felt that the programme wouldn't significantly impact their roles, In a recent survey conducted by STiR, 85% of teachers from Bagepalli block reported that they have received specific developmental feedback, and 70% feel that they are consistently recognised for their efforts.
Most importantly, these positive changes in the CRPs have had a great impact on how teachers themselves feel about sharing meetings. "Sharing meetings are now one of the most important platforms for them to discuss academic practices and support each other, and they look forward to them each month," Manjula says. "They see the meetings as a platform to improve professionally, and they want to engage more with content-related discussions and participate effectively in all activities." 
Manjula herself notes "a positive shift in teachers' attitude towards teaching and student engagement. This programme has also helped me to improve my own confidence and facilitation skills. I was very motivated when I was asked to be part of a Design Taskforce at the state level alongside senior district officials, which now gives me an opportunity to contribute to the programme design. I feel proud that I have been able to support the development of content [such as teacher training modules] which is even more contextualised to the needs of my teachers."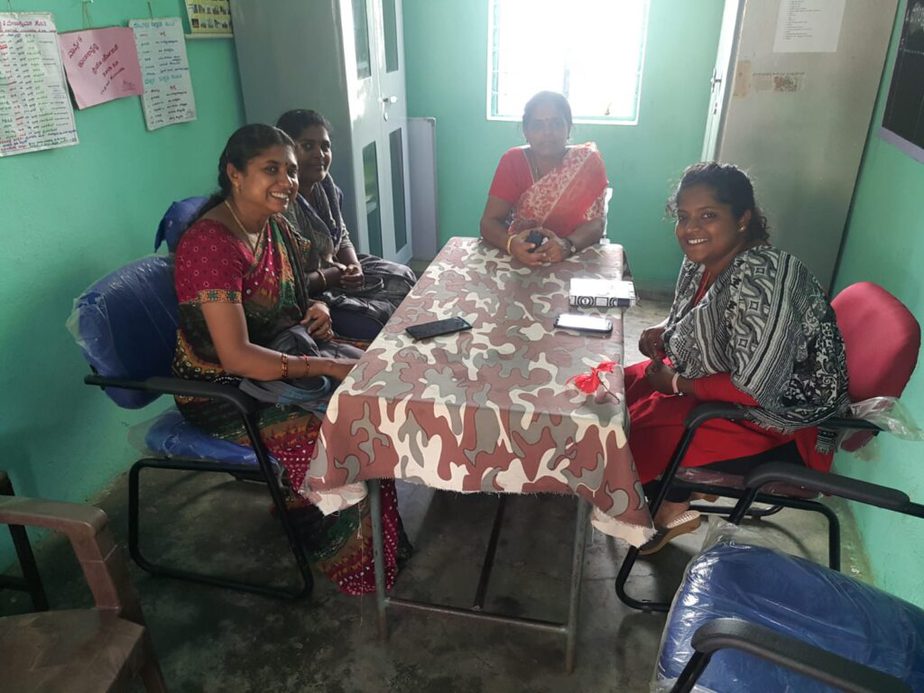 Continued support during COVID-19
During the past few months, COVID-19 has prevented sharing meetings from taking place. But STiR's support for district officials has continued through the provision of online modules for their ongoing professional development, comprising videos, reading, and virtual meetings. Training has been provided to prepare officials for remote engagement and also to support their social and emotional wellbeing. Officials are now planning for their transitions back to school, and the support that they will need to provide teachers during this difficult time. 
You May Also Like: Who Teaches the Teachers? Developing teacher mentors for quality education
While the past few months have been very challenging for every teacher, both personally and professionally, Manjula says, "the consistent support from STiR has been motivating. I have now started to conduct meetings and regular check-ins using Google Meet for the first time. I have also been able to extend my support to the CRPs and teachers in my block, keeping in mind the principles of effective facilitation and ensuring that the meetings are fun and engaging. I now feel convinced that we can make a difference despite the challenges facing education today."
STiR Education currently works in Delhi, Karnataka, and Tamil Nadu. They believe in a world where every child develops a love of lifelong learning. You can find out more about their work here.
---
Featured image: Manjula and her BRPs at a training session; courtesy of STiR Education.