All eyes were on the Union Budget, announced on February 1, to see how expenditure towards healthcare would be allocated during the ongoing pandemic—this includes not only physical health, but also, mental healthcare. Terms like "mental well-being" and "anxiety" featured in the Finance Minister's budget speech, indicating the profound impacts of living through a once-in-a-century pandemic. 
While the healthcare budget for 2021-22 has been increased by 137%, the National Mental Health Program (NMHP) has once again been allocated ₹40 crores. It remains to be seen if this amount is efficiently and fully utilized. Moreover, if past trends are anything to go by, the actual expenditure on mental health is abysmal and at times even lower than 7% of the total allocation.
This is concerning because, in the wake of COVID-19, deteriorating mental health is a shadow pandemic—more individuals are experiencing mild to severe psychological concerns owing to rapid and sustained changes to what was once 'normal' life. This situation is made worse by the poor state of mental healthcare and awareness in India in general.
According to a 2017 Lancet study, 1 in every 7 people in India had a mental disorder ranging from mild to severe. Additionally, with only 0.29 psychiatrists per 100,000 people, India faces a severe treatment gap in meeting mental health care needs; the situation during COVID-19 times is likely to have only gotten bleaker. 
Although the government launched the multilingual mental health helpline Kiran in September 2020 to address emerging and ongoing mental concerns, the question of true parity between mental and physical health remains. Budgetary allocations in terms of absolute amounts are one route for such a comparison; however, do we have requisite frameworks in place for the efficient and efficacious use of such allocations for mental healthcare?
What the 2021-22 Budget Says About Mental Healthcare
Allocations toward health and wellbeing increased to ₹2.2 lakh crore from ₹67,112 crores last year. An additional ₹64,180 crores were allocated towards a new centrally sponsored scheme—the Pradhan Mantri Atma Nirbhar Swasthya Bharat Yojana—to spend over six years. The Yojana will focus on improving the capacities of primary, secondary, and tertiary healthcare systems in addition to those of the National Health Mission. 
It is clear that the government is cognizant of the need to strengthen health infrastructure in India. However, what seems largely undiscussed is whether and how cracks in the Indian mental healthcare system will be addressed. This year's healthcare budget, although substantially increased, did not guarantee a commensurate increase in mental healthcare expenditure. This has also been demonstrated by previous years' budgets, where an increase in total spending was not directly linked to increased mental healthcare spending.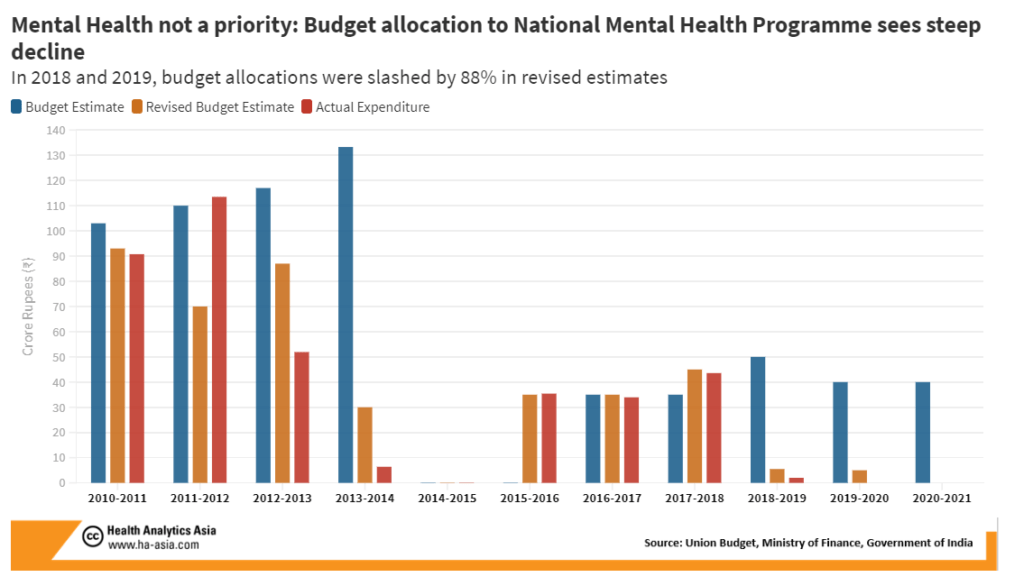 There are two reasons for this caution. Firstly, the expenditure on mental health in India is unreasonably low and has been slashed in the last two years as well. The parliamentary standing committee on health and family welfare in a report dated 3rd March 2020 took serious note of the fact that the budgetary allocation of ₹40 crores to the National Mental Health Policy was later slashed to ₹5 crores. It also pointed out that "considering the burden and stigma attached to mental healthcare in the country, the need of the hour is to lay greater emphasis on strengthening and promoting mental healthcare." The government does not seem to have paid heed to these concerns.
More importantly, the quantum of the budget allocated toward the NMHP will only be of significance if it is efficiently utilized. This is where matters get complicated: the Act, the Policy, and the NMHP/DMHP vary in their core objectives making it difficult to streamline spending.
A (Brief) Overview of Mental Healthcare Policies in India in the Context of the Budget
The government has various policies in place to bolster mental healthcare. Although the MHA and the NMHP have certain similarities and other unique features, their functions, tone, and overall aims do not complement each other, resulting in inadequate mental health care as well as a lack of accountability. This implies that the budget allocated toward NMHP is only spent on limited as well as unenforceable objectives.
The National and District Mental Health Care Programmes (NMHP and DMHP) were introduced in 1982 and 1996 respectively to establish better mental health infrastructure across the country. Their objectives include providing universal access to mental healthcare, increasing mental healthcare services for educationally or socially backward sections of society, as well as reducing the risk of suicide. Moreover, the NMHP focuses on the availability and accessibility of basic mental healthcare for all, especially for the most vulnerable sections of the population, and on promoting community participation in mental health service delivery. The focus of the DMHP is on early detection and treatment, training, and generating public awareness. 
The National Mental Health Policy (2014) (NMHPolicy) is a relatively recent policy that describes the aims and objectives of the government towards strengthening mental healthcare. Then there's the all-important Mental Healthcare Act (MHA, 2017) which outlines the duties of the government, safeguards persons with mental illnesses by explaining their rights, and lays down rules for mental health institutions and practitioners.
Chapter V of the Act provides for the rights of persons with mental illnesses, which puts a duty on the government to provide for and protect those with mental illnesses. 
Some of the important duties mentioned in the Act are: increasing outpatient services and improving the quality of inpatient services, creating services that support families of persons with mental illness or home-based rehabilitation, as well as the integration of mental healthcare services with general healthcare services at all levels.
The Shortcomings of Policy Execution
While acknowledging that the Budget 2021-22 is taking steps towards improving health infrastructure, the past track record of severe implementation gaps in mental health policies must be considered and measures for accountability need to be established. For example, the MHA was enforced in 2018, but the Mental Health Review Boards under the Act were not established until 2020, except in a few states and even now, many are not operational. 
The NMHP has also often been criticized for its lack of awareness-building activities, or, insufficient use of the budget allocated toward IEC (information, education, communication). From the initial 4 districts that were covered under the DMHP in 1996, although coverage was increased to 123 districts with an increased budget of ₹339 crores in the 11th 5-year plan (2007-2012), both programs have been frequently criticized. Critiques point out to slow uptake of projects, underutilization of funds under the lack of stable leadership, and delays in implementation. 
2. People with depression are not "drug addicted". No evidence from research studies.
How do I make these assertions so confidently?
NIMHANS carried out National Mental Health Survey for Govt of India. 2016. 10 states, 68.8% rural sample. Look at rural rates of depression ? ++ pic.twitter.com/sxH3aYhf0F

— Dr Soumitra Pathare (@netshrink) September 12, 2020
The 10th and 11th Five-Year Plans (2002-2012) also included developing centres of excellence for mental health and a manpower (personpower) development scheme, that is, developing mental health hospitals, upgrading post-graduate departments of psychiatry in colleges, increasing seats in psychiatry and clinical psychology, and hiring more trained faculty. However, there are no recent studies or official data assessing the impact of personpower development schemes. In 2009, a study conducted by the Indian Council for Market Research evaluating the DMHP flagged several problems with its implementation in spite of the Five-Year Plan, which included a shortage of trained professionals, difficulty in retaining staff, inaccessibility of and low utilization of funds, delays in initiating programmes among others. 
The Pradhan Mantri Atma Nirbhar Swasthya Bharat Yojana introduced in the Budget 2021-22, will focus on improving the capacities of primary, secondary, and tertiary health systems in addition to the National Health Mission. The Mental Healthcare Act indicates that it is the duty of the government to integrate mental health systems into general health systems at all levels, it is yet to be seen if this new capacity-building measure envisions initiating this integration.  
However, if the new scheme implements this integration, it will also have the opportunity to converge the objectives of the Act, the Policy and NMHP/DMHP and bring it all together, by establishing an inclusive programme for overall health and well-being. The scheme can be harnessed and implemented in a way that acknowledges and addresses parity between mental and physical ailments Further, the objectives of capacity-building, improving inpatient and outpatient care, and emphasizing treatment modalities for vulnerable sections mentioned in the act, policy, and programmes are appropriate avenues of expenditure on mental healthcare, via the scheme. 
What Next?
Legislation has come a long way since the Indian Lunacy Act (1912) and numerous positive strides have been made toward building mental health systems, including the introduction of mental health insurance. That being said, there continue to be lacunae in both policies and the implementation of adequate healthcare services. Indian mental health and general health care policies have consistently focused on increasing accessibility and building health infrastructure; the next logical step should be to focus on the quality of this infrastructure. It is recommended to synthesize the roles of the Act, the NMHPolicy, and the NMHP to increase outreach as well as the standard of health care. 
In addition to improving the quality of infrastructure, bolstering resources for outpatients, who make up a much larger proportion of people requiring mental health interventions, and increasing awareness of available mental healthcare services is vital. Research has found that for every 20 Indians requiring inpatient care (that is, hospitalization in a psychiatric hospital), about 80 require outpatient care (that is, psychotherapy). Given that most insurers do not cover psychotherapy, curtailing access to mental healthcare, this situation will only worsen in the absence of generous funding. Increasing accessibility to mental health services needs to occur in conjunction with awareness campaigns to make the general public understand that mental health is no different from physical health. Providing access without addressing deep-rooted discrimination and stigma associated with mental illnesses in India is an incomplete strategy. 
Perhaps the indication of true parity will be revealed in a future budget speech, where all health is focused on, not just physical. For now, it remains to see if and how the new scheme in healthcare integrates mental and general healthcare. 
---
Featured image: a vendor in Mysuru, Karnataka, courtesy of Syed Ali on Unsplash.