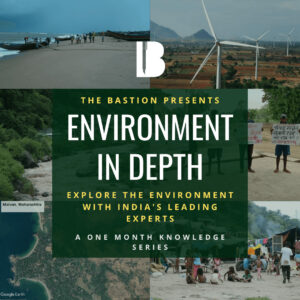 There seems to be a lot happening in the environment sector. Whether it's the new Environment Impact Assessment 2020 draft, or the links between the COVID pandemic and our deteriorating relationship with natural resources, the environment as a sector has made its way into many (albeit not enough) on-going discussions. The discussions often give the scope of understanding a wide range of issues, but can we also create opportunities to go deep?
The Bastion brings you an opportunity to understand the deeper layers of some core issues in the environment, with a one-month knowledge series, "Environment in Depth," brought to you by experts in this field. Through a combination of hands-on training and knowledge sharing, this series would aid the participants with tools, information, and resources available to keep the "green" conversation going. Over 8 sessions, the series would help develop skills to access environmental information and data, introduce you to GIS Mapping, and help understand the role of media as a tool for policy advocacy.
Curated for (but not limited to) young students, journalists, researchers, development and policy practitioners with a keen interest in ecology and environment, this workshop would provide different lenses to view through, and a new set of skills that will help you navigate in environment-related work. These sessions will be delivered by some of India's leading researchers, policy professionals, journalists, filmmakers and more:
For a detailed description of the entire event, including a schedule, please check this document. 
Before purchasing the tickets, please ensure you have filled this form.
Purchase your tickets here!
Season Pass (Rs. 1599/-)
Sold Out
Week 1 (Rs. 599/-)
Sold Out
Week 2 (Rs. 599/-)
Week 3 (Rs. 599/-)
Week 4 (Rs. 179/-)
Sold Out