This article is the second instalment of a two-part series on the National Digital Health Mission. We look at the best practices required to scale digital health in a democratic, inclusive manner. Click here to read part one.
"Your every test, every illness, what doctors prescribed and when, your reports will be on a

single health ID

." 
This sounds like lyrics taken from The Police's "Every Breath You Take" hit, but it isn't. These words were delivered by Prime Minister Narendra Modi, who launched the Draft Health Data Management Policy (HDMP) as part of the National Digital Health Mission in August this year. The HDMP sets out the government's intention to assign unique health IDs to citizens and healthcare providers, digitize patient medical records, and establish a decentralized database of health records that shall be accessible to doctors and hospitals across the country. In the previous article in this two-part series, we explained how the HDMP's current layout impacts not only the fundamental rights of people, but the functioning of the healthcare system too, which is in dire need of a systemic revival. 
But, there is more to digital health records than meets the critical eye: patient data will form the building blocks of an improved healthcare system. How can this new framework for healthcare be operationalised responsibly? Can collaborating with the private sector help achieve the digital goals for the health sector envisaged by the government?
How can universal health coverage be achieved then? By focusing on the building blocks.
While the HDMP adds yet another ID in the Indian governance ecosystem, whether this will create a robust e-health environment is yet to be seen.
First and foremost, any digital identity system requires reliable infrastructure. Technology may be useful when it comes to creating and storing electronic health records for quick and easy retrieval, however, establishing a networked database where computer systems seamlessly interact with each other as they transfer sensitive data is a necessary precondition for success. Countries across the world are adopting digital tools to provide e-health services; some, such as Estonia, are using blockchain technology, while countries like Denmark have set in place national standards for healthcare interoperability.
The bottom line: not only should primary health care centres be given increased budgetary resources to improve facilities, people operating in the healthcare industry must follow uniform standards and measures for the collection and processing of data, which also factor in patient privacy in compliance with the existing laws. 
However, in India, this is a time-consuming process and may not be an adequate short-term solution for India's complex healthcare system. It is often infeasible for those maintaining and updating medical records such as doctors, nurses, and lab assistants, who have in the past, relied solely on paper-based records, to suddenly transition to a digital system.
For example, back in 2016, the MoHFW notified the Electronic Health Record (EHR) Standards, which require clinical establishments to maintain uniform systems for the storage of health data. This was ostensibly done as the adoption of EHR standards will bring about homogeneity in health records and in turn, enable easy interoperability. After all, at the primary care level, the medical workforce still relies on paper-based records and there is a near absence of digital health records, hampering medical treatment.
? Presenting 'Electronics Health Records (EHR) in India' #CaseStudy.

Meet Abhishek, a PGP student @IIMAhmedabad who delves deeper to understand how medical records have been evolving in India.

?#CaseStudy available at ?? https://t.co/QMf3UvG2Hx pic.twitter.com/JTegX33wCp

— CIIE.CO (@CIIEIndia) September 10, 2020
However, clinical establishments across India are slow to implement them so far. Kerala is the only Indian state to have successfully collected EHRs of over 2 crore residents through its eHealth project. This larger scenario may be due to the lack of incentives for practitioners to transition from older paper-based systems, and the burgeoning costs involved in the adoption of EHRs.
Similar to the United States, India may consider providing incentives to EHR adoption so as to enable doctors and healthcare centres to upgrade their existing systems. At a national scale, the large-scale integration of computer systems will require sound technical knowledge, an understanding of the limitations of the healthcare system, and concerted efforts by the state to train all stakeholders on how to securely navigate the HDMP's portals. However, India's poor GDP spending on health, especially noticeable during the pandemic, will make achieving interoperability through digitization an uphill battle.
But, where does the private health sector come in?
Without pre-conditions such as an operational data protection law and capacity-building measures in place across the primary, secondary, and tertiary healthcare levels, a digital health ecosystem is bound to raise concerns and undermine public trust in technological tools used for social welfare and universal coverage.
So, given that patient data will form the building blocks of the digital healthcare system, the onus to inform patients about how their data is collected and protect it will be on the healthcare providers. 
Given that the private healthcare sector in India is twice as large as its public counterpart, the regulation of private establishments providing healthcare services and handling large datasets is crucial for a unified e-health platform. To this end, private companies dealing with patient data may need to mandatorily share such data with the government (as envisaged in the Draft Personal Data Protection Bill, 2019, as well as the Report on Non-Personal Data) to ensure that information is not collected in isolation to the detriment of any individual's or group's interests. There are some benefits to this.
A very important success of engagement with private sector for treatment of TB from state Kerala, India.anti TB Drug sale surveillance Data proves more patients in private are now placed on RNTCP drugs. Congratulations to the Team https://t.co/vJyp7mYGvK @StopTB @LucicaDitiu

— Dr Sreenivas A Nair (@sreenivas_nair) October 7, 2019
While private companies may own the intellectual property rights in certain clinical data, such aggregated and de-identified data, if shared with the government, can help assist its efforts in clinical research and development, which are essential for policymaking and improving the reach of public healthcare. For this, a regulatory sandbox, or a secure and controlled environment, should be allowed for experimenting with commercial and public health data, so as to mitigate any privacy risks that may surface. Since health data is classified as highly sensitive information, any such exercise should also be undertaken only after obtaining patient consent. However, if such collaborations come to fruition within set parameters, they could go a long way in improving the delivery of healthcare to all.
You May Also Like: Group Privacy and Data Trusts: A New Frontier for Data Governance?
The private sector also has a role to play in supplementing the State's infrastructural shortcomings. In the era of artificial intelligence and machine learning, governments worldwide are partnering with private players for the delivery of public goods, including healthcare.
For example, Portea Medical, a Bangalore-based health start-up collaborated with the Karnataka government to launch a telemedicine service to diagnose COVID-19. Similarly, TCS is providing the easy-to-use digital solution for the Central government's Pradhan Mantri Jan Arogya Yojana (PMJAY), the world's largest health insurance programme, aimed at providing members from economically vulnerable communities with healthcare funding.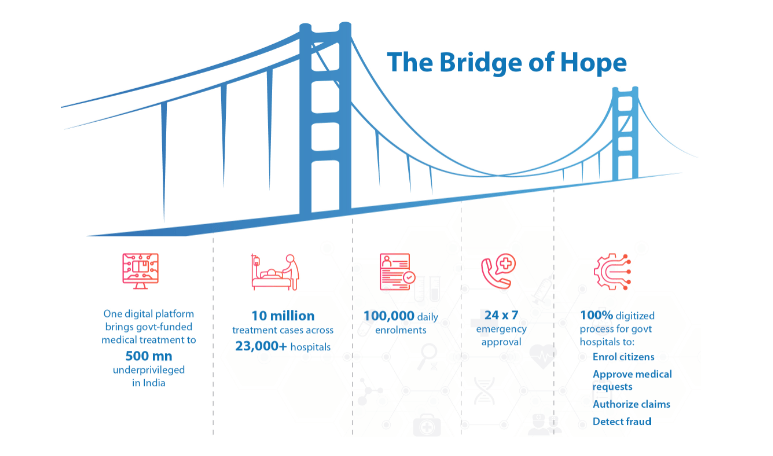 The reach of this assisted delivery is evident: As of October, the PMJAY has issued more than 12 crore insurance cards across 32 states and union territories. Additionally, since March, over 5 lakh hospital admissions in PMJAY empaneled hospitals have been authorized for the treatment of COVID-19 alone. Over two years, treatment worth Rs. 15,000 crore has been disbursed to beneficiaries across the country, with claims under the scheme only falling during the government lockdowns imposed this year.
Scaling these collaborations can significantly improve the last mile reach of the government's efforts to universalize healthcare, while also harnessing innovation, reducing costs, and increasing efficiency.
Building Digital India's Digital Health System
Yet, though public-private partnerships in digital health may have their benefits, any such project must impose stringent accountability measures and obligations on private players to adopt a welfare approach and ensure patient well-being. This will not only empower patients and allow them to exercise control of their data, but will also prevent the creation of a "marketplace" of health data by the private sector.
Similarly, the government also ought to recalibrate its methods of assuring quality public healthcare to all, and avoid using any excessive measures that may impinge on fundamental rights and adversely affect patients. While working with private firms and using their data for the development of a more efficient healthcare system, the government should be mindful about the ownership of such data and avoid the "nationalisation" of data, which will deter private players from sharing their much-needed technical know-how. 
You May Also Like: The Non-Personal Data Report: Do We Really Need Another Data Regulator?
As nations grapple with this unprecedented health crisis, new and scalable strategies to fight COVID-like pandemics must be formulated with sufficient stakeholder consultation, so as to enhance profitable investments in health technology (such as artificial intelligence and big data), and provide quality healthcare to citizens across strata. Most importantly, as the number of cases increase, the government and private sector must work together to ensure that patients are no longer denied their right to life due to an underperforming system–however, protecting this right to life must not come at the expense of a sound digital health policy. 
India's new digital landscapes require new, flexible regulations—but, how do you develop laws for unchartered terrain? For some answers, click here to read more under 'Regulating for a Digital Future', curated by The Bastion and the Centre for Communication Governance, NLU Delhi.
The Bastion is happy to announce a new Technology vertical, where we'll be covering how the future intersections of tech, policy, and society will affect India's development journey. To read more of our technology coverage, click here. Interested in writing for us? Click here to read our submissions guidelines. 
---
Featured image courtesy of SJ Objio on Unsplash. | Views expressed are personal.