Subedar Anandan Gunasekaran is not a well-known name amongst Indian sports fans. 12 years after surviving a mine blast where he lost his left leg, and despite being on the wrong side of 30, the 400M Asian record holder is now on a quest for the ultimate prize of winning a medal for India at the 2021 Tokyo Paralympics. In these difficult times, his journey is a constant reminder to all of us that nothing is impossible.
Anandan is well-acquainted with adversity. Hailing from the temple town of Kumbakonam in Tamil Nadu, he was born into a poor household. With a father who did many odd jobs to provide for his mother, sister and himself, Anandan took up the responsibility of contributing to his family's income by the time he was nine years old. Every day, little Anandan would wake up at 3:30 AM and deliver newspapers via a 15KM route on his cycle. Looking back now, Anandan believes this routine instilled great character and discipline in him — traits that have helped him immensely through his army life and sporting career.
Cycling every day to complete my paper route played a big role in developing the muscles in my lower body early on.
— Anandan Gunasekaran
Despite his tough upbringing, like most children, little Anandan loved the outdoors and playing sports with his peers. He was a gifted athlete and quickly found his footing with athletics. He started competing at state-school events and was dominating the circuit in multiple track and field disciplines very soon. In high school, Gunasekaran became a regular on the national circuit as well, representing the state of Tamil Nadu in sub-junior and junior categories.
A Step that Changed His Life Forever
Fuelled by his desire to serve the country and the need to fulfil certain financial obligations, Anandan decided to apply to the Indian Army after graduating from school. In 2005, he joined the Madras Engineering Group (MEG) as a Sepoy, which is an entry-level rank for non-commissioned officers. Soon, he became a part of the Army Athletics Team. One thing led to another, and after three years of competing, Gunasekaran decided to volunteer for active duty, which is a decision that would change his life forever. 
On the 4th of June 2008, Subedar Gunasekaran was posted in the Nowgam Sector of Jammu and Kashmir's Kupwara district, as part of a patrolling party that was returning after conducting checks at the Line of Control.
"I remember it being a very snowy day. We were just trying our best to complete the routine check and return to base as soon as possible. Visibility was really low, and I stepped on a mine under the snow. I distinctly remember the loud sound of the blast… my ears were ringing, and I was completely covered in snow. It was my army brothers who dug me out and carried me back to base", says Anandan as he recalls that day.  
Anandan survived the blast, but his left leg had to be amputated. He was later transferred to the Artificial Limb Centre at the Army Hospital in Pune, where he began his rehabilitation. Losing a leg would end the sports career for most, but just during his rehab, Anandan found inspiration in the story of the famous blade runner, Oscar Pistorius.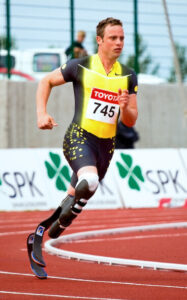 "I read his story while scrolling through a sports magazine, and I couldn't sleep that day. In a time of fear and uncertainty, I had found belief and goals to look forward to," says Anandan.
Just six months after having his leg blown off by a mine, Anandan was running again; only this time, it was with a wooden leg that had been issued to him. In fact, Anandan holds a remarkable feat of running 2.5km in 9 minutes and 58 seconds using that wooden leg at the Mumbai Marathon. For perspective, this is the standard fitness test for able-bodied induction in the army.
A Little Help Took Him a Long Way 
Pursuing para-sports is an expensive affair. Equipment alone demands a significant amount of investment. In Anandan's case, running with an amputated leg required a specially designed prosthetic blade that costs ₹5 to ₹6 lakhs. Initially, without the requisite support, he began competing at events with the help 6kg wooden leg that would often chafe his skin after 3-4 days of use. He would then take some time to recuperate for a few days and go back at it. After seeing his relentless competitive drive, members of his contingent at MEG bought his first blade in 2014, and in the same year, he won the 200m Gold Medal at the Paralympic Grand Prix in Tunisia.
In 2017, he was selected by GoSports Foundation to be a part of their Para Champions Programme, instituted to bring structure and planning to the Indian Paralympic movement. The programme currently supports 46 of India's emerging and elite differently-abled athletes and is funded by IndusInd Bank and Sony Pictures Network India, as part of their Corporate Social Responsibility initiatives. Through the programme, Anandan has received support in terms of financial stipends, equipment (including two prosthetic blades), training gear, competition expenses, nutrition, physiotherapy, sports science sessions, etc.
"Our focus has always been towards the holistic development of the athletes and building a support structure that allows them to excel at the highest level. We want their stories to change the narratives around differently-abled athletes, and give them a platform to ultimately be role models for their community" says Deepthi Bopaiah, Executive Director at GoSports Foundation in Bengaluru.
Ever since his first victory, Anandan has gone on to win multiple medals in the same edition at the 2018 Asian Games (400M – Silver Medal and 200M – Bronze Medal)  and 2019 World Military Games (Gold Medal – 100M, 200M, and 400M), feats which seemed impossible to him even when he was competing as an able-bodied athlete.
Great meeting the talented Anandan Gunasekaran who won a Silver and a Bronze in Men's 400m and 200m respectively at the Asian Para Games 2018 in Jakarta. My best wishes for all his future endeavours. pic.twitter.com/QLMdzGaTrd

— Narendra Modi (@narendramodi) October 16, 2018
Anandan now has his eyes now firmly set on qualifying for Tokyo and putting on a show at the biggest stage. Being 33 years old, this will most likely be the last shot at the Paralympic medal.
Changing Perceptions and Pushing Boundaries
Despite winning multiple medals for his country, the stereotypes associated with being differently-abled impacted Anandan's personal journey as well. When he wanted to marry the love of his life, he was met with rejection from her family, who did not take kindly to his injury. Consequently, they had to elope and get married without the consent of the family. This initially bothered Anandan, but they slowly came to accept him as they watched him excel with para-athletics and become the Army's first and India's fastest blade-runner. Today, he says they are proud of their son-in-law's achievements.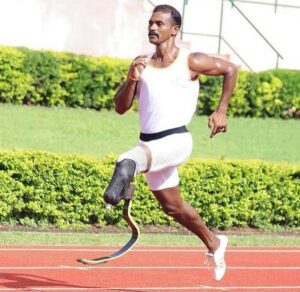 Colonel Rakesh Yadav, the Commandant at the Army Sports Institute in Pune, where Anandan is currently training, says Subedar Anandan Gunasekaran epitomizes the spirit of an Indian Army man. "It is heartening to see one of our war veterans excelling on the international stage, and we hope that he continues to do many more great things going forward", he says.
The Army has taken good care of their war veteran and has been supportive of his para-athletic journey. After his achievements at the 2015 World Military Games, Anandan was promoted to a Junior Commissioned officer in the Indian Army and holds the rank of Naib Subedar. "Our attempt will be to provide the best pathway that enables elite athletes like him to reach their best potential and ultimately help put India on the world sporting map", adds Colonel Yadav.
Anandan believes that nothing good comes from dwelling on why he suffered an accident. Instead, he is grateful to be in a position to give back to his community and play his part in changing societal notions.
"Although I am in my room most of the day due to the restrictions, I am focusing on the things that I can control. I am taking care of my body, following my nutrition plan, and continuing to train as per my regime", says Anandan over a phone call.    
After retiring, Anandan plans to open an academy for differently-abled athletes and pass on his learnings to the next generation. He believes that most able-bodied coaches are unable to cater to the needs of these athletes and that his experiences will be valuable in helping others like himself excel at the highest level.
Anandan's ability to convert adversity into opportunity and success is a story of resilience. The hope is that it will inspire many more different-abled athletes to pursue their dreams, and use the power of sport to help change the attitude towards disability and Para-Sport.
Established in 2008, GoSports Foundation is a national non-profit organization working towards the development of some of India's most talented emerging and elite athletes who compete in Olympic and Paralympic disciplines. Anyone can play their part by contributing towards the journey of many athletes like Anandan by visiting https://www.gosportsfoundation.in/get-involved