Written by Vaishnavi Rathore | Names of all respondents have been changed to protect identity.
At 9.30 every morning, Nirmal walks down from her rented accommodation on the fourth floor of her flat in East Delhi's Ashok Nagar to the main road. In the company of other residents, she waits for the Delhi Jal Board (DJB) water tank to arrive. She fills water into two buckets and two jerry cans—this water will be used throughout the course of the day for drinking, cooking, and sometimes, bathing. She then lifts the filled vessels up to the fourth floor, in two trips. She has been repeating this routine for the past 20 years.
"We have a tap for the supply ka paani inside the house," comments her friend Rita as she takes a breath before heading home with her buckets. "But it's just a tap and has never seen a water connection." 'Supply ka pani,' or supply water is the term commonly used to refer to the water supplied by the Delhi Jal Board. 
This is seven years after the announcement of 20,000 litres of free water to each household in Delhi by the Aam Aadmi Party (AAP) government.  Here in Ashok Nagar, this scheme has bypassed families like that of Nirmal and Rita for a simple reason—they are tenants.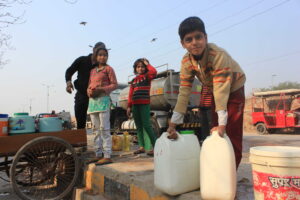 "This free water scheme must be benefitting our landlords, but the only source of water that our building has is from the private bore well, which is not fit to drink." Ashok Nagar is one of the 1,731 unauthorised colonies in Delhi, and Nirmal and Rita are part of the 28.2% of Delhi's population that lives in rented accommodations. In most of these areas, the landlords benefit from the subsidies while still charging, and oftentimes overcharging, the tenants. 
Now, as AAP swept Delhi again this Assembly Election securing 62 seats in the 70 member House, attention needs to be focused upon tenants, so that they too benefit from the 24×7 drinking water supply promised in the party's manifesto.
Landlord's Last Word
A similar story resonates in East Delhi's Dallupura, also an unauthorised colony, just adjacent to the high-income residence of Vasundhara Enclave. Apart from externally sourcing their drinking water, they also have an additional worry—they are overcharged for their water supply, at rates decided by their respective landlords.
"For the Jal Board's supply water, each house from our colony has to pay our landlord ₹ 50 for two buckets," says 18-year-old Sahana, who lives in a rented one-room accommodation with her mother in Dallupura. She whips out their monthly bill: a small piece of white paper, with the household head's name on the top followed by the electricity, rent and water charges–all handwritten, with no signature or a stamp.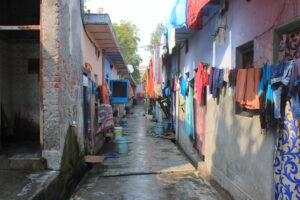 For Sahana's colony, two sources meet the needs of water—one, the private borewell of the colony, and two, the Delhi Jal Board supply through a common tap. Both are let out for an hour in the morning and evening. They pay separately to use both. "But we cannot use the supply water for drinking," pitches in Anjali, her neighbour. "Sometimes it is yellow. And other times it smells.  
Last year in November, a report by the Bureau of Indian Standards (BIS) placed Delhi-NCR at the bottom of a list ranking 20 cities based on water quality. One of the non-conforming water samples was from Ashok Nagar. This finding was critiqued on the basis of the methodology used, and was countered by a report by the Delhi Jal Board. The DJB tested 4,200 samples for water quality, and found 98% of them fit for drinking.
Nevertheless, the tenants in Ashok Nagar end up either buying drinking water for ₹ 25/litre from private sellers, or lining up in front of the water tankers. For Dallupura, no DJB tank has ever made its way here. "For drinking water, we spend about ₹600 every month," says Anjali.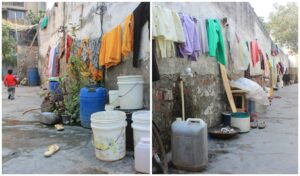 In the case of electricity too, the landlords in these areas have the last word. They ask the tenants for a bill based on calculations as high as ₹10/unit, whereas that of the government starts from ₹4/unit. "In the summers, our electricity bill goes as high as ₹2,000 per month which is almost equal to our monthly rent," says Sahana, whose heaviest electrical appliances in the house include a cooler and a television.
"Lekin yahan rehna bhi majboori hai (we are helpless, we have to stay here)," Anjali says. "We have tried having a sit-down with our landlord and asked him to charge us according to the correct rates, but they just say if you are not comfortable with this, then leave." As the tenants pay exorbitant amounts for two resources they could have claimed subsidies for, it leaves a question to be answered: who really is gaining from these subsidies?
Subsidies (Mis)used 
"A common water bill for the society of about ₹ 27,000 used to come earlier," explains B.K Jha, an official in the administration of Vishwakarma Apartments, Vasundhara Enclave. "But post the subsidies, our water supply from the Delhi Jal Board has been free."
This co-operative housing society, like many others in the area, has both a private borewell and water supply from Delhi Jal Board. While the supply water is let out for fixed hours in the morning, the water from the borewell is always available. Between the two, there is no dearth of water supply in the 124 flats in this gated society. 
"How can there ever be a shortage of water in this society? This water comes from groundwater, woh toh unlimited hai (that is unlimited)!"  laughs Jha. While registered housing societies seem to be benefitting from the schemes, his comment also brings out a flip side of the water subsidies—in order to avoid paying water tariff and to keep the use below 20,000 litres per apartment, many societies have concentrated on using their borewells more. In fact, in September of 2019, the National Green Tribunal informed the Delhi Jal Board that "the extraction of the groundwater by using tubewells and borewells is being done to avoid payment of water tariff, and DJB should take effective steps to prevent this practice." This becomes a matter of concern for a city that ranked 2nd in a list of the 20 most water-stressed cities in the world in 2015.
The stakes are high for water-stressed places.
Major cities such as Los Angeles, Mexico City, New Delhi , Chennai, are under high to extremely high #water stress.
Overall, a Quarter of #Humanity Faces Looming #watercrisis
More info at: https://t.co/Mx8lVEgOi3 pic.twitter.com/hbQzYdn931

— Water JPI (@WaterJPI) August 8, 2019
Talking about 'Makaan'
The AAP victory unfolds another promise they have to keep: the regularisation of unauthorised colonies. "In the talks around AAP's proposal for regularisation, it is likely that tenants would also benefit," explains Harshal Gajjar, an External Consultant with the Indian Institute for Human Settlements. "This will make them entitled to rights and services from the state, including receiving water and electricity bills directly in their names, which are calculated using government rates."
"Ek vote ki keemat kitni zada hoti hai (A vote has a lot of value)," Anjali says. "We support the Aam Aadmi Party for the schools they have improved, and for the mohalla clinic, from where we get our medicines," Sahana adds, "Now they must try to bring those water and electricity services down to us." Ashok Nagar falls under the Tilaknagar constituency, while Dallupura is under Kondli—both of which are seats won by AAP. The need now is to bridge that gap towards the tenants too, who otherwise are at the mercy of their landlords' pricing.