In India's Himachal Pradesh, in the western Himalayas, Anuradha is doubled down into the soils of her farmland in Sudher village, donning a dhattu—the term used in the hills to describe the style of tying a dupatta or scarf around one's head. She is planting onion saplings that will grow and eventually be used for everyday cooking in her family. Her cousin Jogendru is feeding her cow the grass that she cut earlier in the day, while her thoughts are partly on the weather that changed dramatically from a sunny, bright day to thunder and subsequently a light drizzle.
Anuradha then remembers the monsoon last year (2019) where their kuhl—the community irrigation canal in the village—turned yellow. "Iska naam hi khooni naala padh gaya tha (it started being known as a bloody river).
The possible reason for this phenomenon was the solid waste management site above their Himalayan village Sudher, adjacent to the designated smart city Dharamshala in Kangra district of Himachal Pradesh. 
This waste management site is just above the source of the kuhl.
For the past two decades, this forest land of Sudher has been plagued by unscientific dumping of non-segregated waste from around the hotels, homes, offices and even hospitals of Dharamshala and it's suburb, McLeodganj. The Parivesh website of the Ministry of Environment, Forests and Climate Change, which documents all environment clearances and forest clearances for diversion of forests for non-forest uses, did not list this particular waste dumping site listed. Officials when contacted, were not available to comment on this.  
As many as 25 trips a day are made by vehicles to the site. "The quantity of the garbage here is beginti (unquantifiable)," says Panna Lal, a worker hailing from Punjab. He, along with 10 other people, manually segregate waste in this dumping site.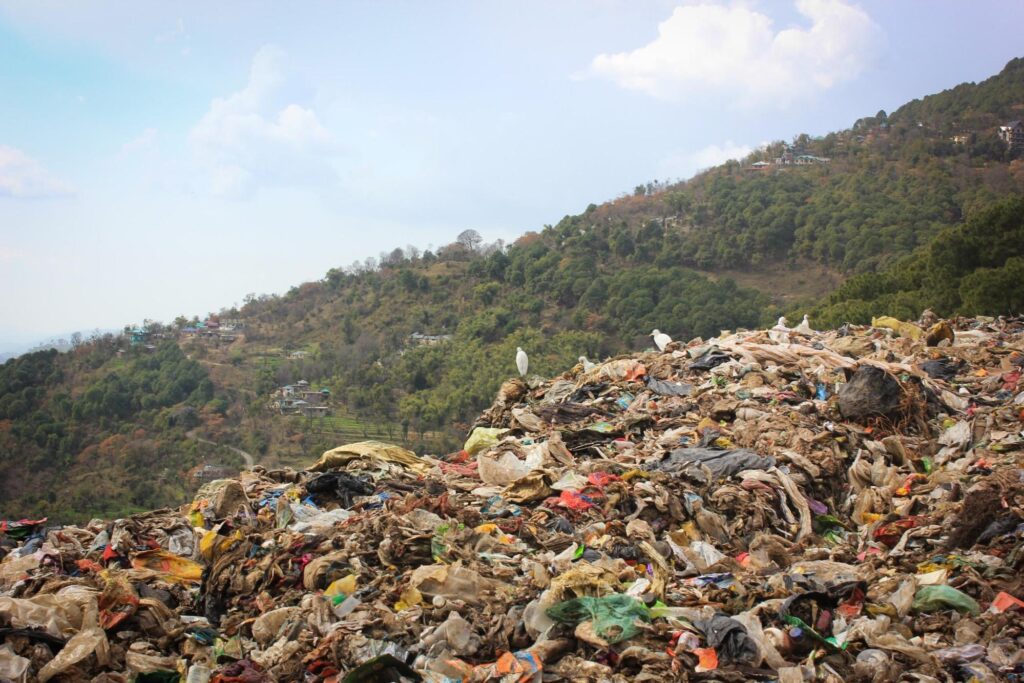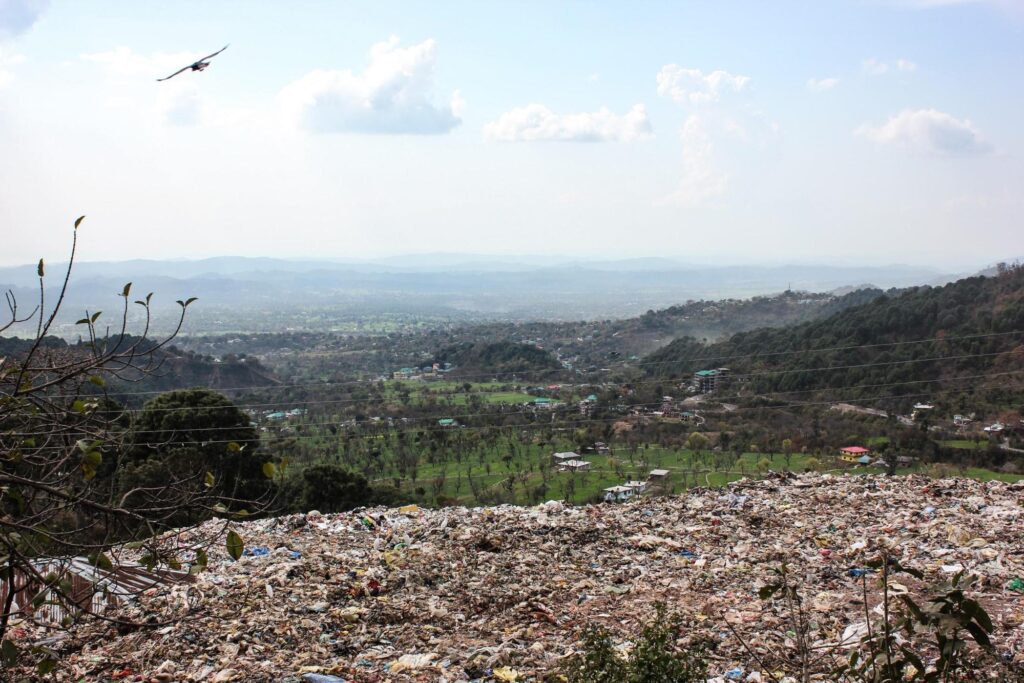 Sudher's small population of about 230 people is now dealing with the garbage dumped by  53,000 residents of the Dharamshala Municipal Corporation. This civic body generates 30 tonnes of waste per day, ranking only second, in terms of waste generated, to Himachal Pradesh's capital Shimla out of 54 municipal corporations of the state. 
Introducing, Bhageshwari Mahila Mandal
"The municipal corporation used to dump waste in small amounts on the site earlier. But in the last few years, dumping has rapidly increased," claimed Jogendru. That is when the Bhageshwari Mahila Mandal—a group of women volunteers who work on village issues—decided to fight against this issue. Anuradha is the vice president of the group. 
The Mahila Mandal has been functioning for about 15 years and has 48 to 50 members. These women are between the age group of 20 to 60. Some of them have gone to schools, some have a college degree, and some do not have either. They have been involved in starting a 'Silaai Centre' or a 'stitching centre' for people in the village to learn to stitch, they also lend money to their members if any of their children are getting married, and help with arranging machines for those who have their houses constructed.
"Whenever we have approached the officials for submissions or for permissions for dharnas (sit-in demonstrations), they probably thought, what can a mahila mandal do?" says Anuradha, suppressing a giggle. "Arey what can we not do! Ladies first hai!"  (Ladies are capable of doing anything)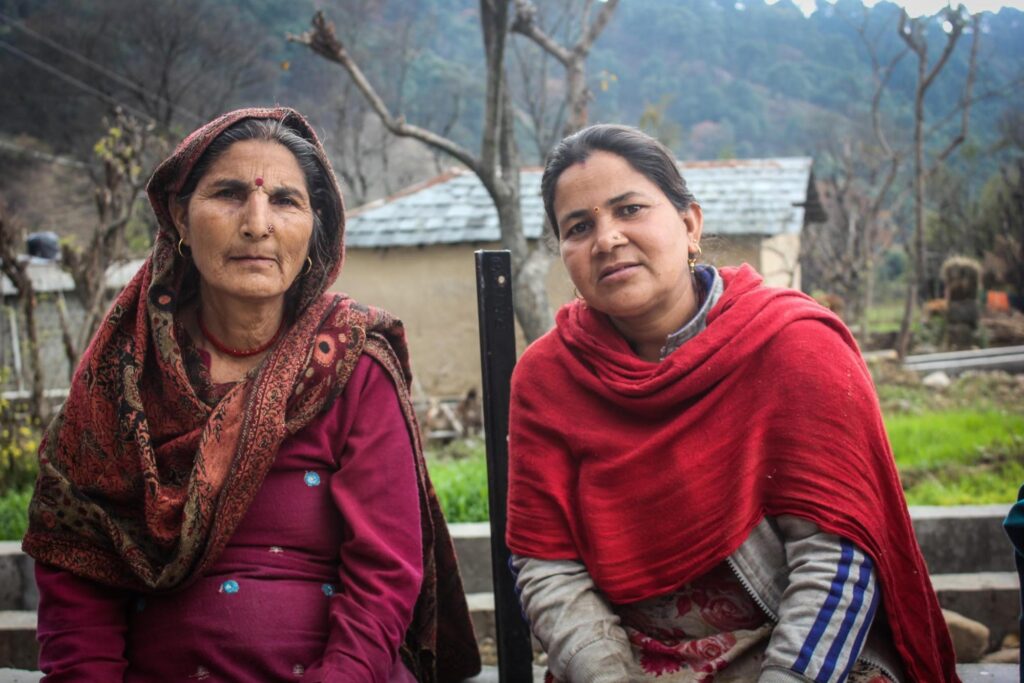 The Mahila Mandal's fight against the waste problem is based on the premise that the dumping is illegal: the Solid Waste Management Rules, 2016  allow 'only the non-usable, non-recyclable, non-biodegradable, non-combustible and non-reactive inert waste and pre-processing rejects and residues from waste processing facilities to go to sanitary landfill…'
What Sudher receives is everything but that.   
Sudher receives wet, biodegradable waste, which includes peels of vegetables, leftover food, etc from houses and hotels; everyday waste like newspapers, clothes, shoes, plastic bottles, and plastic bags, batteries, old tires from shops and homes; bio-medical waste like syringes which are collected from hospitals. 
A local NGO that does not wish to be named facilitated the Mahila Mandal's efforts by training them on getting information through RTIs, writing effective memos and letters, and even targeting the correct official to meet and advocate with.
Forest and ecosystem services
The site that is a dumping ground today was once a common pasture for Sudher. "Every house used to have many dangar (cattle), rearing livestock used to be our main business," claims Anuradha. After agriculture, livestock rearing is the key occupation not only in the Kangra district but also in the rest of the state, as the district census notes. 
When waste continued to be dumped here, many families in Sudher took the decision to sell most of their cattle. "How can we sell the milk from the cattle that graze there? The cattle become sick" Jogendru says. "Even when the veterinarians come here they suggest that ingestion of waste from the site could be the reason." 
With the collapse of this economic activity, men in the families picked up jobs in Dharamshala. Anuradha's husband works in a daily needs shop there. Since the dumping of waste was an issue that impacted everyone in the village, it was easy to build consensus on fighting the problem. 
After following the case for a while and flipping through their panchayat's (village committee) old registers, the group found that the panchayat never gave out any No-Objection Certificate (NOC) for this dumping site. Besides this, there are other serious ecological consequences too.
A paper that tested how municipal waste impacted geo-technical properties of soil in Karnataka suggested that leaching of nutrients and heavy metals led to not just contamination but an alteration in the compaction, density and strength of soil.With similar municipal dumping in Sudher, the village is losing out on a significant forest resource that they earlier relied on. 
This then, also impacts other ecosystem services that the forest land would have provided, including the source of the kuhl.
 "Dumping waste also pollutes water bodies," says Dinesh Bandela who works with the Solid Waste Management Unit at Centre for Science and Environment, New Delhi. "The leachate that is carried to the water bodies from the garbage pile is acidic and contaminates the groundwater when it leaches through the mixed waste pile." 
With the source of the kuhl just below the mixed waste pile, why the freshwater source turned into "the bloody river", as described by the locals, is not surprising. 
"If you fill a bucket with this water and keep, sometimes it starts giving out an odour in just a day," explains Anuradha. Behind her, against the landscape of the snow-capped mountains, the dumpsite is visible in sharp contrast.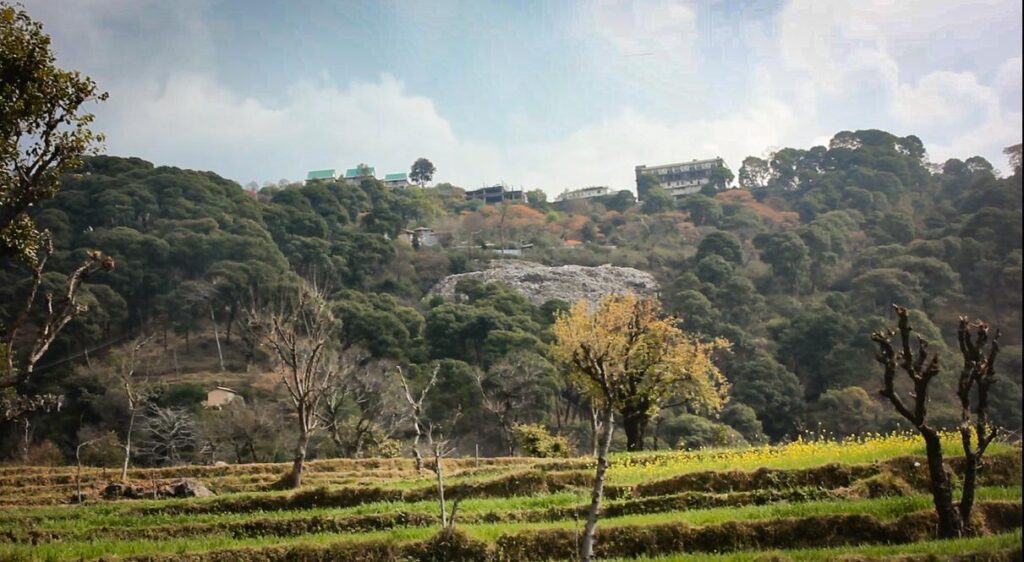 Last summer, the dumping ground caught fire. The waste continued to burn for a number of days. "While local bodies may intentionally burn waste, mixed waste anyway is prone to catching fire even with a slight increase in temperature, due to the methane it generates," Bandela informs. 
"Whether intentional or otherwise, the plastic present in such waste releases dioxins and furans, substances that are carcinogens. The effect of this might not be seen immediately after burning, but can be observed by tracking cancer cases in the villages close to the burning site." Anuradha makes me count a number of her relatives and friends who have been facing breathing issues. She mentions while the garbage was on fire, their eyes burnt.  
Fighting the Legal Fight
The Mahila Mandal began by writing letters of complaints to the district collector and the Municipal Corporation of Dharamshala, sometimes meeting three different officials in a day. However, the civic body's assurances that the waste would be picked up was not followed through in action.
The Mandal then filed a case with the National Green Tribunal (NGT). "Depending on how much each household could contribute, every house in the village contributed between ₹200- ₹500 for the resources needed to fight the case," says Anuradha.
In March, 2019, the NGT disposed off the case saying 'there is a need to set up a municipal solid waste processing plant adopting cluster approach…The process of covering the debris with soil in a scientific way has also started, apart from the processing of biodegradable waste and segregation and recycling of other waste.'
However, almost a year after the judgment, gaps in implementation remain. While a machine to press plastic material operates, and compost is generated, a brand new green and yellow segregating machine stands alone, having never been put to use.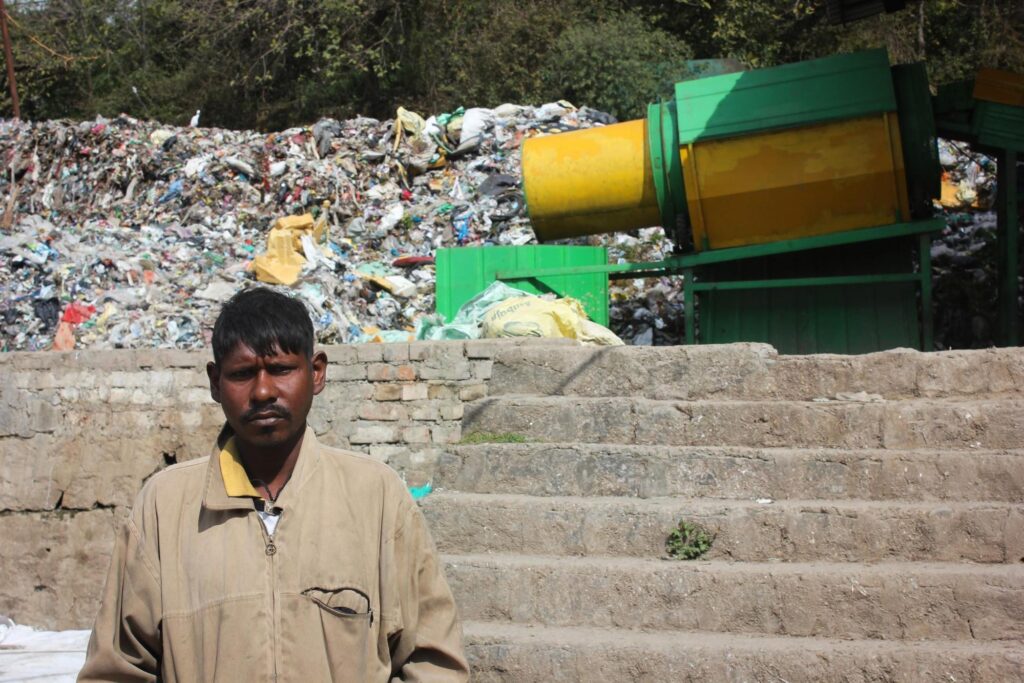 The Solid Waste Management Action Plan of Urban Local Bodies of Himachal Pradesh comments upon the dismal situation of practicing waste segregation in Dharamshala—only 4 out of 17 wards here practice segregation at source. 
Moreover, it mentions, contrary to the NGT's suggestion of adopting a cluster approach, "the state had to abandon the cluster approach due to a number of reasons." Reasons included "inadequate land parcels", "lesser turn out of developers" and the process being "time-consuming".
"A cluster-based approach increases the transportation cost and it's possible that Himachal Pradesh's transportation cost would be even more. Maybe that is why the developers are not keen since the operational cost is high," said Dinesh Bandela.
Meanwhile, waste continues to pile up, and encroaches onto the forests of Sudher. Anuradha adds, "In the summer, there are so many flies you cannot sit outside. If we do a function in our homes, no one attends thinking who will eat at their place. But we still have to eat, right?"
Future Plan of Action
When the Mahila Mandal ran out of patience waiting for the authorities to act, they organised themselves to give an ultimatum to the administration. As many as 48 of the members and at least one member from each household, including the men in Sudher, went to Gandhi Park in Dharamshala for a dharna in early January. 
The Mahila Mandal mentions that the men of the village have been supportive. "If one of us gets sick because of the unhygienic conditions, who will feed them food? So, they have to support us in this work," Anuradha says, matter-of-factly. 
The group holding the dharna was soon asked to vacate the area, so they marched till the District Collector's office instead. "Some women were scared of being jailed," smirks Anuradha. "Arey, even if we would have been jailed, at least we would have received edible food twice a day!"
The Mahila Mandal plans to go for a chakka jam next. (Chakka jam is a form of protest by blocking roads or deliberately creating a traffic jam)
 "Government officials have visited this place, but they only give hope," continues Anuradha. "So if this continues till April, we are not going to let them throw this garbage only." The Mahila Mandal plans to hold a sit-in protest on a rotational basis at the dumping site. 
They acknowledge that this might be a difficult task, especially when on some days, even the Mahila Mandal meetings are difficult to coordinate. 
With household work followed by work on the farms and tending to the cattle, there is not much time left. "See, even sitting with you for an hour has meant the stalling of a lot of our work," mentions Anuradha. "We are talking here but our minds are elsewhere–it might rain, and then we have to cut fodder for the cows!" adds Jogenderu. 
Under the India Smart City Mission guidelines, the core infrastructure for a 'Smart City' includes 'sanitation, including solid waste management'. Smart City Dharamshala seems to have passed its burden onto Sudher. 
After our conversation and a cup of tea, Anuradha leads me to a point where I can catch a bus from. "Each region should be managing the waste in their own region as we do in our villages," suggests Anuradha. Evidently, her mind is still on the conversation around the waste dumping. The Bhageshwari Mahila Mandal has started the fire, they now need to keep it burning. 
She walks across a bridge. Inaugurated recently in 2017, this is the only bridge that connects Sudher to the main road, allowing residents quicker access. "Arey, you know who got this bridge made?" The Mahila Mandal!" says Anuradha, beaming ear to ear.
---
Editor's note: This story is co-published by The Bastion and Mongabay-India. This story was created with the support of the Solutions Journalism Network 'LEDE' fellowship, aimed at spreading solutions journalism around the globe.