Almost half of the world's severely wasted children reside in India. What's more concerning is that the country has made "no progress" towards reducing wasting (low weight for height) with 17.3% of children under the age of 5 being affected, according to the 2020 Global Nutrition Report. In 2017, the Ministry of Health and Family Welfare conducted the Comprehensive National Nutrition Surveys (CNNS), which found a high prevalence of micronutrient deficiencies among children and adolescents in India.
As with most national surveys, some states were worse off than others. NHFS-4 data showed a high prevalence of malnutrition amongst tribal women and children in Jharkhand, as compared to the corresponding state and national averages.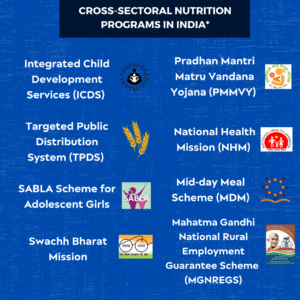 Despite a number of schemes such as the Centre's POSHAN Abhiyaan and the Jharkhand government's recent SAAMAR campaign targeted at alleviating malnutrition, these tribal communities, who constitute almost a fourth of the state's population, continue to remain nutritionally vulnerable. Nourishing a citizenry calls for cross-sectoral interventions which directly or indirectly affect nutritional outcomes. The Indian welfare state has no dearth of such programmes, but they lack localized solutions for targeted services. 
The prevalence of malnutrition among women and children in tribal communities is higher than corresponding national averages. Paradoxically, India's tribal communities are custodians of unique indigenous food systems that are a treasure trove of Traditional Ecological Knowledge (TEK). They reside in some of the most ecologically intact and biodiverse forest areas and utilize natural food sources including wild foods for nutrition, medicine and other products, all the while conserving biodiversity.
Over the past 8 years, our team has been studying the indigenous food systems of tribal communities of the Santhal, Oraon, Munda, and Sauria Paharia tribal communities who reside in the Jharkhand's Godda, Gumla and Khunti districts. They are distinguished from other communities based on their traditional traits, distinct culture and economic backwardness. Living in geographically isolated areas, these communities experience significant disparities in access to education, health care, employment opportunities and other welfare programs.
The survival of indigenous communities' food systems is threatened by modernization, increased urbanization, and other local issues such as the decline in traditional knowledge and difficulties in accessing traditional crops in markets. Their diets and nutrients have become dependent on a few major crops, which are made available via existing welfare schemes.
Traditional Ecological Knowledge is Untapped Wealth
Tribal communities have traditional ecological knowledge that spans across a wide variety of indigenous foods, some with 108 to 194 varieties of cereals, pulses, vegetables, roots and tubers, flesh foods, insects and mushrooms. They source these from cultivated lands as well as their natural surroundings. In Jharkhand, families access formal markets in the form of fair price shops under the PDS, and informal markets such as weekly markets/haats, local corner shops, and mobile food vendors.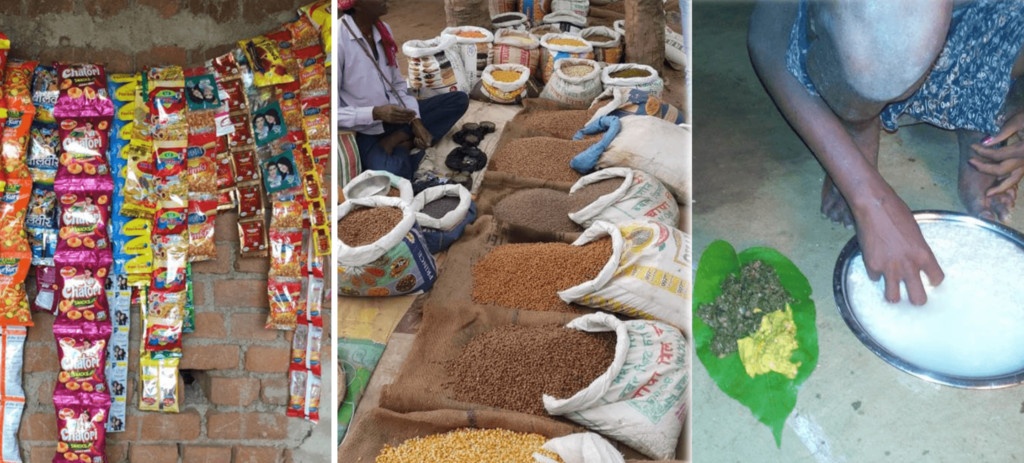 Indigenous foods comprise almost 60-65% of the total foods consumed by these communities. Several of these indigenous foods are rich sources of micronutrients like iron, calcium, zinc, vitamin A, vitamin C, and folic acid. Retaining and reviving TEK of food systems is a sustainable move that bolsters efforts towards ameliorating poverty, hunger, and various forms of malnutrition as well as addressing several of the Sustainable Development Goals (SDGs) like Zero Hunger, Reduced Inequalities, Responsible Consumption and Production, and Climate Action, among others.
When our team assessed the dietary intake and nutritional status of women and children of these tribal communities in Jharkhand, we found a poor intake of calories, proteins and micronutrients, along with the high prevalence of chronic energy deficiencies and undernutrition. An important solution to their undernutrition lies in harnessing the traditional food systems of these communities themselves. In Jharkhand's Godda district, 35-year-old Rani* tells us, "When [the Sauria Paharia tribe] consume hybrid varieties of food, we digest it very fast and feel hungry again. If we eat indigenous food, our stomachs feel full for a longer duration. Indigenous varieties of food are tasty and provide strength."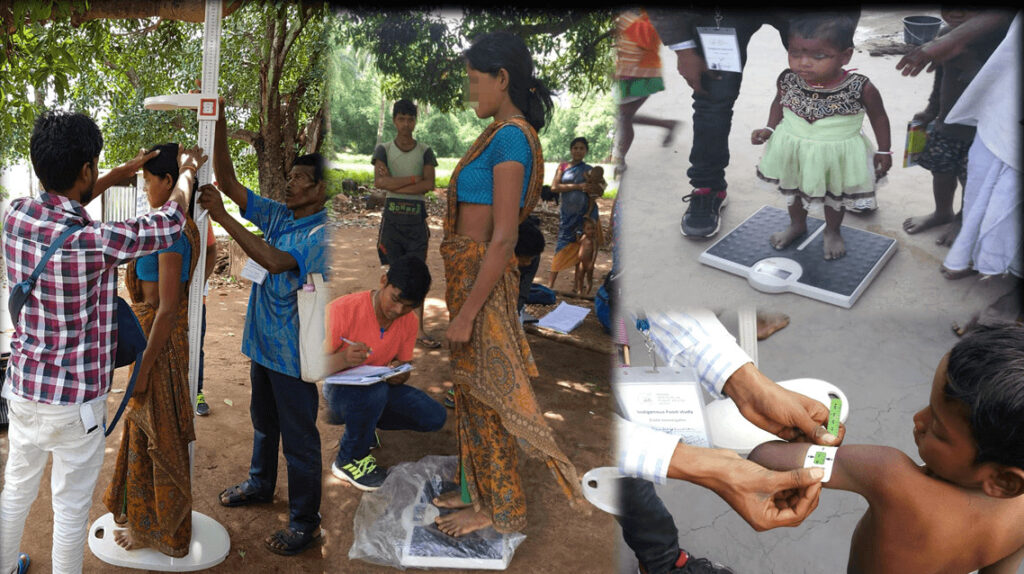 Despite biodiverse food resources being best suited to these communities, they do not feature in diets as much as they could. Across India, tribal communities' traditional sources of nutrition may not have received sufficient attention when planning for land use, economic development, and biodiversity conservation. As a result, this TEK is rapidly diminishing, exacerbated by modernized tropes about nutritive food and lifestyle changes within these communities.
What Stands in the Way of Using TEK?
Some of India's major food security programmes are targeted towards nutritionally vulnerable segments of the population. However, the Targeted Public Distribution System (under the National Food Security Act) has promoted and provided what are mostly poor quality, monotonous and low-diversity diets based on wheat, rice and sugar. However, recently, there have been efforts to promote the cultivation and distribution of diverse traditional cereals like millets through the TPDS.
Despite their impoverishment, these communities are not immune to the ruthless spread of processed foods. Relentless advertising has made these foods to be perceived as high-value items, and they are now being preferred over indigenous foods which are considered a "poor man's food". We found that almost 50% of the indigenous foods recalled by these tribal communities were sparingly in use today. These are some common facilitators and barriers to the consumption of these foods: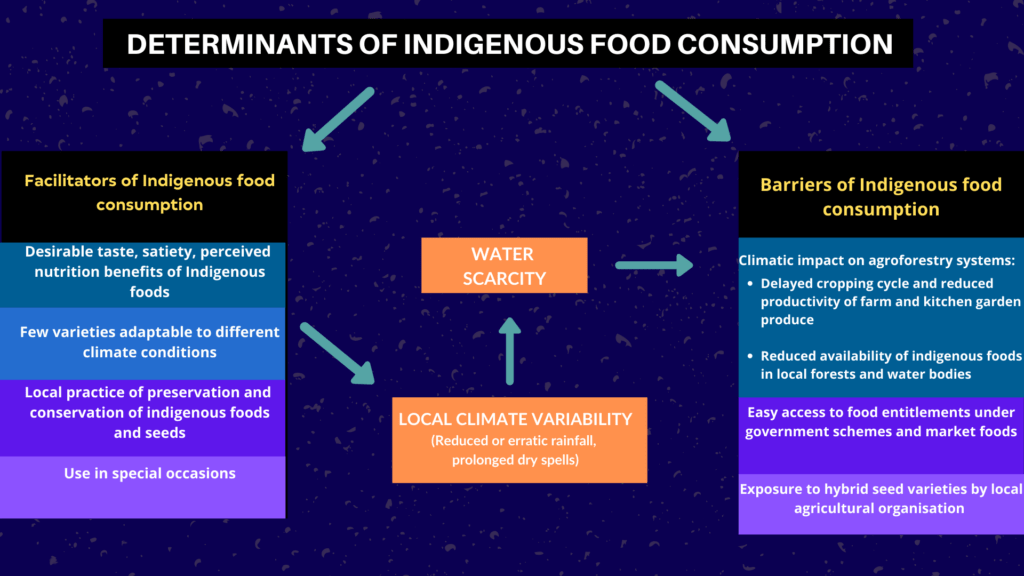 Besides these factors, there is a waning awareness and domestic cultivation of indigenous crop varieties, which threatens the preservation of traditional ecological knowledge systems. To promote the production and consumption of indigenous foods, "informal food literacy", which is the literacy that communities acquire from traditional knowledge associated with food, must be brought into the mainstream. This includes agroecological knowledge (where and what type of food is produced), cultivation and production knowledge (how food is produced), and processing and consumption knowledge (how food is prepared and distributed). This comes from learning people's everyday practices at home and in the community. This informal food literacy needs to be consciously promoted to facilitate the revival of the traditional and indigenous food systems.
Seeds of Hope: Recognizing TEK in our Welfare System
There is plenty of evidence to document that several Indian tribal communities still preserve and use indigenous seeds, but there is a need to systematically and formally scale and measure this activity.  For one, indigenous seed banks could be set up by the government and by non-government organizations to promote and commercialize these local varieties of seeds. In the past, organizations have successfully implemented kitchen garden interventions by conducting local awareness sessions, distributing indigenous seed kits and providing technical guidance on climate-friendly sustainable farming techniques. Local agricultural extension centres can effectively promote both the farming and homestead gardening of nutrient-rich indigenous crops and vegetables. In this way, harnessing TEK may not only increase the access and consumption of these nutritious foods; TEK could also be a critical source of household income generation.

The Ministry of Human Resource Development launched the "School Nutrition Gardens" program for anganwadi centres and primary schools to set up kitchen gardens to promote growing and consuming indigenous foods as part of the mid-day meals served to schoolchildren. This is just one example of how traditional food systems can be effectively integrated into supplementary feeding components of the Integrated Child Development Services and the Mid-Day-Meal Scheme.
Locally producing indigenous foods is also critical in preserving the gene pool of indigenous crops. Initiatives like the National Horticulture Mission and POSHAN Atlas are making special efforts in diversifying the existing food systems by promoting access to locally sourced wild foods, encouraging agricultural diversification and providing incentives to the local farmers to grow indigenous crops with high nutritional values. Nutrition awareness sessions — which are otherwise targeted towards tribal women and young children — can emphasise the nutritional value of each traditional food.
Diverse Foods, Diverse Benefits
"For the past 10-15 years, there has been a shortage of water in our village," says Mohini*, another member of the Sauria Paharia tribe living close to the forests in Godda district. "Earlier there were small streams which had water all the year-round. These days, everything has dried up. Even the amount of [forest] produce has reduced because of these changes in weather," she adds, looking up to the sky. Globally, indigenous knowledge has enabled local communities to enhance subsistence farming at the time of seasonal and climatic variability. This is often called 'community-based adaptation', which refers to community-led processes based on a community's priorities, needs, knowledge and capacities. This has empowered indigenous populations to plan and cope with the impacts of climate change.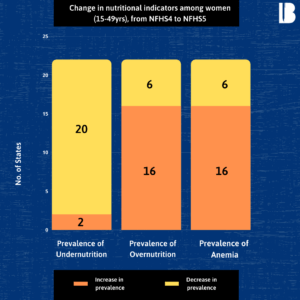 Mohini and Rani's families are mostly smallholder farmers; they are geographically positioned in the most remote part of the country, just like most of the world's hungriest people. With COVID-induced slowdowns, these indigenous food systems can offer resilience amidst complex disturbances in food supply chains and movements. Tribal communities' nutritional self-sufficiency should be encouraged because their farming can serve domestic markets, especially at times like this when trade, transport and logistics are compromised.
Combined with basic scientific research, traditional ecological knowledge systems should be promoted as a food-based strategy that can help curb widespread malnutrition. Diversifying diets and focusing on the production and consumption of indigenous foods can not only result in health and nutritional wellbeing but also have social, economic, and environmental benefits. If government policies could be framed to focus on region-specific indigenous food systems to address malnutrition, it will create a foundation for local traditional practices to be enmeshed with sustainable development strategies. This in turn could have a wide-ranging influence on a number of crucial national concerns such as water conservation, sanitation and hygiene, climate change mitigation, healthcare, education, and economic empowerment.
*names changed to maintain anonymity
---
This research is supported by: 
 DBT/Wellcome TrustIndia Alliance Fellowship

[IA/CPHI/16/1/502639] awarded to Suparna Ghosh-Jerath.

Wellcome Trust Capacity Strengthening Strategic Award to the Public Health Foundation of India and a consortium of UK universities (grant number is WT084754).
Featured image of indigenous varieties of food courtesy Suparna Ghosh-Jerath