Understanding the Context
The Supreme Court (SC) has been hearing a batch of petitions (Wildlife First & Ors v. Ministry of Forest and Environment & Ors ) that challenge the constitutional validity of the Forest Rights Act (FRA) of 2006, raising questions about preserving forests in the context of the above-mentioned Act. On February 13th 2019, a three-judge bench comprising of Justices Arun Mishra, Navin Sinha and Indira Banerjee issued an extremely important order in this matter.
Among other things, it said that where the rejection orders have been passed, eviction should be carried out on or before the next date of hearing. This would potentially impact over 11 lakh claimants, across the 16 states that submitted their data to the court. Although the SC has, as of 27th of February, stayed the eviction order, it will examine whether State Governments followed due process in settling the claims. As such, the future still looks uncertain for the claimants.
Popularly known as the Forests Rights Act (FRA), the Scheduled Tribes and Other Traditional Forest Dwellers (Recognition of Forest Rights) Act (2006) was enacted in 2007 through the Ministry of Tribal Affairs to correct the 'historic injustice done to forest-dwelling communities'. The Act intended to protect those communities that have inhabited forest land and used forest resources for decades. This security is in the form of the rights to live in, manage, protect, regenerate, and cultivate forest land that was occupied before 13th December 2005.
Those who qualify as 'forest-dwellers' as per certain criteria can submit their individual or collective claims, along with necessary proof that they were already residing in, cultivating or using those lands before a cut-off date. If after a due process, these claims are found to meet the criteria, the individual or community rights get conferred on the forest-dweller.
While one school of thought looks at this order as a progressive one, to ensure the protection of forests which have been severely affected due to ineligible/bogus claimants under the FRA, the other looks at this as grave incompetence on the part of the state to defend tribal rights. In a country where forest-dwelling communities (Adivasis and others) are highly marginalized, can the FRA be an effective tool of self-preservation and upliftment? Can the FRA play a convincing enough role to award basic rights? Or in doing so, do we stand to lose control over the wellbeing of our forests?
Click on a quote to read an opinion
"It is imperative to recognize the protection that our forests and natural resources deserve, especially in the face of several data findings. The FRA, regretfully, plays the role of an enabler; it's clear that it has led to significant clearances and environmental damage."
"Misguided foresters, fearing loss of their power, have fought tooth and nail to prevent FRA implementation, especially with regards to the granting of community rights."
It is important to consider a couple of important facts right off the bat. First, the FRA is a law meant for recognizing pre-existing forest rights only and thus is not a land grant or land distribution act. Only those people in actual occupation of forest land as of 13th December 2005 are eligible to claim their rights.
Second, an analysis of the said official data reveals that a total of 18,89,835 titles have been granted and a massive 72,23,132 hectares or 72,000 sq km of public forest land (almost the size of Assam) have been granted and converted to individual and community ownership in bits and pieces across the country.
Why have these two facts been highlighted? Well, the first fact is important to understand the basis of the petition, because, as I will go on to show, there has been widespread and disastrous violation of the Act. The second is meant to paint a picture of just how far gone in the process we already are; it is precisely because of this that it is absolutely essential to take a step back and examine the Act, and its consequences before more damage is done.
Flawed in Theory and Practice
While the intention to protect tribals is genuine, there are several facets of the FRA that are not well thought out, to say the least. For instance, let's look at the process and reality of the recognition of claims.
Let's begin by addressing the difference in giving out community forest rights (CFRs) and individual forest rights (IFRs). If the spirit of the Act is to protect communities, then two things must be taken into consideration. First, the priority of issuing titles must be given to communities, and not individuals. Second, issuing IFRs as opposed to CFRs reduces the share of land per family, and by extension, has the potential to erode interest in conservation; By nature of being communal lands, they are cared for by the entire community. But as an individual, you can do as you please on the land, and don't need to care about the commons. In such a situation, there is a need to ask — what good can IFRs do at all? Secondly, by introducing a nebulous and ill-defined category of "Other Traditional Forest Dwellers" who outnumber the tribals by 4:1, the tribals' share of the forests was disproportionality reduced.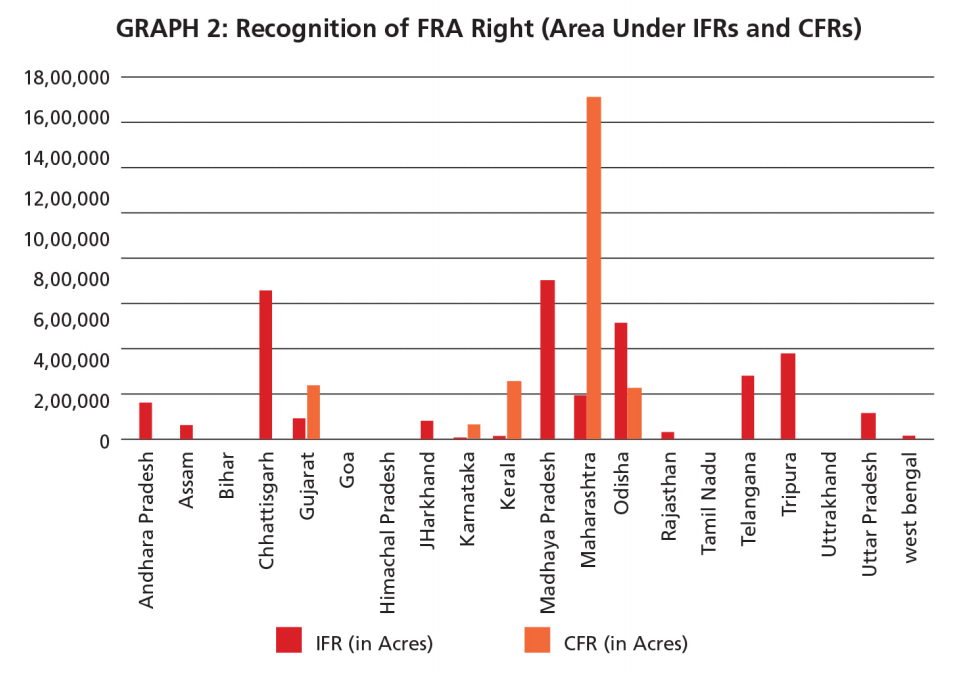 From this comes the problem of defining boundaries of different claims. For instance, what happens when there is an overlap in claims over a piece of land? This problem is exacerbated when one takes into account the pace at which IFRs are being granted; once individual claims are settled, it becomes difficult to settle community rights because some of these lands have already been allotted to individual encroachers. The Saxena Committee also found that officials were often unaware of the provisions mandating a process to resolve such overlapping or conflicting claims.
Then comes the issue of the kinds of titles being used, which often turn out to be in the name of an individual. The Saxena Committee report notes some serious confusion on the part of the officials;  
"…….the Committee was asked whether the title should be in the name of some/all individuals of the village/GS, or the village/GS as a whole, or a particular section of the village/GS (e.g. a hamlet most dependent on the forest). In Jharkhand, the title is in the name of the Gram Pradhan, which tantamounts to privatizing (at least on paper) a common resource…."
What's more, the claims have resulted in habitat fragmentation, which time and again has proven to have disastrous impacts on local ecology. A 2015 paper on the long term impact of global habitat fragmentation, finds that not only does fragmentation harm biodiversity — some areas saw decreases of up to 75% — but creates altered nutrient cycles, further resulting in a reduction of biomass, productivity, and the ability to retain nitrogen and carbon. Small fragment sizes can also result in the eventual death of large, old-growth trees.
Finally, in order to protect the sanctity of National Parks and Sanctuaries, the FRA does have one clause that provides for the notification of these areas as Critical Wildlife Habitats from where people can be resettled. Despite having given rights that account for over 72 lakh hectares, not one hectare has been notified as a Critical Wildlife Habitat! Add to this the fact that IFRs are being settled and distributed before wildlife claims are settled, which is in clear conflict with the Act.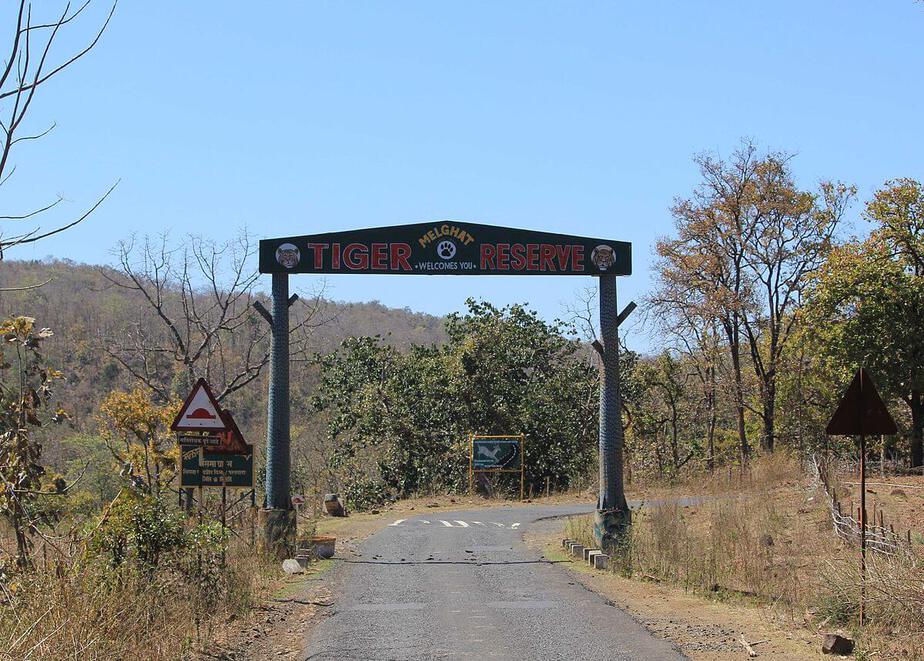 The FRA was ostensibly designed to undo "historical injustice" by offering a one-time settlement of individual and community claims over forest land. But 11 years later, forests and Wildlife Sanctuaries face severe encroachment threats. The FRA is not an open-ended act. But since there is no cut off date for the receipt of new claims and Gram Sabhas are empowered to extend the 90-day window for such pleas, this process has become a never-ending one. The result? Those indulging in fresh encroachments can get away scot-free because as per the Act, no action can be taken against them while their claims are being assessed. Encroachers are not evicted even after their claims have been rejected because officers are fearful of being targeted with cases under the Prevention of Atrocities Act. 
Let's Talk Numbers
It's clear that there is is a discrepancy between the letter of the Act and its resultant implementation. While the other side argues that recognizing these rights will, in fact, embolden conservation attempts, a number of studies tell a different tale.
For instance, let's look at the increase in encroachments post the cutoff date of December 2005. For one, the 2013 State of the Forests Report found that 67,900 ha of forest cover has been lost in 188 tribal districts between 2009 and 2011, mainly due to encroachments. Additionally, a 2013 study by the International Growth Centre in the Jhadol taluk of Rajasthan found that major clearings on claimed land took place from 2003 through 2009; 61% of plots were cleared at more than 90% in 2006, this proportion goes up to 83.5% in 2009. The authors find that the rate of deforestation had increased manifold post the enactment of the FRA.
Further, TERI's 2014 report finds that the shoddy recognition of rights under the FRA in Maharashtra would leave forest-dependent people vulnerable to adverse impacts of greenhouse gas (GHG) emissions. It shows that till 2012, Maharashtra has emitted 5,70,881.6 tonnes of GHG due to deforestation as a direct result of this recognition of rights. An opportunity for carbon sequestration — the process by which carbon dioxide from the atmosphere is stored as other forms of carbon, thus playing a crucial role in mitigating global warming — has been lost in 14,668.96 ha of forests.
The other side claims that it is absolutely not possible that such a large part of the claims can be bogus. However, a look at 2012 data from the Bhaskaracharya Institute for Space Application and Geo-Informatics in Gandhinagar — based on high-resolution time series satellite imagery (which provides accurate images of forestland on December 13, 2005 and subsequently opened up/occupied to claim forest rights) — reveals that 80% of IFR claims in the state were bogus!
A large number of encroachments happened after December 13, 2005, and continue even now. It is therefore not surprising that claims have been rejected by the various committees constituted under the FRA; in fact, such rejection has happened despite several advisories issued by the MoTA from 2006 onwards asking for effective and lenient (pro-tribal) implementation of the FRA. Surely, with the due process that the Act gives, it's not possible that these rejections are all because of vested interest of forest officials! Most such claims have been rejected by committees that comprise villagers and revenue/tribal department officers — not the forest department. The department has no say in the implementation of the FRA — the nodal ministry is the Ministry of Tribal Affairs (MoTA), and as the data above would have made amply clear, there is significant cause and rationale behind these rejections.
Welcoming the Order
One only needs to take a cursory glance at the Act, its implementation and the data to understand why the SC order was long overdue. The wrongful recognition of rights under the FRA has already led to significant environmental damage, and the continued acceptance of news claims threatens to accelerate this process, especially at a time when India, and indeed the world, cannot afford to lose out on green cover.
In fact, if there is one thing both sides can agree on, it is that the implementation and interpretation of the Act have been inconsistent at best; is this not all the more reason to take a step back and review the letter of the law before hastily giving out claims? It is imperative to recognize the protection that our forests and natural resources deserve, especially in the face of several data findings. The FRA, regretfully, plays the role of an enabler; it's clear that it has led to significant allotments on of pattas on forest land, and caused serious environmental damage. At a time when climate change poses the biggest threat to our way of life, can we allow weak and unplanned legislation to destroy our anyway limited and precious support system, our forests?
Featured image courtesy Simon Williams|CC BY-SA 3.0
Debi Goenka is the Executive Trustee of the Conservation Action Trust, Mumbai. Opinions expressed are solely the author's.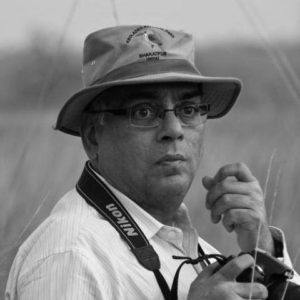 Featured image courtesy Simon Williams|CC BY-SA 3.0
Judicial Confusion
The SC's orders have three components: evict those against whom eviction orders have already been passed, complete review and verification within four months, and ask Forest Survey of India (FSI) to make a satellite survey to place on record the position of encroachments. All of this is based on seemingly simple logic: if a claim over forest land has been rejected, then the claimant cannot be a right-holder and therefore must be identified and evicted as a forest 'encroacher'. Unfortunately, this is too simplistic, resulting in errors on both, legal and substantive grounds.
The FRA recognizes the rights of forest-dwelling communities (Adivasis and others) to continue residing on and using their traditionally cultivated lands, to manage surrounding forests collectively, and to have a say when forests are proposed to be diverted for development projects or declared as conservation priority areas. The petitioners, however, argue that the FRA will lead to indiscriminate distribution of forested land, and this risk is so high that it will substantially harm the fundamental right of all Indians to a healthy environment.
Given this, the SC should have first ruled on a couple of basic questions. First, is the FRA valid or not? Because if it is not, then not just the 18.9 lakh rejected claims (across India), but also the 16.4 lakh accepted claims become invalid, and then all the claimants should be evicted. To focus on what happens after claims under the FRA have been processed surely means the FRA itself is valid?
Second, if the FRA is valid, then its implementation must be examined thoroughly. Ensuring that bogus claimants do not grab forest land is just one part of the story. Surely, ensuring that genuine forest-dwellers do get their rights recognized should be the main focus? Surely the constitutional and statutory rights of these communities — especially the Adivasis who are widely recognized as highly marginalised and are supposed to be given special protection under the constitution — matter too?
The State, the Forests and its Dwellers: Two perspectives
Underlying this misplaced focus is a fundamental polarisation in the discourse on the relationship between India's forests and its dwellers. The conventional statist paradigm, shared by most foresters, judges, and conservationists, is that forests belong to the nation, that villagers must live and cultivate outside forests and not encroach upon pristine forests or national property, and that existing legal forest boundaries are a good representation of the line between 'local people and their agriculture' and 'national forests'. Anyone crossing this line becomes an encroacher. The FRA is seen as 'regularising' encroachments, which would perhaps be tolerable if limited to the really old encroachers, but in reality is predicted to result in indiscriminate land-grab and forest destruction.
The tribal rights paradigm starts at the other end: Adivasis were always living in forested areas, whether practicing cultivation or hunting-gathering, and the forest was customarily theirs. The colonial British de-recognized these customary rights and the post-independence government continued that sad tradition, drawing forest boundaries with complete disregard for the presence and rights of these communities. Labelled as encroachers in their own land, they have been harassed by the forest department for decades. Creating national parks and wanting to make them 'pristine' for eco-tourists has further marginalised the communities. By this token, the state is the biggest encroacher on customary rights of forest-dwellers — both cultivation and forest use/management rights!
In an ideal world, the onus would then be on the state to prove that each parcel of forest land was free of pre-existing settlements, cultivations and customary use rights of forest-dwelling communities. Failing that, the FRA allows communities to, at least, re-claim their traditional rights. The FRA cannot lead to any new forest destruction, because it explicitly gives rights only to those who were already cultivating/living.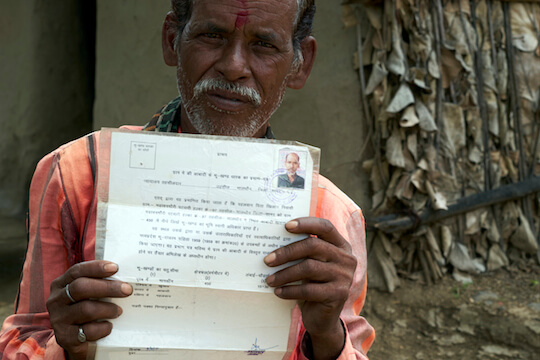 It took me a couple of decades of working and travelling in the central Indian landscape to understand how poorly surveyed some of these regions were, and how carelessly zamindari forests or princely game reserves (which had Adivasis staying inside them) had been declared as Reserve Forests in the post-independence period, rendering these communities 'encroachers' overnight. How communities living in Forest Villages — often forcibly brought there, sometimes enticed there to serve as labour in forest operations — were still at the mercy of our own forest department (since they lived on legally forest land).
My travels also shed light on a number of disheartening things; how communities have informal forest access but no formal forest management rights, resulting in a free for all; how the forest department continues to carry out coupe felling or monoculture plantations in utter disregard of local needs; how even when the Supreme Court insisted that a high 'net present value' be charged when the forest is diverted for non-forest uses, it refused to recognize the rights of the community whose forest got diverted to a share in this value; and how (the efforts of some sincere officials notwithstanding) the Joint Forest Management became a sham, controlled entirely by the forest departments. It is against this dire background that I welcomed the FRA, as a once in a lifetime opportunity to rectify these systemic injustices.
Implementation is Key
Does the implementation of the FRA match its spirit? Hardly. But most of the gap is in the direction of non-transfer of legitimate rights, not in the direction of reckless transfer. Committee after committee has found the implementation of the FRA to be tardy: from unfair rejections, granting of only part of legitimately claimed areas, improper titling, refusal to communicate reasons for rejection, to facilitating statutory appeals, the non-conversion of forest villages (the ultimate symbol of colonial exploitation of forest-dwellers) to revenue villages in most states, and the complete refusal to look at cases of project-displaced forest-dwellers.
There is no doubt the political system has generally seen the FRA as an opportunity to grant individual pattas (land right certificates) and thereby garner votes. There is no doubt that there are places where forested land has been grabbed in the name of cultivation rights. But no one has provided systematic evidence to show that a significant fraction (let alone a majority) of the individual titles given are fraudulent<sup>1</sup>. The 'fraud' is mostly in the other direction: misguided foresters, fearing loss of their power, have prevented FRA implementation tooth and nail, especially the granting of community rights.
Where tribal rights activists may have erred is in refusing by and large to acknowledge the potential of satellite imagery to provide unambiguous, independent, and publicly transparent means of verification of most cultivation claims. The key here, of course, is in the process of deployment of such technology — imposing it in a technocratic manner makes it liable to misuse. For instance, in Gujarat, the state agency used very poor methods to generate maps to ostensibly check the veracity of claims. By using better methods, better technology and better ground truth, grassroots activists challenged these methods, a challenge eventually upheld by the High Court. If such methods had been adopted across the board, the legitimacy of claims would have become transparent. Unfortunately, while the absence of such transparency may have prompted the Court's third order, asking FSI to map encroachments is pointless: the verification has to be done bottom-up by the sub-division and division-level committees, using GPS data for each claim and forest boundary information that is also only available at the local level.
However, what is the most disappointing of all is that the petitioners and judges do not seem to realize the importance of community forest rights. Granting such rights will both contain the mis-claiming of individual rights and give communities the possibility of veto-ing environmentally devastating projects. It's disheartening to see the same Court that upheld the Dongriya Kondh tribe in Odisha exercising its rights under the FRA and rejected Vedanta's bauxite mining proposal, take such a lop-sided view of this matter. Instead of focusing on evictions, the Court and all concerned need to focus on the rigorous implementation of the state's obligation to recognize and protect the rights of its most marginalized citizens.
---
1. In their press release after the eviction order (http://www.wildlifefirst.info/pdfs/News_Release_FRA_21_02_2019.pdf) , the petitioners ingenuously state that the "Saxena Committee" (the MoEF-MoTA Joint Committee mentioned earlier) "documented fresh clearing of forest land after the cut-off date" without giving the full statement—that the Committee said these instances were in a minority and the major gaps were errors of omission—refusal to grant legitimate claims (see B.10 & B.11 in the Executive Summary). The TERI report cited by them has been discredited by many researchers. Thus, statements such as "a massive 72,000 sqkm of public forest land—almost the size of Assam State—have been granted and converted to individual and community ownership" made in the press release are highly misleading: a) if legitimately granted, individual rights involve no deforestation, and b) community rights are a transfer of control, not deforestation. Indeed, estimates indicate that the area over which communities may legitimately claim forest management could easily be 400,000 sqkm or more!
Featured image courtesy Simon Williams|CC BY-SA 3.0
Sharachchandra Lele is a Distinguished Fellow in Environmental Policy and Governance at the Centre for Environment & Development, ATREE, Bengaluru. He served as a member of the MoEF-MoTA Joint Committee on the FRA in 2010. Opinions expressed are solely the author's and are not supported/endorsed by ATREE.