Understanding the Context
Developed in the late 1970s, Closed Circuit Television (CCTV) cameras have spread from their initial use in high-security zones such as banks to shops and parks, and even homes today. The CCTV surveillance system involves a network of unmanned, remotely mounted video cameras, which transmit live footage to a centralised or semi-centralised system that displays, records, and stores the video data for future use. Due to advancements in technology allowing even for high-resolution colour footage to be recorded, CCTV footage has become an integral part of justice and law enforcement. It even serves as permissible court evidence.
Frustrated by the inefficiency of the Central government controlled Delhi Police, the government of Delhi initiated an ambitious project to install over 1.4 lakh CCTV cameras in the city to improve women's safety. This will be in addition to an already existing infrastructure of at least 2.5 lakh cameras (as of July 2018) under various public and private authorities such as the Delhi Metro Rail Corporation, the Delhi Police, municipal corporations, commercial establishments, resident welfare associations etc.
There is also tension between the Aam Aadmi Party (AAP) controlled Delhi government and the Lt. Governor of Delhi, Anil Baijal. The LG's office set up a panel to produce a report regarding the Standard Operating Procedure (SOP) for the cameras, which was heavily criticised by Arvind Kejriwal, the Chief Minister of Delhi and the leader of the AAP.
LG's committee recommends mandatory license/permission from police to install CCTV cameras by pvt or govt bodies.

All existing CCTVs will also need police license.

Height of license Raj in 21st century. Nowhere in the world is such a license reqd.

— Arvind Kejriwal (@ArvindKejriwal) July 11, 2018
The panel and the AAP disagree over who should have final authority over recorded footage, with the former recommending the police for the post, while the ruling government wanting Residents' Welfare Associations and Market Associations to have control.
The move to set up such an extensive surveillance system has raised questions of privacy of individuals, data storage and protection, and the very necessity of such a system.
Click on a quote to read an opinion
"CCTV systems that can ensure transparency, accountability and stringent data protection regulations — while guaranteeing the right to privacy to every individual — can aid law enforcement and protect other rights necessary for a state to function and progress."
— 

Arshad Muhammed
"For the system to be efficient, civil society must be at the locus of the very conception of surveillance. Instead of political fighting, if more attention was allocated to how the people of Delhi would be affected in terms of privacy, legality, and security, there would be a better set-up and SOP designed by both the L.G and Kejriwal."
— Niharika Gotety
Before discussing the specific case of Delhi, it is necessary to understand the various arguments regarding the use of CCTV surveillance in general. The politics of surveillance bring to mind images of an Orwellian world with CCTV cameras symbolising the 'Big Brother'. While such a state must be actively confronted and dismantled, it is necessary to fight the surveillance state itself and not the technology.
CCTV systems that can ensure transparency, accountability, and stringent data protection regulations while guaranteeing the right to privacy to every individual can aid law enforcement and protect other rights necessary for a state to function and progress. The 2010 Charter for Democratic Use of Video Surveillance serves as a useful outline to develop CCTV systems that can enhance social welfare and address the important issues raised by critics of video surveillance. Such a democratic system will have to address five important parameters: Necessity, Proportionality, Transparency, Privacy, and Independent Oversight.
Since few India-specific or Delhi-centric studies have been conducted, we are forced to consider results from other global cities in this debate.  Critics proclaim that CCTV systems in public spaces do not deter crime and lead to no effective outcome for law enforcement and security. They quote numerous geographically localised studies that indicate no statistically significant results regarding crime deterrence due to CCTVs. It is argued that the 'Halo effect' — which refers to the potential for greater security in areas outside the view of cameras — is offset by the 'displacement effect', which pushes anti-social activity to areas outside the watch of surveillance systems.
However, the pooled effects from six countries in a study by Piza et al (2018) show that the use of CCTVs is associated with a modest but statistically significant reduction in crime of approximately 13%. The effect of CCTV surveillance was the largest and most consistently observed in car parks. The researchers suggest that more settings may be amenable to CCTV than previously thought, as crime reductions were also observed in residential areas. Of the five primary crime types tested in the CCTV evaluations, property crime, vehicle crime, and drug crime exhibited statistically significant reductions.
Disclaimer: Graphic video of a murder caught on camera in Usmanpur, Delhi, 2017)
The study also observed that actively monitored systems and programs deploying CCTV in conjunction with multiple other interventions generated larger effect sizes than their counterparts. This indicates that the manner in which public safety agencies use CCTV is an important consideration. Other studies have also found CCTV systems to be useful in maintaining law and order, especially for women. A study by Selvakumar (2013) researched the use of CCTV footage in solving crimes in Tamil Nadu and found statistically significant results. Another study by Stutzer and Zehnder (2013) proves the effectiveness of CCTV systems in counter-terrorism and security.  
In a society where each us of has access to public places and every citizen has the right to life and liberty, enforcement of law and order is necessary for social welfare in terms of protecting lives, property rights, and freedoms of individuals. Since the CCTV systems augment the capability of security and law enforcement machinery, it is necessary to have some form of video surveillance. Of course, the location of the system is crucial and CCTV systems by themselves, will not aid in crime deterrence and investigation. Rather, they are necessary tools to aid the two processes.
Privacy of individuals is the most important argument used by critics of CCTV surveillance. There is truth in the same when we realise that India continues to operate without a data-protection law. However, this issue can be addressed, as it has been in other parts of the world. Intricate, all-encompassing, and people-centric data protection and storage guidelines similar to the European Union's GDPR can be drafted in close collaboration with citizens and civil rights groups, ensuring that foolproof protocols are put in place which protects privacy as a fundamental right. This ensures that the measure is proportional to the problem at hand.
The Justice B.N Srikrishna Committee Report attempts to develop a data protection framework in India, paying special attention to the misuse of data by private entities. Additionally, independent oversight involving citizens, market associations, residents' welfare groups and the civil society is required. London has a unique authority called the 'Surveillance Camera Commissioner' which enforces compliance with a surveillance code of practice. This can be introduced in Delhi, too, in order to ensure transparency. In fact, a standard decentralised operating procedure with adequate checks and balances, which fulfils the parameters mentioned in the 2010 charter, is imperative in a place like Delhi, which has various standalone CCTV systems.
One might believe that a CCTV surveillance that balances necessity with proportionality, privacy, transparency and independent supervisory concerns is too idealistic, but the given social situation and crime rates in cities like Delhi warrant the use of a video surveillance system. At the same time, the guiding principles of our society as enshrined in the Fundamental Rights of our Constitution cannot, and should never be violated, in the name of law and order enforcement. Such a technical and regulatory framework is entirely possible, and many societies are moving towards the same.
Admittedly, in a demand and supply of crime framework, addressing the social and economic reasons leading to crime and thereby cutting off its demand is the best solution for the society in the long run. But the current situation necessitates immediate short-run solutions, which lead us to address the supply problems. It is inevitable that before we reach such an ideal state that requires no video surveillance, democratic use of CCTV systems will have to be in place.
For ideological concerns of surveillance in public places, as long as the data is not misused and individuals are not tracked, the social contract we enter into with the state for the enjoyment of our freedoms and liberties actually necessitates a CCTV camera in a park we jog in every day. The concerns are very much real, but the solution is not scrapping the technology.  
Featured image courtesy Prokerala
It is undeniable that Delhi is in grave need of stronger security. The crime rate in Delhi — the capital of India and a city that is commonly referred to as the "rape capital of the world" — only makes citizens and tourists feel more unsafe than ever. It seems sufficiently easy to accept the argument that the installation of CCTV cameras in public areas will make the city safer. However, I argue that the automatic linkage drawn between surveillance and safety is not as easy after all.
How CCTV cameras work
There are two primary ways in which CCTV cameras operate in relation to security: first, they record all suspicious activity, which can be helpful in identifying criminals, and second, the mere presence of CCTV cameras can make people aware of their actions, thus deterring them from committing a crime. However, neither of these effects directly stop crime.
In the former, the utility of these cameras and the stopping of crime lie solely in the hands of those who have access to or authority over the security footage. In the latter, the question of probability comes into play: how likely are criminals to stop because of CCTV cameras? In a country in which murders and rapes have played out in front of both online and live audiences, will surveillance deter criminals?
Further, surveillance cameras are more likely to be effective deterrents if arrests are made based on security footage. This leads to the most important question of the debate: does Delhi have the security infrastructure — such as enough police, detectives, watchguards, etc. — to make CCTV cameras a deterrent in the first place?
Infrastructural Deficiencies
The AAP plans to install 2000 CCTV cameras per constituency, amounting to a total of 1.4 lakh cameras equipped with a resolution of 4 megapixels and day and night vision. Our constitutional ethos ordains for the State to provide security to the best of its capabilities, especially in public spaces. Consequently, the conscious restraint of using CCTV cameras raises red flags concerning a citizen's Right to Life and Liberty if they cannot access security footage. It is easy for an Indian to imagine leaking or tampering of footage before a case is handled or any arrests are made due to systemic inefficiencies in India. Not only do the police need to be specifically trained, but also they need to be specifically monitored if such a large investment is made.
India also has one of the poorest police ratios in the world. According to this report, a Delhi Police official when questioned about the crime rates in the city claimed that there weren't enough "men on the ground," especially in vulnerable locations. Many police personnel are involved in administrative or court responsibilities, leaving an ever-dwindling number to look at law and order.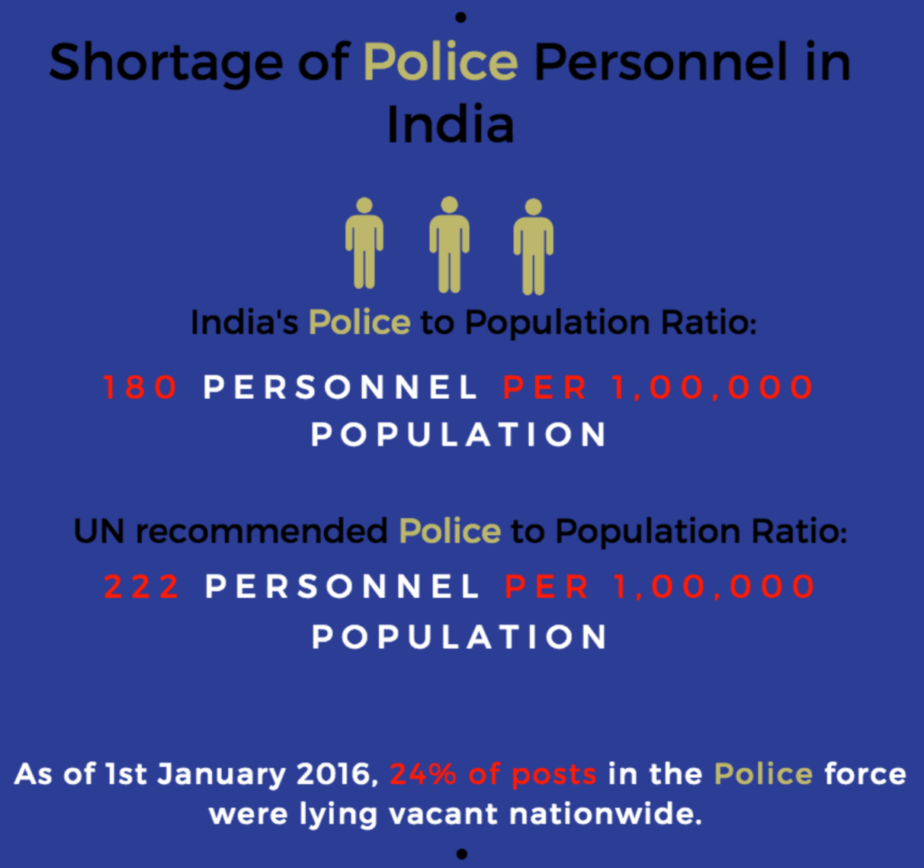 Even though the hope is that CCTV cameras will help resolve cases more swiftly, the installation of CCTV cameras will impact the number of personnel further by involving more people in the registration, monitoring and upkeep of the system. Further, it provides the already demotivated police to find refuge in the ostensible 'safety' provided by these cameras.
Watching the watchmen?
While the Delhi government has worked out the logistics of installing CCTV cameras on a mass scale, it lacks a fool-proof plan regarding the chain of custody, tampering of evidence, or even a legitimate legal framework. As per a draft of rules by the LG's committee, access to CCTV footage, including disclosure or investigation is open to three parties: "appropriate authority" or the police, "owner" or authorised representative of the property, and "data controller." The term "data controller" is rather ambiguously defined as "the entity, which has control over data collected by CCTV Systems," which can be interpreted to be the person who is actively monitoring the footage.
There is no regulatory mechanism that circumvents existing bureaucratic corruption or bullying of the systemically 'weak' in order to make the CCTV set-up any more effective than the current security set-up in Delhi. It can, in fact, produce the opposite effect of creating situations of entrapment and a superficial sense of security.
Although the committee has invited opinions regarding the regulatory framework from RWAs and the general public, it has largely been all talk. There is no formal forum through which the public can register their complaints or suggestions.
The tension between the Centre and State compound the problems of accountability, storage and authority, which are crucial when it comes to such large amounts of data. While parties fight over control, the issue of how and in what capacity the civil society will be controlled is yet to be resolved.
Foiled by politics
For the system to be efficient, civil society must be at the locus of the very conception of surveillance. Instead of political fighting, if more attention was allocated to how the people of Delhi would be affected in terms of privacy, legality, and security, there would be a better set-up and SOP designed by both the L.G and Kejriwal. Further, there is a pressing need to reconsider if CCTV cameras work around existing systemic inefficiencies, resolve them or indeed complicate them.
Featured image courtesy Prokerala