Featured Image: A still of an awareness campaign from Panchayat, an Indian comedy-drama web-series set in rural Uttar Pradesh. Used for representative purposes only.
---
Understanding the Context
"Population explosion will cause many problems for our future generations. But there is a vigilant section of the public which stops to think, before bringing a child to the world, whether they can do justice to the child, give them all that she or he wants… Let's learn from them… Those who follow the policy of small family also contribute to the development of the nation, it is also a form of patriotism."
Although no government legislation followed from PM Narendra Modi's Independence Day speech in 2019, his use of 'population explosion' reignited a conversation that had been burning on the tips of many citizens' tongues: should the Indian State introduce a policy to control India's population? After January 1, 2021, people in Assam with more than two children will be ineligible for government jobs. Other states like Rajasthan, Maharashtra and Madhya Pradesh already have similar two-child policies in place. Over the last year alone, the Rajya Sabha saw the introduction of several Private Member Bills which proposed variants of a population control policy. These spanned across party lines.
But, how can the Indian State justify using coercive methods for family planning which curtail the rights of its citizens? Kanmani and Chirag tease out the reasoning behind such methods for population control: stressed natural resources and an unevenly growing population can strain India's development and the State's ability to take care of every citizen, especially the poor. India already accounts for about 17% of the world's population, but only 2.2% of the world's landmass.
At the same time, coercive population control policies may have unintended and disproportionate side-effects on women and the girl child. Dr Apte and Dr Iyengar, members of the Advocating Reproductive Choices (ARC) coalition, argue that a population control policy is regressive, ineffective, and unconstitutional. Despite the fact that child marriages still exist and there is generally poor access to contraceptives, India is slowly moving towards reaching the ideal Total Fertility Rate (the average number of children born to a woman of childbearing age) of 2.1. In such a context, can an incentive/disincentive-based legislation successfully avert the dangers of over-population?
Click on a quote to read the opinion
"India's population growth cannot be slowed by legislation alone. There needs to be a greater impetus to girls' education, especially higher education. The positive spin-off will be delayed ages of getting married, an increase in the marriage-to-first-pregnancy interval, and multiplier effects on the health of children. "
— Dr. Sharad Iyengar & Dr. Kalpana Apte
"Such an approach ignores three cardinal rules with respect to resources, which are that resources are limited, wants are unlimited, and resources have alternative uses. These rules become even more important when the socio-economic issues that come with over-population are considered."
— Kanmani Palanisamy & Chirag Chinnappa
Authored by Dr. Sharad Iyengar and Dr. Kalpana Apte.
At 1.37 billion, India is home to the world's second-largest population, second only to China. As of the 2011 Census, nearly two-thirds of this population is under 35 years of age. Even if each couple in this young population were to have just one or two children, the ongoing "population momentum" will nevertheless produce a quantum increase in absolute numbers, before the population ultimately stabilizes (this being expected by 2050). 
Fixing What Isn't Broken
Yet, while these figures might appear alarming, between 2001 and 2011, the country saw the sharpest decline in the population growth rate since 1947, from 21.5% between 1991-2001, to 17.7%. As per the World Population Prospects 2019 Report, the global population growth rate is estimated to increase by 1.1% annually, which is higher than India's growth rate of 1%. The current Total Fertility Rate (TFR), or the number of children born to a woman in her childbearing years, is 2.2, which is close to the desired replacement-level fertility rate of 2.1 [1]. 
As per government data, 25 states and UTs have already achieved replacement levels of fertility. In line with this, the Health Ministry has reaffirmed that India is on track to achieve a TFR of 2.1 by 2025. With greater access to education, economic and other development opportunities, as postulated in Dr Edwin Dolan's Theory of Demographic Transition, fertility decline is the natural demographic consequence. 
Respect Human Rights and our Constitution
China had to ultimately overturn its controversial one-child policy in 2015 after it found itself facing a population crisis marked by skewed sex-ratio and an ageing demographic. Meanwhile, there is little evidence that policies that use incentives or disincentives to promote small families are actually effective. If anything, incentives lead to biased decision-making while coercive policies typically increase the motivation to violate or bypass the law.
For example, a study titled "Law of Two Child Norm in Panchayats – Implications, Consequences and Experiences" conducted in five states, Madhya Pradesh, Andhra Pradesh, Haryana, Odisha and Rajasthan, found that coercive policies placed a 'double burden' on women. Cases of sex-selective and unsafe abortions increased and in some cases men divorced their wives so that they could run for local body elections. Other families even gave up children for adoption to avoid being disqualified for the same. There was also evidence of mental trauma caused to women pressurized by families to give birth to sons.
The same study found that about 80% of those disqualified from panchayat elections were Dalits, Adivasis, and OBCs. A coercive child policy that disallows running for panchayat elections also violates the spirit of the 73rd Amendment (which guarantees certain reserved seats to SCs and STs). 
India's cultural preference for sons must also be seriously considered. After the Haryana state government introduced financial incentives for families with fewer children in 2002, they found a decline in fertility, mostly among families who had only one male child. The policy only worsened the state's sex ratio at birth to 897 girls per 1000 boys in 2005-06.  
The declaration of the National Colloquium on Population Policies (2003) found a two-child policy to be "regressive and violative of human and child rights." Policies that propose disincentives to the extent of denying welfare schemes meant for the poor and marginalized are fundamentally unconstitutional. 
What Should Be Done Instead
There certainly is a need for government interventions from the Centre with family planning and population stabilization. But, the focus needs to be directed towards high fertility states like Uttar Pradesh, Bihar, and Assam in order to understand why they lag behind others. For example, in neighbouring Sri Lanka and Bangladesh, fertility rates stabilised significantly by increasing the age of marriage. This move was in turn made more effective by giving impetus to girls' education and wider access to voluntary contraception. 
While instances of child marriage have declined over the years, data from the 2015-16 NFHS-4 shows that 27% of adolescent girls get married before the legal age of 18 and nearly 8% of women between the ages of 15-19 had begun child bearing. We need to ensure that girls are able to stay in school and complete their education. This will empower them to be able to delay their marriages and also have a say in childbirth.
NHFS-4 data also shows us that Indian women want less than 2 children (1.8 on average). Yet, they are unable to take decisions for themselves, because of the stigma surrounding sexual activity, and the lack of access to contraception. Nearly 10 million girls between the ages of 15-24 have unmet needs for contraception.  Therefore, there is a need to ensure that young couples are able to access modern contraceptives and services that cater to their needs. 
For reference, the most popular modern contraceptives are injectables (28.5%) in Sri Lanka and oral pills (50.1%) in Bangladesh. 
There is a need for increasing budgets to meet the increasing demand for contraception. Currently, India spends only 1.2% of its GDP on Health, well below the allocations in other low-income countries. Additionally, only 4% of the total National Health Mission's budget is allocated to family planning, of which 3-4% is allocated to reversible methods which are preferred by young couples [2].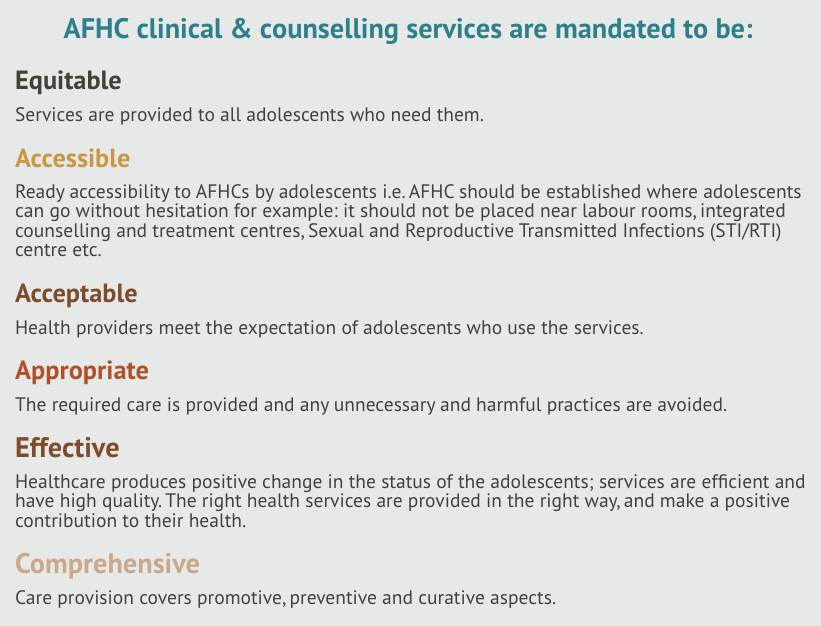 Adolescent Friendly Health Clinics, which are set up under the Rashtriya Kishore Swasthya Karyakram (RKSK) must take the lead in helping sexually active people become aware of family-planning and contraception. With the COVID-19 pandemic restricting mobility, keeping health workers preoccupied and making clinical procedures like sterilization and IUDs cumbersome, the government should focus on enabling womens' agency as well as promote male participation in using contraception. Young couples should be able to obtain reversible contraceptives like condoms, oral pills and injectables closer to their homes. Access to safe abortions also needs to be assured for women who are facing unwanted pregnancies.
India's population growth cannot be slowed by legislation alone. There needs to be a greater impetus to girls' education, especially higher education. The positive spin-off will be delayed ages of getting marriage, an increase in the marriage-to-first-pregnancy interval, and multiplier effects on the health of children. 
---
[1] Replacement fertility is the total fertility rate at which women give birth to enough babies to sustain population levels.
[2] A Review of Planning, Budgeting and Expenditure for Family Planning under National Health Mission. Population Foundation of India. December 2018. 
Authored by Kanmani Palanisamy and Chirag Chinnappa.
The Indian judiciary has recognised the reproductive rights of a woman as being fundamental in nature, from judgments surrounding abortion to cases of forced sterilization. Critics wrongfully extend this rights-based language vis-a-vis women to be their justification against state interference for family planning policies.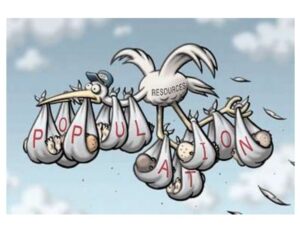 However, such an approach ignores three cardinal ruleswith respect to resources, which are that resources are limited, wants are unlimited, and resources have alternative uses. These rules become even more important when the socio-economic issues that come with over-population are considered. The coming generations will have to endure depleting natural resources and the environmental impacts of our over-utilisation of existing ones. In this context, the State can bring about family planning policies which provide incentives and disincentives that may have a coercive effect on people. 
Reproductive Rights and DPSPs: The balancing act
Part IV of the Indian Constitution plays host to the Directive Principles of State Policies (DPSPs), which lay down socio-economic goals for the State to aspire towards when creating laws. Although they are non-enforceable in court, DPSPs are fundamental to the governance of the country. For example, the Supreme Court judgement on the infamous '2G Spectrum Case' highlighted that the State is empowered to distribute natural resources in accordance with the principles of equality and public interest (see Article 39(b)). The judgment in Pathumma v. State of Kerala is one among many that attempts to reconcile DPSPs with fundamental rights:
"Fundamental Rights and Directive Principles constitute the "conscience" of the Constitution. The purpose of the latter is to fix certain social and economic goals for immediate attainment by bringing about a non-violent social revolution. The Constitution aims at bringing about  a synthesis   between   fundamental  rights   and   directive principles  by giving to the former a place of pride and  to the latter a place of permanence."
In this light, the reproductive rights of women may not be absolute.

Keeping in mind the three resource-related rules, family planning programs are based on this notion of "effective redistribution". It goes to show that state policies which de-incentivise large families derive their legitimacy from a combined reading of the DPSPs' ethos of effectively redistributing resources alongside relevant fundamental rights. Such an approach has brought about legislation such as the 1958 Kerala Education Act and is used to make the case for instituting reservations, stronger labour laws, etc.
Justifying State-Based Disincentives in India
Fertility patterns affect various wellness indicators such as child mortality and morbidity. The per-capita spending on each child also reduces as the number of children in families with restricted incomes go up. 
The 2015-16 NFHS-4 data showed that 38% of the children under the age of five are "stunted" (or too short for their age), which is an indicator of chronic undernutrition. 21% of the children under the age of five are "wasted" (or too thin for their height), a figure that has grown by 1% since the previous NHFS-3 was conducted in 2005-06. 
The stunting of children under the age of five was found to be the highest in Bihar (a whopping 48%), Uttar Pradesh (46%), Jharkhand (45%), and Meghalaya (44%). The lowest rates? Kerala and Goa (20% each), of which Kerala's fertility rate has fallen below the replacement level. The TFR in Bihar and Uttar Pradesh, on the other hand, are 3.3 and 3.1 respectively, which was the highest in India as of 2016. These two states are also relatively very poor. 
We also tend to ignore that the rate of decline in TFR is greater in urban areas as compared to rural ones. TFR rates in urban areas dropped from 4.1 to 1.7 between 1971 and 2017, while rural areas only saw a dip from 5.4 to 2.4 in the same period.  Consequently, the wellness indicators of these children also show a similar disparity.
The per-capita spending on children will certainly increase with smaller family sizes, making it easier to reduce malnutrition. Saying "India's Total Fertility Rate is dropping to 2.1" means very little when we consider the health of these children. Besides, only nine states had reached the replacement levels of 2.1 as per the 2016 SRS report. 
Can Population Control Policies Work?
In 1957, the crude birth rate in Singapore was 42.7 per 1000 people. After the National Family Planning Programme was introduced in 1966, this figure had declined to about 20 per 1000 by 1970. The NFPP was a set of state-backed incentives and disincentives that successfully reduced the Total Fertility Rate from 6.4 in 1957 to around 3.1 in 1970. 
Disincentives ranged from increasing hospitalisation charges for subsequent births to discontinuing income tax reliefs for larger families. Migrants' employment contracts could be terminated if they decided to have larger families.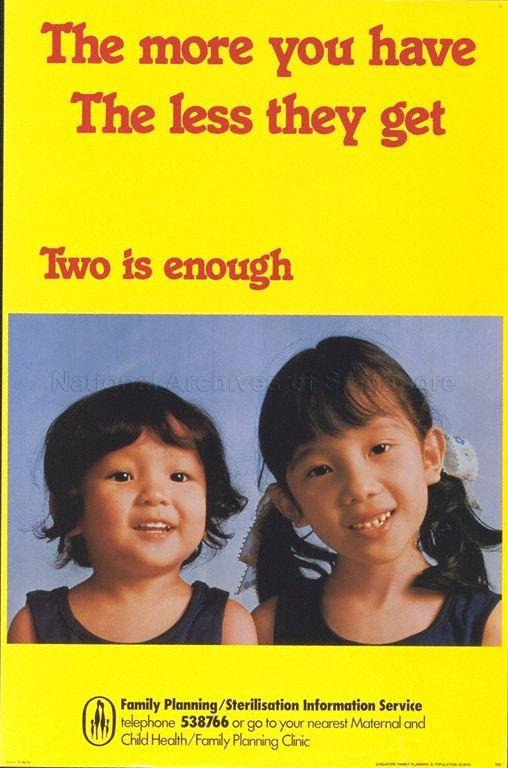 Not only did the "Stop at Two" programme effectively control Singapore's fertility patterns, but the period witnessed an improvement in several development indices. One such metric was the per capita Gross National Product, which went from 3,849 SGD in 1973 to 11,031 SGD in 1983. 
Population Policy in the Indian Context
Those who do not adhere to two-child state policies are given punishments that range from disqualification for local body elections to being ineligible for certain entry-level government jobs. Central government employees' paid maternity leave is also restricted to only two children.
The Working Group of the Central Council of Family Welfare, which was constituted by the Government of India in 1983 to analyse the role of disincentives had two main recommendations: disincentives must not affect fundamental rights, and they should not directly affect the children born. Wherever a disincentive is used to disqualify members from their right to livelihood, a "reasonable restriction" can be imposed in lieu of following the directive principles we described above. Of course, what is 'reasonable' will differ case-by-case. 
As for affecting children directly, no Indian state has a policy that directly affects the third or subsequent child. That being said, it cannot be denied that a two-child norm can worsen sex-ratios. However, such policies can be backed by effectively implementing institutional protections. With regard to sex-selective abortions, The Pre-natal Diagnostic Techniques (Regulation and Prevention of Misuse) Act, 1994 holds hospitals and doctors liable if they reveal the sex of the foetus. Similarly, the Medical Termination of Pregnancy Act, 1971 regulates abortions and prioritizes the reproductive choice of the mother.
We cannot forget that India has a demographic dividend that favours the young. With its average age ranging between 29-33, the growth rate of the population will be manifold even if the replacement ratio is restricted. 
Singapore's example shows that economic disincentives have a high penetrability and send a clear signal about the government's priorities. Constitutionally speaking, the Centre can institute a population control policy that restricts the number of children a family may bear. With resource use set to double in 2050 and 'developing countries' heavily dependent on non-renewable resources, a coercive State policy may just become an essential addition to our list of Acts, but it will be one that requires considerable political momentum from both sides of the aisle.
---