Featured image: "Madras University Senate House", courtesy of Jonas Buchholz (CC BY-SA 3.0), used for representational purposes only.
---
The pandemic has disrupted almost every aspect of our lives, and the higher education sector is no different. Forced to resort to virtual, off-campus modes of teaching for the near future, colleges and universities have plunged into uncertain territory that has brought a myriad of issues related to financing them.
Students and their families are facing unprecedented levels of financial turmoil. Those on the brink of poverty are facing "50 to 70 percent losses in income" while "80 percent of urban jobs and 54 percent of rural jobs have been impacted". Charging full university fees in such an environment seems morally incomprehensible, while payment seems practically impossible. Perhaps that is why students across the board are demanding fee waivers during this time of crisis.
A PIL was filed in the Supreme Court seeking a waiver or part payment of university fees on account of the lockdown and the financial implication it had on families. Similar petitions have been filed for school fees to be waived. Yet, in one case, the Allahabad High Court dismissed these petitions for being misconceived, wherein the petitioner had no locus to approach the Court. That most schools and colleges are 'open' and conducting online classes was sufficient reason to charge students their fees, it opined.
Yet, when on-campus facilities are not in use, and classes and operations have shifted online, it would be prudent to question the necessity of charging full fees for services students cannot use. In times of a pandemic, how much is too much for universities to ask for from their students?
Click on a quote to read the opinion.
"Universities are commonly perceived as profiteering institutions that operate as ivory towers, insulated from economic recessions and real-world problems. The truth is that any waiver or partial payment of fees has far-reaching financial implications on universities' resources, those dependent on them for their livelihoods, and the students enrolled. To understand how this works, let's first break down a university's fee structure into its tuition and 'other' fees." 
— Akshobhya Reddy, Final year law student at NALSAR, Hyderabad
"As institutions for social benefit, payment of fees ought to be exempted in light of the current situation, keeping in mind that family incomes have dropped across India. Allowing students to pay the fee in multiple installments over

the

course of the academic year would be a considerable relief for many. Peripheral costs of dining, hostel, and support staff's salaries should be borne by universities' coffers."
— Sanjana Sundar, Final year student at FLAME University, Pune
The Tuition Fees 
The uncertainty brought about by the coronavirus has forced almost every university to shift an array of operations online, be it classes, counseling, career development services, or job placements. Properly implementing and operating such a transition requires money to build the necessary infrastructure and prepare professors. 
Teaching is often referred to as one of those professions that are evergreen, and unimpacted by market conditions. However, the last few months have proven otherwise. Teachers' protests against the non-payment of their salaries by aided and unaided universities during the lockdown are a case in point. In March, the Delhi University Teachers Association noted that colleges had not received grants from the government, because of which the staff had not received salaries for at least two months. This was despite a government order (which has now been revoked) stating that employers were required to pay employees their full salaries during the lockdown.
Please join in large numbers tomorrow! Absolutely criminal to deprive employees of their salaries! #DelhiGovtReleaseGrants #Employees_go_without_salaries @RajibRaydu @ADH05748232 @DeoKuma36249983 pic.twitter.com/qKGhnH8EHn

— Mithuraaj Dhusiya (@Mithuraaj1) April 27, 2020
This issue is rampant across higher-educational institutions as well; the All India Council of Technical Education stated that they received complaints about the non-payment of salaries and directed institutions against withholding salaries. The new academic year poses fresh challenges for these professors who are striving to provide the best education possible despite the extraordinary circumstances.
Online classes also demand a significant commitment of time, effort, and resources on behalf of the instructors. Professors (from private colleges like FLAME University and government colleges like NALSAR) have been receiving training to familiarize themselves with online platforms, and are devising new teaching strategies to provide students with a "virtual classroom experience". They have also been revising course structures, learning material, and evaluation methods to suit online platforms.
Considering students are availing online classes as per the regular university schedule, any waiver or alteration of tuition fees to the detriment of professors would be unjust. In fact, universities (or departments within them) are cutting costs by refraining from hiring new teaching staff or laying off staff on probation. This has increased the strain departments' existing resources, and existing faculty now have to cater to expanding student bodies. Their increased efforts cannot be ignored; regular salary contracts ought to be upheld. 
Faculty aside, virtual education may require greater access to online resources or subscriptions to knowledge platforms. Institutional subscriptions to academic publications and resource hubs like JSTOR, HeinOnline, Oxford Publications, etc are not inexpensive. 

Institutional subscriptions to platforms such as Zoom, Cisco Webex, and Microsoft Office are new, necessary, and expensive expenditures for universities. Zoom's starting education plan for 20 hosts costs a hefty USD 1,800 (around ₹1.35 lakhs) annually, whereas an annual plan from Cisco Webex costs between ₹15,000 to ₹50,000 per host. Universities are also exploring options that enable them to conduct exams online, the software for which amount to roughly ₹500 per person per examination, which is much more than what would be incurred in traditional pen-and-paper tests. 
The 'Other' 
Apart from costs for operating academics, university fee structures typically include electricity, water charges, library fees, mess/canteen charges, co-curricular activities, administrative costs, and infrastructure development fees. Residential colleges charge for rent as well. Many of these expenses are incurred despite the students' absence on campus.
That students should not have to pay for facilities that they are availing seems fair, but a blanket waiver of these costs would be financially damning for universities. Water and electricity charges, for example, entail a certain minimum amount that needs to be paid regardless of whether the services are not being used. Keep in mind that educational institutions, especially private ones, are charged under the commercial slab for electricity. The sudden closure of campuses forced most students to leave their belongings behind in hostel rooms, which means that these are technically 'occupied'. They are therefore incapable of being used for any other purpose in the meantime, even for quarantining people. 
Last, and by no means the least important issue, is the fact that universities employ a huge number of staff beyond teaching faculty, right from administrators and technicians, to kitchen staff, bus drivers, and janitors. Many in these groups belong to economically weaker sections of society and have families dependent on these universities for sustaining their livelihoods. Reducing fee structures may lead to layoffs or major salary cuts, at the very least. This is where the ethical onus falls on universities, who must continue paying staff members or offer fair retrenchment benefits in case they are laid off.
What About the Alternatives? 
No organization is going to emerge from this pandemic unscathed. That being said, universities and students need to acknowledge each other's interests and restructure the fees in a way that is mutually viable and agreeable. Students have urged universities to adopt alternate or staggered models of collecting fees to temporarily ease the stress on their families. However, such an alteration could prove to be double-edged, given the financial commitments universities must fulfil at the start of the academic year. For example, it would make it difficult for universities to determine the number and amount to be set aside for scholarships to students in dire need. Public universities in particular have relied on government grants to provide scholarships and subsidies; now that the status of grants seems uncertain this year, they are increasingly dependent on students' fees.
Universities also need to start planning upgrades to existing infrastructure such as their medical services and build capacity to quarantine students if need be. Masks, gloves, and sanitizers are going to be required if and when students do return.
Cognizant of the burden on students, most public and private universities have done away with their otherwise yearly increments in fees. This is amidst disruptions in supply chains and a slowdown in global trade that has resulted in high inflation rates, which in turn increase the cost of basic amenities. Drastically reducing fee structures can dangerously affect the resources and facilities made available to students which will eventually hamper the quality of education that universities can provide.
---
Views expressed are personal.
Besides affecting students' academic opportunities, the pandemic has placed significant financial burdens on their families. The Centre for Monitoring Indian Economy (CMIE) estimates that unemployment soared from less than 8% pre-lockdown in March, to 23% at the beginning of May. Despite efforts taken by the government to soften the blow, lay-offs, salary cuts, and slow-downs in business have disproportionately increased families' financial stress. On top of this, with classes moving online, over 37 million students have to pay hefty fees for only a few benefits of the 'university experience'. Financial insecurities coupled with such a muted learning experience makes students' demands for a decrease in universities' fee structures worthy of serious consideration.
Why Demand Reductions?
Due to the unprecedented scope of this pandemic and the unique problems it has brought to different states' travel and medical facilities, universities across the country have been unable to confirm when they will reopen fully their campuses. Cities hosting large populations of college students like Delhi, Pune, Mumbai, Ahmedabad, Bengaluru, Hyderabad, and Chennai are among the worst affected by the virus. Even in the event that some universities will reopen in the next few months, sports and cultural activities will be put on hold, the use of collective spaces on campus will be restricted (if not prohibited altogether), and classrooms will be seated at minimum capacity. College facilities will remain under-utilised and the cost of running and maintaining hostels, libraries, and dining facilities are no longer fixed. 
"The student body has been in constant touch [with the management] to make sure that the maintenance staff is being paid and supported. It is our responsibility. But, at the same time, some costs such as boarding and dining are certain to change. Many students are not in a position to bear them as earlier." — Representative from FLAME University
Many students, especially those enrolled in private universities, reason that they are not experiencing college as they would under normal circumstances and see no justification for hefty price tags. One such respondent from Srishti Institute regrets that their teachers will have to remodel how hands-on classes are taught. Such a shift in pedagogy and practice especially impacts students pursuing film, theatre, design, and other disciplines that are rooted in interpersonal communication. Similarly, without access to labs, students pursuing courses in science are limited to studying theory without practical experimentation. When these opportunities cannot be availed, why should students be expected to pay for them? Even when universities have claimed to acknowledge this, the fees have changed only marginally (if at all) and are distributed under different heads.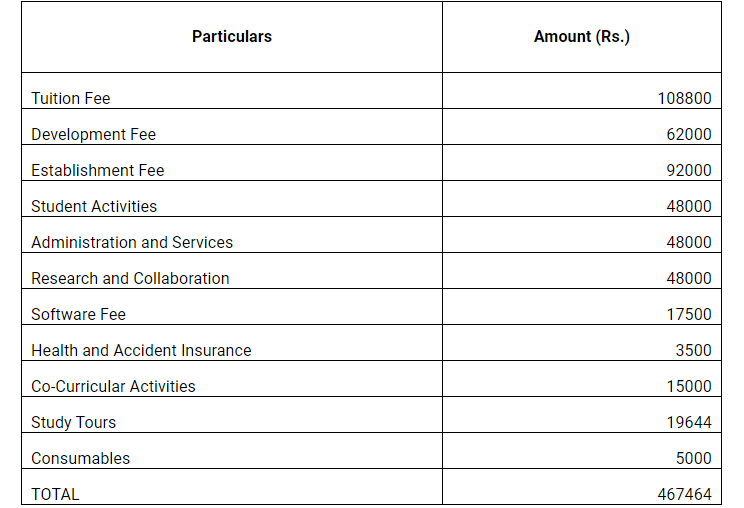 Universities Are Taking Minimal Action 
Turning a deaf ear to students' pleas, many universities have begun the new semester by going online without any change in the fee structure. A member of Bengaluru's Christ University's student council tells me that there have been fewer than usual meetings with the management post-pandemic, while their calls for reducing the fees have not been addressed. Another representative from a private university in Bengaluru informed us that two students were suspended for discussing the need for a fee reduction on a WhatsApp group in a "defamatory manner". 
By stifling student voices and acting upon the assumption that 'administration knows best', universities are setting a precedent of serving selfish interests that are separate from those of its students. In doing so, universities may manage to justify payments. For example, at the end of the previous semester in May, Christ University asked students to pay an additional exam fee of ₹500 to take online examinations on a third-party platform.
Let us set aside private universities for a moment. What about students in universities that provide need-based scholarships? A student from The National Academy of Legal Studies and Research (NALSAR) in Hyderabad, tells me: 
"We are trying to negotiate an increase in the scholarship fund since some students have expressed their ability to pay the full fees. Increasing the scholarship funds will specifically benefit students in need." 
One problem with this approach is that scholarships in most public universities are provided based on the universities' Income Tax Returns of the previous financial year. Since the lockdown began in mid-March, the documents do not reflect its effects in full. Therefore, either universities must devise alternative mechanisms for providing scholarships, or they must cede to decreasing the fee itself. 
In Search of a Middle-Ground
The COVID-19 crisis has highlighted why it is crucial to ensure that higher-education institutions can be financed beyond the fees that students pay. Ambiguous policymaking on behalf of the UGC via their 'advisories' often overlaps or differs for public and private universities. These have led to students and administrators having significantly different ideas of what is fair and what is not. 
Universities must recognize that students are equal stakeholders in growing and developing India's higher education system. As institutions for social benefit, it is an exception ought to be made in light of the current situation, keeping in mind that family incomes have dropped across India. Allowing students to pay the fee in multiple installments over the course of the academic year would be a considerable relief for many. Peripheral costs of dining, hostel, and support staff's salaries should be borne by universities' coffers. Not only does cooperating with your student body help ensure that policies with regard to financial aid are clear and long-term, but it fosters trust, especially during times of uncertainty and instability. The value of such a relationship cannot be underestimated. 
---
Views expressed are personal.